This website uses cookies to ensure you get the best experience while browsing it. By clicking 'Got It' you're accepting these terms.
Bill Nye Is 'Unstoppable'
Nov. 07, 2015 09:34AM EST
Climate
In a new interview, Bill Nye has once again spoken out against climate deniers, calling them "absolutely toxic" and demolishing their favorite, do-nothing "I am not a scientist" excuse.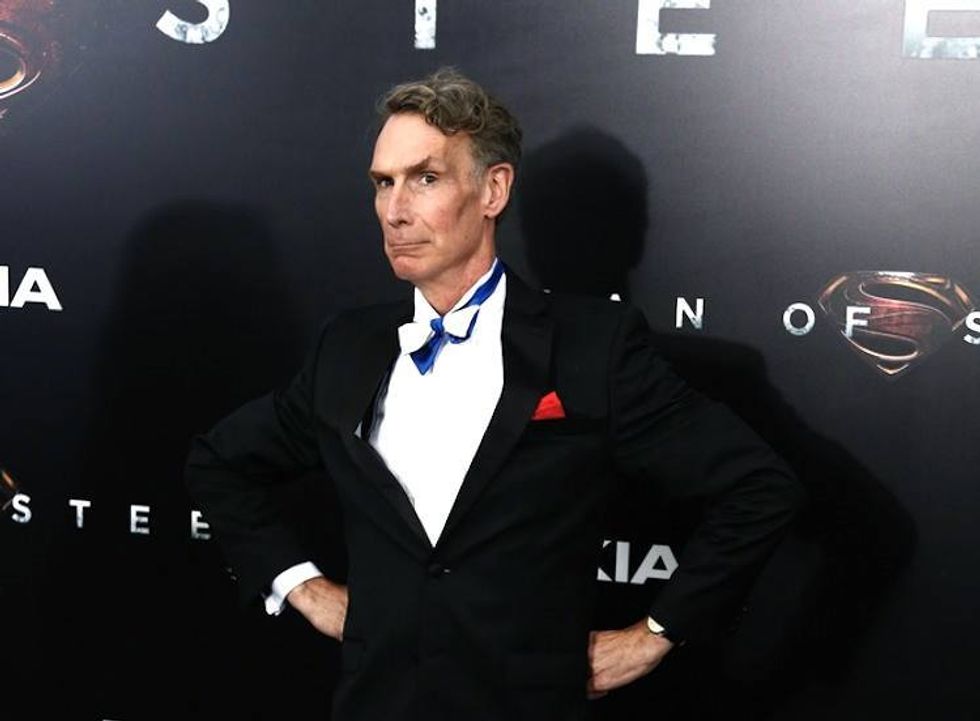 Photo credit: Debby Wong
/
Shutterstock.com
The former Bill Nye the Science Guy host shared these thoughts while speaking to Salon about his new book, Unstoppable: Harnessing Science to Change the World. The book, out Nov. 10, pleads with today's generation to take immediate action on climate change.
During the interview, Nye explained to staff writer Sean Illing that the goal of his new book is to "change the world!":
"Really, that's what I'm trying to do. Obviously, this book isn't going to change the world, but it is part of the bigger idea that we all have to think optimistically about this. We've got to go into this knowing we have a hard challenge but that we're going to win this fight, and we're going to save the Earth for humanity."
However, Nye said that there are big obstacles—namely the GOP climate deniers—that stand in the way of positive change for the environment:
"Part of the solution to this problem or this set of problems associated with climate change is getting the deniers out of our discourse. You know, we can't have these people—they're absolutely toxic. And so part of the message in this book is to get the deniers out of the picture, and along that line—I've been saying this a lot the last few weeks as I listen to the Republican debates—maybe one of these people will go out on his or her own, thinking for him or herself, and say, 'You know, I've been thinking about this and climate change is a very serious problem. So if I'm president, we're going to address climate change.'"
When asked why there are misunderstandings about climate change, Nye pointed out that even though 97 percent of climate experts agree human activity causes global warming, it's that tiny percentage of wiggle room that skeptics like to pounce on:
"Well, there's no question. The biggest myth is that scientific uncertainty, plus or minus so many percent, is the same as doubt about the whole thing. And that's wrong; that's patently wrong. And that's a dangerous confusion. This is one of the big reasons I wrote the book."
Later in the interview, Nye shared his opinion about fracking, discussed the exciting potential of renewable energy and offered solid advice on how you can help make a difference on the planet. However, Nye said that the single most important thing we can all do to make a difference on the environment is actually have a discussion about it:
"My claim is that if we were talking about climate change the way we're talking about Ferguson, Missouri, or Baltimore or other important issues, we would be getting these things done. We would be solving this problem together. And, look, it's hard. You're going to meet people who don't want to talk about it. You're going to meet people in denial. You're going to hear people say, 'I'm not a scientist, therefore I am not going to use my brain.'
But if we continue to talk about it, things will get done. If you want to make a difference, these next few months and the election in general have the potential to become a huge turning point. Not just for the U.S., but for humankind."
YOU MIGHT ALSO LIKE
Glacier National Park Could Be Glacier Free in Just 15 Years
Will Rupert Murdoch 'Dumb Down the Science' at National Geographic?
Obama Mocks GOP Presidential Candidates as Climate Deniers and Debate Whiners
Landmark Climate Bill Would End New Fossil Fuel Leases on Federal Lands
EcoWatch Daily Newsletter
The CDC has emphasized that washing hands with soap and water is one of the most effective ways to prevent the spread of COVID-19. Guido Mieth / Moment / Getty Images
The Centers for Disease Control has emphasized that washing hands with soap and water is one of the most effective measures we can take in preventing the spread of COVID-19. However, millions of Americans in some of the most vulnerable communities face the prospect of having their water shut off during the lockdowns, according to The Guardian.
A California newt (Taricha torosa) from Napa County, California, USA. Connor Long /
CC BY-SA 3.0
Aerial photos of the Sierra Nevada — the long mountain range stretching down the spine of California — showed rust-colored swathes following the state's record-breaking five-year drought that ended in 2016. The 100 million dead trees were one of the most visible examples of the ecological toll the drought had wrought.
Now, a few years later, we're starting to learn about how smaller, less noticeable species were affected.
Disinfectants and cleaners claiming to sanitize against the novel coronavirus have started to flood the market.
Natthawat / Moment / Getty Images
Disinfectants and cleaners claiming to sanitize against the novel coronavirus have started to flood the market, raising concerns for the U.S. Environmental Protection Agency (EPA), which threatened legal recourse against retailers selling unregistered products, according to The New York Times.
A customer packs groceries in reusable bags at a NYC supermarket on March 1, 2020. Eduardo Munoz Alvarez/Getty Images
The global coronavirus pandemic has thrown our daily routine into disarray. Billions are housebound, social contact is off-limits and an invisible virus makes up look at the outside world with suspicion. No surprise, then, that sustainability and the climate movement aren't exactly a priority for many these days.
Ingredients are displayed for the Old School Pinto Beans from the Decolonize Your Diet cookbook by Luz Calvo and Catriona Rueda Esquibel. Melissa Renwick / Toronto Star via Getty Images
By Molly Matthews Multedo
Livestock farming contributes to global warming, so eating less meat can be better for the climate.