This website uses cookies to ensure you get the best experience while browsing it. By clicking 'Got It' you're accepting these terms.
Bill Nye: Climate Deniers Are Wrong
May. 24, 2016 08:00AM EST
Climate
By Bill Nye
As you may know, I am very concerned about global warming and global climate change. The science of global warming is long settled, and one may wonder why the U.S., nominally the most technologically advanced country in the world, is not the world leader in addressing the threats enumerated by the U.S. military, the United Nations' Intergovernmental Panel on Climate Change (IPCC), and others. I hope people will take the facts we face into account as they head to the polls this year.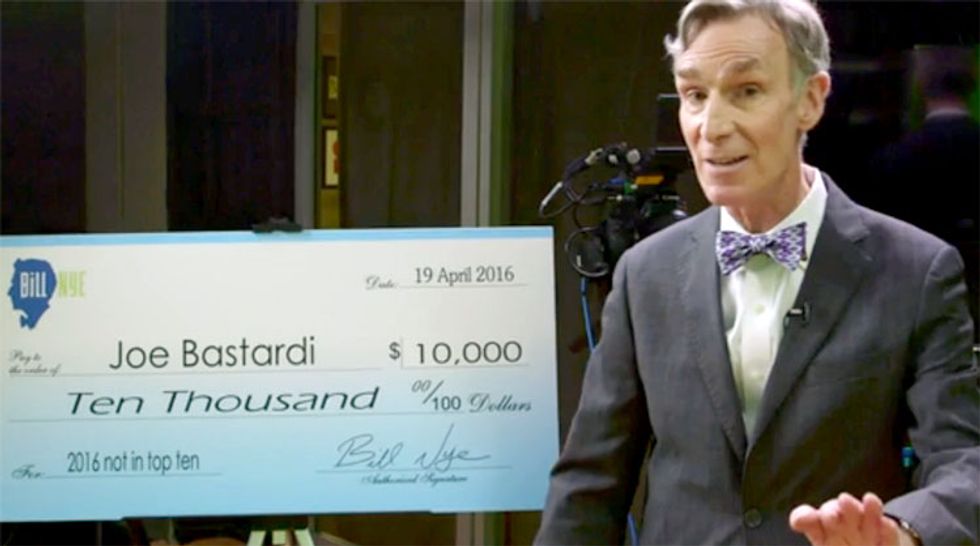 The ocean is warming and expanding. This effect alone will displace millions of people. The effects on agriculture, water supplies, and weather patterns will create a great many problems for a great many of us. By my reckoning, our delay and the reluctance of conservative presidential candidates to embrace the problem and discuss it is a result of the diligent effort of a handful of climate change deniers. They have been especially successful at introducing the idea that routine predictive uncertainty, e.g. plus or minus two percent, is somehow the same as plus or minus one hundred percent. It isn't, and the deniers are wrong.
Since the presentation of the facts and science concerning global warming and climate change have been heretofore insufficient to motivate enough of us voters, I am now challenging the deniers directly. By showing enough people the techniques and ignorance of the deniers, I believe we can make warming and climate change a campaign issue, which will swing the upcoming U.S. presidential election in favor of a candidate who is not out of touch with our worldwide climate situation.
Both Marc Morano and Joe Bastardi are well-known climate change deniers (Mr. Morano said once that he prefers the term "extreme doubter"). In an opinion piece in the unusual Patriot Post online publication, Mr. Bastardi insisted that there is nothing unusual going on in our Earth's atmosphere and oceans. In time for Earth Day, I issued a video challenge that was published on The Huffington Post. I offered and still offer to bet Mr. Bastardi $10,000 that this year 2016 will be among the top 10 warmest years on record. I offer him another $10,000 that the decade 2010-2020 will prove to be the warmest on record. Mr. Bastardi wrote a second piece in which he re-stated his belief that carbon dioxide has little effect on global temperatures. Incidentally, despite publishing a "midday digest" every day, no one at the Patriot Post has responded to my enquiries.
Carbon dioxide has an enormous effect on planetary temperatures. Climate change was discovered in recent times by comparing the Earth to the planet Venus. When Mr. Bastardi and I appeared on the Bill O'Reilly show six years ago, Mr. Bastardi said, "[He doesn't] believe we have the proper measurements of Venus from over 10 billion years ago. So [he] can't tell the relationship with Earth." In planetary science we can tell several important things. Venus is extremely hot because of the greenhouse effect (and it's far less than 10 billion years old). The Earth is warm enough to have liquid water, because of the same greenhouse effect. I remind you that Mr. Bastardi's apparent belief that carbon dioxide has nothing to do with the Earth's global temperatures is absolutely wrong.
Incidentally neither Mr. Bastardi Mr. Morano would take either wager I offered. They both admit the world is getting warmer fast. Mr. Morano just said no, he would not take the bets. In complementary fashion, Mr. Bastardi did not address my offers. Instead, he proposed a new wager based on changes that may or may not occur over a single year. You may have seen his article from November 2015 in which he includes two graphs of the world's temperature over time. I believe anyone able to think critically can see that the graphs and data Mr. Bastardi's cited in this previous article are irrelevant. In his first graph, the four and half billion-year time scale is too long to reckon temperature changes over the last two and half centuries. In his second graph, the timescale is too short to accurately depict the overall rate of global temperature change. He has hidden or masked the phenomenon of global warming and climate change from the readers, or perhaps even from himself.
Mr. Bastardi suggested that I've been brainwashed and that I am irrational. While such claims may or may not be true, rather than address my proposed wager he changed the subject several times. Among the adjacent subjects he included were: nuclear energy, Middle East oil, creationist Roy Spencer's satellite measurements, veterans' health benefits, money used to study whether the Earth is flat or round, professors improving fusion [reactor] output, no use of fossil fuels for a year and television commercials for satellite dish service.
Contrary to Mr. Bastardi's statement, carbon dioxide certainly does affect the Earth's climate in a big way. I hope you will consider both Mr. Morano's and Mr. Bastardi's tendency to change the subject along with their misjudgment, or apparent misjudgment, of atmospheric and planetary science as you head to the polls this year.
YOU MIGHT ALSO LIKE
India Records Highest Temperature Ever: 123.8 Degrees Fahrenheit
Trump Cannot Derail Paris Climate Deal
Fossil Fuel Industry-Funded Attorneys General Try to Block Exxon Climate Fraud Probe
EcoWatch Daily Newsletter
Pro-environment demonstrators on the streets of Washington, DC during the Jan. 20, 2017 Trump inauguration.
Mobilus In Mobili
/ Flickr /
CC BY-SA 2.0
By Dr. Brian R. Shmaefsky
One year after the Flint Water Crisis I was invited to participate in a water rights session at a conference hosted by the US Human Rights Network in Austin, Texas in 2015. The reason I was at the conference was to promote efforts by the American Association for the Advancement of Science (AAAS) to encourage scientists to shine a light on how science intersects with human rights, in the U.S. as well as in the context of international development. My plan was to sit at an information booth and share my stories about water quality projects I spearheaded in communities in Bangladesh, Colombia, and the Philippines. I did not expect to be thrown into conversations that made me reexamine how scientists use their knowledge as a public good.
Mt. Rainier and Reflection Lake on Sept. 10, 2015. Crystal Geyser planned to open a bottling plant near Mt. Rainier, emails show.
louelke - on and off / Flickr
Bottled water manufacturers looking to capture cool, mountain water from Washington's Cascade Mountains may have to look elsewhere after the state senate passed a bill banning new water permits, as The Guardian reported.
Large storage tank of Ammonia at a fertilizer plant in Cubatão, Sao Paulo State, Brazil. Luis Veiga / The Image Bank / Getty Images
The shipping industry is coming to grips with its egregious carbon footprint, as it has an outsized contribution to greenhouse gas emissions and to the dumping of chemicals into open seas. Already, the global shipping industry contributes about 2 percent of global carbon emissions, about the same as Germany, as the BBC reported.
At high tide, people are forced off parts of the pathway surrounding DC's Tidal Basin. Andrew Bossi /
Wikimedia
The Jefferson Memorial in Washington, DC overlooks the Tidal Basin, a man-made body of water surrounded by cherry trees. Visitors can stroll along the water's edge, gazing up at the stately monument.
But at high tide, people are forced off parts of the path. Twice a day, the Tidal Basin floods and water spills onto the walkway.
Lioness displays teeth during light rainstorm in Kruger National Park, South Africa. johan63 / iStock / Getty Images
Ahead of government negotiations scheduled for next week on a global plan to address the biodiversity crisis, 23 former foreign ministers from various countries released a statement on Tuesday urging world leaders to act "boldly" to protect nature.