This website uses cookies to ensure you get the best experience while browsing it. By clicking 'Got It' you're accepting these terms.
Bill Nye + Arnold Schwarzenegger Confront Climate Denial Head On
Nov. 14, 2015 09:37AM EST
Climate
Bill Nye teamed up with Arnold Schwarzenegger to confront climate denial head on in an episode of National Geographic's Explorer, Bill Nye's Global Meltdown. The episode opens with Bill Nye telling his psychiatrist, Arnold Schwarzenegger, "I don't know, I'm just not myself lately. Everything seems so meaningless and empty."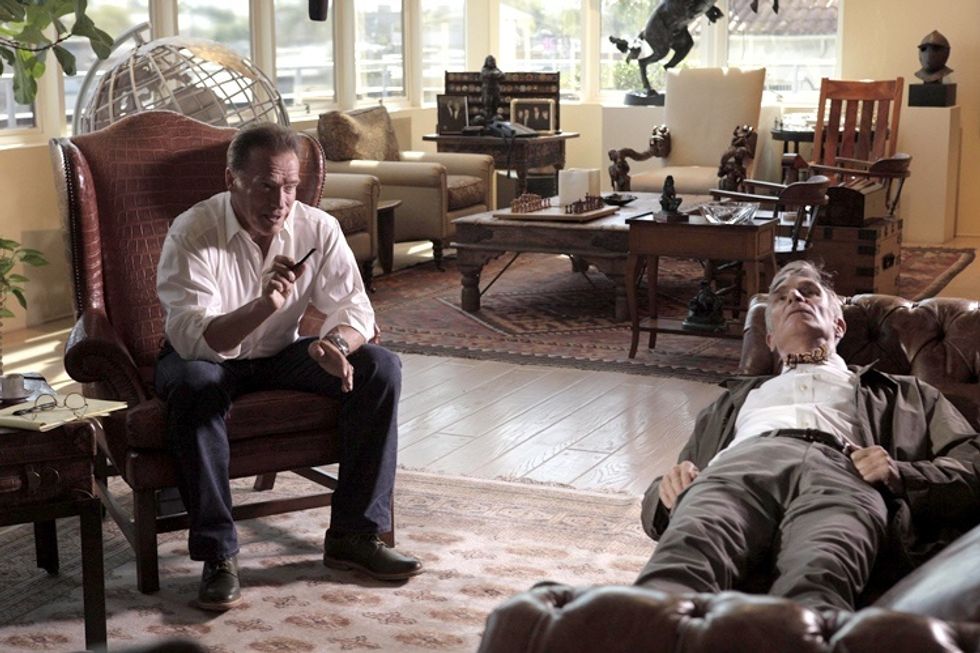 "Go on," says Schwarzenegger. "I know the planet is getting hotter and hotter," says Nye. "And I know we're going to have forest fires and droughts and floods like you've never seen. We're going to have storms and hurricanes and species are disappearing."
Nye, exasperated, concludes, "Sometimes I just want to close my eyes and pretend it's not happening." Schwarzenegger's prognosis: "It sounds to me like you are suffering from climate change grief." Schwarzenegger tells Nye he is dealing with the first stage of grief: denial.
So, Schwarzenegger instructs Nye to go "confront denial head on." And that's exactly what he does. Nye hits on many issues, including why it's probably not a good idea to buy a vacation in Southern Florida, Florida Gov. Rick Scott banning the term climate change and a Florida official hilariously refusing to use the term "climate change" as if it's a naughty word. Nye even sits down with climate-denying Florida State Rep. Walter Bryan "Mike" Hill to try to reason with him.
Ultimately, Nye goes through all five stages of "climate change grief"—denial, anger, bargaining, depression and acceptance. During his anger stage, he takes in Canada's Tar Sands by helicopter, calling the sight "depressive." And he meets with Melina Laboucan-Massimo, a Greenpeace activist and Alberta First Nation's member, who has made ending the tar sands development her life's mission.
In his bargaining stage, he looks at programs such as cap-and-trade, which are attempting to limit the amount of carbon pollution we emit into the atmosphere. In his depression stage, Nye meets with Guy McPherson, ecologist and author of Going Dark, who says the game is already over and he's bracing for the end of days. "I can't imagine there will be a human being on the planet in 2030," says McPherson.
And finally, as they each take tokes from a cigar, Schwarzenegger helps Nye "realize" that we're not doomed. Indeed, there is hope because science and technology offer so many solutions to our current problems. We just need to take action.
Check out the full episode here:
YOU MIGHT ALSO LIKE
2 Billion People to Face Water Shortages as Snowpack Declines
3 Reasons Why Rand Paul Is Dead Wrong on Climate Change
Bill Nye, While Driving a Tesla, Shares 5 Ways to #BeUnstoppable
Exxon + 49 Other Big Polluters Set to Be Investigated for Causing Extreme Weather Events
EcoWatch Daily Newsletter
Solar panel installations and a wind turbine at the Phu Lac wind farm in southern Vietnam's Binh Thuan province on April 23, 2019. MANAN VATSYAYANA / AFP via Getty Images
The buildings of downtown Los Angeles are partially obscured at midday on November 5, 2019 as seen from Pasadena, California. Mario Tama / Getty Images.
By Ajit Niranjan
Two main risk factors are currently known to raise the chance of dying from the novel coronavirus that has brought the world to a halt: being old and having a weak immune system.
Air pollution makes the second of those more likely.
Hospital workers applaud during a tribute to the essential health care workers at Hospital Universitario de Mostoles in Mostoles, Spain on March 27, 2020. Legan P. Mace / SOPA Images / LightRocket via Getty Images
Essential farm workers continue to work as Florida agriculture industry struggles during coronavirus pandemic. Joe Raedle / Getty Images.
By Liz Carlisle
This opinion piece was originally published by Yes! Magazine on March 30, 2020.
As the coronavirus crisis has laid bare, the U.S. urgently needs a strategic plan for farmland. The very lands we need to ensure community food security and resilience in the face of crises like this pandemic and climate change are currently being paved over, planted to chemically raised feed grains for factory farm animals, and acquired by institutional investors and speculators. For far too long, the fate of farmlands has flown under the radar of public dialogue—but a powerful new proposal from think tank Data for Progress lays out how a national strategic plan for farmland could help boost economic recovery while putting the U.S. on a path to carbon neutrality.
A worker with nonprofit organization Martha's Table loads bags of fresh produce to distribute to people in need during the novel coronavirus outbreak on April 1, 2020 in Washington, DC. Chip Somodevilla / Getty Images
By Shawn Radcliffe
The CDC recommends that all people wear cloth face masks in public places where it's difficult to maintain a 6-foot distance from others. This will help slow the spread of the virus from people without symptoms or people who do not know they have contracted the virus. Cloth face masks should be worn while continuing to practice social distancing. Instructions for making masks at home can be found here. Note: It's critical to reserve surgical masks and N95 respirators for healthcare workers.