This website uses cookies to ensure you get the best experience while browsing it. By clicking 'Got It' you're accepting these terms.


The best of EcoWatch, right in your inbox. Sign up for our email newsletter!
Bill Nye + Arnold Schwarzenegger Confront Climate Denial Head On
Nov. 14, 2015 09:37AM EST
Climate
Bill Nye teamed up with Arnold Schwarzenegger to confront climate denial head on in an episode of National Geographic's Explorer, Bill Nye's Global Meltdown. The episode opens with Bill Nye telling his psychiatrist, Arnold Schwarzenegger, "I don't know, I'm just not myself lately. Everything seems so meaningless and empty."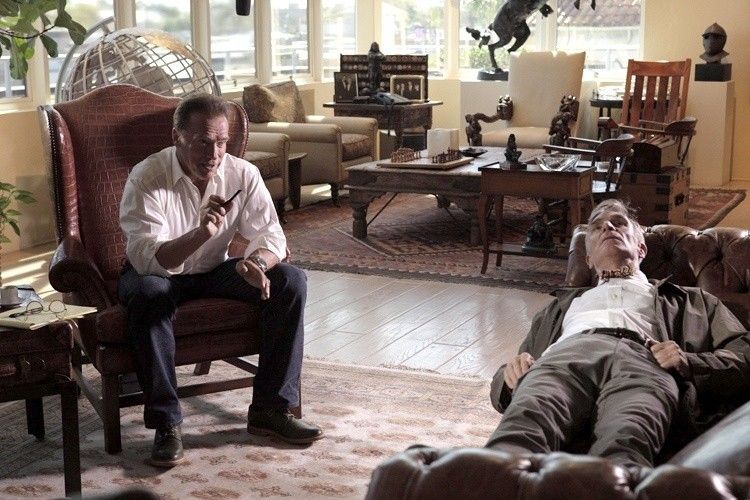 "Go on," says Schwarzenegger. "I know the planet is getting hotter and hotter," says Nye. "And I know we're going to have forest fires and droughts and floods like you've never seen. We're going to have storms and hurricanes and species are disappearing."
Nye, exasperated, concludes, "Sometimes I just want to close my eyes and pretend it's not happening." Schwarzenegger's prognosis: "It sounds to me like you are suffering from climate change grief." Schwarzenegger tells Nye he is dealing with the first stage of grief: denial.
So, Schwarzenegger instructs Nye to go "confront denial head on." And that's exactly what he does. Nye hits on many issues, including why it's probably not a good idea to buy a vacation in Southern Florida, Florida Gov. Rick Scott banning the term climate change and a Florida official hilariously refusing to use the term "climate change" as if it's a naughty word. Nye even sits down with climate-denying Florida State Rep. Walter Bryan "Mike" Hill to try to reason with him.
Ultimately, Nye goes through all five stages of "climate change grief"—denial, anger, bargaining, depression and acceptance. During his anger stage, he takes in Canada's Tar Sands by helicopter, calling the sight "depressive." And he meets with Melina Laboucan-Massimo, a Greenpeace activist and Alberta First Nation's member, who has made ending the tar sands development her life's mission.
In his bargaining stage, he looks at programs such as cap-and-trade, which are attempting to limit the amount of carbon pollution we emit into the atmosphere. In his depression stage, Nye meets with Guy McPherson, ecologist and author of Going Dark, who says the game is already over and he's bracing for the end of days. "I can't imagine there will be a human being on the planet in 2030," says McPherson.
And finally, as they each take tokes from a cigar, Schwarzenegger helps Nye "realize" that we're not doomed. Indeed, there is hope because science and technology offer so many solutions to our current problems. We just need to take action.
Check out the full episode here:
YOU MIGHT ALSO LIKE
2 Billion People to Face Water Shortages as Snowpack Declines
3 Reasons Why Rand Paul Is Dead Wrong on Climate Change
Bill Nye, While Driving a Tesla, Shares 5 Ways to #BeUnstoppable
Exxon + 49 Other Big Polluters Set to Be Investigated for Causing Extreme Weather Events
EcoWatch Daily Newsletter
jenifoto / iStock / Getty Images
Many people consider granola bars a convenient and healthy snack and enjoy their flavor and versatility.
A common green darners (Anax junius). Judy Gallagher / Flickr
By Jason Bittel
It's that time of year again: Right now, monarch butterflies are taking wing in the mountains of northwestern Mexico and starting to flap their way across the United States.
fstop123 / iStock / Getty Images Plus
At EcoWatch, our team knows that changing personal habits and taking actions that contribute to a better planet is an ongoing journey. Earth Day, happening on April 22, is a great reminder for all of us to learn more about the environmental costs of our behaviors like food waste or fast fashion.
To offer readers some inspiration this Earth Day, our team rounded up their top picks for films to watch. So, sit back and take in one of these documentary films this Earth Day. Maybe it will spark a small change you can make in your own life.
Denali national park. Domen Jakus / Flickr / CC BY-NC 2.0
By Stephanie Gagnon
Happy National Parks Week! This year, between April 20 and 28, escape to the beautiful national parks — either in person or in your imagination — and celebrate the amazing wildlife that calls these spaces home.
Sesame, three months old, at Seal Rescue Irleand.
Screenshot / Seal Rescue Ireland Instagram
On Friday, Seal Rescue Ireland released Sesame the seal into the ocean after five months of rehabilitation at the Seal Rescue Ireland facility. Watch the release on EcoWatch's Facebook.

Beer packs of Guinness will now come in a cardboard box. Diageo

By Jordan Davidson
Guinness is joining the fight against single use plastic. The brewer has seen enough hapless turtles and marine life suffering from the scourge of plastic.
Maskot / Getty Images
People of all ages are spending more of their day looking at their phones, computers and television screens, but parents now have another reason for limiting how much screen time their children get — it could lead to behavioral problems.