This website uses cookies to ensure you get the best experience while browsing it. By clicking 'Got It' you're accepting these terms.
Bill McKibben's Letter to the Future
Nov. 18, 2015 09:04AM EST

This letter to the future by Bill McKibben is part of the Letters to the Future campaign, a national effort to encourage people from all walks of life to write six generations into the future about climate change. The campaign puts a spotlight on the importance of world leaders agreeing to a global climate treaty at COP21 in Paris. Now it's your turn to write a letter to the future.

Dear Descendants,
The first thing to say is, sorry. We were the last generation to know the world before full-on climate change made it a treacherous place. That we didn't get sooner to work slowing it down is our great shame, and you live with the unavoidable consequences.
That said, I hope that we made at least some difference. There were many milestones in the fight—Rio, Kyoto, the debacle at Copenhagen. By the time the great Paris climate conference of 2015 rolled around, many of us were inclined to cynicism.
And our cynicism was well-taken. The delegates to that convention, representing governments that were still unwilling to take more than baby steps, didn't really grasp the nettle. They looked for easy, around-the-edges fixes, ones that wouldn't unduly alarm their patrons in the fossil fuel industry.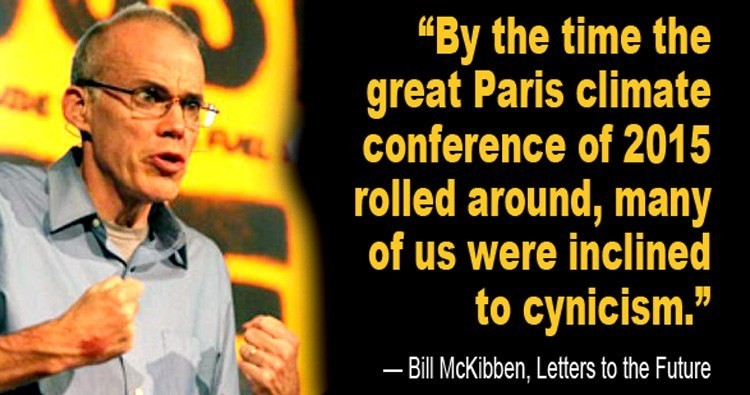 But so many others seized the moment that Paris offered to do the truly important thing: Organize. There were meetings and marches, disruptions and disobedience. And we came out of it more committed than ever to taking on the real power that be.
The real changes flowed in the months and years past Paris, when people made sure that their institutions pulled money from oil and coal stocks, and when they literally sat down in the way of the coal trains and the oil pipelines. People did the work governments wouldn't—and as they weakened the fossil fuel industry, political leaders grew ever so slowly bolder.
We learned a lot that year about where power lay: less in the words of weak treaties than in the zeitgeist we could create with our passion, our spirit, and our creativity. Would that we had done it sooner!
Plus, learn if there's one that's best for your health.
Catherine Falls Commercial / Moment / Getty Images
An invasive Amynthas worm, also known as a crazy snake worm, Asian jumping worm and Alabama jumper Tom Potterfield / Flickr
By Jason Bittel
My wife and I built a house two years ago on a few acres of woodland outside of Pittsburgh. The backyard is full of maples, poplars, briars and common spicebush. Two-lined salamanders and grumpy-looking crayfish wade among the rocks in the small stream that runs down the edge of the property. Deer, raccoon and opossum tracks appear regularly in the snow and mud. Sometimes, my trail-cam even catches a pair of gray foxes as they slink through the night.
AleksandarNakic / Getty Images
By Kate Murphy
No matter the time of year, there's always a point in each season when my skin decides to cause me issues. While these skin issues can vary, I find the most common issues to be dryness, acne and redness.

David Woodfall / The Image Bank / Getty Images
By Sam Nickerson
The U.S. Environmental Protection Agency (EPA) in April 2018 proposed relaxing standards related to how it assesses the effects of exposure to low levels of toxic chemicals on public health.
Now, correspondence obtained by the LA Times revealed just how deeply involved industry lobbyists and a controversial, industry-funded toxicologist were in drafting the federal agency's proposal to scrap its current, protective approach to regulating toxin exposure.
Steve Irwin poses with a three foot long alligator at the San Francisco Zoo on June 26, 2002. Justin Sullivan / Getty Images
February 22 is the birthday of conservationist and beloved TV personality "Crocodile Hunter" Steve Irwin, who would have been 57 years old today.
Irwin's life was tragically cut short when the barb from a stingray went through his chest while he was filming in 2006, but his legacy of loving and protecting wildlife lives on, most recently in a Google Doodle today honoring his birthday.