This website uses cookies to ensure you get the best experience while browsing it. By clicking 'Got It' you're accepting these terms.


The best of EcoWatch, right in your inbox. Sign up for our email newsletter!
Bill McKibben: 'Paris Summit is Missing One of the Great World Leaders on Climate' Because He's in Prison
Dec. 03, 2015 08:32AM EST
Climate
One of the world's leading climate campaigners is missing from the UN climate summit in Paris, because he is sitting in a prison cell after being deposed in a military coup. Former Maldives president Mohamed Nasheed was a key voice at the 2009 UN climate summit for island nations threatened by rising sea levels.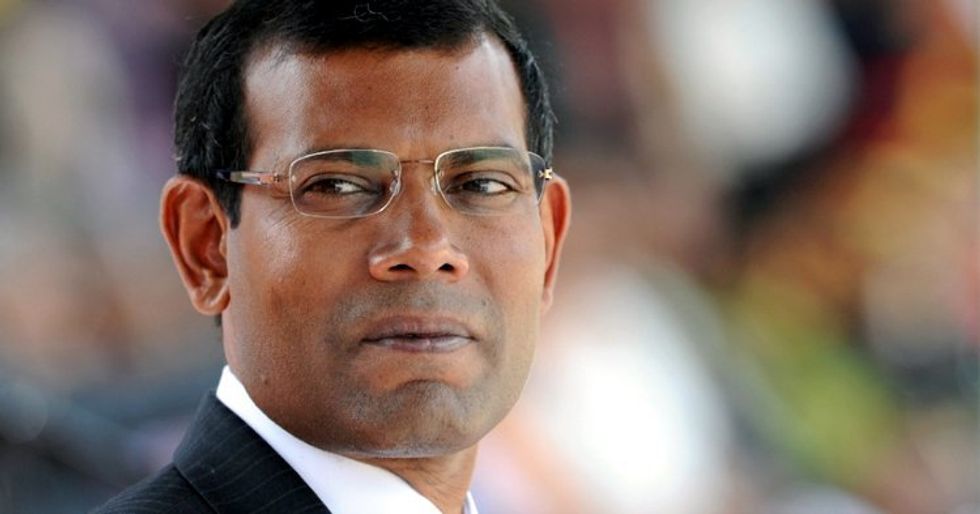 "Nasheed promised to take his whole country carbon neutral by 2020. Instead, the dictators running it now are inviting the oil industry in to drill," says Democracy NOW!'s guest Bill McKibben, co-founder of 350.org. "If you want to think about irony, it doesn't get much better than that."
Here's the rush transcript from the show:
AMY GOODMAN: One more question I want to raise with Bill McKibben, our guest right now, and that's The Guardian piece that he wrote, The Paris summit is missing one of the great world leaders on climate. The article is about former Maldives President Mohamed Nasheed. For years, he was a leading climate campaigner. Today he sits in a prison cell after being deposed in a coup. This is a quote from a clip of Mohamed Nasheed in 2009:
MOHAMED

NASHEED

: For countries to defend Poland in the 1930s, because it was a frontline state. It's very important to take care of the Maldives now because the Maldives and many other small states are in the front line of what is happening to the world, to climate today. If you can't defend the Maldives today, you won't be able to defend yourselves tomorrow.
AMY GOODMAN: That was Mohamed Nasheed in 2009. And I certainly remember—met Mohamed Nasheed for the first time that year at the Copenhagen Climate Summit, one of the most vocal voices around the effects of climate change with his islands nation, Maldives. Bill McKibben, where is he today?
BILL MCKIBBEN: Well, he's in prison on a prison island in that archipelago. Look, the Copenhagen climate summit, a great failure, had very few heroes but one of them was Mohamed Nasheed. I won't soon forget him leading a huge crowd of people and chanting "3-5-0" booming out across that conference center. Nor will I forget, ever, the activism that he displayed. He, you know, taught his whole cabinet to scuba dive so they could hold an underwater meeting on their dying coral reef, something that was on the front page of every paper around the planet to dramatize what was happening.
What happened to him is horrible. He was not only a climate leader, of course, he was a great freedom fighter. They call him the Mandela of the Indian Ocean. He overthrew a dictator of 30 years in a free election. But the dictator's people fought back, and in a military coup deposed him. Not only is he now in jail, but so are many, many others including many leaders of other political parties. The Maldives has turned into a full on autocracy. Nasheed apparently is apparently in poor health and being denied medical treatment. Amnesty International is speaking out on his behalf, so is Amal Clooney, who's travelled there, the human rights lawyer, to visit with him. But it is a disgrace, and one hopes that leaders here at this conference will remember his leadership and speak up a little bit on his behalf.
AMY GOODMAN: Sadly after the gun was put to his head and he was deposed in a military coup, the U.S., I believe, was the first, if not one of the first countries, to recognize the new coup government.
BILL MCKIBBEN: It's a—it's really, really sad. It's not as if the Maldives has some kind of enormous strategic value to anyone. It has enormous moral value. This is an archipelago of a thousand islands stretching across the equator in the Indian Ocean, but the highest point in the archipelago is only a few meters above sea level. They are the poster child for where not to be in a warming world. And it was Nasheed who promised to take his whole country carbon-neutral by 2020, instead, the dictators running it now are inviting the oil industry in to drill around the edges of those islands. If you want to think about irony, it doesn't get much better than that.
AMY GOODMAN: Folks should check out our interview with Mohamed Nasheed before he was imprisoned at democracynow.org
YOU MIGHT ALSO LIKE
Yeb Saño and the Fast for the Climate Movement at COP21
Bernie Sanders: GOP Candidates Care More About Koch Money Than 'Preserving the Planet for Our Children'
"Ridiculously, Earth-Shatteringly Stupid": Daily Show Slams GOP Climate-Denying Gang
Prince Harry's Moving Photos From Africa Trip Show Brutal Reality of Poaching
EcoWatch Daily Newsletter
Pexels
Up to 20% of people may have a food addiction or exhibit addictive-like eating behavior.
Spiced hot chocolate. Lilechka75 / iStock / Getty Images
Food is the cornerstone of the holiday season. It brings friends and family together to share memories, cultural traditions, and great flavors.
Solar panels at the Renewable Hydrogen Fueling and Production Station on Joint Base Pearl Harbor-Hickam. U.S. Navy / Mass Communication Specialist 2nd Class Daniel Barker / Released
By Tara Lohan
Three years into the Trump administration, its anti-climate and anti-science agenda is well established. Despite dire warnings from the world's leading scientists about the threats from rising greenhouse gas emissions, the administration has stubbornly continued to deny climate change, obstructed and undermined efforts to curb it, and moved again and again to roll back existing regulations that help reduce emissions.
Pexels
Rye bread tends to have a darker color and stronger, earthier taste than regular white and wheat bread, which is one reason why many people enjoy it.
Elva Etienne / Moment / Getty Images
By Ketura Persellin
Gift-giving is filled with minefields, but the Environmental Working Group's (EWG) got your back, so you don't need to worry about inadvertently giving family members presents laden with toxic chemicals. With that in mind, here are our suggestions for gifts to give your family this season.