This website uses cookies to ensure you get the best experience while browsing it. By clicking 'Got It' you're accepting these terms.
Bill McKibben: Not Me. Us.
Feb. 09, 2016 08:46AM EST
Politics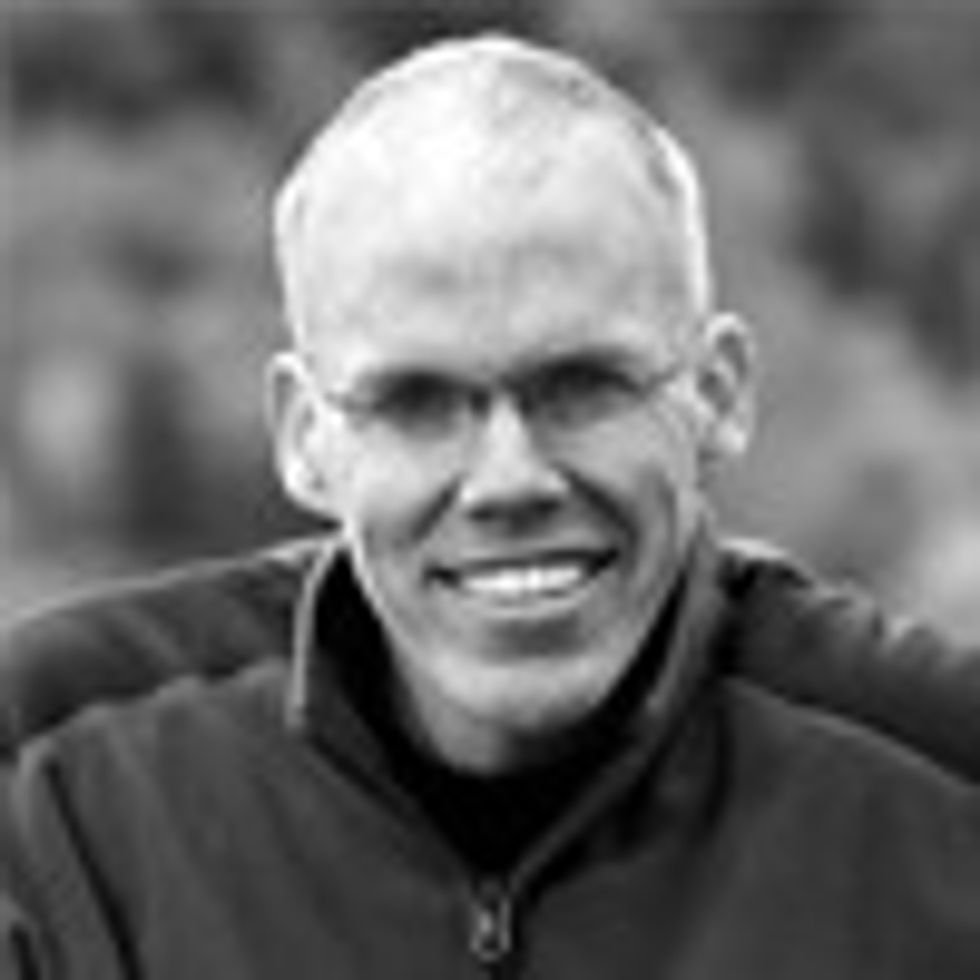 In the mounting, panicky attempts of elites to derail the Bernie Sanders candidacy, one strand dominates.
You find it woven through every sage piece from the old-school pundits of the New York Times and the hip insider websites like Vox. Yes, they say, he's saying some useful things. But he can't really make them happen. He's talking "puppies and rainbows." Real "reform is hard." The Times editors, in their endorsement of Hillary Clinton, managed a matchless condescension: His ideas about breaking up the banks or guaranteeing health care for everyone, they intoned, "have earned him support among alienated middle-class voters and young people. But his plans for achieving them aren't realistic." Wait 'til you're older and richer like us and then you'll understand how change happens.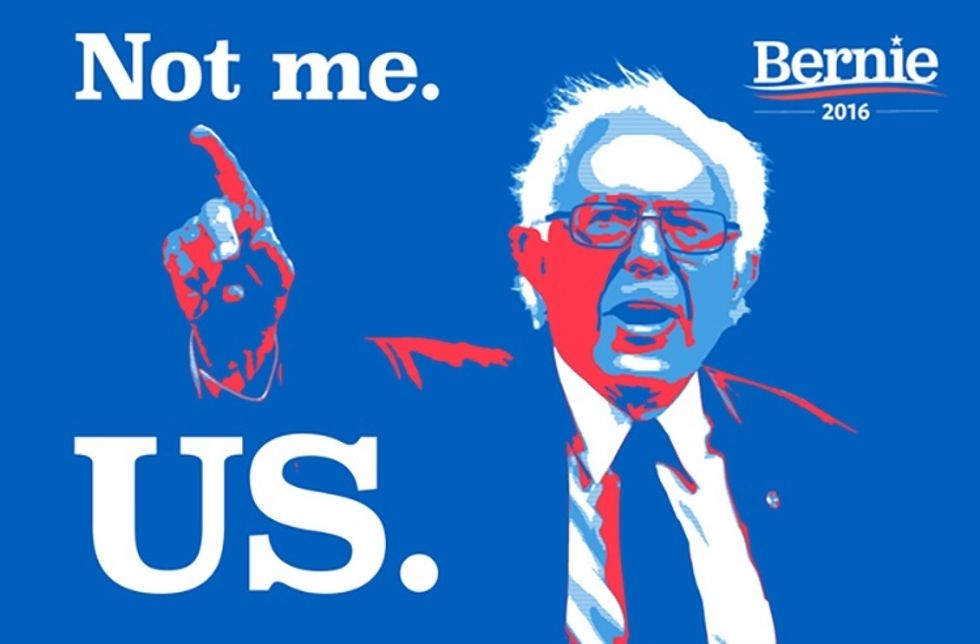 In fact, these pundits couldn't be more wrong about where change comes from. And neither could Hillary Clinton. Here's how she put it a few months ago, backstage at a tense and fascinating little confrontation with Black Lives Matter activists:
"I don't believe you change hearts. I believe you change laws, you change allocation of resources, you change the way systems operate."
That sounds sensible, grown-up, wise. It's what Washington pundits always say—they said it over and over again when we launched, say, the fight to stop the Keystone pipeline. But in fact it's completely backwards.
Change comes precisely when you do change hearts—and once that change has come, then the laws and the "allocation of resources" and the "way systems operate" follow pretty easily.
Look, for instance, at gay marriage, which I'm pretty sure that President Obama will be holding up as one of the accomplishments that happened on his watch. And it did, but not much thanks to him. It came from a big, impassioned movement that cleverly changed the zeitgeist: that introduced Americans to their gay neighbors, that won a few court cases and then used that progress to show that the world wouldn't fall apart with gay marriage, that argued in a series of referendum votes for the new right. By the time that Obama (and Clinton) came on board (a decade or two after Sanders), the battle was mostly won. There was mopping up to do, but the change had come and it had come from changing hearts.
Or look further back in American history. LBJ's the favorite example for this "effectiveness" argument and indeed he was the legislator that twisted the final arms to get landmark civil rights legislation in place. But it was only because people had spent a generation building a movement that he had an opening. The hard, desperate part was changing the zeitgeist, which involved changing enough hearts. The Voting Rights Act didn't propel the civil rights movement; it was the other way round.
By this token, Bernie Sanders has already changed the world more than Hillary Clinton, despite all her vaunted years of experience. She manages process, but he moves the argument. Because of him there's a reasonable chance now that the TPP trade agreement will fail (he's already moved one of its authors, Hillary, into opposition). He's made it necessary to take inequality seriously—he's the next stage, after Occupy, in moving the issue to the center of the stage and the longer he lasts and the better he does the more attention it will get.
No, none of his plans will pass Congress intact. (Nor hers—see, for instance, her badly mismanaged effort at health care reform in the first Clinton administration). As the Prussian chief of staff once remarked, "no plan survives contact with the enemy." Instead, what survives is momentum, trajectory. Movement. If Sanders can keep building a movement, then he has a far better chance of changing history than she does. Hillary promises constantly that "I'll be there every day, fighting for you." Bernie's slogan is #NotMeUs. There's all the difference in the world.
Now, you could argue that a manager is better suited to the presidency. We've had one the last eight years and he's done a good job of cleaning up after the mess he inherited; the country, by and large, has been well run. So if you think that there's already enough momentum around issues like inequality and climate change, then it makes sense to elect another manager president. Washington pundits like the world pretty much as it is; it's working pretty well for them.
But younger people and poorer people may not see the world the same way. They may sense an urgent need for change. I mean, we've just broken the planet's temperature record two years in a row. If you think that we need a leader who will push to change the way we see the world then it makes perfect sense to imagine Bernie as the realistic candidate, the one who will get things done.
My guess is that the establishment pundits actually understand that and I think they fear it a little. The polls in Iowa showed that rich people were backing Hillary while poorer people—who can't endure much more of the status quo—came out for Bernie. That should make you think.
YOU MIGHT ALSO LIKE
Watch Larry David and Bernie Sanders 'Bern It Up' on Saturday Night Live
Noam Chomsky's New Doc Gets Huge Praise
Pharma Executives Worried Over Presidential Candidates Demand for Drug Price Reform
Jimmy Carter: Citizens United 'Gives Legal Bribery a Chance to Prevail'
EcoWatch Daily Newsletter
Scanning electron micrograph of Yersinia pestis, which causes bubonic plague, on proventricular spines of a Xenopsylla cheopis flea. NIAID / Flickr /
CC BY 2.0
A middle-aged married couple in China was diagnosed with pneumonic plague, a highly infectious disease similar to bubonic plague, which ravaged Europe in the middle ages, as CNN reported.
Milk made from almonds, oats and coconut are among the healthiest alternatives to cow's milk. triocean / iStock / Getty Images Plus
Dairy aisles have exploded with milk and milk alternative options over the past few years, and choosing the healthiest milk isn't just about the fat content.
Whether you're looking beyond cow's milk for health reasons or dietary preferences or simply want to experiment with different options, you may wonder which type of milk is healthiest for you.
Greta Thunberg stands aboard the catamaran La Vagabonde as she sets sail to Europe in Hampton, Virginia, on Nov. 13. NICHOLAS KAMM / AFP via Getty Images
Greta Thunberg, the teenage climate activist whose weekly school strikes have spurred global demonstrations, has cut short her tour of the Americas and set sail for Europe to attend COP25 in Madrid next month, as The New York Times reported.
At least 1,688 dams across the U.S. are in such a hazardous condition that, if they fail, could force life-threatening floods on nearby homes, businesses, infrastructure or entire communities, according to an in-depth analysis of public records conducted by the the Associated Press.
By Sabrina Kessler
Far-reaching allegations about how a climate-sinning American multinational could shamelessly lie to the public about its wrongdoing mobilized a small group of New York students on a cold November morning. They stood in front of New York's Supreme Court last week to follow the unprecedented lawsuit against ExxonMobil.
By Alex Robinson
Leah Garcés used to hate poultry farmers.
The animal rights activist, who opposes factory farming, had an adversarial relationship with chicken farmers until around five years ago, when she sat down to listen to one. She met a poultry farmer called Craig Watts in rural North Carolina and learned that the problems stemming from factory farming extended beyond animal cruelty.
People navigate snow-covered sidewalks in the Humboldt Park neighborhood on Nov. 11 in Chicago. Scott Olson / Getty Images
Temperatures plunged rapidly across the U.S. this week and around 70 percent of the population is expected to experience temperatures around freezing Wednesday.
A general view of the flooded St. Mark's Square after an exceptional overnight "Alta Acqua" high tide water level, on Nov. 13 in Venice. MARCO BERTORELLO / AFP / Getty Images