Bill McKibben: How to Stop the Fossil Fuel Industry From Wrecking Our World
Jan. 19, 2016 01:34PM EST
Climate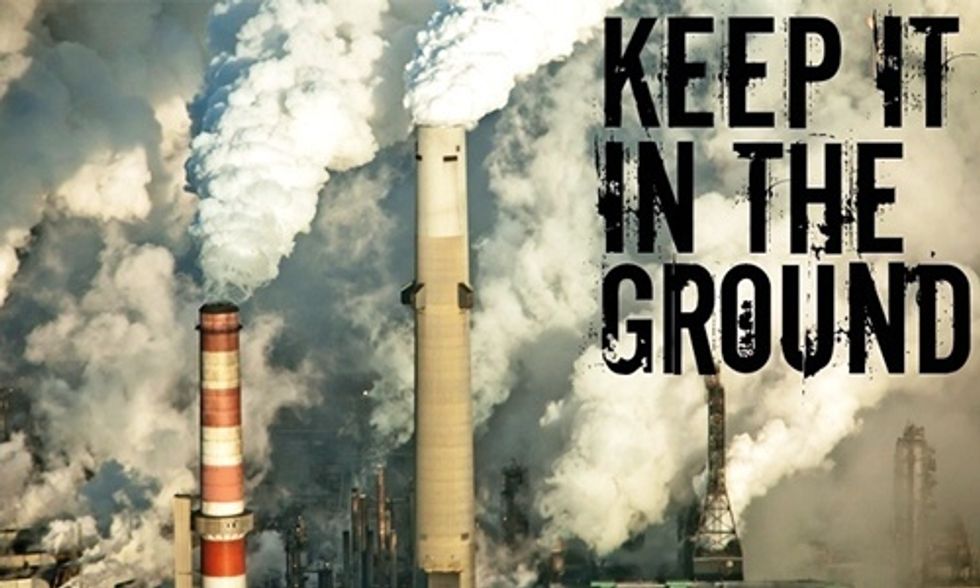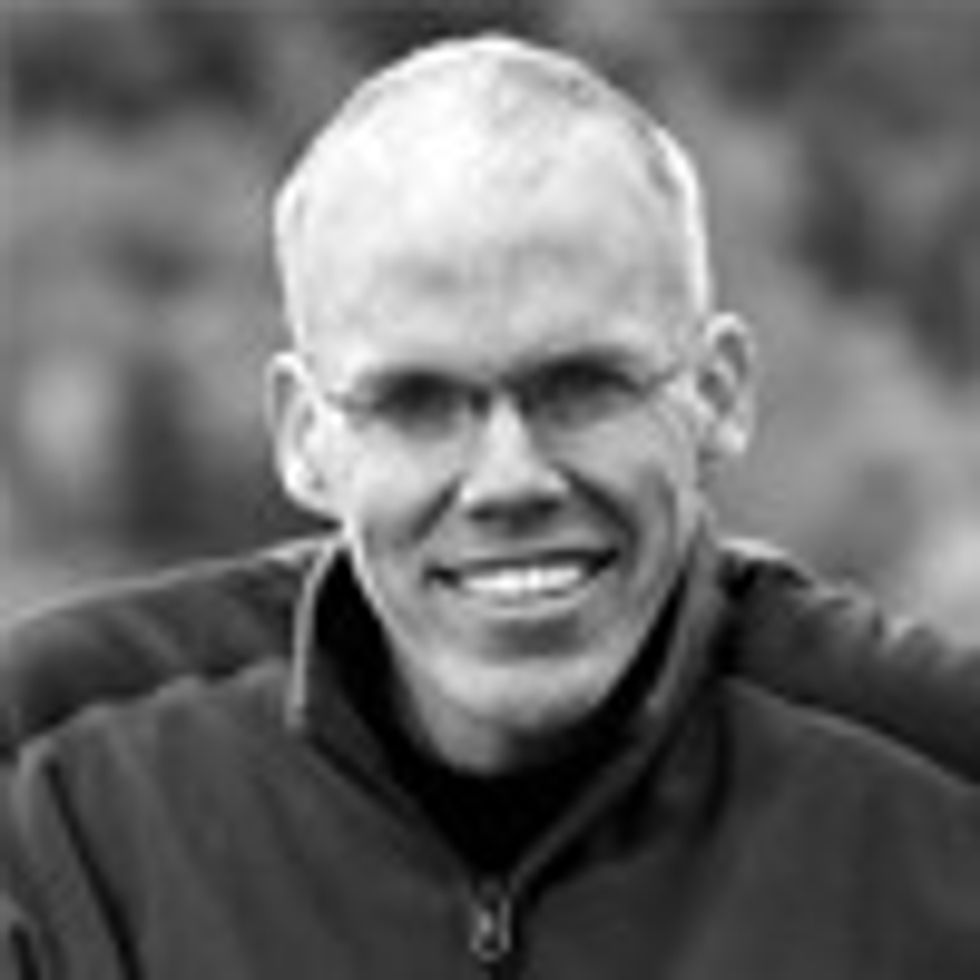 When I was a kid, I was creepily fascinated by the wrongheaded idea, current in my grade school, that your hair and your fingernails kept growing after you died. The lesson seemed to be that it was hard to kill something off—if it wanted to keep going.
Something similar is happening right now with the fossil fuel industry. Even as the global warming crisis makes it clear that coal, natural gas and oil are yesterday's energy, the momentum of two centuries of fossil fuel development means new projects keep emerging in a zombie-like fashion.
In fact, the climactic fight at the end of the fossil fuel era is already underway, even if it's happening almost in secret. That's because so much of the action isn't taking place in big, headline-grabbing climate change settings like the recent conference of 195 nations in Paris; it's taking place in hearing rooms and farmers' fields across this continent (and other continents, too). Local activists are making desperate stands to stop new fossil fuel projects, while the giant energy companies are making equally desperate attempts to build while they still can. Though such conflicts and protests are mostly too small and local to attract national media attention, the outcome of these thousands of fights will do much to determine whether we emerge from this century with a habitable planet. In fact, far more than any set of paper promises by politicians, they really are the battle for the future.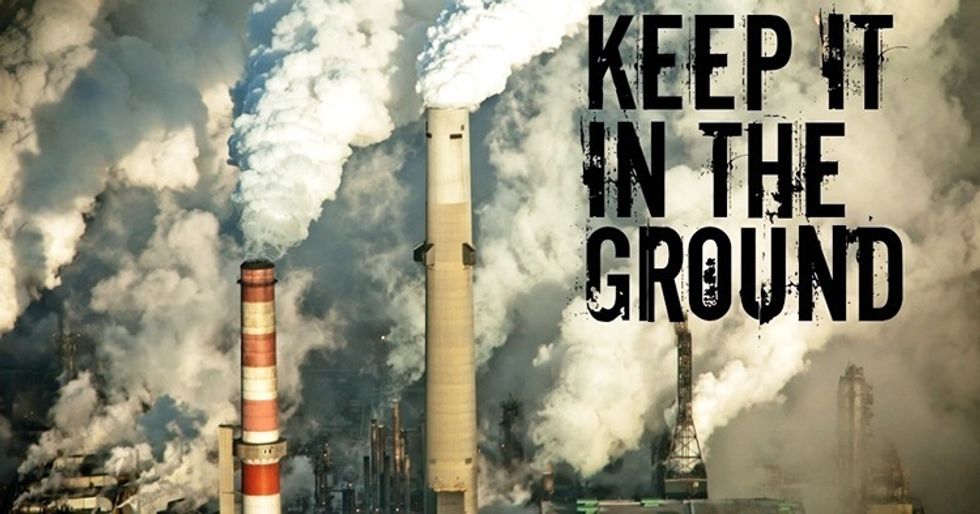 Here's how Diane Leopold, president of the giant fracking company Dominion Energy, put it at a conference earlier this year: "It may be the most challenging" period in fossil fuel history, she said, because of "an increase in high-intensity opposition" to infrastructure projects that is becoming steadily "louder, better-funded and more sophisticated." Or, in the words of the head of the American Natural Gas Association, referring to the bitter struggle between activists and the Canadian tar sands industry over the building of the Keystone XL pipeline, "Call it the Keystone-ization of every project that's out there."
Pipelines, Pipelines, Everywhere
I hesitate to even start listing them all, because I'm going to miss dozens, but here are some of the prospective pipelines people are currently fighting across North America: the Alberta Clipper and the Sandpiper pipelines in the upper Midwest, Enbridge Line 3, the Dakota Access, the Line 9 and Energy East pipelines in Ontario and environs, the Northern Gateway and Kinder Morgan pipelines in British Columbia, the Piñon pipeline in Navajo Country, the Sabal Trail pipeline in Alabama and Georgia, the Appalachian Connector, the Vermont Gas pipeline down the western side of my own state, the Algonquin pipeline, the Constitution pipeline, the Spectra pipeline and on and on.
And it's not just pipelines, not by a long shot. I couldn't begin to start tallying up the number of proposed liquid natural gas terminals, prospective coal export facilities and new oil ports, fracking wells and mountaintop removal coal sites where people are already waging serious trench warfare. As I write these words, brave activists are on trial for trying to block oil trains in the Pacific Northwest. In the Finger Lakes not a week goes by without mass arrests of local activists attempting to stop the building of a giant underground gas storage cavern. In California, it's frack wells in Kern County. As I said: endless.
And endlessly resourceful, too. Everywhere the opposition is forced by statute to make its stand not on climate change arguments, but on old grounds. This pipeline will hurt water quality. That coal port will increase local pollution. The dust that flies off those coal trains will cause asthma. All the arguments are perfectly correct and accurate and by themselves enough to justify stopping many of these plans, but a far more important argument always lurks in the background: each of these new infrastructure projects is a way to extend the life of the fossil fuel era a few more disastrous decades.
Here's the basic math: if you build a pipeline in 2016, the investment will be amortized for 40 years or more. It is designed to last—to carry coal slurry or gas or oil—well into the second half of the twenty-first century. It is, in other words, designed to do the very thing scientists insist we simply can't keep doing and do it long past the point when physics swears we must stop.
These projects are the result of several kinds of momentum. Because fossil fuel companies have made huge sums of money for so long, they have the political clout to keep politicians saying yes. Just a week after the Paris accords were signed, for instance, the well-paid American employees of those companies, otherwise known as senators and representatives, overturned a 40-year-old ban on U.S. oil exports, a gift that an ExxonMobil spokesman had asked for in the most explicit terms only a few weeks earlier. "The sooner this happens, the better for us," he'd told the New York Times, at the very moment when other journalists were breaking the story of that company's epic three-decade legacy of deceit, its attempt to suppress public knowledge of a globally warming planet that Exxon officials knew they were helping to create. That scandal didn't matter. The habit of giving in to Big Oil was just too strong.
Driving a Stake Through a Fossil-Fueled World
The money, however, is only part of it. There's also a sense in which the whole process is simply on autopilot. For many decades the economic health of the nation and access to fossil fuels were more or less synonymous. So it's no wonder that the laws, statutes and regulations favor business-as-usual. The advent of the environmental movement in the 1970s and 1980s introduced a few new rules, but they were only designed to keep that business-as-usual from going disastrously, visibly wrong. You could drill and mine and pump, but you were supposed to prevent the really obvious pollution. No Deepwater Horizons. And so fossil fuel projects still get approved almost automatically, because there's no legal reason not to do so.
In Australia, for instance, a new prime minister, Malcolm Turnbull, replaced the climate-change-denying Tony Abbott. His minister for the environment, Greg Hunt, was a particular standout at the recent Paris talks, gassing on at great length about his "deeply personal" commitment to stopping climate change, calling the new pact the "most important environmental agreement ever." A month earlier, though, he'd approved plans for the largest coal mine on Earth, demanding slight revisions to make sure that the habitat of the southern black-throated finch would not be destroyed. Campaigners had hung much of their argument against the mine on the bird's possible extinction, since given the way Australia's laws are written this was one of the few hooks they had. The fact that scientists have stated quite plainly that such coal must remain in the ground if the globe is to meet its temperature targets and prevent catastrophic environmental changes has no standing. It's the most important argument in the world, but no one in authority can officially hear it.
It's not just Australia, of course. As 2016 began in my own Vermont—as enlightened a patch of territory as you're likely to find—the state's Public Service Board approved a big new gas pipeline. Under long-standing regulations, they said, it would be "in the public interest," even though science has recently made it clear that the methane leaking from the fracked gas the pipeline will carry is worse than the burning of coal. Their decision came two weeks after the temperature in the city of Burlington hit 68 on Christmas Eve, breaking the old record by, oh, 17 degrees. But it didn't matter.
This zombie-like process is guaranteed to go on for years, even decades, as at every turn the fossil fuel industry fights the new laws and regulations that would be necessary, were agreements like the Paris accord to have any real teeth. The only way to short-circuit this process is to fight like hell, raising the political and economic price of new infrastructure to the point where politicians begin to balk. That's what happened with Keystone—when enough voices were raised, the powers-that-be finally decided it wasn't worth it. And it's happening elsewhere, too. Other Canadian tar sands pipelines have also been blocked. Coal ports planned for the West Coast haven't been built. That Australian coal mine may have official approval, but almost every big bank in the world has balked at providing it the billions it would require.
There's much more of this fight coming—led, as usual, by indigenous groups, by farmers and ranchers, by people living on the front lines of both climate change and extractive industry. Increasingly they're being joined by climate scientists, faith communities and students in last-ditch efforts to lock in fossil fuels. This will undoubtedly be a key battleground for the climate justice movement. In May, for instance, a vast coalition across six continents will engage in mass civil disobedience to "keep it in the ground."
And in a few places you can see more than just the opposition; you can see the next steps unfolding. Last fall, for instance, Portland, Oregon—the scene of a memorable "kayaktivist" blockade to keep Shell's Arctic drilling rigs bottled up in port—passed a remarkable resolution. No new fossil fuel infrastructure would be built in the city, its council and mayor declared. The law will almost certainly block a huge proposed propane export terminal, but far more important, it opens much wider the door to the future. If you can't do fossil fuel, after all, you have to do something else—sun, wind, conservation. This has to be our response to the living-dead future that the fossil fuel industry and its allied politicians imagine for our beleaguered world: no new fossil fuel infrastructure. None. The climate math is just too obvious.
This business of driving stakes through the heart of one project after another is exhausting. So many petitions, so many demonstrations, so many meetings. But at least for now, there's really no other way to kill a zombie.
YOU MIGHT ALSO LIKE
62 Richest People on Earth Own the Same Wealth as Half the World's Population
Heat Absorbed by Oceans Has Doubled Since 1997
12 Experts Comment: What Oil Below $30 Means for Efforts to Tackle Climate Change
Real-Time Carbon Clock Shows Climate Change 'Danger Zone' Is Imminent
The National Weather Service station in Chatham, Massachusetts, near the edge of a cliff at the Monomoy National Wildlife Refuge. Bryce Williams / National Weather Service in Boston / Norton
A weather research station on a bluff overlooking the sea is closing down because of the climate crisis.
The National Weather Service (NWS) station in Chatham, Massachusetts was evacuated March 31 over concerns the entire operation would topple into the ocean.
"We had to say goodbye to the site because of where we are located at the Monomoy Wildlife Refuge, we're adjacent to a bluff that overlooks the ocean," Boston NWS meteorologist Andy Nash told WHDH at the time. "We had to close and cease operations there because that bluff has significantly eroded."
Chatham is located on the elbow of Cape Cod, a land mass extending out into the Atlantic Ocean that has been reshaped and eroded by waves and tides over tens of thousands of years, The Guardian explained. However, sea level rise and extreme weather caused by the climate crisis have sped that change along.
"It's an extremely dynamic environment, which is obviously a problem if you are building permanent infrastructure here," Andrew Ashton, an associate scientist at Cape-Cod based Woods Hole Oceanographic Institution, told The Guardian. "We are putting our foot on the accelerator to make the environment even more dynamic."
This was the case with the Chatham weather station. It used to be protected from the drop into the ocean by about 100 feet of land. However, storm action in 2020 alone washed away as much as six feet of land a day.
"We'd know[n] for a long time there was erosion but the pace of it caught everyone by surprise," Nash told The Guardian. "We felt we had maybe another 10 years but then we started losing a foot of a bluff a week and realized we didn't have years, we had just a few months. We were a couple of storms from a very big problem."
The Chatham station was part of a network of 92 NWS stations that monitor temperature, pressure, humidity, wind speed and direction and other data in the upper atmosphere, The Cape Cod Chronicle explained. The stations send up radiosondes attached to weather balloons twice a day to help with weather research and prediction. The Chatham station, which had been observing this ritual for the past half a century, sent up its last balloon the morning of March 31.
"We're going to miss the observations," Nash told The Cape Cod Chronicle. "It gives us a snapshot, a profile of the atmosphere when the balloons go up."
The station was officially decommissioned April 1, and the two buildings on the site will be demolished sometime this month. The NWS is looking for a new location in southeastern New England. In the meantime, forecasters will rely on data from stations in New York and Maine.
Nash said the leavetaking was bittersweet, but inevitable.
"[M]other nature is evicting us," he told The Cape Cod Chronicle.
EcoWatch Daily Newsletter
Amsterdam is one of the Netherlands' cities which already has "milieuzones," where some types of vehicles are banned. Unsplash / jennieramida
By Douglas Broom
If online deliveries continue with fossil-fuel trucks, emissions will increase by a third.
So cities in the Netherlands will allow only emission-free delivery vehicles after 2025.
The government is giving delivery firms cash help to buy or lease electric vehicles.
The bans will save 1 megaton of CO2 every year by 2030.
Cities in the Netherlands want to make their air cleaner by banning fossil fuel delivery vehicles from urban areas from 2025.
"Now that we are spending more time at home, we are noticing the large number of delivery vans and lorries driving through cities," said Netherlands environment minister Stientje van Veldhoven, announcing plans to ban all but zero-emission deliveries in 14 cities.
"The agreements we are setting down will ensure that it will be a matter of course that within a few years, supermarket shelves will be stocked, waste will be collected, and packages will arrive on time, yet without any exhaust fumes and CO2 emissions," she added.
Protestors stage a demonstration against fracking in California on May 30, 2013 in San Francisco, California. Justin Sullivan / Getty Images
The bill, SB467, would have prohibited fracking and other controversial forms of oil extraction. It would also have banned oil and gas production within 2,500 feet of a home, school, hospital or other residential facility. The bill originally set the fracking ban for 2027, but amended it to 2035, The AP reported.
"Obviously I'm very disappointed," State Sen. Scott Wiener (D-San Francisco), one of the bill's two introducers, told the Los Angeles Times. "California really has not done what it needs to do in terms of addressing the oil problem. We have communities that are suffering right now, and the Legislature has repeatedly failed to act."
The bill was introduced after California Gov. Gavin Newsom said he would sign a fracking ban if it passed the legislature, though his administration has continued to issue permits in the meantime, Forbes reported. Newsom has also spoken in favor of a buffer zone between oil and gas extraction and places where people live and learn, according to the Los Angeles Times. The latter is a major environmental justice issue, as fossil fuel production is more likely to be located near Black and Latinx communities.
Urban lawmakers who want California to lead on the climate crisis supported the bill, while inland lawmakers in oil-rich areas concerned about jobs opposed it. The oil and gas industry and trade unions also opposed the bill.
This opposition meant the bill failed to get the five votes it needed to move beyond the Senate's Natural Resources and Water Committee. Only four senators approved it, while Democrat Sen. Susan Eggman of Stockton joined two Republicans to oppose it, and two other Democrats abstained.
Eggman argued that the bill would have forced California to rely on oil extracted in other states.
"We're still going to use it, but we're going to use it from places that produce it less safely," Eggman told The AP. She also said that she supported the transition away from fossil fuels, but thought the bill jumped the gun. "I don't think we're quite there yet, and this bill assumes that we are," she added.
Historically, California has been a major U.S. oil producer. Its output peaked in 1986 at 1.1 million barrels a day, just below Texas and Alaska, according to Forbes. However, production has declined since then making it the seventh-most oil-producing state.
Still, California's fossil fuel industry is at odds with state attempts to position itself as a climate leader.

"There is a large stain on California's climate record, and that is oil," Wiener said Tuesday, according to The AP.
Wiener and Democrat co-introducer Sen. Monique Limón from Santa Barbara vowed to keep fighting.
"While we saw this effort defeated today, this issue isn't going away," they wrote in a joint statement. "We'll continue to fight for aggressive climate action, against harmful drilling, and for the health of our communities."
From Your Site Articles
Related Articles Around the Web
EXTREME-PHOTOGRAPHER / E+ / Getty Images
By Brett Wilkins
As world leaders prepare for this November's United Nations Climate Conference in Scotland, a new report from the Cambridge Sustainability Commission reveals that the world's wealthiest 5% were responsible for well over a third of all global emissions growth between 1990 and 2015.
The report, Changing Our Ways: Behavior Change and the Climate Crisis, found that nearly half the growth in absolute global emissions was caused by the world's richest 10%, with the most affluent 5% alone contributing 37%.
"In the year when the UK hosts COP26, and while the government continues to reward some of Britain's biggest polluters through tax credits, the commission report shows why this is precisely the wrong way to meet the UK's climate targets," the report's introduction states.
The authors of the report urge United Kingdom policymakers to focus on this so-called "polluter elite" in an effort to persuade wealthy people to adopt more sustainable behavior, while providing "affordable, available low-carbon alternatives to poorer households."
The report found that the "polluter elite" must make "dramatic" lifestyle changes in order to meet the UK's goal — based on the Paris climate agreement's preferential objective — of limiting global heating to 1.5°C, compared with pre-industrial levels.
In addition to highlighting previous recommendations — including reducing meat consumption, reducing food waste, and switching to electric vehicles and solar power — the report recommends that policymakers take the following steps:
Implement frequent flyer levies;
Enact bans on selling and promoting SUVs and other high polluting vehicles;
Reverse the UK's recent move to cut green grants for homes and electric cars; and
Build just transitions by supporting electric public transport and community energy schemes.
"We have got to cut over-consumption and the best place to start is over-consumption among the polluting elites who contribute by far more than their share of carbon emissions," Peter Newell, a Sussex University professor and lead author of the report, told the BBC.
"These are people who fly most, drive the biggest cars most, and live in the biggest homes which they can easily afford to heat, so they tend not to worry if they're well insulated or not," said Newell. "They're also the sort of people who could really afford good insulation and solar panels if they wanted to."
Newell said that wealthy people "simply must fly less and drive less. Even if they own an electric SUV, that's still a drain on the energy system and all the emissions created making the vehicle in the first place."
"Rich people who fly a lot may think they can offset their emissions by tree-planting schemes or projects to capture carbon from the air," Newell added. "But these schemes are highly contentious and they're not proven over time."
The report concludes that "we are all on a journey and the final destination is as yet unclear. There are many contradictory road maps about where we might want to get to and how, based on different theories of value and premised on diverse values."
"Promisingly, we have brought about positive change before, and there are at least some positive signs that there is an appetite to do what is necessary to live differently but well on the planet we call home," it states.
The new report follows a September 2020 Oxfam International study that revealed the wealthiest 1% of the world's population is responsible for emitting more than twice as much carbon dioxide as the poorest 50% of humanity combined.
Reposted with permission from Common Dreams.

From Your Site Articles
Related Articles Around the Web
The saguaro cactus extracts carbon from the atmosphere. Thomas Roche / Getty Images
By Paul Brown
It may come as a surprise to realize that a plant struggling for survival in a harsh environment is also doing its bit to save the planet from the threats of the rapidly changing climate. But that's what Mexico's cactuses are managing to do.
Research published in the journal The Science of Nature shows that desert soils supporting a high density of cactus contain large quantities of stored bio-minerals (minerals produced by living organisms), formed by the action of the plants in extracting carbon dioxide from the atmosphere.
Not only that. Cactuses can also be harvested, processed and turned into a form of leather used to make fashion accessories like purses and wallets.
These two attributes have been turned into a successful business by a Mexican/American company, CACTO. It claims to be the first "carbon negative fashion company in the Americas" − in other words, its activities remove more carbon from the atmosphere than it creates in making and marketing its products.
No Animals Involved
This is a bold claim in an industry struggling with its poor environmental record. According to McKinsey and Co. the worldwide fashion industry emits about the same amount of greenhouse gases as France, Germany and the United Kingdom combined. But CACTO gives Mexico's cactuses special treatment.
CACTO's products are vegan and so allow a growing class of consumers to buy leather objects that are made without any animal products.
The research into the ability of cactus to extract carbon from the atmosphere and store it was carried out on one cactus species, the saguaro (Carnegiea gigantea), which can grow to 40 feet.
It is native to the Sonoran desert in Arizona and the Mexican state of Sonora, and shares with all other cactus varieties the same abilities for dealing with carbon. This has proved a bonus for CACTO because cactuses are the most numerous plants in Mexico.
CACTO's plantations are organic, fed by rainwater, free of herbicides and pesticides, and renewable, and after the ears, or leaves; of the cactus are harvested, the plant grows a replacement in six to eight months. This regeneration allows repeat harvesting. The leaves are then sun-dried to avoid using any electricity. The company's products (available only in green or black) are on sale in more than 100 countries.
CACTO was founded by Jesus Chavez, a climate campaigner, and was designed to have sustainability as a guiding principle at the core of its operation. The entire production cycle is closely monitored by its staff, from the sourcing of materials to production, packaging, distribution and shipping.
Through a partnership with a Swiss non-profit organisation, On a Mission, CACTO says its staff have measured and offset 150% of its CO2 emissions through sustainable reforestation worldwide.
The measurement and offsetting process will take place every six months for the next 10 years. Through several emergent partnerships, the company says it aims to offset at least 1000% of the emissions it generates by the end of 2021.
Engaging Entrepreneurs
Jesus Chavez said: "If we want to succeed in reaching net zero carbon emissions well before 2050 and avoid the worst consequences of climate change, we must all work in concert in whatever capacity we are able to.
"Industries across the board need to benefit from existing technology and offsetting programs to become carbon-negative, and to invest in new research and innovation to reach that goal faster. The decisions we make this decade will determine the fate of humanity for centuries to come. It is up to us now."
He said customers around the world wanted alternatives to materials that increased pollution and to unethical manufacturing processes.
CACTO hopes to inspire a new generation of entrepreneurs to make clear what has been evident to specialists for decades, that decoupling emissions from economic growth is not only feasible, but is the smartest, fastest and most responsible way to grow. Mexico's cactuses bear a heavy responsibility on their ears − or leaves − or branches.
Reposted with permission from Climate News Network.