This website uses cookies to ensure you get the best experience while browsing it. By clicking 'Got It' you're accepting these terms.
Bill McKibben: Fracking Has Turned Out to Be a Costly Detour
Mar. 24, 2016 08:01AM EST
With a new piece in The Nation, environmental leader Bill McKibben upends widely held assumptions not just about President Barack Obama's climate legacy, but about the so-called "natural gas revolution" that was once considered a "savior" in the fight against global warming.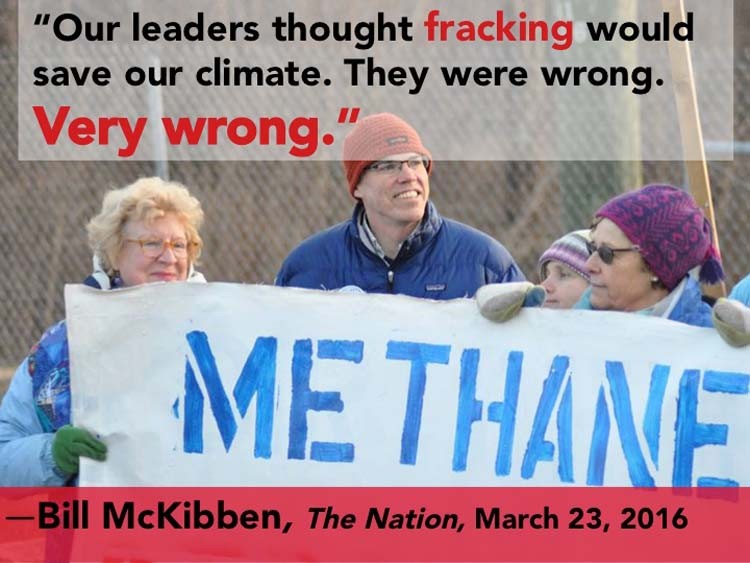 The author and 350.org co-founder points to "an explosive paper" published last month in Geophysical Research Letters, in which Harvard researchers "concluded that the nation as a whole is leaking methane in massive quantities."
As Common Dreams reported at the time, the study showed that methane emissions in the U.S. rose more than 30 percent over the 2002–2014 period, and that increase could account for 30–60 percent of the global growth of atmospheric methane seen in the past decade.
This data, McKibben told Common Dreams by phone on Wednesday, "changes, in profound ways, our own conception about what we've being doing about climate change in the U.S.—and the answer is, not much."
"Far from being a bridge to the future," he said, "natural gas turns out to have been a costly detour."
The leaks exposed by the Harvard researchers, he writes at The Nation,
are big enough to wipe out a large share of the gains from the Obama administration's work on climate change—all those closed coal mines and fuel-efficient cars. In fact, it's even possible that America's contribution to global warming increased during the Obama years. The methane story is utterly at odds with what we've been telling ourselves, not to mention what we've been telling the rest of the planet. It undercuts the promises we made at the climate talks in Paris. It's a disaster—and one that seems set to spread.
Furthermore, he continues, recently announced efforts to rein in such leaks fail to address "the core problem, which is the rapid spread of fracking."
In addition to polluting groundwater and undercutting the market for renewables—two of the "nasty side effects" he outlines in his piece—fracking "wipes out as much as three-fifths of the greenhouse-gas reductions that the United States has been claiming," McKibben writes.
All this belies what he described as "a glib willingness to think of natural gas as benign or relatively benign."
In fact, McKibben asserts in his article, if "we keep on fracking, it will be nearly impossible for the United States to meet its promised goal of a 26 to 28 percent reduction in greenhouse gases from 2005 levels by 2025."
In other words, he told Common Dreams, this is "just one more of those cases where it's become clear that if we're serious about doing anything about climate change, we actually have to get off fossil fuels."
But that will be difficult, McKibben writes, given that "[w]e've become the planet's salesman for natural gas." Even worse, he notes, "a key player in this scheme could become the next president of the United States."
He explains:
When Hillary Clinton took over the State Department, she set up a special arm, the Bureau of Energy Resources, after close consultation with oil and gas executives. This bureau, with 63 employees, was soon helping sponsor conferences around the world. And much more: Diplomatic cables released by WikiLeaks show that the secretary of state was essentially acting as a broker for the shale-gas industry, twisting the arms of world leaders to make sure US firms got to frack at will.
For these reasons, McKibben said Wednesday, "It's high time for Hillary Clinton to match Bernie Sanders' commitment against fracking."
"That's because fossil fuels are the problem in global warming—and fossil fuels don't come in good and bad flavors," he concluded in his article. "Coal and oil and natural gas have to be left in the ground. All of them."
YOU MIGHT ALSO LIKE
James Hansen: Dangerous Sea Level Rise Will Occur in Decades, Not Centuries
Is Bill Gates Right About GMOs?
Eating Less Meat Could Save 5 Million Lives, Cut Carbon Emissions by 33%
Plus, learn if there's one that's best for your health.
Catherine Falls Commercial / Moment / Getty Images
An invasive Amynthas worm, also known as a crazy snake worm, Asian jumping worm and Alabama jumper Tom Potterfield / Flickr
By Jason Bittel
My wife and I built a house two years ago on a few acres of woodland outside of Pittsburgh. The backyard is full of maples, poplars, briars and common spicebush. Two-lined salamanders and grumpy-looking crayfish wade among the rocks in the small stream that runs down the edge of the property. Deer, raccoon and opossum tracks appear regularly in the snow and mud. Sometimes, my trail-cam even catches a pair of gray foxes as they slink through the night.
AleksandarNakic / Getty Images
By Kate Murphy
No matter the time of year, there's always a point in each season when my skin decides to cause me issues. While these skin issues can vary, I find the most common issues to be dryness, acne and redness.

David Woodfall / The Image Bank / Getty Images
By Sam Nickerson
The U.S. Environmental Protection Agency (EPA) in April 2018 proposed relaxing standards related to how it assesses the effects of exposure to low levels of toxic chemicals on public health.
Now, correspondence obtained by the LA Times revealed just how deeply involved industry lobbyists and a controversial, industry-funded toxicologist were in drafting the federal agency's proposal to scrap its current, protective approach to regulating toxin exposure.
Steve Irwin poses with a three foot long alligator at the San Francisco Zoo on June 26, 2002. Justin Sullivan / Getty Images
February 22 is the birthday of conservationist and beloved TV personality "Crocodile Hunter" Steve Irwin, who would have been 57 years old today.
Irwin's life was tragically cut short when the barb from a stingray went through his chest while he was filming in 2006, but his legacy of loving and protecting wildlife lives on, most recently in a Google Doodle today honoring his birthday.