Bill Gates-Backed MIT Researchers Ready to 'Change The World' With Renewable Energy Storage Technology
A group of researchers at the Massachusetts Institute of Technology say that liquid metals could provide the solution to a solar energy challenge—ensuring that the power is available at all times.
The researchers are working on commercializing liquid-metal batteries that can store energy for less than $500 per kilowatt-hour. The group launched a startup company, Ambri Inc., and believes it found an alternative to the water systems that comprise about 95 percent of the country's energy storage capacity.
"If we can get liquid-metal batteries down to $500 a kilowatt-hour, we'll change the world," Donald Sadoway, chief scientific adviser at Ambri, told Bloomberg.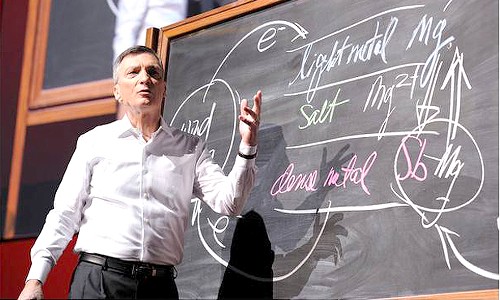 That figure—about one-third the cost of some battery technologies—would enable wind and solar project developers to bring energy to the grid all times, increasing its reliability, the researchers say. By comparison, AES Corp., the largest operator of power-storage systems, sells its systems to utilities and developers for about $1,000 per kilowatt, according to Bloomberg.
The company plans on installing its first two prototypes at a Massachusetts military base and a Hawaii wind farm by this time next year, if not earlier. Of course, it helps to have financial backing from billionaires like Bill Gates and Vinod Khosla. Gates gave the group seed funding back in 2011. Last month, Ambri won a $250,000 grant from New York state to develop and test a prototype battery with Con Edison Inc.
"The liquid metal battery technology performs like both a tractor and a race car," according to Ambri's website. "It can respond to regulation signals in milliseconds and it can store up to 12 hours of energy and discharge it slowly over time."
Sadoway said he's not concerned with lithium-ion batteries, deeming them a better fit for cars and portable devices as opposed to the large storage systems that feed the grid.
"Lithium-ion plants are too expensive to build and it makes no sense to string a bunch of these tiny things together," he said.
He added that the batteries will be able to be delivered on a truck, instead of the pumped-hydro systems that require a hill, a hydropower plant and a lot of water. According to the U.S. Department of Energy, there are 23.4 gigawatts of pumped-hydropower capacity in operation, compared to about 304 megawatts of battery storage.
"Ours won't have any geographical constraint," he said.
 Sadoway and the researchers founded Ambri in 2010.
Visit EcoWatch's RENEWABLES page for more related news on this topic.

www.facebook.com
Keep reading...
Show less
Scott Pruitt testifies during his Senate confirmation hearing for EPA administrator, January 2017.
The U.S. Environmental Protection Agency's (EPA) chief of staff pressured the leader of its Board of Scientific Counselors to change her congressional testimony to downplay the impact of the agency's mass dismissal of scientists from the board, the New York Times reports.
Keep reading...
Show less
By Jason Mark
Sequoiadendron giganteum. That's the scientific name for the giant sequoia: the mammoth trees found in California's Sierra Nevada that are the largest organisms on Earth, and among the longest-lived. Biologists estimate that about half of all sequoias live in Giant Sequoia National Monument, a 328,000-acre preserve in the Southern Sierra Nevada established by President Clinton in 2000.
Now that national monument is in jeopardy.
Keep reading...
Show less
By Andy Rowell
Donald Trump this week is launching an "energy week," pushing the argument that the U.S. will become a net exporter of oil and gas.
The president and his cronies are talking about a new era of "U.S. energy dominance," which could stretch for decades to come. However, no one believes the president anymore.
Keep reading...
Show less
UN
By Colleen Curry
The United Nations has designated 23 new sites around the world to its World Network of Biosphere reserves—stunning natural landscapes that balance environmental and human concerns and strive for sustainability.
The forests, beaches and waterways were added to the list this year at the International Coordinating Council of the Man and the Biosphere Programme meeting in Paris earlier this month.
Keep reading...
Show less
Jun. 26, 2017 01:48PM EST
www.elysee.fr
By Andy Rowell
There is a growing feeling within European capitals that a quiet, but deeply positive, revolution is happening under Emmanuel Macron in France.
Macron's opinion poll rating is high, especially boosted in how the young French president has reacted to Donald Trump on the international stage.
Keep reading...
Show less
Jun. 26, 2017 12:32PM EST
www.facebook.com
Keep reading...
Show less
Jun. 26, 2017 02:46PM EST
Keep reading...
Show less
Jun. 26, 2017 03:34PM EST
www.youtube.com
According to Bloomberg, "SeaWorld Entertainment Inc. received a subpoena earlier this month from regulators investigating disclosures and public statements by executives, including comments about the Blackfish documentary that caused a public backlash against the confinement of orcas.
Keep reading...
Show less


Get EcoWatch in your inbox