Biker Heads to DC From Cleveland With Petition to Stop Keystone XL Southern Leg
Oct. 14, 2013 03:21PM EST
Energy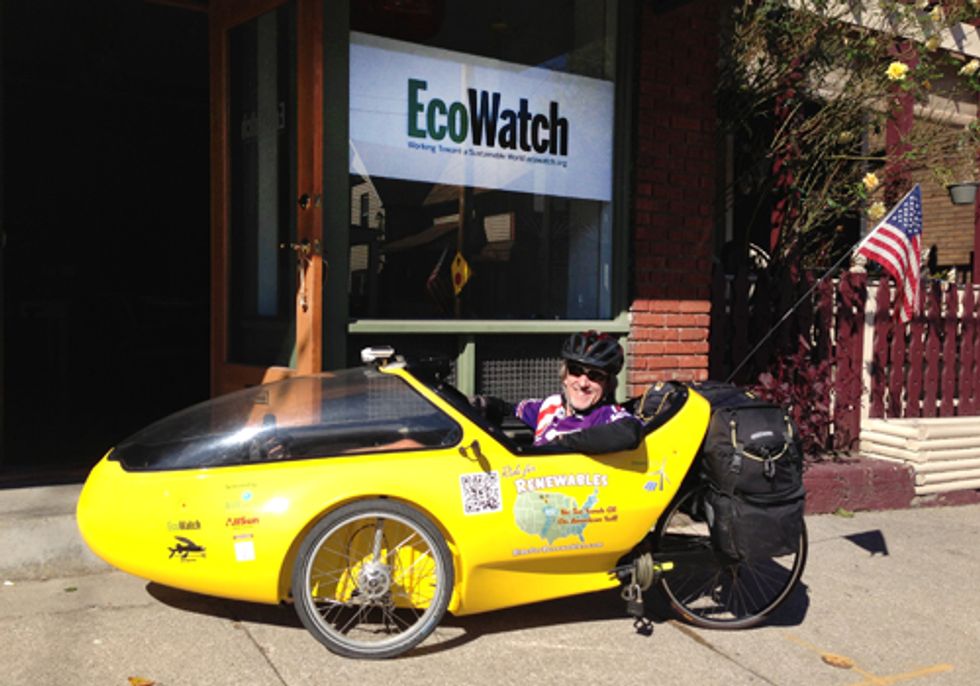 Today, Tom Weis launched a 485-mile bike journey from the Cleveland, OH, office of EcoWatch to the White House to deliver more than 7,000 signatures on a petition calling on President Obama to stop the construction of Keystone XL's 485-mile southern leg. The petition is endorsed by Daryl Hannah, Tim DeChristopher, Ed Begley, Jr., Mariel Hemingway, Dr. James Hansen, Julia Butterfly Hill, Lester Brown, Paul Hawken and others.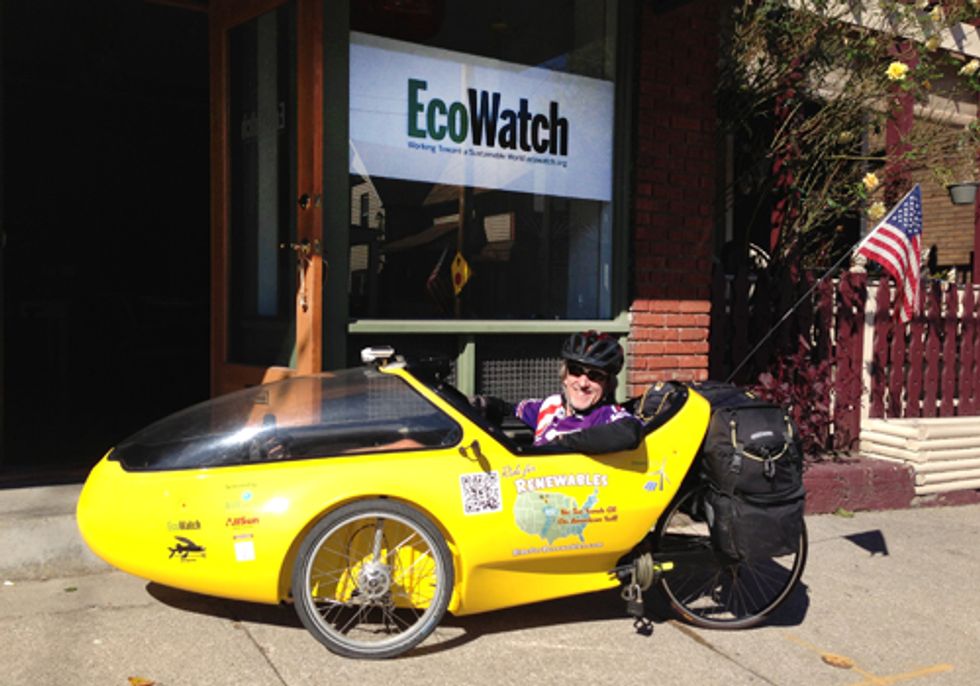 Keystone XL's 485-mile southern leg has been described as a linchpin for expanded tar sands development that, if not stopped, would transport more than half a million barrels of toxic tar sands daily from landlocked Alberta, Canada, to Texas port refineries. The tar sands pipeline is 95 percent built, with TransCanada hoping to bring it on line by the end of this year. 
Warning that the pipeline would accelerate the growth of one of the most polluting fuels on the planet, Stefanie Spear, founder and CEO of EcoWatch, said, "Stopping the construction of the southern leg of the Keystone XL pipeline is one of the most important steps in preventing irreversible damage to our climate."
Tom Weis, president of Climate Crisis Solutions, said, "If the Obama administration was able to conjure up a way to fast-track construction of Keystone XL's southern leg, it should be able to conjure up a way to stop it."
"At a time when the climate crisis demands an emergency response of 80 percent carbon cuts by 2020, our political leaders are instead embracing ever more extreme fossil fuels project like the Keystone XL tar sands pipeline in Texas and Oklahoma," said Lester Brown, president of Earth Policy Institute. "We need to be shooting for the moon with renewable energy, not drilling our way deeper into the climate hole."
Renewing the call he originally made in 2010, when he pedaled 2,500 miles from Boulder, CO, to Washington, DC, in support of 100 percent renewable electricity for the U.S. by 2020, Weis concluded, "The urgency of our economic and planetary meltdown demands a modern-day green energy 'moon shot' for America. It's time for our generation to stand up and do something great."
Weis was in the first wave of 1,253 activists arrested outside the White House during a 2011 protest against Keystone XL, spending two nights in a DC cellblock with Bill McKibben and 63 others. The 2013 Ride for Renewables will conclude with an action outside the White House in early November, where climate leaders will peaceably assemble to demand that President Obama stop the tar sands pipeline in its entirety.

EcoWatch Daily Newsletter
Related Articles from EcoWatch
Recent Stories from EcoWatch