Bike Tour Exposes How Plastic Pollution is Destroying Our Planet
Oct. 03, 2012 09:27AM EST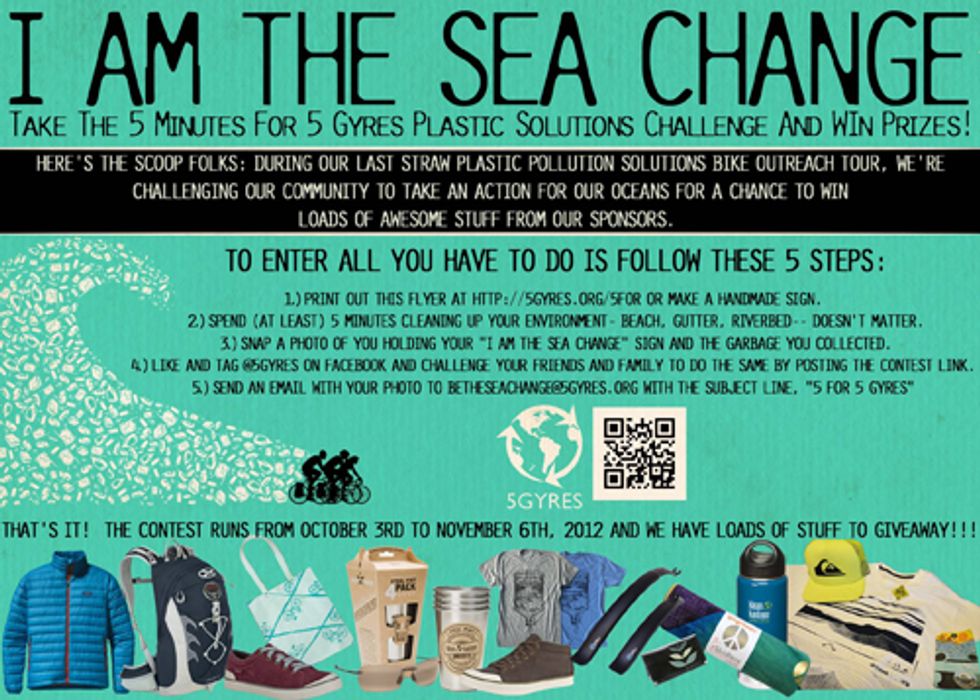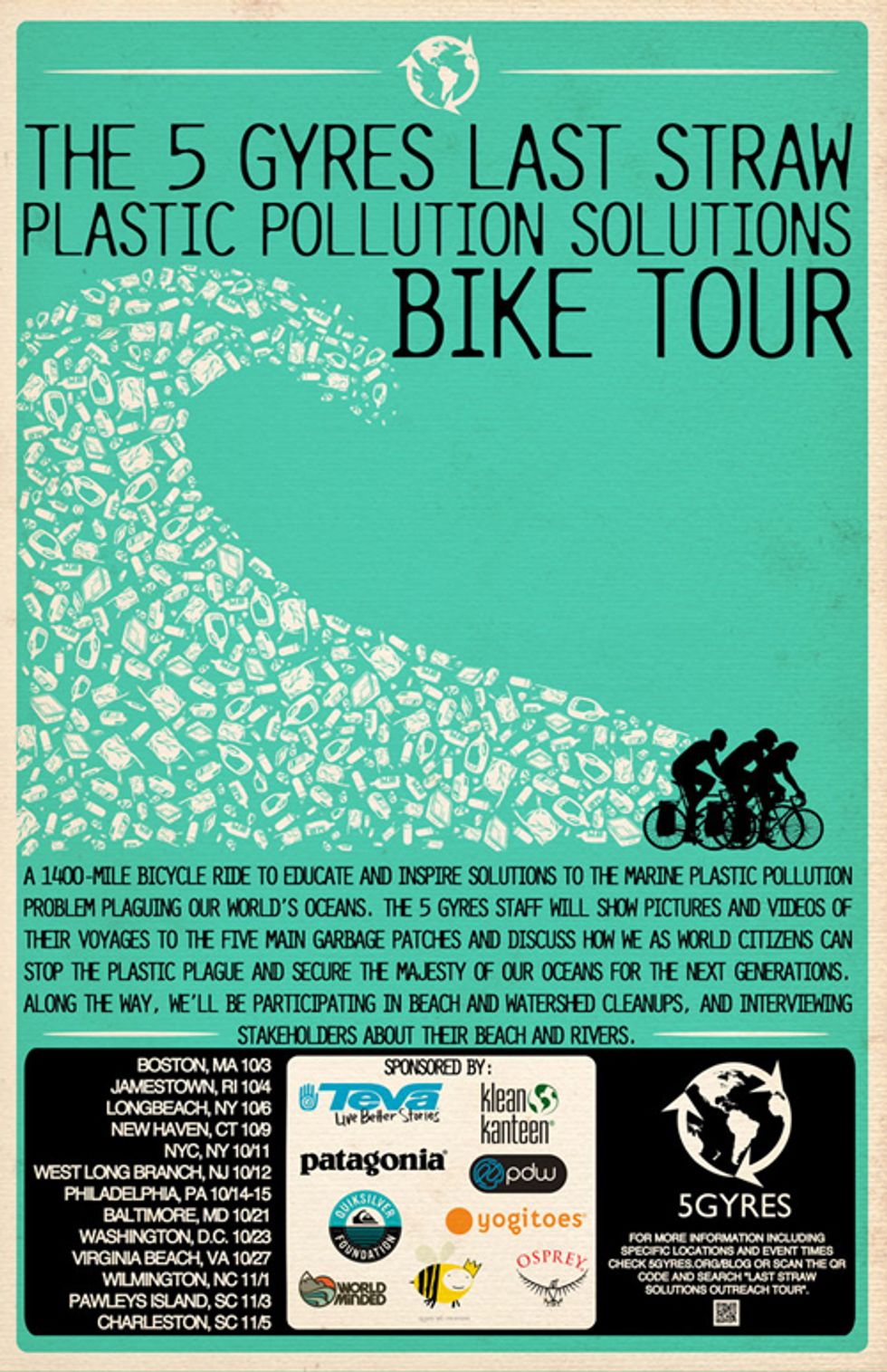 Today, the 5 Gyres Institute launched the Last Straw Plastic Pollution Solutions Outreach Tour, a 1,400 mile bicycle tour along the East Coast of the U.S. to educate the public on marine plastic pollution, conduct beach and watershed cleanups, and give evening presentations to the public.
Presentations will share their expeditions to all five major oceans studying plastic pollution in the oceanic Gyres or "garbage patches," and will engage audiences in realistic solutions. In 2011, 5 Gyres completed the first global study on plastic pollution in the world's oceans, finding evidence of plastic throughout, as well as in the Great Lakes region. The outreach tour will share cutting edge research, and inspire positive change to solve the plastic waste problem in our shared environment through education, source reductions, common sense policy and sustainable industry. 
The 5 Gyres team will visit 13 cities from Boston, MA to Charleston, SC, hosting events to engage with citizens, activists, teachers, students, scientists, industry representatives and policymakers to share the latest and most comprehensive data on marine plastic pollution.The team will share stories, film and photography from their sailing expeditions across the major oceans.
Topics to include: the study of density of plastic present in the oceans and Great Lakes, the interaction between toxic chemicals and plastic in the marine environment, the implications of plastic ingestion by fish, birds, and mammals, how these interactions magnify up the food chain, the potential human health implications and what we can do to solve the problem.
To date, 5 Gyres has sailed more than 30,000 nautical miles researching plastic pollution and has lead successful campaigns to mitigate the environmental effect of plastic bags and plastic water bottles in all major West Coast cities and Grand Canyon National Park. 
In addition to the tour, 5 Gyres is running a 5 minutes for 5 Gyres trash cleanup challenge for a chance to win prizes from the tour sponsors.
Cities part of our tour include: Boston, MA 10/3; Jameston, RI 10/4; Longbeach, NY 10/6; New Haven, CT 10/9; New York, NY 10/11; Long Branch, NJ 10/12; Philadelphia, PA 10/14-15; Baltimore, MD 10/21; Washington, D.C. 10/23; Virginia Beach, VA 10/27; Wilmington, NC 11/1; Pawley's Island, SC 11/3, and Charleston, SC 11/5.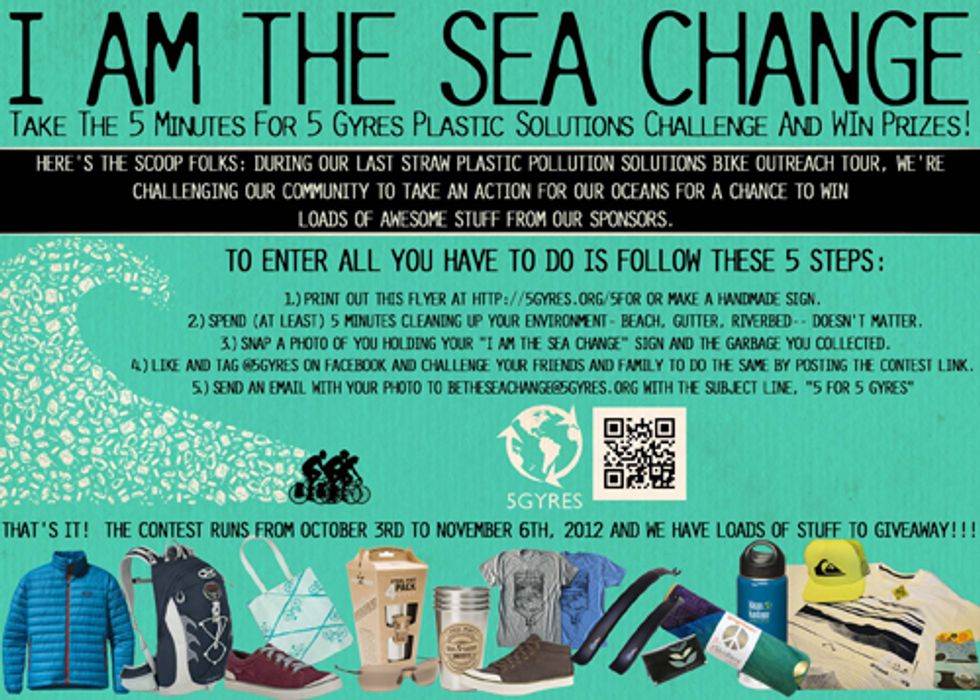 EcoWatch Daily Newsletter