Biggest Dam Removal in History on Washington's Elwha River
Oct. 03, 2011 03:27PM EST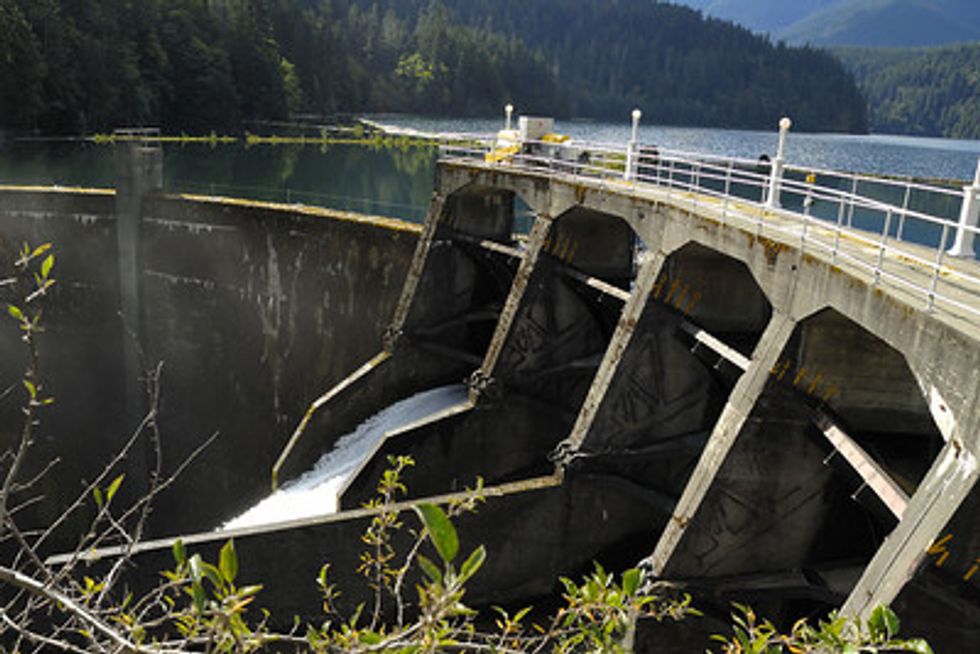 The biggest dam removal project in history began Sept. 17 on Washington's Elwha River. American Rivers, the national leader in restoring rivers through dam removal, applauded the effort which will revitalize salmon runs and deliver significant cultural, economic and recreation benefits to the Lower Elwha Klallam tribe and surrounding communities.
"This is one of the most significant river restoration efforts the world has ever seen," said Bob Irvin, president of American Rivers. "We will witness a river coming back to life, with great benefits for people and the environment. The lessons we learn on the Elwha will inform and inspire other river restoration efforts around the country."
The demolition of the two Elwha River dams was the culmination of a three-year process. Actor and American Rivers board member Tom Skerritt emceed the ceremony at Elwha Dam, which included Lower Elwha Klallam Tribal Chairwoman Frances Charles, Governor Christine Gregoire, Secretary of the Interior Ken Salazar, Senators Patty Murray and Maria Cantwell, and Rep. Norm Dicks.
American Rivers has dubbed 2011 'The Year of the River' because the U.S. will reach the significant milestone of 1,000 dams removed nationwide. Dams can provide useful services, but should be removed when they have outlived their usefulness, are unsafe or when their costs outweigh their benefits.
The Elwha River flows from the heart of Olympic National Park to the Strait of Juan de Fuca in Puget Sound. Dam removal and river restoration on the Elwha will bring hundreds of millions of dollars of economic benefits to the community, from restored fisheries to recreation and tourism. Dismantling Elwha Dam and Glines Canyon Dam will allow the river to flow freely for the first time in 100 years, restoring more than 70 miles of salmon and steelhead habitat. Fish populations are expected to grow from the current 3,000 to more than 300,000 a year, benefiting the entire web of life, from black bears to eagles to orca whales.
At 210 feet tall, Glines Canyon Dam will be the tallest dam ever removed.
The Elwha River restoration effort is the result of decades of work by the Lower Elwha Klallam Tribe, American Rivers and many other conservation partners. American Rivers has advocated for dam removal on the Elwha for more than 25 years, from intervening in the dam relicensing proceedings to supporting the 1992 legislation authorizing dam removal, to helping secure $50 million in federal economic stimulus funding for the project.
"All of us care about clean water, and about the rivers where we fish, swim and paddle," said Irvin. "American Rivers is committed to protecting and restoring the Elwha and all of our nation's rivers for future generations. Rivers connect us."
For more information, click here.
—————
American Rivers is the nation's leading voice fighting for clean water and healthy rivers. For almost 40 years we have protected and restored rivers, scoring victories for communities, fish and wildlife, and future generations. American Rivers has offices in Washington, DC and nationwide, and more than 100,000 supporters and volunteers. Visit www.americanrivers.org, www.facebook.com/americanrivers and www.twitter.com/americanrivers.
EcoWatch Daily Newsletter