This website uses cookies to ensure you get the best experience while browsing it. By clicking 'Got It' you're accepting these terms.
Biggest Concerns Still Unanswered in Gov. Kasich's Collusion With Fracking Industry
Feb. 24, 2014 12:01PM EST
Energy
By Brian Kunkemoeller
Ohio's Gov. John Kasich reversed his position on fracking public lands in response to public outcry about the events surrounding recently released information about the state's collusion with the oil and gas industry to conduct a shady pro-fracking PR campaign. Last week, Gov. Kasich announced that he is opposed to drilling in state parks, but the biggest concerns are still unanswered as a cloud of controversy still lingers.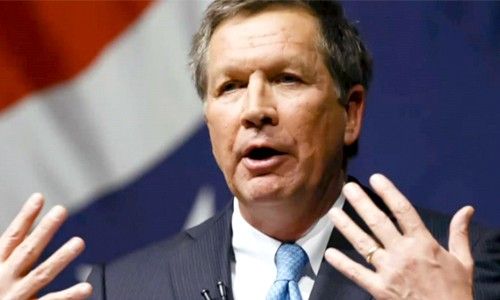 "FrackGate"
In 2011, we watched as a state legislature seemingly smitten by the industry passed legislation opening public lands to fracking with handshakes and applause, despite polls showing that 70 percent of Ohioans were opposed. Ohio Sierra Club members and others had risen to the occasion by writing letters and giving testimony, but the Governor signed the bill into law, which at that time seemed to seal the fate for Ohio's public lands. 
In 2012, the Ohio Sierra Club filed the first of many open records requests to the Ohio Department of Natural Resources (ODNR) looking for e-mails between the agency and the industry and how the language of the public lands fracking bill was written. The agency didn't respond, forcing our first lawsuit (and not our last) simply to obtain public records from the ODNR. One of the things we discovered in those e-mails was that the Ohio Oil and Gas Association had been one of a select few invited to make edits to the legislation as the bill was making its way into state law. 
Late last year, amid silence from the administration on the status of opening public lands to horizontal fracking, Ohio Sierra Club filed another public request under Ohio records law. It was this request that yielded the now-famous collusion document as well as the e-mail invite from the Governor's office that named several targets, including Robert F. Hagan (D-Youngstown), in what the state representative has since coined "frackgate."
Stories about this will be written and re-written, as the depth of this story is only beginning to be seen. How far down the rabbit-hole the state administration has gone will always be a topic of speculation. Unless, of course, there is an investigation. 
Ohio's PR Agenda
There is no question that ODNR is actively silencing and opposing Ohioans concerned about fracking. This is the same agency who recently ignored repeated requests by the citizens of Athens and county commissioners alike who were simply asking for a public hearing about proposed fracking waste disposal wells. The ODNR met citizens in Portage County with armed guards and dogs, giving a brief lecture about the history of oil and gas in Ohio and refusing to answer questions about the wells in question. 
Most disturbing, citizens in Darke County (hometown of Director James Zehringer) held expert panel events about fracking, only to have handouts made by ODNR staff discrediting their information delivered to and distributed by the County Commissioners office. Ohio Rep. Jim Buchy (R-Greenville) even made a website that features videos of the ODNR staff discrediting the citizens' concerns alongside Energy In Depth—the industry's new pet PR firm. 
How are public funds being used for these purposes? How much state officials' staff time is being used to do PR, and by whom? What is the agency's relationship with Halliburton, America's Natural Gas Association and JobsOhio? When did the ODNR start working with Energy In Depth and what is their relationship?
Where does our state regulatory agency end, and the fracking industry they regulate begin? 
State Reps. Hagan and Nickie J. Antonio (D-Lakewood) submitted a letter to Ohio House Speaker William Batchelder requesting legislative hearings and an investigation in to the ODNR's agenda. If House Speaker Batchelder denies these requests, Ohioans will be forced to draw their own conclusions about whether or not the oil and gas industry has infiltrated the public process.  
In fact, if there is no investigation, the public has every right to draw some very serious conclusions.  
Kasich's Conundrum
The governor made stunning comments when he announced his reversal. First, that he didn't believe that the "regulatory framework was mature enough" for fracking in parks. Second, this is why he never appointed the five-member Oil and Gas Leasing Commission before the deadline to approve public lands leases. (About that public lands leasing commission—the nominations were made by the Ohio Oil and Gas Association themselves during an e-mail exchange with the ODNR)
These are two very interesting statements.
One: if the regulatory framework is in fact not mature enough, then he apparently perceives that fracking isn't safe enough for our public lands. The obvious question is: if it's not safe enough for our public lands, is it safe enough for our communities? Does the governor agree that the ODNR seems incapable of regulating fracking and knows all too well about their sweetheart relationship with industry? Here's the take from Sierra Club President David Scott:
"It seems Governor Kasich is coming to his senses after being caught up in the ongoing 'FrackGate' scandal. The governor now admits that the 'regulatory structure' is not 'mature' enough to allow fracking in Ohio's parks. We agree. But the Sierra Club and our 2.4 million members and supporters understand that what is too dangerous for our parks is too dangerous for other public lands or our backyards. And everyone will agree that public officials shouldn't be colluding with the oil and gas industry to force fracking down our throats."
Two: is this actually about the severance tax? A Columbus Dispatch article earlier this week quotes Tom Stewart vice president of the Ohio Oil and Gas Association, "We would never compromise our position on the severance tax to get concessions on state land." So, what Stewart is saying is that he's not going to sue the governor for not making the appointments he wanted for the Ohio Oil and Gas leasing commission because he would rather pass a tax bill that Ohio Oil and Gas Association admittedly wrote.
This is the real crux of the governor's position. It explains why he's holding off on making appointments to the leasing commission. It also explains why he left himself an out when he said he "holds the right to revisit" his opposition to fracking public lands. He's using Ohio's public lands as a bargaining chip. 
Yes, it's indeed a dubious business to dance with the fracking industry. Disclaimer: severance taxes on extractive industries aren't necessarily a good thing. 
So, what's all of this severance tax business about anyway? Well, it's actually really important and it's become a very serious problem for the governor, though no one seems to be talking about how FrackGate and the severance tax are very much connected (except for Tim Kovach).
While already fighting an uphill battle to show job growth from fracking is anywhere near par with projections—Kasich is being outright stifled in his efforts to draw even a modest tax on the industry and follow through on his promises for Ohioans to actually benefit from fracking. Disaster struck for Kasich when Speaker of the House William Batchelder soundly defeated the Governor's severance tax proposal that would have lowered income taxes for Ohioans and at least partially resolved significant questions about Ohio's budget. All of that despite the fact that the Governor's bill would have kept Ohio's fracking tax among the lowest in the nation. 
Batchelder immediately came back with Ohio Oil and Gas Association's own trojan horse severance tax, that marginally increased the tax from 2 percent to 2.25 percent, but grants other tax subsidies which the Ohio Legislative Service Commission shows would amount to an $8.5 million dollar loss for the General Revenue Fund, including a $1.1 million dollar loss to the School District Property Tax Replacement Fund. If passed, Ohioans would lose out on any actual benefit from fracking, period. Kasich is being just plain out-dueled by his radical counterparts in the statehouse and their friends at the Ohio Oil and Gas Association. 
Oddly, the governor might be in a ripe position to fight back. A moratorium on drilling and a full investigation of ODNR's relationship with industry would certainly get their attention.
One thing is for certain—FrackGate has Ohio on notice, and the people are watching.
Visit EcoWatch's FRACKING page for more related news on this topic.

EcoWatch Daily Newsletter
Ryan Hagerty / USFWS
It's become a familiar story with the Trump administration: Scientists write a report that shows the administration's policies will cause environmental damage, then the administration buries the report and fires the scientists.
A coalition of some of the largest environmental groups in the country joined forces to file a lawsuit in federal court challenging the Trump administration's maneuver to weaken the Endangered Species Act.
beyond foto / Getty Images
By Kimberly Holland
Children who eat a lot of gluten in their earliest years may have an increased risk of developing celiac disease and gluten intolerance, according to a new study published in JAMATrusted Source.
Joe Raedle / Getty Images
By Jake Johnson
Calling the global climate crisis both the greatest threat facing the U.S. and the greatest opportunity for transformative change, Sen. Bernie Sanders unveiled today a comprehensive Green New Deal proposal that would transition the U.S. economy to 100 percent renewable energy and create 20 million well-paying union jobs over a decade.
The Parties to CITES agreed to list giraffes on Appendix II of the Convention on International Trade in Endangered Species (CITES) today at the World Wildlife Conference or CoP18 in Geneva. Such protections will ensure that all giraffe parts trade were legally acquired and not sourced from the poached giraffes trade and will require countries to make non-detriment findings before allowing giraffe exports. The listing will also enable the collection of international trade data for giraffes that might justify greater protections at both CITES and other venues in the future.

The WHO stressed that more research is needed on the potential health risks of microplastic ingestion. luchschen / iStock / Getty Images Plus
The UN's health agency on Thursday said that microplastics contained in drinking water posed a "low" risk at their current levels.
However, the World Health Organization (WHO) — in its first report on the potential health risks of microplastic ingestion — also stressed more research was needed to reassure consumers.
Brazil's right-wing President Jair Bolsonaro is giving President Trump a run for his money in the alternative facts department.
Washington Gov. Jay Inslee, who made solving the climate crisis the center of his presidential campaign, is dropping out of the 2020 Democratic primary race.