This website uses cookies to ensure you get the best experience while browsing it. By clicking 'Got It' you're accepting these terms.
Big Food Says They Will Label GMOs ... But Is There More to the Story?
Mar. 26, 2016 07:51AM EST
Food
The world's largest food corporations have spent hundreds of millions of dollars (some of it illegally) to avoid being required to label the genetically engineered (GMOs) ingredients in their products.
But with the July 1 deadline for complying with Vermont's GMO labeling law on the horizon, a handful of the largest multinational food corporations have announced they will now label GMOs—not solely because they will be forced to, but because as General Mills claims, they believe "you should know what's in your food and how we make ours."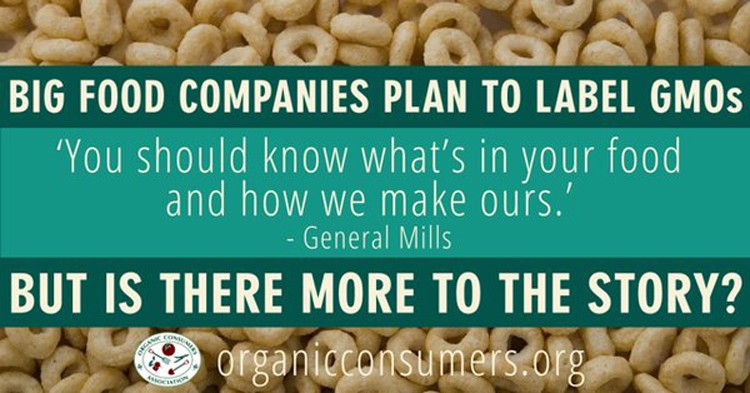 Have consumers won the GMO labeling battle? Have these food companies that so fiercely fought to keep labels off their products really split with the Grocery Manufacturers Association (GMA), the multi-billion-dollar lobbying group that is still trying to overturn Vermont's law in the courts, and preempt it in Congress?
To be sure, consumer pressure has had an impact on brands' decisions to label. We should celebrate that. But before we break out the champagne, it's worth noting that not all of the food companies that announced plans to label have taken a strong position on labeling. Equally important, four out of the five companies announced plans to label after a Senate bill to preempt Vermont's labeling law failed, but before the Senate has a chance to come back with an amended version of the bill after Congress returns on April 4 from Easter recess.
Is there something more to these recent announcements than just the need to comply with Vermont's law? As in, a strategy to lull consumers into complacency, while at the same time forcing Congress to give food companies what they've wanted all along—a free pass on labeling?
It's also worth noting that all of the companies that have revealed plans to label adamantly defend the "safety" of GMOs—without once mentioning the fact that the vast majority of GMO crops, from which GMO food ingredients are derived, are sprayed with glyphosate, classified last year by the World Health Organization as "a probable human carcinogen." Clearly, we have a long way to go before food corporations acknowledge the devastating consequences of the GMO monoculture model on the environment, human health and global warming.
Who's labeling, and why?
Campbell's Soup Co. CPB (NYSE), General Mills (NYSE:GIS), Mars and Kellogg's (NYSE: K) and ConAgra Foods(NYSE CAG) have all declared they will label GMOs in time to comply with Vermont's July 1 deadline, and in accordance with the Vermont law's standards. The companies say that any costs associated with labeling won't be passed on to consumers—a claim that deflates one of the industry's long-standing, albeit routinely debunked, arguments that GMO labeling will lead to higher food prices for consumers.
Campbell's was first out of the gate, and the first to break with the GMA on the lobbying group's non-negotiable stance against mandatory labeling. After spending a half a million dollars to help defeat California's Proposition 37 ballot initiative that would have mandated labels, Campbell's now says the company supports a mandatory federal labeling solution. Following Campbell's Jan. 1 announcement, we reached out to clarify what the soup company would do if Vermont's law were preempted at the federal level. A Campbell's spokesperson responded by saying that regardless of what happens in Congress, Campbell's products will be labeled, with the words "partially produced with genetic engineering," in all 50 states. On the surface, that's good news. But let's not forget that a federal labeling bill could forbid companies from printing those, or similar words on a label, in the interest of preventing food producers from "stigmatizing" biotechnology.
Similarly, we reached out to General Mills, Mars and Kellogg's this week asking for clarification on their positions. Kellogg's responded, but wouldn't provide answers to our direct questions, referring us instead to the official statement (which doesn't answer our questions). We haven't yet heard back from ConAgra, but we did receive responses from General Mills and Mars.
When asked if General Mills now supports a mandatory federal labeling solution, Mike Siemienas, manager of brand media relations, told us in an email that the cereal giant is "supportive of a model similar to what is used for organic products." In other words, voluntary, not mandatory. Asked if General Mills would label its GMO products according to Vermont standards even if Congress were to preempt Vermont, Siemienas wrote: "... we would comply with any law that Congress passes." We took that as a no.
But General Mills appears (so far) to be alone in continuing to side with the GMA on opposing mandatory labeling laws. Jonathan Mudd, Mars' global director of media relations, told us by email that Mars, like Campbell's, supports "the establishment of a mandatory national labeling system." Mudd also confirmed that Mars will label its products "consistent with Vermont" regardless of whether or not Vermont is preempted "because we believe in consumer transparency." Mars pitched in $376,000 to defeat California's Proposition 37. But after anti-labeling food corporations became boycott targets following the defeat of Prop 37, Mars sat out similar battles in Washington State (2013) and Oregon (2014).
Campbell's and Mars both cited the "need to avoid a 50-state patchwork" of labeling laws as their reason for supporting a mandatory federal solution, as opposed to supporting states' rights to pass GMO labeling laws. On the surface, the patchwork argument might sound rational—until you consider the fact that there are more than 100 state laws, governing food labeling, including a Vermont maple syrup labeling law, and a Minnesota law governing the labeling of wild rice. None of these laws ever created "chaos" in the marketplace, as U.S. Department of Agriculture Secretary Tom Vilsack has warned about Vermont's GMO labeling law. And none were ever opposed with the same relentless determination, much less lavish spending, as GMO labeling laws. Maybe because none of them affected Monsanto's bottom line?
Timing is everything
General Mills, Mars and Kellogg's all revealed their labeling plans after the Senate failed to pass S. 2609, a bill intended to preempt Vermont. It's possible that their announcements signal that these food giants have conceded defeat, especially as they all noted the need to comply with the Vermont July 1 deadline.
That's the optimistic view. But the timing of these announcements, made before the Senate returns to try again to try to pass a preemption bill, could also be part of a calculated strategy to win over more Senators to a compromise bill, one that will delay or outright preempt enactment of Vermont's Act 120.
Sen. Pat Roberts (R-Kan.), sponsor of the Monsanto- and GMA-funded S. 2609 (dubbed by opponents as the DARK Act—Deny Americans the Right to Know Act) is unwavering in his rejection of any legislation that requires labels on GMO ingredients. Though he is adamant about a "federal solution," Roberts outright, and illogically, rejects the idea of a uniform mandatory federal solution.
Roberts' rigid position on mandatory vs. voluntary cost him the support of Sen. Debbie Stabenow (D-Mich.), Ranking Member of the Senate Agriculture Committee and a key player in the GMO labeling drama. Stabenow says she would support a mandatory federal labeling law, though whether that support would include on-package labels, or some sort of QR barcode scheme or toll-free phone numbers, both of which have been floated as alternatives to on-package labels, remains unclear.
Still, Stabenow and other Senators representing Big Ag states are under tremendous pressure (by corporations, not voters) to keep Vermont's law from taking effect. The Big Food corporations know this. So is it possible that companies, by announcing, in quick succession that they will label voluntarily, hope to send the message that there's no need to pass a mandatory labeling law, because they've already volunteered? And could those big companies, or at least some of them, pull the plug on their labeling plans if federal legislation preempts Vermont? (Again, Campbell's and Mars have said they will proceed regardless of what happens in Congress—we know that's not the case for General Mills; Kellogg's and ConAgra haven't confirmed one way or the other).
That's one possibility. Here's another. General Mills told Politco's Jenny Hopkinson that while the company won't pass on the cost of labeling to consumers, the Minnesota-based cereal giant will have to spend "millions of dollars" to comply with Vermont's law. Could this "woe is me" message win enough sympathy votes from Senators who may still be on the fence (and who are being hounded by their corporate donors), that they'll be persuaded to betray consumers in order to stave off what General Mills or other companies allege is a "huge" financial burden?
It's also possible that this is just a public relations ploy by corporations that are banking on the fact that a federal law will pass before they have to label, and that that law will include restrictions that prohibit them from printing "produced with genetic engineering," or similar wording, on their packages. That scenario would allow them to say, gee, we tried to give consumers what they want, but Congress wouldn't allow it.
Whatever the new-and-improved version of the Senate bill morphs into, assuming the Senate passes a bill, it will have to go back to the U.S. House. There, members of a Republican-controlled Joint Standing Conference Committee will try to "reconcile" the Senate bill with the House version, H.R. 1599, which passed the House in July by a vote of 275 – 150. Guaranteed, the House won't sign off on anything with the words "mandatory" or "on-package." In fact, House Agriculture Committee Chairman Mike Conaway (R-Texas), according to Politico, "declared just this week that he won't support on-package labeling, which he has said stigmatizes the technology." Whatever ends up coming out of the committee will have to go back to the House and Senate for a full vote.
That leaves consumers no choice but to continue to hammer our Senators with this message: No compromise. Let Vermont's law take effect. And if you really can't tolerate supporting states' rights to pass labeling laws, then pass a federal labeling law that meets, or preferably exceeds, the standards set by Vermont's law.
Katherine Paul is associate director of the Organic Consumers Association. Ronnie Cummins is international director of the Organic Consumers Association.
YOU MIGHT ALSO LIKE
Is Bill Gates Right About GMOs?
Cereal Giant General Mills to Start Labeling GMOs Nationwide as Vermont Law Looms
Huge Victory: Senate Rejects the DARK Act
Big Food Found Guilty in Multimillion Dollar Cover Up in GMO Labeling Fight
EcoWatch Daily Newsletter
Two Sherpa descending from Everest Base Camp, Himalayas, Khumbu, Nepal. Joel Addams / Aurora Photos / Getty Images
Climate change is having a grizzly effect on Mount Everest as melting snow and glaciers reveal some of the bodies of climbers who died trying to scale the world's highest peak.
Navajo Generating Station, Arizona. Wolfgang Moroder / Wikimedia / CC BY-SA 3.0
The Navajo Nation have decided to stop pursuing the acquisition of a beleaguered coal-fired power plant in Arizona, locking in the plant to be taken offline and its associated coal mine to close later this year.
A Navajo Nation Council committee voted 11-9 last week to stop pursuing the purchase of the 2,250-megawatt Navajo Generating Station, which with the Kayenta coal mine provides more than 800 jobs to primarily Navajo and Hopi workers as well as tribal royalties.
A coalition of utilities that own the plant said in 2017 it would cease operations due to increased economic pressure, and the plant's future has proved a flash point for national and regional energy policy and raised larger questions on how Native communities will handle ties to fossil fuel industries as the economy changes.
For a deeper dive:
Arizona Republic, Indian Country Today, AP, WOKV, Farmington Daily Times
For more climate change and clean energy news, you can follow Climate Nexus on Twitter and Facebook, and sign up for daily Hot News.
Related Articles Around the Web
Sir David Attenborough opens Woodberry Wetlands on April 30, 2016 in London, United Kingdom. Danny Martindale / WireImage
An extended version of the Fuxing bullet train at the China National Railway Test Center on Oct. 15, 2018 in Beijing, China. VCG / VCG via Getty Images
By Jeff Turrentine
Is it just us?
Other countries don't seem to have a problem getting their high-speed rail systems on track. This superfast, fuel-efficient form of mass transit is wildly popular throughout Asia and the European Union. Japan's sleek Shinkansen line, the busiest high-speed rail system in the world, carries an estimated 420,000 riders every weekday. In China, the new Fuxing Hao bullet train now hurries more than 100 million passengers a year between Beijing and Shanghai at a top speed of 218 miles an hour, allowing its riders to make the trip of 775 miles — roughly the distance from New York City to Chicago — in about four and a half hours. Spain, Germany and France together have more than 4,500 miles of track dedicated to high-speed rail, over which more than 150 million passengers travel annually.
Ocean Heroes Bootcamp
By Coda Christopherson (11) and Lea Eiders (15)
Growing up in a plastic-free home, I was sheltered from the plastic waste crisis. I (Coda) went to a very progressive school that had vegan lunch items, farm animals and ran on solar power. My mom produces zero-waste events and my dad is a sailor, so we're very passionate about the ocean. When I was nine years old, we moved back to Manhattan Beach, California and I started 3rd grade in a public school. This was the first time I really understood that plastic-free living is not the norm; single-use plastics were everywhere, especially in the cafeteria. Once I recognized this problem, I knew I had to make a difference.
A major California avocado producer issued a voluntary recall of the popular fruit over concerns they could be contaminated with Listeria monocytogenes, USA Today reported.
Henry Avocado issued the recall Saturday after a routine government inspection at its California packing facility turned up positive test results for the bacteria on "environmental samples," the company said in a statement. No illnesses have been reported.
Acting Secretary David Bernhardt visited Watson Hopper Inc., a manufacturer of rigs and oil drilling equipment in Hobbs, New Mexico on Feb. 6, 2019.
Tami A. Heilemann / DOI
Oil executives gathered for a conference laughed about their "unprecedented" access to Trump administration officials, according to a recording obtained by Reveal from the Center for Investigative Reporting.
In the recording, taken at a June 2017 meeting of the Independent Petroleum Association of America (IPAA) at a Ritz-Carlton in Southern California, members expressed excitement about one official in particular: David Bernhardt, who had been nominated that April to be deputy secretary at the Department of Interior (DOI). Bernhardt would be confirmed the following month.
"We know him very well, and we have direct access to him, have conversations with him about issues ranging from federal land access to endangered species, to a lot of issues," IPAA political director Dan Naatz said in the recording.