This website uses cookies to ensure you get the best experience while browsing it. By clicking 'Got It' you're accepting these terms.
Big Food Hires Big Tobacco Shills to Fight GMO Labeling
Aug. 14, 2012 10:25AM EST
GMO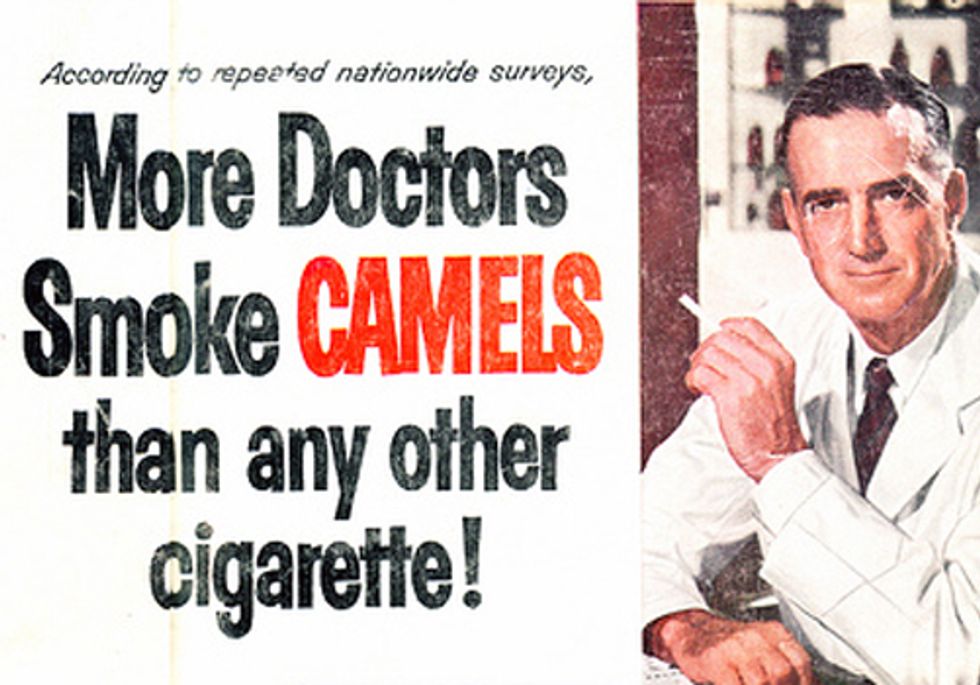 The food industry really hates it when you compare them to Big Tobacco. They try to deny the negative association by claiming that food is different than tobacco. Of course that's true, but why are the same consultants that have worked for the tobacco industry now shilling for Big Food, opposing the ballot initiative that would require labeling of all foods containing genetically modified organism (GMO) ingredients?
Hiring Secret Consultants for the Dirty Work
The latest financial filings in California for the "No on 37: Coalition Against the Deceptive Food Labeling Scheme" reveal a $7,500 payment to the Sacramento-based political consulting firm, MB Public Affairs. Here is how the Los Angeles Times described the firm last year:
MB Public Affairs is headed by Mark Bogetich, a garrulous operative known to his friends as "Bogey," who has helped a number of Republican candidates neutralize their opponents. In recent years, MB Public Affairs has worked for Altria, once known as the Phillip Morris Cos. …
Bogetich has also been called "the go-to guy for [the Republican] party," and "the only game in town." The Los Angeles Times article explains how last year MB Public Affairs filed more than 50 public record act requests to dig up dirt on a small but effective group called the Los Angeles Alliance for a New Economy. No wonder, since the organization has scored such important victories as a living wage for workers, which would threaten plenty of businesses.
But which ones? Who knows, because by hiring MB Public Affairs to do its dirty work, industry gets to keep its nose clean—a classic Big Tobacco tactic. Well-known brands such as PepsiCo (which I wrote about last week) and Kraft don't want to be associated with negative campaigning, so they farm out the job to consulting firms. In this case, they went right to the top, or the bottom. Things are likely to get ugly.
Creating Front Groups for the Dirty Work
Another tactic honed by Big Tobacco is to form a front group, which appears to be made up of small businesses and others designed to give the impression of a grassroots campaign, but in reality is funded by large corporations. This tactic, known as an astroturfing, is alive and well with "No on 37," which describes itself as, "A broad coalition of family farmers, scientists, doctors, taxpayers, small businesses, labor, food companies, biotechnology companies and grocers.
Small farmers and small businesses? I don't see any listed on the "Who We Are" page. I do see many not-so-small trade groups representing numerous not-so-small corporations, some of them from outside California, including CropLife America, which is a trade group for the biotech and pesticide industry.
Also, the "No on 37" campaign is represented by the law firm, Bell, McAndrews & Hiltachk, which has a sordid history of stealth tactics such as astroturfing. And no wonder, with former Phillip Morris outside council Tom Hiltachk as the campaign's treasurer. (His firm's address is listed on the webpage for where to send donations.)
Hiltachk had this disingenuous quote about the GMO labeling initiative back in February: "Farmers and food producers strongly oppose this costly, ill-conceived labeling proposition." There are those invisible farmers again.
No stranger to California politics, Hiltachk's firm represents the California Republican Party and helped make Arnold Schwarzenegger governor by orchestrating the statewide recall campaign of former Gov. Gray Davis.
According to PolluterWatch, Tom Hiltachk and his firm are well known for creating front groups that promote or attack ballot initiatives at the behest of the firm's wealthy corporate clients: "In the past Hiltachk has attacked anti-smoking initiatives while being paid by major tobacco corporations."
And this scathing article at ThinkProgress from 2010 describes Hiltachk's attempt to repeal California's clean energy policy and says his "under-the-radar tactics of shifting money around and using phony groups are nothing new." Specifically:
During the eighties and nineties, Hiltachk and his law partners helped the tobacco industry, with funding from Philip Morris and R.J. Reynolds, coordinate a variety of stealth front groups. While his law firm received over a million from tobacco interests, Hiltachk helped organize "Californians for Smokers' Rights," a supposedly "grassroots" group that relied on tobacco industry consumer lists to mobilize opposition to anti-smoking initiatives.
Another Big Tobacco front group Hiltachk's firm managed was "Californians for Fair Business Policy," which fought local efforts to enact smoke-free bans in California in the early 1990s.
This is going to be a busy election season for Hiltachk, as he is also the mastermind behind the deceptive union-busting Proposition 32, about which a local California paper writes: "if you liked Citizens United, you will love Prop 32." As the New Yorker sums it up in an article describing the firm's shady operations, "They specialize in initiatives that are the opposite of what they sound like."
Another group with Big Tobacco origins now spreading lies about the GMO labeling initiative is the unsubtle front group, "California Citizens Against Lawsuit Abuse," whose executive director recently warned us to "beware of trial lawyers lurking in your food." (It seems lawyers are scarier than altering the genetic code of the food supply.) According to the Center for Media and Democracy's Sourcewatch, Philip Morris is a primary funder of various "Citizens Against Lawsuit Abuse" groups, which under the guise of tort reform aim to make it harder to bring lawsuits for problems caused by hazardous products.
Doubt is Their Product
In sum, the food industry, to oppose a simple labeling law, is hiring lawyers and consultants with ties to the tobacco industry, to deploy stealth tactics such as creating front groups, digging up dirt on opponents, and spreading outright lies.
For decades the tobacco industry and its shills hid the truth by deploying its most effective weapon: manufacturing doubt about the health hazards of smoking. How many millions of Americans died as a result of Big Tobacco's deceptive and cynical campaign? Why would we trust these same operators now?
You can hardly blame industry for calling on such shady characters. Big Food has seen the polling data showing that more than 90 percent of consumers want to see GMO foods labeled. When you don't have the people or the truth on your side, all you have left is playing dirty.
Visit EcoWatch's GENETICALLY MODIFIED ORGANISM page for more related news on this topic.
EcoWatch Daily Newsletter
Coral restoration in Guam. U.S. Pacific Fleet / CC BY-NC 2.0
By Erica Cirino
Visit a coral reef off the coast of Miami or the Maldives and you may see fields of bleached white instead of a burst of colors.
Cracker Lake, Glacier National Park, Montana. Jacob W. Frank / NPS / Flickr
By Jason Bittel
High up in the mountains of Montana's Glacier National Park, there are two species of insect that only a fly fishermen or entomologist would probably recognize. Known as stoneflies, these aquatic bugs are similar to dragonflies and mayflies in that they spend part of their lives underwater before emerging onto the land, where they transform into winged adults less than a half inch long. However, unlike those other species, stoneflies do their thing only where cold, clean waters flow.
Augusta National / Getty Images
By Bob Curley
The new chicken sandwiches at McDonald's, Popeyes, and Chick-fil-A all contain the MSG flavor enhancement chemical.
Experts say MSG can enhance the so-called umami flavor of a food.
The ingredient is found in everything from Chinese food and pizza to prepackaged sandwiches and table sauces.
McDonald's wants to get in on the chicken sandwich war currently being waged between Popeyes and Chick-fil-A.
Protesters march during a "Friday for future" youth demonstration in a street of Davos on Jan. 24 on the sideline of the World Economic Forum annual meeting. FABRICE COFFRINI / AFP / Getty Images
By Andrea Germanos
Youth climate activists marched through the streets of Davos, Switzerland Friday as the World Economic Forum wrapped up in a Fridays for Future demonstration underscoring their demand that the global elite act swiftly to tackle the climate emergency.
chuchart duangdaw / Moment / Getty Images
By Tim Radford
The year is less than four weeks old, but scientists already know that carbon dioxide emissions will continue to head upwards — as they have every year since measurements began — leading to a continuation of the Earth's rising heat.