This website uses cookies to ensure you get the best experience while browsing it. By clicking 'Got It' you're accepting these terms.
Big Coal Buys Facebook 'Likes' in Lame PR Stunt
Nov. 21, 2014 03:25PM EST
Energy
The idea of "clicktivism" has been around for a while now, but recently I've been seeing a whole other level of this digital phenomenon in the form of what I like to call "pay-per-care marketing."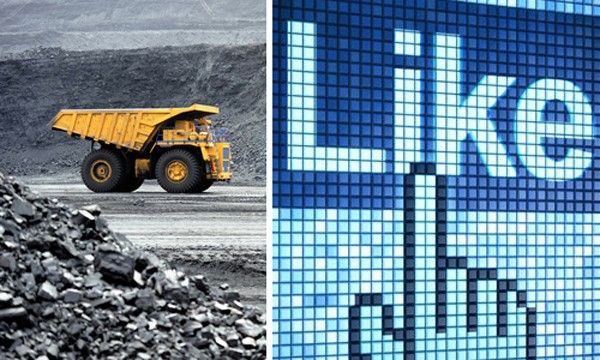 While forms of pay-per-care marketing have been around a while, it has really ramped up since Twitter and Facebook both went public. Now under the pressure of quarterly performance reports to shareholders, the two social media giants have turned their networks into what experts call a "pay-to-play" model where the companies with the deepest pockets can buy all the "likes" and followers they can afford.
With pay-per-care, companies can buy large volumes of "likes" and followers and quickly manufacture the appearance of a worldwide outpouring of support for the product or idea they are trying to sell. Companies pay to make it look like people care.
Coal giant Peabody Energy recently launched their "Advanced Energy for Life" campaign, which is a great example of the pay-per-care strategy in action on a pretty grand scale.
Peabody recently announced in a press release that "approximately a half-million citizens from 48 countries have urged G20 member nations to place greater focus on advancing policies to alleviate energy policy (sic) ..."
Pretty sure they meant to say "alleviate energy poverty," not "policy." But typos aside, the Peabody release goes on to explain that this spontaneous outpouring of support for their campaign to ramp up dirty coal power in developing nations "is based on a digital 'Lights on Project' movement sponsored by Peabody's Advanced Energy for Life campaign."
So let's take a quick look at Peabody's Advanced Energy for Life Facebook page to get to the bottom of this eyebrow-raising "half-million" number. What you'll find is a perfect example of pay-per-care marketing in action. You'll see that, yes, there are close to half a million "likes" for the Advanced Energy for Life page.
Then scratch the surface and you will see that the supposed support is a mile wide, but only an inch thick, with almost zero engagement. In some cases, the only engagement on their posts is spam. Like this post. The only comment is (according to Bing's translation), "Any Nair." Unless I am missing some strange connection between coal and hair removal products, this is definitely spam. Of course it could be argued that with any Facebook page as big as this one, there is going to be some spam. Fair enough.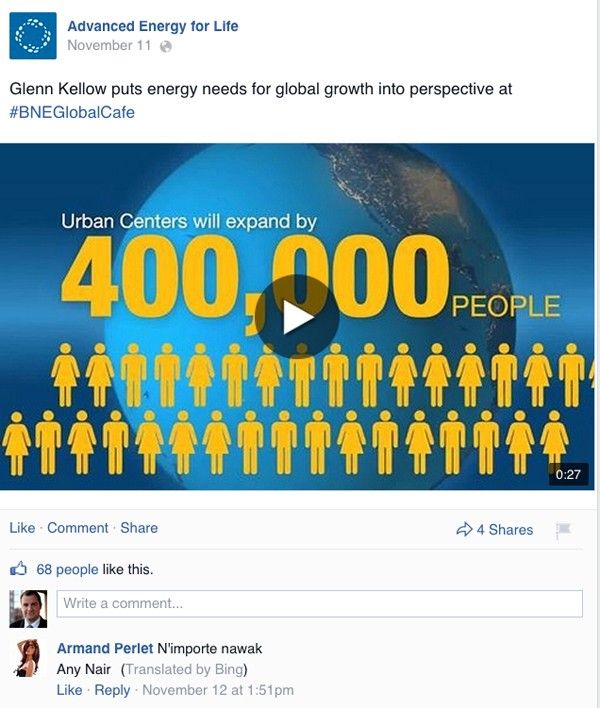 So how about the real comments? Those that are not spam? A quick look at those shows many of the people who say they "like" Peabody's campaign, in fact don't like it all. Jessica Miller writes, "this page is a marketing ploy paid for by Peabody Energy." Lily Dempster points out that, "energy sources like solar are localised (sic), cheaper, faster and don't bring the respiratory disease and early deaths caused by coal pollution."
Peabody's Facebook settings force anyone who wants to comment on the page to "Like" it, so Jessica and Lily actually had to endure the embarrassment of broadcasting to all their friends and followers that they liked "Advanced Energy for Life" in order to make their true feelings heard on Peabody's Facebook page. Clearly, Jessica and Lily don't "Like" Peabody's campaign, but their clicks get tallied and they are being counted among the "half-million citizens from 48 countries [who] have urged G20 member nations to place greater focus on advancing policies to alleviate energy policy (sic)."
I'd guess that Jessica and Lily do want to alleviate energy poverty, but certainly not with the archaic, coal-dependent policies that Peabody is promoting. Keep clicking around because there are plenty more instances of coal critics "liking" Peabody's page, just to access the platform to criticize the company and its marketing. I especially like the comments elicited in the post where Peabody quotes Mahatma Gandhi. This is all classic pay-per-care. Now to be clear, the issue of energy poverty is a real one, and it is not new.
While we here in North America enjoy stable energy sources and take for granted things like lights at night to read by, much of the world would consider this a luxury. However, the idea that coal—a fossil fuel that is as much to blame for climate change, as it is for heightened rates of respiratory disease and mercury contamination—is the answer to energy poverty is absurd.
Coincidentally, Peabody's energy poverty campaign is coming at a time when the company is not faring too well in the financial markets. The company was recently dropped from the S&P 500 Stock index, a sure sign that its value in the eyes of investors is falling. And a look at the five-year history of Peabody's stock price paints a grim picture of this falling star.
Big coal is in a tough spot at the moment and it is no wonder they are trying to soften their image with this pay-per-care campaign. The problem is that if the Advanced Energy for Life campaign is successful, coal-as-energy might be thrown a lifeline that could drown us all.
YOU MIGHT ALSO LIKE
Solar Energy Could Power America 100 Times Over
Developing Countries Invest in Renewables Twice the Pace of Industrialized Nations
EcoWatch Daily Newsletter
A. Battenburg / Technical University of Munich
By Sarah Kennedy
Algae in a pond may look flimsy. But scientists are using algae to develop industrial-strength material that's as hard as steel but only a fraction of the weight.
Variety of fermented food korean traditional kimchi cabbage and radish salad. white and red sauerkraut in ceramic plates over grey spotted background. Natasha Breen / REDA&CO / Universal Images Group / Getty Image
Even if you've never taken probiotics, you've probably heard of them.
These supplements provide numerous benefits because they contain live microorganisms, such as bacteria or yeast, which support the healthy bacteria in your gut (1, 2, 3, 4).
Pexels
Singapore will become the first country in the world to place a ban on advertisements for carbonated drinks and juices with high sugar contents, its health ministry announced last week. The law is intended to curb sugar consumption since the country has some of the world's highest diabetes rates per capita, as Reuters reported.
A typical adult takes around 20,000 breaths per day. If you live in a megacity like Beijing, with many of those lungfuls you're likely to inhale a noxious mixture of chemicals and pollutants.
Fred Stone holds his brown swiss cow Lida Rose at his Arundel dairy farm on March 18 after a press conference where he spoke about PFAS chemical contamination in his fields. Gregory Rec / Portland Portland Press Herald via Getty Images
By Susan Cosier
First there was Fred Stone, the third-generation dairy farmer in Maine who discovered that the milk from his cows contained harmful chemicals. Then came Art Schaap, a second-generation dairy farmer in New Mexico, who had to dump 15,000 gallons of contaminated milk a day.
Protesters attend the 32nd annual Fur-Free Friday demonstration on Nov. 23, 2018 in Beverly Hills, California. Ella DeGea / Getty Images
California Governor Gavin Newsom signed into law a bill that that bans the sale and manufacture of fur products in the state. The fur ban, which he signed into law on Saturday, prohibits Californians from selling or making clothing, shoes or handbags with fur starting in 2023, according to the AP.
By Simon Evans
During the three months of July, August and September, renewables generated an estimated total of 29.5 terawatt hours (TWh), compared with just 29.1TWh from fossil fuels, the analysis shows.
A demonstrator waves an Ecuadorian flag during protests against the end of subsidies to gasoline and diesel on Oct. 9 in Quito, Ecuador. Jorge Ivan Castaneira Jaramillo / Getty Images