Big Coal Buys Facebook 'Likes' in Lame PR Stunt
The idea of "clicktivism" has been around for a while now, but recently I've been seeing a whole other level of this digital phenomenon in the form of what I like to call "pay-per-care marketing."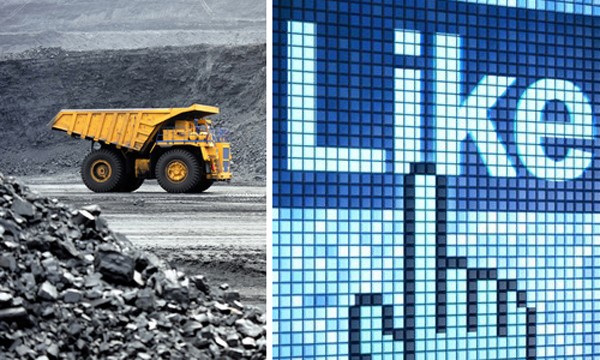 While forms of pay-per-care marketing have been around a while, it has really ramped up since Twitter and Facebook both went public. Now under the pressure of quarterly performance reports to shareholders, the two social media giants have turned their networks into what experts call a "pay-to-play" model where the companies with the deepest pockets can buy all the "likes" and followers they can afford.
With pay-per-care, companies can buy large volumes of "likes" and followers and quickly manufacture the appearance of a worldwide outpouring of support for the product or idea they are trying to sell. Companies pay to make it look like people care.
Coal giant Peabody Energy recently launched their "Advanced Energy for Life" campaign, which is a great example of the pay-per-care strategy in action on a pretty grand scale.
Peabody recently announced in a press release that "approximately a half-million citizens from 48 countries have urged G20 member nations to place greater focus on advancing policies to alleviate energy policy (sic) ..."
Pretty sure they meant to say "alleviate energy poverty," not "policy." But typos aside, the Peabody release goes on to explain that this spontaneous outpouring of support for their campaign to ramp up dirty coal power in developing nations "is based on a digital 'Lights on Project' movement sponsored by Peabody's Advanced Energy for Life campaign."
So let's take a quick look at Peabody's Advanced Energy for Life Facebook page to get to the bottom of this eyebrow-raising "half-million" number. What you'll find is a perfect example of pay-per-care marketing in action. You'll see that, yes, there are close to half a million "likes" for the Advanced Energy for Life page.
Then scratch the surface and you will see that the supposed support is a mile wide, but only an inch thick, with almost zero engagement. In some cases, the only engagement on their posts is spam. Like this post. The only comment is (according to Bing's translation), "Any Nair." Unless I am missing some strange connection between coal and hair removal products, this is definitely spam. Of course it could be argued that with any Facebook page as big as this one, there is going to be some spam. Fair enough.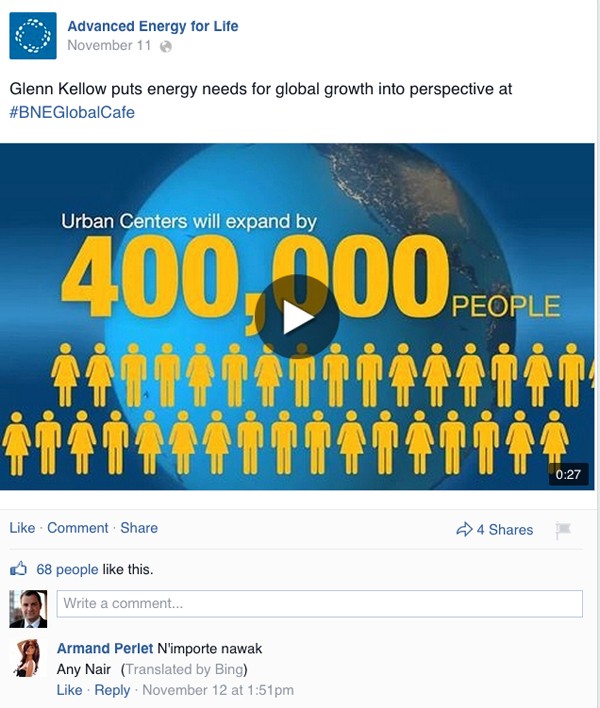 So how about the real comments? Those that are not spam? A quick look at those shows many of the people who say they "like" Peabody's campaign, in fact don't like it all. Jessica Miller writes, "this page is a marketing ploy paid for by Peabody Energy." Lily Dempster points out that, "energy sources like solar are localised (sic), cheaper, faster and don't bring the respiratory disease and early deaths caused by coal pollution."
Peabody's Facebook settings force anyone who wants to comment on the page to "Like" it, so Jessica and Lily actually had to endure the embarrassment of broadcasting to all their friends and followers that they liked "Advanced Energy for Life" in order to make their true feelings heard on Peabody's Facebook page. Clearly, Jessica and Lily don't "Like" Peabody's campaign, but their clicks get tallied and they are being counted among the "half-million citizens from 48 countries [who] have urged G20 member nations to place greater focus on advancing policies to alleviate energy policy (sic)."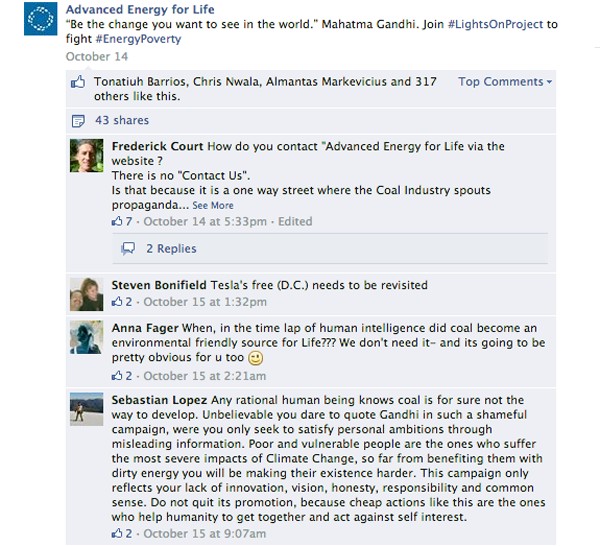 I'd guess that Jessica and Lily do want to alleviate energy poverty, but certainly not with the archaic, coal-dependent policies that Peabody is promoting. Keep clicking around because there are plenty more instances of coal critics "liking" Peabody's page, just to access the platform to criticize the company and its marketing. I especially like the comments elicited in the post where Peabody quotes Mahatma Gandhi. This is all classic pay-per-care. Now to be clear, the issue of energy poverty is a real one, and it is not new.
While we here in North America enjoy stable energy sources and take for granted things like lights at night to read by, much of the world would consider this a luxury. However, the idea that coal—a fossil fuel that is as much to blame for climate change, as it is for heightened rates of respiratory disease and mercury contamination—is the answer to energy poverty is absurd.
Coincidentally, Peabody's energy poverty campaign is coming at a time when the company is not faring too well in the financial markets. The company was recently dropped from the S&P 500 Stock index, a sure sign that its value in the eyes of investors is falling. And a look at the five-year history of Peabody's stock price paints a grim picture of this falling star.
Big coal is in a tough spot at the moment and it is no wonder they are trying to soften their image with this pay-per-care campaign. The problem is that if the Advanced Energy for Life campaign is successful, coal-as-energy might be thrown a lifeline that could drown us all.
YOU MIGHT ALSO LIKE
Solar Energy Could Power America 100 Times Over
Developing Countries Invest in Renewables Twice the Pace of Industrialized Nations
Bill Maher is sick of billionaires' obsession with Mars, more like "Mars-a-Lago," he said.
In a new animation produced by ATTN:, the popular talk show host of Real Time, discusses the perils of our planet, including how "climate change is killing us."
Keep reading...
Show less
Dr. Benjamin D. Santer, research scientist
A group of prominent climate scientists have written a study explicitly refuting statements made by the U.S. Environmental Protection Agency Administrator Scott Pruitt on climate data. During his Senate confirmation hearing, Pruitt claimed in a written response that satellite data shows a "leveling off" of warming over the past two decades.
Keep reading...
Show less
By David Pomerantz
The Nevada Assembly passed a bill Wednesday that would dramatically increase the growth of renewable energy in the state, but Sheldon Adelson, the casino magnate and major donor to Donald Trump, is attempting to prevent the bill from becoming law.
Keep reading...
Show less
Matt Crossick
By Yosola Olorunshola
Whether it's through fashion or protest, Vivienne Westwood is not a woman afraid of making a statement.
On May 23, she rocked up to the residence of the Archbishop of Canterbury in London with a special guest—the Grim Reaper—to issue a strong statement on the Church of England's position on fracking.
Keep reading...
Show less
By Paul Brown
The food industry and big agricultural concerns are driving climate change and at the same time threatening to undermine efforts to feed the world's growing population, according to GRAIN, an organization that supports small farmers.
Particularly singled out for criticism are the large chemical fertilizer producers that have gained access to the United Nations talks on climate change. GRAIN accuses them of behaving like the fossil fuel companies did in the 1990s, pushing false information in the hope of delaying real action on climate change.
Keep reading...
Show less
May. 24, 2017 06:55PM EST
By Sydney Robinson
President Trump has no doubt been given a long list of extravagant, elaborate gifts in his lifetime, but the gift given to him today by Pope Francis may not make it on his most favorite list.
Keep reading...
Show less
May. 24, 2017 07:17PM EST
By John Rogers
Maybe it's because I first started working on clean energy while serving in the Peace Corps he founded, or maybe it's my years of working on these issues from his home state. But I can't help thinking about the 100th anniversary of John F. Kennedy's birth, and connecting his stirring rhetoric to the energy challenges of our times.
Here's what our 35th president might have said about the challenges of energy transition and the opportunities in clean energy:
"Change is the law of life. And those who look only to the past or present are certain to miss the future."
Keep reading...
Show less
May. 24, 2017 01:47PM EST
Keep reading...
Show less


Get EcoWatch in your inbox