This website uses cookies to ensure you get the best experience while browsing it. By clicking 'Got It' you're accepting these terms.
Big Coal Buys Facebook 'Likes' in Lame PR Stunt
Nov. 21, 2014 03:25PM EST
Energy
The idea of "clicktivism" has been around for a while now, but recently I've been seeing a whole other level of this digital phenomenon in the form of what I like to call "pay-per-care marketing."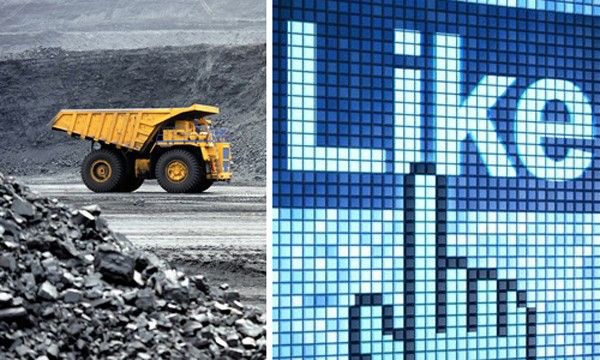 While forms of pay-per-care marketing have been around a while, it has really ramped up since Twitter and Facebook both went public. Now under the pressure of quarterly performance reports to shareholders, the two social media giants have turned their networks into what experts call a "pay-to-play" model where the companies with the deepest pockets can buy all the "likes" and followers they can afford.
With pay-per-care, companies can buy large volumes of "likes" and followers and quickly manufacture the appearance of a worldwide outpouring of support for the product or idea they are trying to sell. Companies pay to make it look like people care.
Coal giant Peabody Energy recently launched their "Advanced Energy for Life" campaign, which is a great example of the pay-per-care strategy in action on a pretty grand scale.
Peabody recently announced in a press release that "approximately a half-million citizens from 48 countries have urged G20 member nations to place greater focus on advancing policies to alleviate energy policy (sic) ..."
Pretty sure they meant to say "alleviate energy poverty," not "policy." But typos aside, the Peabody release goes on to explain that this spontaneous outpouring of support for their campaign to ramp up dirty coal power in developing nations "is based on a digital 'Lights on Project' movement sponsored by Peabody's Advanced Energy for Life campaign."
So let's take a quick look at Peabody's Advanced Energy for Life Facebook page to get to the bottom of this eyebrow-raising "half-million" number. What you'll find is a perfect example of pay-per-care marketing in action. You'll see that, yes, there are close to half a million "likes" for the Advanced Energy for Life page.
Then scratch the surface and you will see that the supposed support is a mile wide, but only an inch thick, with almost zero engagement. In some cases, the only engagement on their posts is spam. Like this post. The only comment is (according to Bing's translation), "Any Nair." Unless I am missing some strange connection between coal and hair removal products, this is definitely spam. Of course it could be argued that with any Facebook page as big as this one, there is going to be some spam. Fair enough.
So how about the real comments? Those that are not spam? A quick look at those shows many of the people who say they "like" Peabody's campaign, in fact don't like it all. Jessica Miller writes, "this page is a marketing ploy paid for by Peabody Energy." Lily Dempster points out that, "energy sources like solar are localised (sic), cheaper, faster and don't bring the respiratory disease and early deaths caused by coal pollution."
Peabody's Facebook settings force anyone who wants to comment on the page to "Like" it, so Jessica and Lily actually had to endure the embarrassment of broadcasting to all their friends and followers that they liked "Advanced Energy for Life" in order to make their true feelings heard on Peabody's Facebook page. Clearly, Jessica and Lily don't "Like" Peabody's campaign, but their clicks get tallied and they are being counted among the "half-million citizens from 48 countries [who] have urged G20 member nations to place greater focus on advancing policies to alleviate energy policy (sic)."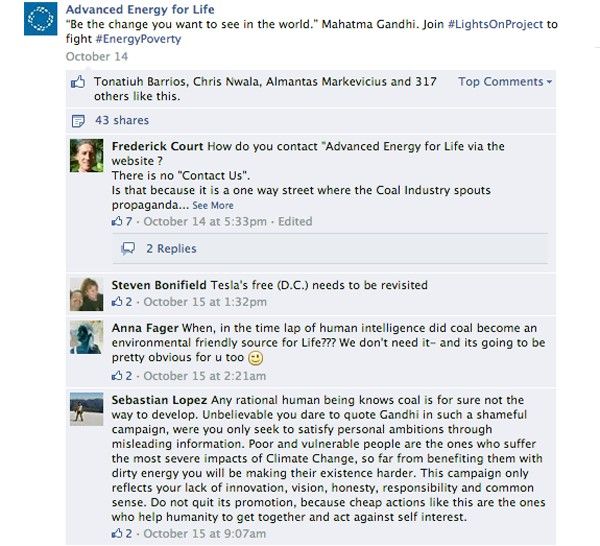 I'd guess that Jessica and Lily do want to alleviate energy poverty, but certainly not with the archaic, coal-dependent policies that Peabody is promoting. Keep clicking around because there are plenty more instances of coal critics "liking" Peabody's page, just to access the platform to criticize the company and its marketing. I especially like the comments elicited in the post where Peabody quotes Mahatma Gandhi. This is all classic pay-per-care. Now to be clear, the issue of energy poverty is a real one, and it is not new.
While we here in North America enjoy stable energy sources and take for granted things like lights at night to read by, much of the world would consider this a luxury. However, the idea that coal—a fossil fuel that is as much to blame for climate change, as it is for heightened rates of respiratory disease and mercury contamination—is the answer to energy poverty is absurd.
Coincidentally, Peabody's energy poverty campaign is coming at a time when the company is not faring too well in the financial markets. The company was recently dropped from the S&P 500 Stock index, a sure sign that its value in the eyes of investors is falling. And a look at the five-year history of Peabody's stock price paints a grim picture of this falling star.
Big coal is in a tough spot at the moment and it is no wonder they are trying to soften their image with this pay-per-care campaign. The problem is that if the Advanced Energy for Life campaign is successful, coal-as-energy might be thrown a lifeline that could drown us all.
YOU MIGHT ALSO LIKE
Solar Energy Could Power America 100 Times Over
Developing Countries Invest in Renewables Twice the Pace of Industrialized Nations
EcoWatch Daily Newsletter
A glacier is seen in the Kenai Mountains on Sept. 6, near Primrose, Alaska. Scientists from the U.S. Geological Survey have been studying the glaciers in the area since 1966 and their studies show that the warming climate has resulted in sustained glacial mass loss as melting outpaced the accumulation of new snow and ice. Joe Raedle / Getty Images
By Mark Mancini
On Aug. 18, Iceland held a funeral for the first glacier lost to climate change. The deceased party was Okjökull, a historic body of ice that covered 14.6 square miles (38 square kilometers) in the Icelandic Highlands at the turn of the 20th century. But its glory days are long gone. In 2014, having dwindled to less than 1/15 its former size, Okjökull lost its status as an official glacier.
Members of Chicago Democratic Socialists of America table at the Logan Square Farmers Market on Aug. 18. Alex Schwartz
By Alex Schwartz
Among the many vendors at the Logan Square Farmers Market on Aug. 18 sat three young people peddling neither organic vegetables, gourmet cheese nor handmade crafts. Instead, they offered liberation from capitalism.
Hackney primary school students went to the Town Hall on May 24 in London after school to protest about the climate emergency. Jenny Matthews / In Pictures / Getty Images
Bird watching in the U.S. may be a lot harder than it once was, since bird populations are dropping off in droves, according to a new study.
Amazon CEO Jeff Bezos announces the co-founding of The Climate Pledge at the National Press Club on Sept. 19 in Washington, DC. Paul Morigi / Getty Images for Amazon
The day before over 1,500 Amazon.com employees planned a walkout to participate in today's global climate strike, CEO Jeff Bezos unveiled a sweeping plan for the retail and media giant to be carbon neutral by 2040, 10 years ahead of the Paris agreement schedule.
For the past seven years, the Anishinaabe people have been facing the largest tar sands pipeline project in North America. We still are. In these dying moments of the fossil fuel industry, Water Protectors stand, prepared for yet another battle for the water, wild rice and future of all. We face Enbridge, the largest pipeline company in North America, and the third largest corporation in Canada. We face it unafraid and eyes wide open, for indeed we see the future.
The climate crisis often intensifies systems of oppression. Rieko Honma / Stone / Getty Images Plus
By Mara Dolan
We see the effects of the climate crisis all around us in hurricanes, droughts, wildfires, and rising sea levels, but our proximity to these things, and how deeply our lives are changed by them, are not the same for everyone. Frontline groups have been leading the fight for environmental and climate justice for centuries and understand the critical connections between the climate crisis and racial justice, economic justice, migrant justice, and gender justice. Our personal experiences with climate change are shaped by our experiences with race, gender, and class, as the climate crisis often intensifies these systems of oppression.