This website uses cookies to ensure you get the best experience while browsing it. By clicking 'Got It' you're accepting these terms.
Big Climate Problems in Big Sky Country
Aug. 15, 2014 07:28AM EST
Climate
No matter how far you go on vacation, sometimes you can't get away—especially if you write about science policy for a living.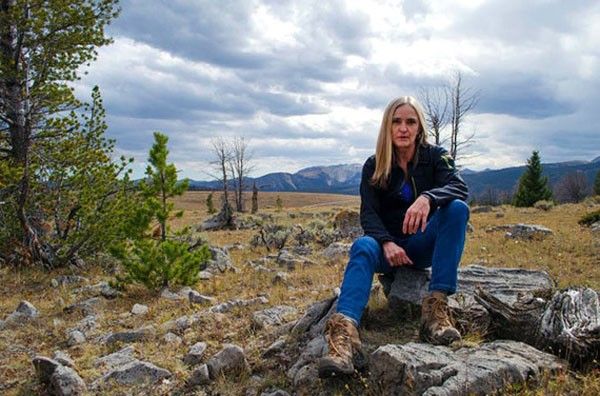 Entomologist Diana Six and some dead whitebark pines in Beaverhead-Deerlodge National Forest, about 40 miles southwest of Butte. Photo credit: Krysti Shallenberger
I recently escaped the steamy confines of Washington, D.C., for the mountains of Montana for some sorely needed R & R. The last time I set foot in Big Sky Country was 10 years ago, when I attended a grizzly bear conference at a ranch just outside of Yellowstone National Park. And the first and only other time I visited the state was 35 years ago, when I backpacked in Glacier National Park.
From a climate perspective, things there have gotten worse.
The glaciers I marveled at on my backpacking trip have shrunk considerably, and even then they were a pale approximation of what they once were. The U.S. Geological Survey (USGS) estimates that there were approximately 150 glaciers in the area in 1850, and most of them were still there in 1910 when the park was established. In 1979, when I was fending off mosquitoes at the Continental Divide, the official National Park Service estimate was down to 75 glaciers, and now, according to the USGS, there are only 25 glaciers larger than 25 acres.
At that 2004 conference, I learned that global warming is making it harder to keep a key item in the grizzly bear pantry in stock. The bears like to feast on high-protein seeds from whitebark pine cones in the fall to fatten up before hibernation time, but the tree is being ravaged by the mountain pine beetle, which develops faster and survives winter more easily thanks to warmer temperatures.
To be sure, the beetles have been around for a long time, and they aren't the whitebark pine's only problem. The trees also have been suffering from white pine blister rust—a disease accidentally introduced via imported seedlings nearly a century ago—and fire pattern changes have enabled other tree species to invade their territory. But over the last 10 years, beetle outbreaks have intensified. According to a 2012 U.S. Forest Service study, they "are occurring more rapidly and dramatically than imagined a decade ago." Since my last visit, the Forest Service estimates the beetle has killed more than 4.5 million whitebark pine trees in Montana alone.
This grim state of affairs prompted the U.S. Fish and Wildlife Service (FWS) to determine in 2011 that the whitebark pine is in "imminent" risk of extinction due to, among other things, global warming—the first time the federal government identified climate change as a contributing factor in a tree species' demise. Budgetary constraints and more pressing agency priorities, however, have kept the tree off the endangered species list.
The fate of the Yellowstone region's grizzlies, meanwhile, has teetered back and forth in recent years. In 2007, the FWS concluded that they had recovered sufficiently and took them off the threatened species list, which they had been on since 1975. Two years later, however, a federal district court in Montana put them back on, citing concerns about the whitebark pine. Regardless, the FWS is again considering delisting the roughly 700 bears in the Greater Yellowstone Ecosystem, contending they are supplementing their diet with more meat.
Montana Scientists Sound the Alarm
If anyone gets climate in Montana, it's scientists. During my recent visit I picked up a copy of the Missoulian, Missoula's daily newspaper, and came across an op-ed titled "Climate change is a scientific reality." Written by University of Montana entomologist Diana Six and five other Montana-based scientists, the July 30 column was essentially a public version of a letter they and 96 other scientists across the state sent to Montana's governor and the state's congressional delegation in late June.
The scientists cited some of the severe impacts global warming is already having on the state—including longer wildfire seasons and the aforementioned pine beetle—and warned that the consequences of doing nothing to curb carbon emissions would be dire indeed.
They also chastised Montana politicians for turning a blind eye to empirical evidence.
"Some of Montana's political leaders continue to ignore the most basic scientific findings about climate change," they wrote. "We hear them say: 'I'm not a scientist so I cannot be sure.' We are scientists and let us be clear: The scientific evidence that Earth's climate is warming is overwhelming. We need to move from debate to solutions."
One solution the scientists support is the U.S. Environmental Protection Agency's (EPA) recent proposal to limit power plant carbon pollution. The draft plan requires Montana industries to cut carbon emissions 21 percent by 2030. Given that coal was responsible for 53 percent of the electricity generated in Montana last year and the state has the largest coal reserves in the nation, the proposal received a mixed reception among Montana pols. Their responses ranged from praising the EPA for a responsible, flexible plan to condemning the agency for making war on coal and Montana jobs.
In fact, coal jobs are few and far between in Montana. According to preliminary U.S. Bureau of Labor Statistics numbers for 2013, the coal industry employed only 1,116 people out of a total workforce of nearly 437,000. That's an anemic 0.25 percent. Oil and gas jobs are even more scarce. Although there are four oil refineries in the state, only 761 Montanans worked in the industry last year. Agriculture and outdoor recreation are much more important to the state's economy, and climate change is taking a toll on both. Droughts and wildfires are a growing problem for farmers and ranchers, and dead trees don't do much to enhance the hiking experience.
Montana Lawmakers Poised to Halt Progress
Six and her co-authors also called on state officials to make Montana a hub for clean energy jobs. Given the latest news on that front, however, don't count on that happening anytime soon.
Like 28 other states and the District of Columbia, Montana has a standard in place promoting renewable energy, such as wind and solar. Montana's standard, which went into effect in 2008, requires the state's two largest utilities and an electricity supplier to generate 15 percent of their electricity from renewables by 2015, a relatively modest goal. Late last month, a state legislative committee issued a draft report concluding that Montana's standard has been an economic success. It created new jobs, bolstered rural county development, had a "negligible impact" on electric rates, and cut carbon emissions at the same time.
That's the good news. The bad news? Despite the fact that the three companies have already met the 15 percent requirement—and the fact that Montana has the third best wind resources in the country that could meet more than 240 times the state's current electricity demand—the legislative committee recommended that the renewable requirement remain at 15 percent.
You might call that a victory, considering some legislators wanted to drop the standard altogether. Jeff Deyette, a senior energy analyst at the Union of Concerned Scientists, calls it a missed opportunity.
"While Colorado, Minnesota and other states blessed with tremendous wind potential are forging ahead and ramping up their renewable energy targets, Montana is missing a golden opportunity to build on what it has already started," said Deyette, the co-author of "Ripe for Retirement," a 2013 study on aging coal plants. "I can see why Montana scientists are frustrated with their elected officials. Given what we know about global warming, legislators there are clearly putting the interests of the coal industry ahead of their own constituents."
You Might Also Like
Top 10 U.S. Cities Running Out of Water
Doing Nothing Isn't an Option: How to Avoid the Worst of Climate Change
EcoWatch Daily Newsletter
Protesters hold a banner and a placard while blocking off the road during a protest against Air pollution in London. Ryan Ashcroft / SOPA Images / LightRocket / Getty Images
By Jessica Corbett
Dozens of students, parents, teachers and professionals joined a Friday protest organized by Extinction Rebellion that temporarily stalled morning rush-hour traffic in London's southeasten borough of Lewisham to push politicians to more boldly address dangerous air pollution across the city.

Jose A. Bernat Bacete / Moment / Getty Images
By Bridget Shirvell
On a farm in upstate New York, a cheese brand is turning millions of pounds of food scraps into electricity needed to power its on-site businesses. Founded by eight families, each with their own dairy farms, Craigs Creamery doesn't just produce various types of cheddar, mozzarella, Swiss and Muenster cheeses, sold in chunks, slices, shreds and snack bars; they're also committed to becoming a zero-waste operation.

By Jessica A. Knoblauch
Summers in the Midwest are great for outdoor activities like growing your garden or cooling off in one of the area's many lakes and streams. But some waters aren't as clean as they should be.
That's in part because coal companies have long buried toxic waste known as coal ash near many of the Midwest's iconic waterways, including Lake Michigan. Though coal ash dumps can leak harmful chemicals like arsenic and cadmium into nearby waters, regulators have done little to address these toxic sites. As a result, the Midwest is now littered with coal ash dumps, with Illinois containing the most leaking sites in the country.

picture-alliance / AP Photo / NOAA Pacific Islands Fisheries Science Center
The Group of 20 major economies agreed a deal to reduce marine pollution at a meeting of their environment ministers on Sunday in Karuizawa, Japan.
Pope Francis holds his General Weekly Audience in St. Peter's Square on Aug. 29, 2018 in Vatican City, Vatican. Giulio Origlia / Getty Images
Pope Francis declared a climate emergency Friday as he met with oil industry executives and some of their biggest investors to urge them to act on the climate crisis.
A vegetarian bowl with quinoa fritters. Westend61 / Getty Images
By Ketura Persellin
You've likely heard that eating meat and poultry isn't good for your health or the planet. Recent news from Washington may make meat even less palatable: Pork inspections may be taken over by the industry itself, if a Trump administration proposal goes into effect, putting tests for deadly pathogens into the hands of the industry.
Florida's Deerfield Beach International Fishing Pier, where the record-breaking beach cleanup took place Saturday. Jeffrey Greenberg / Universal Images Group via Getty Images
More than 600 people gathered on a Florida beach Saturday to break the world record for the largest underwater cleanup of ocean litter.
Juvenile hatchery salmon flushed from a tanker truck in San Francisco Bay, California. Ben Moon
That salmon sitting in your neighborhood grocery store's fish counter won't look the same to you after watching Artifishal, a new film from Patagonia.