This website uses cookies to ensure you get the best experience while browsing it. By clicking 'Got It' you're accepting these terms.
Big Ag Claims Cancer-Causing Glyphosate No More Dangerous Than 'Coffee or Working the Night Shift'
Jun. 04, 2015 12:02PM EST
Food
News that the world's cancer experts are taking a fresh look at 2,4-D has farm organizations worried. Two months ago, the World Health Organization (WHO) concluded that glyphosate—the world's most heavily-used weed killer—is "probably carcinogenic" to human health.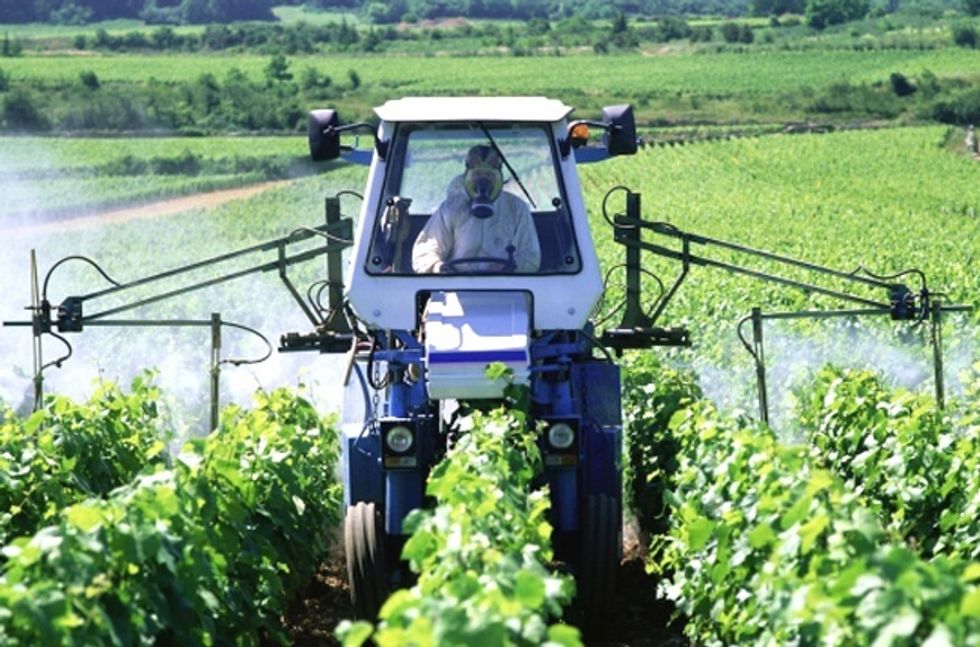 Any day now, the same body is planning to issue its findings on the weed killer 2,4-D.
As weeds have evolved to withstand glyphosate, more farmers are turning to a mixture of glyphosate and 2, 4-D being marketed by Dow as "Enlist Duo" to be used in fields of genetically modified crops (GMOs).
Since scientists have found evidence that farmers are twice as likely to get certain kinds of cancers—and are also far more likely to be exposed to weed killers—it makes sense that farm organizations are worried, right?
It turns out that the National Corn Growers Association and the American Soybean Association aren't worried that farmers might get cancer from this potent pesticide. They're worried that the WHO review might create "confusion" about two weed killers that have been "mainstays for farmers for decades."
The trade organizations for the producers of corn and soybeans, crops now dominated by genetically engineered varieties, are already on the defensive. Instead of protecting farmers, the National Corn Growers Association and the American Soybean Association said in a statement this week that weed killers linked to cancer and Parkinson's disease are no more dangerous than "coffee, using aloe vera, or working the night shift."
Perhaps, farmers' organizations should be as dedicated to "farmer protection" as they are to "crop protection."
Studies show that exposure to 2,4-D is linked to non-Hodgkin lymphoma,  Parkinson's disease, immune system problems and hypothyroidism.
Given the increased use of herbicides on GMOs, it's no wonder that more than 90 percent of consumers want genetically engineered ingredients to be labeled. But the current voluntary labeling system is a failure, because no labels actually acknowledge the presence of GMOs. The only way for people to know for sure what's in their food is to require nationwide labeling of GMO products.
YOU MIGHT ALSO LIKE
If GMOs Are Safe, Why Not Label Them? (64 Other Countries Do)
7 Ways Your Grocery List Can Be a Ballot for Positive Change
Find Out Which Brands Still Use Toxic BPA-Lined Cans (And Which Don't)
EcoWatch Daily Newsletter
A harbour seal on an ice floe in Glacier Bay, Alaska. A new study shows that the climate crisis has warmed waters, changing ecosystems and crippling sea ice growth. Janette Hill / robertharding / Getty Images Plus
Doctors report that only 1 in 4 children are getting the recommended 60 minutes of physical activity per day. Ronnie Kaufman / DigitalVision / Getty Images
By Dan Gray
Pediatricians are being urged to start writing "exercise prescriptions" for the children they see in their office.
A First Nations protester walks in front of a train blockade in Tyendinaga, near Belleville, Ontario, Canada on Feb. 21, 2020. LARS HAGBERG / AFP via Getty Images
An indigenous rail blockade that snarled train travel in Canada for more than two weeks came to an end Monday when police moved in to clear protesters acting in solidarity with another indigenous community in British Columbia (B.C.), which is fighting to keep a natural gas pipeline off its land.
A rainbow snake, a rare reptile spotted in a Florida county for the first time in more than 50 years, seen here on July 5, 2013.
Kevin Enge / FWC Fish and Wildlife Research Institute / Flickr
A Florida hiker recently stumbled across a slithering surprise — a rare snake that hadn't been spotted in the area for more than 50 years.
We need our government to do everything it can to stop PFAS contamination and exposure from wreaking havoc in communities across the country. LuAnn Hun /
Unsplash
By Genna Reed
The EPA announced last week that it is issuing a preliminary regulatory determination for public comment to set an enforceable drinking water standard to two of the most common and well-studied PFAS, PFOA and PFOS.
This decision is based on three criteria:
PFOA and PFOS have an adverse effect on public health
PFOA and PFOS occur in drinking water often enough and at levels of public health concern;
regulation of PFOA and PFOS is a meaningful opportunity for reducing the health risk to those served by public water systems.