Bhutan Celebrates Birth of Prince by Planting 108,000 Trees
Mar. 16, 2016 10:55AM EST
Popular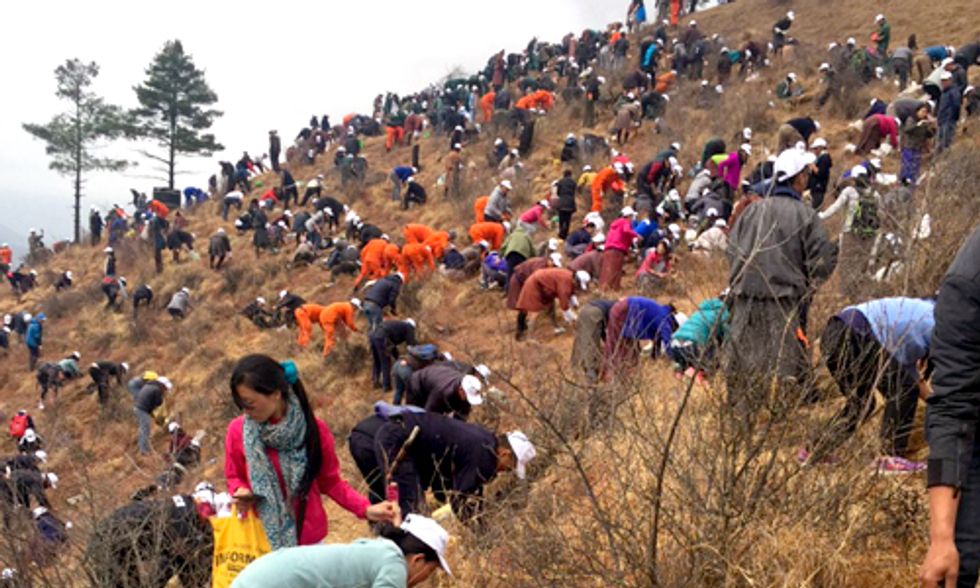 To celebrate the birth of the first child of King Khesar and Queen Jetson, all 82,000 households in Bhutan planted a tree, while volunteers planted another 26,000 in various districts around the country, for a total of 108,000 trees.
Bhutan plants 108,000 trees to celebrate the birth of the new Prince. How inspiring! https://t.co/M7mZOJ7gCa

— Yahoo India (@Yahoo India)1457976601.0
"Each sapling encapsulates a prayer and a wish from the person who planted it to His Royal Highness the Prince so that just like the bountiful tree, the Prince also grows up healthy, strong, wise and compassionate," Tenzin Lekphell, whose organization, Tendrel, coordinated the initiative, told The Diplomat.
Trees hold special value in Bhutan, where Buddhism is the dominant religion.
"In Buddhism, a tree is the provider and nourisher of all life forms, symbolizing longevity, health, beauty and even compassion," Lekphell said, noting that it's not a coincidence the Buddha attained enlightenment under a banyan tree.
Planting trees with thousands of volunteers to celebrate the birth of HRH, our Gyalsey. Well done Tendrel Initiative https://t.co/i0hxFF9EHa

— Tshering Tobgay (@Tshering Tobgay)1457258802.0
The number 108 is special in Buddhism, as well. It denotes "the cleansing of 108 defilements that impede beings from attaining enlightenment," Lekphell explained.
The Ministry of Tourism used the occasion to inaugurate a "Happiness Garden" in the capital city, Thimphu. Ministry officials are asking tourists to plant "happiness trees" in the garden, with the goal of having a tree that represents every country in the world.
Planting 5,000 trees today in dedication to our Crown Prince, Ecology and Happiness. A proud moment for #Bhutan https://t.co/UQAfHNpxH2

— Tourism Bhutan (@Tourism Bhutan)1457243938.0
"Bhutan is known as a country of happiness. To have a happiness garden is therefore logical. With this garden, we hope to bring the peoples of the world closer," Damchoe Rinzin, a spokesperson for the Tourism Council of Bhutan, said.
And this isn't the first time the country has planted an impressive number of trees. Last June, a team of 100 volunteers set a world record for planting 49,672 trees in just one hour.
Bhutan's monarchy is very popular among its people, according to The Diplomat. The nation only became a democratic monarchy in 2008, after King Singye abdicated the throne to his son Khesar, who introduced democratic reforms.
Many have credited Bhutan's "Gross National Happiness" Index, as part of the reason for the country's strong commitment to environmental stewardship. Rather than focusing solely on economic indicators, the index measures prosperity by giving equal importance to non-economic aspects of well being.
"Bhutan's Gross National Happiness Index gives the natural world a central place in the making of public policy, and environmental protection is a core guiding principle in Bhutan's constitution," the Santa Cruz Sentinel reported.
Bhutan has not only pledged to remain carbon neutral, it's currently a carbon sink, meaning its forests absorb more carbon dioxide than the country emits each year. That makes it one of the few countries in the world to have negative carbon emissions.
The country's constitution mandates at least 60 percent of its land remains forested. Currently, more than 70 percent is. Bhutan has even banned export logging. And its ambitions don't stop there. It's aiming for zero net greenhouse gas emissions by 2020, while also going 100 percent organic by 2020 and zero-waste by 2030.
YOU MIGHT ALSO LIKE
The Nature Conservancy and Leonardo DiCaprio Foundation Unite to Create Second Largest Marine Protected Area in West Indian Ocean
Hottest and Driest Place in North America Is Experiencing a Rare and Spectacular 'Super Bloom'
EcoWatch Daily Newsletter