This website uses cookies to ensure you get the best experience while browsing it. By clicking 'Got It' you're accepting these terms.
Beyoncé Launches Vegan Meal Delivery Service
Feb. 03, 2015 10:41AM EST
Beyoncé has been a health advocate for several years now. In 2011, she helped First Lady Michelle Obama with her Let's Move initiative by creating a dance workout video, "Move Your Body." In her music video, "7/11," she sports a sweatshirt with the word 'KALE' on it. Now the singer has partnered with her trainer, Marco Borges, to launch a new vegan meal delivery service, 22 Days Nutrition.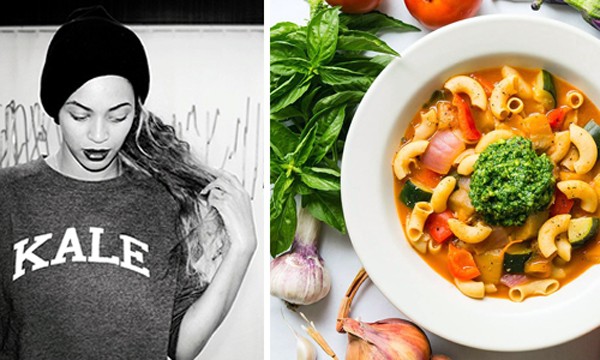 Beyoncé and her husband Jay-Z took the 22 Days Nutrition Challenge in the winter of 2013, and since then, Beyoncé has incorporated more plant-based foods into her diet. The program's philosophy is based on the concept that it takes 21 days to make or break a habit, and on the 22nd day you are well on your way to forming new habits.
They came up with the idea for the home delivery service because Borges' friends, colleagues and clients all wanted to eat the delicious meals he prepared. His vegan meals are "naturally low in fat, sugar and salt and filled with flavor from whole foods such as vegetables, beans, grains, herbs and spices." Borges and Beyoncé tout the home delivery program as a way to "take away all the guesswork and make it easy to adopt the plan."
"I am so grateful that I took the challenge and credit Marco with leading by example," said Beyoncé. "He is the most energetic person I know and it's all because of his decision to live a healthy lifestyle. He came up with a great program to get people motivated to make better nutritional choices. All you have to do is try. If I can do it, anyone can. I am excited to partner with him."
Borges said it's not about getting everyone to go vegan. It's about encouraging them to eat healthier foods that make them feel good and energized. "We all know the importance and value of eating plant-based foods but often times find ourselves trapped in a series of bad habits that sabotage optimum wellness," said Borges. "The Vegan Meal Delivery program makes it easier to reset your habits with healthy and delicious plant-based foods."
The meals are completely plant-based, made with organic ingredients, non-GMO, gluten free, soy free and dairy free and are delivered once a week, according to the 22 Day Nutrition Challenge website. There are three plans to choose from: 1 Meal A Day-lunch or dinner, 2 Meals A Day-lunch and dinner or 3 Meals A Day-breakfast, lunch and dinner.  Meals range from $9.76 to $16.50 per meal and can be ordered here.
YOU MIGHT ALSO LIKE
Eating Less Meat and Dairy Essential to Curb Climate Change
Spirulina: One of World's Healthiest Superfoods
KarinaKnyspel / iStock / Getty Images
2018 saw a number of studies pointing to the outsized climate impact of meat consumption. Beef has long been singled out as particularly unsustainable: Cows both release the greenhouse gas methane into the atmosphere because of their digestive processes and require a lot of land area to raise. But for those unwilling to give up the taste and texture of a steak or burger, could lab-grown meat be a climate-friendly alternative? In a first-of-its-kind study, researchers from the Oxford Martin School set out to answer that question.
Three scissor-tailed flycatcher fledglings in a mesquite tree in Texas. Texas Eagle / CC BY-NC 2.0
By Gary Paul Nabhan
President Trump has declared a national emergency to fund a wall along our nation's southern border. The border wall issue has bitterly divided people across the U.S., becoming a vivid symbol of political deadlock.
PeopleImages / E+ / Getty Images
By Daniel Ross
Hurricane Florence, which battered the U.S. East Coast last September, left a trail of ruin and destruction estimated to cost between $17 billion and $22 billion. Some of the damage was all too visible—smashed homes and livelihoods. But other damage was less so, like the long-term environmental impacts in North Carolina from hog waste that spilled out over large open-air lagoons saturated in the rains.
Hog waste can contain potentially dangerous pathogens, pharmaceuticals and chemicals. According to the state's Department of Environmental Quality, as of early October nearly 100 such lagoons were damaged, breached or were very close to being so, the effluent from which can seep into waterways and drinking water supplies.
This picture taken on May 21, 2018 shows discarded climbing equipment and rubbish scattered around Camp 4 of Mount Everest. Decades of commercial mountaineering have turned Mount Everest into the world's highest rubbish dump as an increasing number of big-spending climbers pay little attention to the ugly footprint they leave behind. DOMA SHERPA / AFP / Getty Images
China has closed its Everest base camp to tourists because of a buildup of trash on the world's tallest mountain.