Beware: Toxic Chemicals Found in Holiday Garland Beads
Dec. 09, 2013 02:35PM EST
Health + Wellness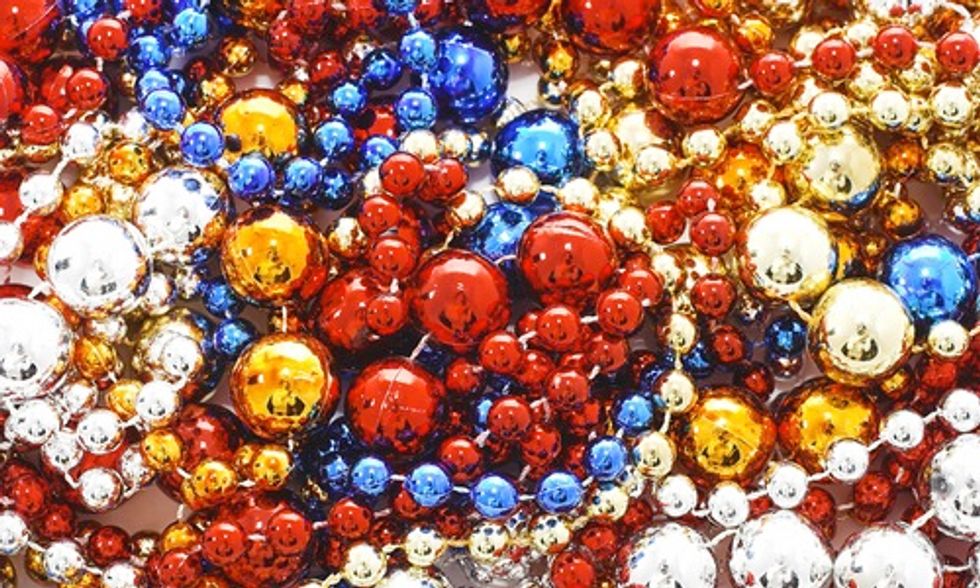 Those festive beaded garlands and necklaces that make holidays and Mardi Gras merry have a scary side. New research has found hazardous chemicals in these plastic beaded products.
The research, a collaboration between the Ecology Center's website HealthyStuff.org and VerdiGras, found most beads have at least one hazardous chemical that has been linked to serious health threats.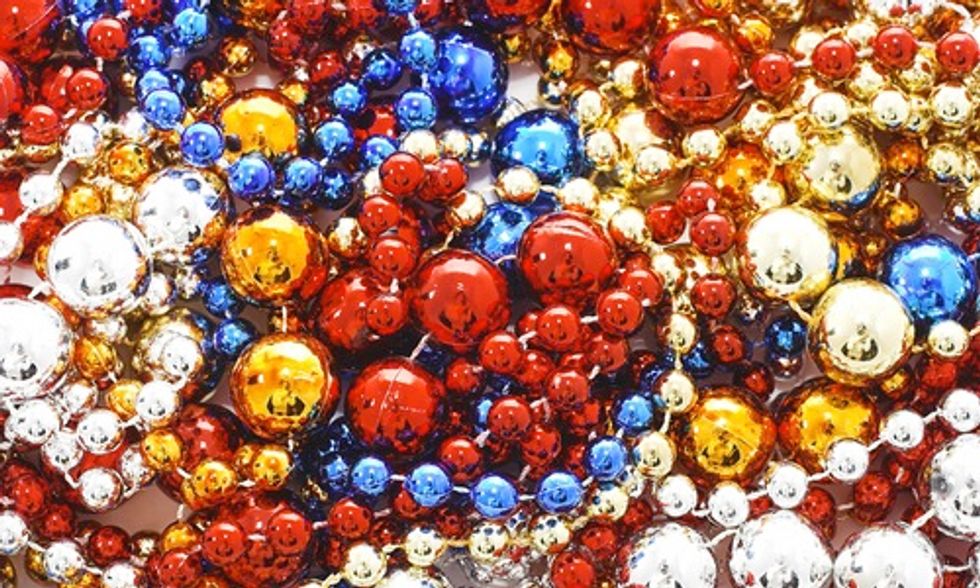 Shutterstock
HealthyStuff.org tested 106 beaded products for chemicals based on their toxicity or tendency to build up in people and the environment. These chemicals include lead, bromine, chlorine, cadmium, arsenic, tin, phthalates and mercury.
The products included 19 beaded holiday garlands purchased in Michigan between October and November from six top national retailers—CVS, Walgreens, Lowe's, Home Depot, Target and Walmart—and 87 Mardi Gras strands of beads collected from New Orleans.
Two-thirds of the Mardi Gras beads tested exceed 100 part per million (ppm) of lead, which is the U.S. Consumer Product Safety Commission (CPSC) federal safety limit for lead in children's products. While Mardi Gras beads are not classified as a children's product, children certainly can come into regular contact with the beads.
"It is disturbing to see products as enticing to children as Mardi Gras and holiday beads containing such high amounts of lead," Howard W. Mielke, a study collaborator and professor at Tulane University School of Medicine, said. "The Centers for Disease Control and Prevention are emphasizing that the only way to reduce a child's exposure to lead and other toxicants is through prevention, yet children love these beads and often put them in their mouths. Eliminating preventable sources of lead in products is an important way to prevent human exposure to all sources of lead."
Ecology Center researchers used electron microscope imagery to examine the interior and exterior of the beads. Researchers compared the elemental composition of the beads to plastic waste streams, leading to the conclusion that recycled plastic waste is the most likely filler ingredient in the beads. Plastic waste streams can contain the hazardous chemicals identified in the study.
"These plastic bead products are being used as a dumping ground for old plastic waste, which is loaded with toxic chemicals," said Jeff Gearhart, Ecology Center research director. 
HealthyStuff.org recommends common sense precautions when handling these products because they may contain hazardous substances. Do not allow children (or adults) to put beads in their mouths. Wash your hands after handling the beads. Bring baby wipes to the Mardi Gras parade to wipe children's hands after catching and playing with beads and before eating. Wash the beads that have been caught, especially if they were lying on the ground. Recycle the beads. Never burn the beads and do not store them in sunlight. People who regularly handle beads should wear gloves.
Highlights from the Mardi Gras bead study:
Sixty-four percent of the products tested had levels of lead above 100 ppm.
Fifty-nine percent of the products tested had levels of bromine above 400 ppm, suggesting the presence of brominated flame retardants (BFR).
Forty-five percent of the products sampled contained BFR levels in the range of 1 percent to 2 percent (by weight or 10,000 ppm to 20,000 ppm).
Electron microscope images of the beads show fragments of material that appear to be used as filler in the production of the beads. Many of these fragments have halogenated flame retardants in them, including decabromodiphenyl ether (decaBDE) and tetrabromobisphenol A (TBBPA).
About 63 percent  of the products had levels of chlorine above 3,500 ppm, suggesting the use of either polyvinyl chloride (PVC) or chlorinated flame retardants (CFRs).
The interior of the beads, which often get shattered during celebrations, contained concentrations of hazardous chemicals that were as high as the exterior coating of the beads.
A plastic Mardi Gras football contained about 29 percent phthalates by weight, including Bis (2-ethylhexyl) phthalate, a phthalate banned by the CPSC.
Highlights from the holiday garland bead study:
About 74 percent of the beaded garlands had bromine levels above 400 ppm, suggesting the use of BFRs.
About 42 percent of the beaded garlands had chlorine levels above 3,500 ppm, suggesting the use of PVC or CFRs.
More than two-thirds of the beaded garlands had lead levels exceeding 100 ppm. The highest level of lead was 4,161 ppm found in a beaded garland purchased at Lowe's.
Many of the substances found in the beaded strands already have been restricted or banned in other consumer products. For example, decaBDE is restricted in Maine, Washington, Vermont and Oregon. In 2009, the U.S. Environmental Protection Agency (EPA) negotiated a voluntary phase-out of the use of decaBDE for U.S. producers and importers of the chemical. The phase out was effective in most products by the end of 2012 and in all products by the end of 2013. Lead has been restricted in children's products by the U.S. Consumer Product Safety Commission, but remains poorly regulated in all other products.
To conduct the tests, experts used a High Definition X-Ray Fluorescence (HD XRF) analyzer and laboratory testing. HD XRF is an accurate device that has been used by the EPA to screen packaging; the U.S. Food & Drug Administration to screen food; and many state and county health departments to screen for residential lead paint. Other samples were analyzed by laboratories.
"This report raises significant concerns not only for our community celebrations that feature these beads and trinkets, but also for all of us during the holidays when trimming our trees. It also raises concerns for the Chinese workers who melt down the plastic that goes into these products," said Holly Groh, M.D. and one of the founders of VerdiGras. "As a New Orleans residents, the hazards present in the beads and throws shocked my husband and me. We hope manufacturers will be more cautious with what goes into their products because of the findings of this report and, until the market cleans up, we encourage people to take precautions when handling the beads and throws."
Check out this video from  the Ecology Center on the study:
Visit EcoWatch's HEALTH page for more related news on this topic.

EcoWatch Daily Newsletter
Related Articles from EcoWatch
Recent Stories from EcoWatch