Bernie Wins Readers' Poll for TIME Person of the Year But Gets Snubbed as Trump Makes Shortlist
Dec. 07, 2015 02:38PM EST
Politics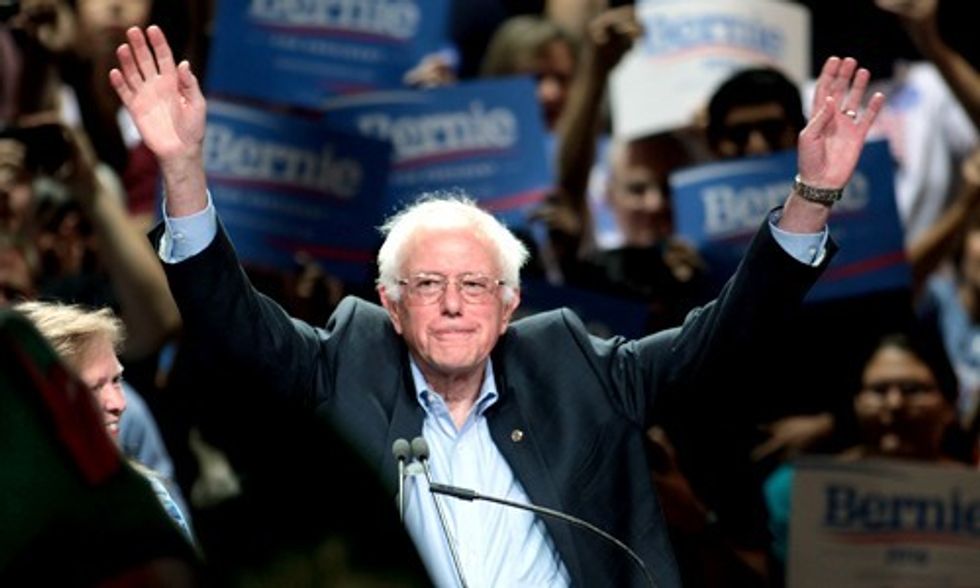 Bernie Sanders was voted TIME's "Person of the Year" in a readers' poll, garnering 10.2 percent of the vote. He placed far ahead of 2014 Nobel Peace Prize recipient Malala Yousafzai, who received 5.2 percent, and Pope Francis, TIME's 2013 Person of the Year, who finished third with 3.7 percent.
Bernie Sanders wins readers' poll for TIME Person of the Year https://t.co/c77m4pT6X9

— TIME (@TIME)1449497704.0
Coming in behind the Pope was President Obama (3.5 percent), Late Show host Stephen Colbert (3.1 percent), refugees (3 percent), Indian Prime Minister Narendra Modi (2.9 percent) and Tesla CEO Elon Musk (2.7 percent). Other 2016 candidates placed far lower than Sanders with Donald Trump receiving a mere 1.8 percent and Hillary Clinton 1.4 percent. TIME posted the full results of the poll online, which includes cultural icons such as Adele, Taylor Swift and Amy Schumer and the infamous Koch brothers, who received a paltry o.3 percent.
The vote marks the first time a presidential candidate has been named "Person of the Year" before the end of the campaign. Though, several presidents have been chosen once elected, including Franklin Delano Roosevelt in (1932, 1934 and 1941), Ronald Reagan (1980 and 1984) and Barack Obama (2008 and 2012).
Coincidentally, Sanders released his climate plan today, which, The Washington Post says, "reads like an environmentalist's wish list." In his plan, the democratic socialist calls for a reduction in U.S. carbon emissions by 40 percent over 1990 levels by 2030 and 80 percent by 2050. He plans to achieve this goal by "putting a tax on carbon pollution, repealing fossil fuel subsidies and making massive investments in energy efficiency and clean, sustainable energy such as wind and solar power."
Who you callin' unelectable? ;-) @BernieSanders wins readers' poll for @TIME Person of the Year https://t.co/83e2mgcH9b #FeelTheBern

— Team Bernie NY (@Team Bernie NY)1449499821.0
He released his plan in coordination with the COP21 climate talks in Paris, in which world leaders have gathered to discuss a possible new global agreement on climate change that would reduce greenhouse gas emissions to avoid the catastrophic consequences of global warming.
TIME explains Sanders' popularity thus:
Sanders has helped define the presidential race, calling for big-ticket progressive items from single-payer healthcare to tuition-free public universities. He has mobilized the Democratic party's liberal base and inspired massive campaign rallies across the country.
But he remains a distant second for the Democratic nomination in 2016, lagging more than 20 percent behind Clinton in national polls and overwhelmingly behind in support among Democratic members of Congress and party leaders.
Sanders has said his goal is a political revolution that will reenergize the electorate and push big money out of politics. "A lot of people have given up on the political process, and I want to get them involved in it," Sanders told TIME in a September cover story. "In this fight we are going to take on the greed of the billionaire class. And they are very, very powerful, and they're going to fight back furiously. The only way to succeed is when millions of people stand up and decide to engage."
The decision for TIME's "Person of the Year" ultimately rests with the magazine's editorial board, though. They will choose the "person TIME believes most influenced the news this year, for better or worse," says TIME. "The choice will be revealed Wednesday morning during NBC's Today show." They announced their shortlist of the eight final contenders for the title this morning, and Sanders is not on the list, which has already drawn outrage from some.
@TIME so @BernieSanders wins hands down the reader poll but he's not on the shortlist????????

— ResistTrump🇺🇸 (@ResistTrump🇺🇸)1449493281.0
This is the shortlist for TIME's 2015 Person of the Year https://t.co/YZCZPD7SWK

— TIME (@TIME)1449507901.0
YOU MIGHT ALSO LIKE
Monsanto to Be Put on Trial for 'Crimes Against Nature and Humanity'
Mark Ruffalo: 'Monsanto Chief is Horrible'
Prince Harry's Moving Photos From Africa Trip Show Brutal Reality of Poaching
Extraordinary Vatican Event to Illuminate Pope Francis' Climate Message
EcoWatch Daily Newsletter
Related Articles from EcoWatch
Recent Stories from EcoWatch