This website uses cookies to ensure you get the best experience while browsing it. By clicking 'Got It' you're accepting these terms.
Bernie Sanders Vows to Stop 'Disastrous' TPP Deal
Oct. 05, 2015 01:15PM EST
Politics
Amid a last minute scramble, leaders from the U.S. and 11 other Pacific Rim countries announced Monday that they had reached agreement on a sweeping trade deal, one that critics, including presidential candidate Bernie Sanders, say will slash standards and protections for both consumers and workers—with impacts to be felt across the globe.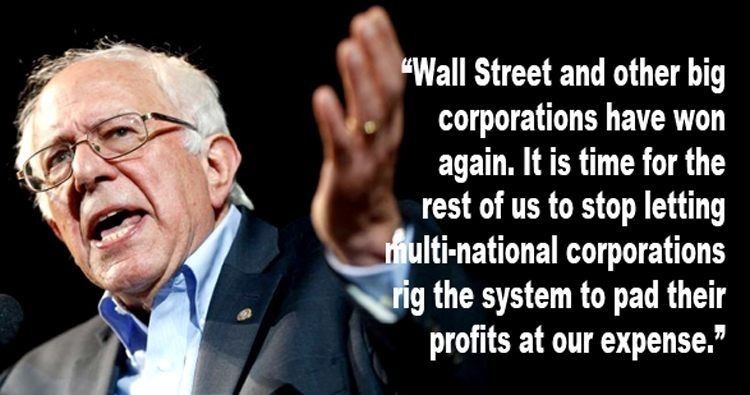 The agreement, known as the Trans Pacific Partnership (TPP), which would tie together as much as 40 percent of the world's economy, has for nearly eight years been negotiated in secret. Though details of the compromise were not yet revealed early Monday, critics said that—minutia aside—the global trade pact will certainly be a boon for corporate power
"TPP is a deal for big business," said Nick Dearden, director of the UK-based Nick Dearden, Global Justice Now.
Presidential candidate Bernie Sanders was also quick to condemn the deal. Saying he was disappointed but not surprised by the "disastrous" agreement, Sanders added: "Wall Street and other big corporations have won again. It is time for the rest of us to stop letting multi-national corporations rig the system to pad their profits at our expense."
The compromise was reached after five days of round-the-clock negotiations in Atlanta, Georgia. U.S. President Barack Obama reportedly "spent recent days contacting world leaders to seal the deal."
The negotiations had been extended after talks got stuck over the issue of how long a monopoly period should be allowed on next-generation biotech drugs. The compromise reportedly reached between the U.S. and Australia "is a hybrid that protects companies' data for five years to eight years," the New York Times reports, falling short of the 12 years desired by U.S. negotiators.
Other final compromises reportedly reached included "more open markets for dairy products and sugar and a slow phaseout—over two to three decades—of the tariffs on Japan's autos sold in North America," the New York Times continues.
One of the more controversial aspects of the deal is the Investor State Dispute Settlement provision, which permits multinational companies to sue governments over allegations that profits were lost due to local regulations.
"Two fifths of the global economy will be covered by corporate courts, meaning a huge rise in governments being sued for protecting the public interest from corporate greed," Dearden explained. Then highlighting some of the other alarming provisions of the deal, he continued: "Medicine prices will rise as Big Pharma gets more power to monopolize markets. Small farmers will suffer from unfair competition with industrial scale agribusiness. No wonder this has been agreed in secret."
Chris Shelton, president of the Communication Workers of America, said the agreement is "bad news" for working families and communities. In a statement, Shelton said, "Despite broad promises from the Obama administration," the TPP "would continue the offshoring of jobs and weakening of our communities that started under the North American Free Trade Agreement" and "would mean labor and environmental standards that look good on paper but fall flat when it comes to enforcement."
"It's a corporate dream but a nightmare for those of us on main street," he added.
It now falls on signatory governments to ratify the agreement. In the U.S., many members of Congress as well as presidential candidates have expressed skepticism over the pact, which heretofore had been largely undisclosed to legislators. Reportedly, the full 30-chapter text will not be available for another month.
Lori Wallach, director of Public Citizen's Global Trade Watch questions whether the pact will pass in Congress, given the amount of pushback the deal received when the U.S. House and Senate voted this summer to pass Fast Track trade promotion authority.
Wallach explains: "If there really is a deal, its fate in Congress is at best uncertain given that since the trade authority vote, the small bloc of Democrats who made the narrow margin of passage have made demands about TPP currency, drug patent and environmental terms that are likely not in the final deal, while the GOP members who switched to supporting Fast Track in the last weeks demand enforceable currency terms, stricter rules of origin for autos, auto parts and apparel and better dairy access for U.S. producers."
For his part, Senator Sanders said he "will do all that I can to defeat this agreement." in the U.S. Senate. "We need trade policies that benefit American workers and consumers, not just the CEOs of large multi-national corporations," he added.
In Canada, the deal comes just two weeks ahead of national elections. In a statement, Maude Barlow, national chairperson of the Council of Canadians encouraged Canadians to "vote against the TPP" during the upcoming election.
"Just what are we supposed to make of a deal that has been kept secret from the Canadian public?" Barlow asks. "Our own legislators don't even know what's in it."
"The Harper government has signed a deal that will lay off thousands of auto workers and put thousands of dairy farmers in jeopardy while giving even more foreign corporations the right to dictate Canadian policy," she continued, adding that "Stephen Harper negotiated the TPP during an election when his mandate is simply to be a caretaker government. Parliament now has the ability to vote on the TPP. We strongly encourage the next government to reject it."
YOU MIGHT ALSO LIKE
Watch Hillary Clinton on Saturday Night Live Talk Keystone XL and Donald Trump
Bernie Sanders Goes Big in Boston Calling for a 'Political Revolution'
Why Bernie and Hillary Must Address America's Dying Nuke Reactors
EcoWatch Daily Newsletter
Brown bear fishing for salmon in creek at Pavlof Harbor in Tongass National Forest, Alaska. Wolfgang Kaehler / LightRocket / Getty Images
The Trump administration has moved one step closer to opening Earth's largest intact temperate rainforest to logging.
The Democratic primary candidates take the stage during Tuesday's debate. SAUL LOEB / AFP via Getty Images
On Tuesday night, the Democratic presidential candidates gathered for what The Guardian said was the largest primary debate in U.S. history, and they weren't asked a single question about the climate crisis.
A. Battenburg / Technical University of Munich
By Sarah Kennedy
Algae in a pond may look flimsy. But scientists are using algae to develop industrial-strength material that's as hard as steel but only a fraction of the weight.
Variety of fermented food korean traditional kimchi cabbage and radish salad. white and red sauerkraut in ceramic plates over grey spotted background. Natasha Breen / REDA&CO / Universal Images Group / Getty Image
Even if you've never taken probiotics, you've probably heard of them.
These supplements provide numerous benefits because they contain live microorganisms, such as bacteria or yeast, which support the healthy bacteria in your gut (1, 2, 3, 4).
Pexels
Singapore will become the first country in the world to place a ban on advertisements for carbonated drinks and juices with high sugar contents, its health ministry announced last week. The law is intended to curb sugar consumption since the country has some of the world's highest diabetes rates per capita, as Reuters reported.
A typical adult takes around 20,000 breaths per day. If you live in a megacity like Beijing, with many of those lungfuls you're likely to inhale a noxious mixture of chemicals and pollutants.
Fred Stone holds his brown swiss cow Lida Rose at his Arundel dairy farm on March 18 after a press conference where he spoke about PFAS chemical contamination in his fields. Gregory Rec / Portland Portland Press Herald via Getty Images
By Susan Cosier
First there was Fred Stone, the third-generation dairy farmer in Maine who discovered that the milk from his cows contained harmful chemicals. Then came Art Schaap, a second-generation dairy farmer in New Mexico, who had to dump 15,000 gallons of contaminated milk a day.
Protesters attend the 32nd annual Fur-Free Friday demonstration on Nov. 23, 2018 in Beverly Hills, California. Ella DeGea / Getty Images
California Governor Gavin Newsom signed into law a bill that that bans the sale and manufacture of fur products in the state. The fur ban, which he signed into law on Saturday, prohibits Californians from selling or making clothing, shoes or handbags with fur starting in 2023, according to the AP.