Bernie Sanders Unveils 'People Before Polluters' Climate Plan
Dec. 07, 2015 12:04PM EST
Climate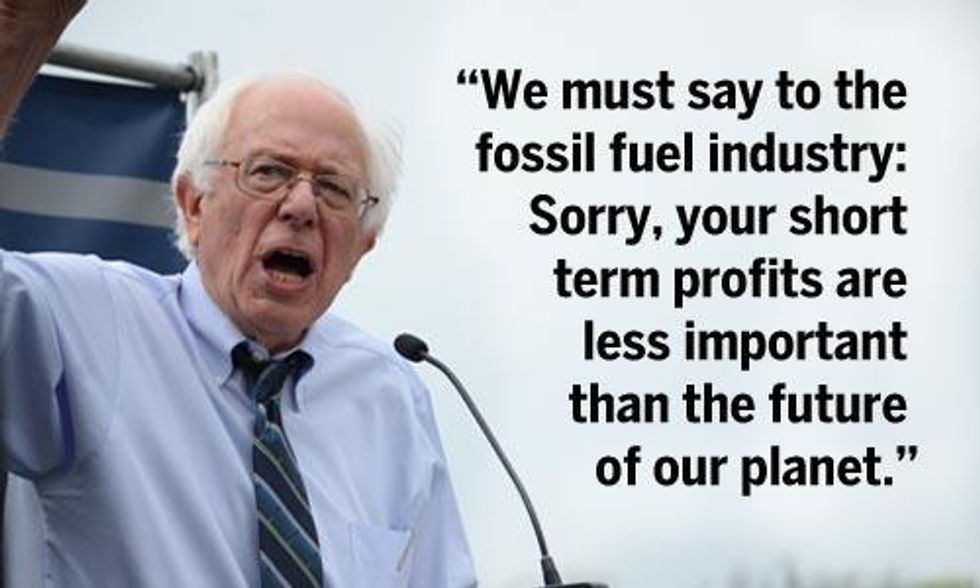 Bernie Sanders released his ambitious 16-page plan today to tackle climate change, calling for a reduction in U.S. carbon emissions by 40 percent over 1990 levels by 2030 and 80 percent by 2050. He plans to achieve this goal by "putting a tax on carbon pollution, repealing fossil fuel subsidies and making massive investments in energy efficiency and clean, sustainable energy such as wind and solar power."
Climate change is an economic issue, health concern, and security threat all at once. #PeopleBeforePolluters https://t.co/1fRop010UL

— Bernie Sanders (@Bernie Sanders)1449500822.0
Sanders also wants to create a 100 percent renewable energy system and a "clean-energy workforce" that would provide 10 million Americans with clean energy jobs. He also vows to help workers transition from oil fields and coal mines to green jobs, something he and rival Hillary Clinton have promised on the campaign trail.
"If we do not act boldly the situation will only become much worse in years to come in terms of drought, floods, extreme storms and acidification of the oceans," Sanders said. "While fossil fuel companies are raking in record profits, climate change ravages our planet and our people—all because the wealthiest industry in the history of our planet has bribed politicians into ignoring science."
We must say to the fossil fuel industry: "Sorry, your short term profits are less important than the future of our planet."

— Bernie Sanders (@Bernie Sanders)1449364821.0
Sanders chastised Republicans for their obstruction of climate policies, saying, "Sadly, we now have a Republican Party that is more concerned about protecting the profits of Exxon, BP and Shell and the coal industry than protecting the planet."
"We commend Senator Sanders for proposing this ambitious energy plan," said Sierra Club Executive Director Michael Brune. "These proposals are rooted in a clear recognition of the fact that the top priorities for a responsible energy policy are cutting dangerous carbon pollution as fast as possible, and providing even further momentum for the booming clean energy economy. We can't afford to wait a minute longer to tackle the climate crisis, or to ensure that all American families have clean air to breath and clean water to drink."
Sanders' plan goes much further than Obama's, which aims to cut emissions by 32 percent over 2005 levels by 2030. His pledge matches that of the European Union in using the more aggressive 1990 level baseline for cuts compared to 2005.
"Climate change is the single greatest threat facing our planet," according to the plan. "It is an embarrassment that Republican politicians, with few exceptions, refuse to even recognize the reality of climate change, let alone are prepared to do anything about it. The reality is that the fossil fuel industry is to blame for much of the climate change skepticism in America."
In addition to ending subsidies to fossil fuel companies, Sanders wants to ban fossil fuel lobbying altogether. The plan states: "Bernie will tax polluters causing the climate crisis, and return billions of dollars to working families to ensure the fossil fuel companies don't subject us to unfair rate hikes. Bernie knows that climate change will not affect everyone equally. The carbon tax will also protect those most impacted by the transformation of our energy system and protect the most vulnerable communities in the country suffering the ravages of climate change."
There must be no new offshore drilling. Not now, not ever. https://t.co/aZmSTVk1pd

— Bernie Sanders (@Bernie Sanders)1449419881.0
Sanders' plan even calls for a ban on new offshore oil drilling and fossil fuel projects on public lands. "He has broken free of the corporate and one percent money that has held back climate policy for far too long," said Greenpeace Executive Director Annie Leonard.
"Sanders has issued a powerful call for climate justice and decisive action to keep fossil fuels in the ground and support the communities who are suffering from climate and environmental impacts.  Greenpeace applauds  this ambitious platform and challenges other candidates who are serious about climate change to reject polluter money and raise the level of ambition in their own plans to meet the greatest challenge of our time."
Pundits note that Sanders, and to a lesser extent, Democratic presidential candidate and former Maryland Gov. Martin O'Malley, have forced Clinton to take a stronger stance on key climate issues. Both Sanders and O'Malley support a ban on offshore drilling, Arctic drilling, natural gas exports and fracking, and both said they oppose attempts to lift a decades-old ban on crude oil exports. Clinton came out against Arctic drilling and the Keystone XL pipeline in August and September, respectively, amid pressure from environmental groups.
The Vermont senator released his plan amid the COP21 climate summit in Paris. O'Malley was the first to put out a climate plan in June, advocating for 100 percent renewable energy in all 50 states by 2050. Clinton, whose plan was criticized by Slate's Eric Holthaus for being "rhetorically grand" but "scientifically unambitious," released her plan in July.
YOU MIGHT ALSO LIKE
Leonardo DiCaprio: Ready for 100%
Mark Ruffalo: 'Monsanto Chief is Horrible'
Bernie Sanders: GOP Candidates Care More About Koch Money Than 'Preserving the Planet for Our Children'
"Ridiculously, Earth-Shatteringly Stupid": Daily Show Slams GOP Climate-Denying Gang
EcoWatch Daily Newsletter