Bernie Sanders Slams GOP for Ignoring 'Planetary Crisis' of Climate Change
Sep. 17, 2015 11:01AM EST
Climate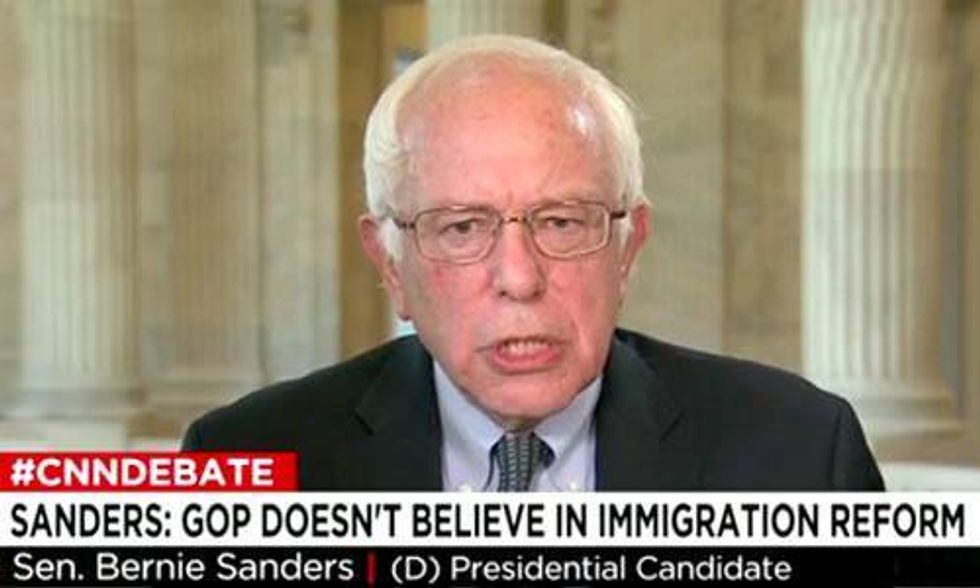 Last night during the GOP debate, Bernie Sanders, like many Americans, noticed a pressing international crisis being ignored by Republican candidates: climate change.
In terms of climate change, "I did not hear anybody say 'Oh, This is a planetary crisis, we have got to do something,'" the insurgent Democratic presidential candidate told CNN after the GOP showdown.
[email protected]

slams GOP for not addressing climate change, childhood poverty, racial justice http://t.co/6OZtrfIwim http://t.co/y6epzwbSx2

— CNN Politics (@CNN Politics)1442493168.0
Sanders continued to criticize the Republican candidates' hands-off approach to climate. "Really, the federal government should not do something? No scientist that I know believes that. What they think is that if we don't act now this advanced situation will become much worse in later years."
Bernie also live tweeted the CNN debate with the #DebateWithBernie hashtag, delighting his Twitter followers and receiving tens of thousands retweets and favorites for several of his digital missives.
Sanders, who believes there should be an entire debate devoted to the environment, sent some tweets criticizing the radio silence on the issue.
Still waiting. Will they ever talk about climate change as a foreign policy issue? Or talk about it all? #DebateWithBernie

— Bernie Sanders (@Bernie Sanders)1442450663.0
Kasich: "Let's get to issues." How about income inequality, climate change and childhood poverty? Think they'll discuss? #DebateWithBernie

— Bernie Sanders (@Bernie Sanders)1442449693.0
This Sanders tweet—in reference to Florida senator and bottled water connoisseur Marco Rubio's awkward opening joke about California's drought—is my favorite:
Rubio knows California has a drought. Will he have the courage to connect that to climate change or reject the science? #DebateWithBernie

— Bernie Sanders (@Bernie Sanders)1442448970.0
(For what it's worth, Rubio, a known climate flip-flopper, clarified during the brief climate segment that he's no longer "skeptical" of climate change. He's just skeptical of green policies, claiming it "will not do a thing to cure California of the drought" and will "make America a harder place to create jobs." Oh, okay but totally wrong.)
Tired of the rambling, the feisty 74-year-old turned off the TV around 10:30 p.m. and perhaps missed it when the debate moderators finally switched to the topic of climate change.
Does anyone know... when will this debate finally end? #DebateWithBernie

— Bernie Sanders (@Bernie Sanders)1442456552.0
Thank you all. I've had it. I'm going home. Talk to you soon. #DebateWithBernie

— Bernie Sanders (@Bernie Sanders)1442456679.0
Sanders is recognized for his glowing record on climate change. Last month, the Vermont senator told CNN's State of the Union, "I think environmentalists deserve a debate so we could talk about how we move aggressively to transform our energy system away from fossil fuel."
Fellow Democratic candidate Hillary Clinton tweeted some thoughts about last night's lack of climate coverage too:
You don't have to be a scientist to know that climate change is an urgent challenge that threatens us all. We need to act.

— Hillary Clinton (@Hillary Clinton)1442457830.0
For a bunch of people who don't believe in acting on climate change, the Republican candidates seem committed to recycling ideas. #GOPdebate

— Hillary Clinton (@Hillary Clinton)1442459605.0
YOU MIGHT ALSO LIKE
How Republican-led Climate Denial Threatens the Future of the Entire Planet
Bernie Sanders Takes Major Lead Over Hillary Clinton in Key Battleground States
Attention Jeb Bush: America's Transition to a Renewable Energy Economy Is Already Underway
EcoWatch Daily Newsletter
Related Articles from EcoWatch