This website uses cookies to ensure you get the best experience while browsing it. By clicking 'Got It' you're accepting these terms.
Bernie Sanders: GOP Candidates Care More About Koch Money Than 'Preserving the Planet for Our Children'
Dec. 02, 2015 11:12AM EST
Politics
Science-denying Republicans—intent on derailing local, national and global attempts to avert a looming climate crisis—have their priorities all wrong, presidential candidate Bernie Sanders said on Tuesday.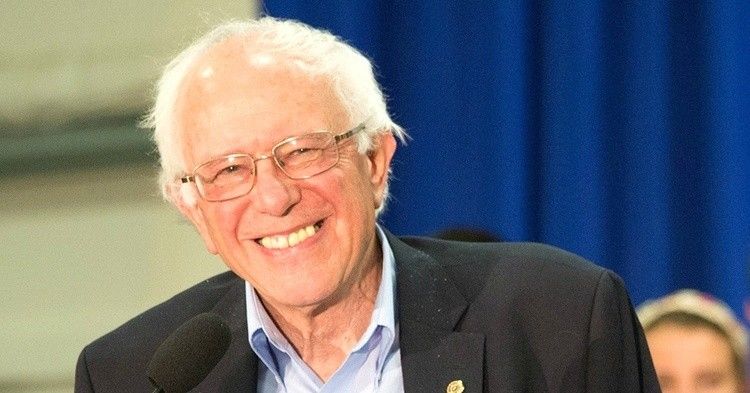 "I find it unacceptable that many of my Republican colleagues are more worried about campaign contributions they're getting from the Koch brothers and others in the fossil fuel industry than they are about preserving the planet for our children and grandchildren," Sen. Sanders (I-Vt.) said in a statement urging the U.S. to take the lead in stopping global warming.
The U.S. senator made his remarks just hours after President Barack Obama, upon leaving the COP21 climate summit taking place in Paris, called for certain aspects of a climate change agreement to be legally binding—a demand that is sure to raise the ire of Republicans in Congress and beyond.
As the Guardian noted in its reporting on the president's press conference, "a majority of Republicans in Congress deny the existence of climate change or oppose action on it. In the run-up to Paris and while Obama has been at the summit, Republicans in Congress have repeatedly threatened to block climate aid to developing countries."
Meanwhile, the newspaper reported separately on Tuesday, "Republican presidential candidates have poured scorn on Barack Obama for his comments at the Paris climate talks."
Presidential candidate and U.S. Senator Ted Cruz (R-Texas), for example, told a gathering in Iowa that Obama "apparently thinks having an SUV in your driveway is more dangerous than a bunch of terrorists trying to blow up the world." And Mike Huckabee, former governor of Arkansas, tweeted along similar lines, calling Obama "clueless" and mocking him as "meteorologist-in-chief."
Indeed, even Obama's call on Tuesday for the agreement to have some legally enforceable elements is a step back from what the European Union and developing countries have pushed for: a legally binding agreement, such as the Kyoto protocol. But such a treaty would be a non-starter in the Republican-controlled U.S. Congress.
Obama decried Republican climate denial in his press conference, noting that "there's a reason why you have the largest gathering of world leaders probably in human history here in Paris. Everybody else is taking climate change really seriously. They think it's a really big problem."
"It spans political parties," he continued. "I mean, you travel around Europe and you talk to leaders of governments and the opposition and they are arguing about a whole bunch of things. One thing they're not arguing about is whether the science of climate change is real and whether or not we're going to have to do something about it."
Recent studies have shown how corporations, led by ExxonMobil and the Koch family foundations, drive such anti-science ideology through the creation of climate disinformation think tanks and dissemination of coordinated contrarian messaging in mainstream media and public discourse.
Still, with a new poll showing that 63 percent of Americans support the U.S. signing onto a binding international agreement to curb greenhouse gas emissions, one can only hope the tide is shifting.
"The evidence is overwhelming," Sanders declared. "Droughts, floods and severe storms already are impacting the planet and the situation will only become worse in years to come."
YOU MIGHT ALSO LIKE
Obama: We Must Create a 'World That is Worthy of Our Children'
U.S. Sen. Harry Reid's Letter to the Future: 'You Deserve a Chance'
Michael Mann: This GOP Presidential Candidate 'Understands Less About Science Than the Average Kindergartner'
'Filthy' Corporate Sponsors Bankrolling COP21 Exposed in New Report
EcoWatch Daily Newsletter
Tuna auctions are a tourist spectacle in Tokyo. Outside the city's most famous fish market, long queues of visitors hoping for a glimpse of the action begin to form at 5 a.m. The attraction is so popular that last October the Tsukiji fish market, in operation since 1935, moved out from the city center to the district of Toyosu to cope with the crowds.

gmnicholas / E+ / Getty Images
Kristan Porter grew up in a fishing family in the fishing community of Cutler, Maine, where he says all roads lead to one career path: fishing. (Porter's father was the family's lone exception. He suffered from terrible seasickness, and so became a carpenter.) The 49-year-old, who has been working on boats since he was a kid and fishing on his own since 1991, says that the recent warming of Maine's cool coastal waters has yielded unprecedented lobster landings.
Aerial view of lava flows from the eruption of volcano Kilauea on Hawaii, May 2018. Frizi / iStock / Getty Images
Hawaii's Kilauea volcano could be gearing up for an eruption after a pond of water was discovered inside its summit crater for the first time in recorded history, according to the AP.
The Eqip Sermia Glacier is seen behind a moraine left exposed by the glacier's retreat during unseasonably warm weather on Aug. 1 at Eqip Sermia, Greenland. Sean Gallup / Getty Images
hadynyah / E+ / Getty Images
By Johnny Wood
The Ganges is a lifeline for the people of India, spiritually and economically. On its journey from the Himalayas to the Bay of Bengal, it supports fishermen, farmers and an abundance of wildlife.
The river and its tributaries touch the lives of roughly 500 million people. But having flowed for millennia, today it is reaching its capacity for human and industrial waste, while simultaneously being drained for agriculture and municipal use.
Here are some of the challenges the river faces.
By Jake Johnson
As a growing number of states move to pass laws that would criminalize pipeline protests and hit demonstrators with years in prison, an audio recording obtained by The Intercept showed a representative of a powerful oil and gas lobbying group bragging about the industry's success in crafting anti-protest legislation behind closed doors.
Reposted with permission from our media associate Common Dreams.

DESIREE MARTIN / AFP / Getty Images
Wildfires raging on Gran Canaria, the second most populous of Spain's Canary Islands, have forced around 9,000 people to evacuate.