Bernie Sanders Draws Biggest Turnout for Maine Democratic Rally in 25 Years
Jul. 14, 2015 09:05AM EST
Politics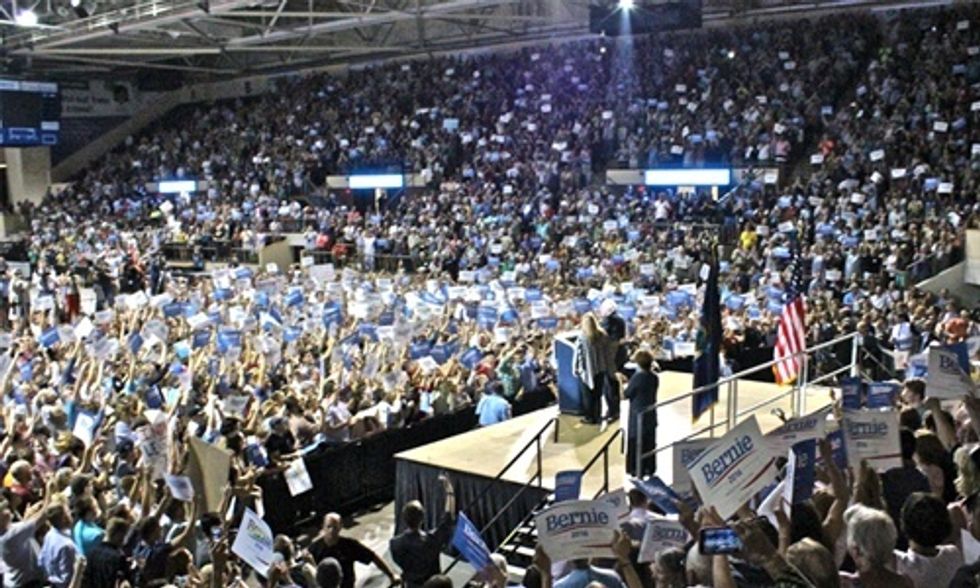 Maine is a small state—1.3 million. Its largest city is Portland, with a population of 66,000.
Maine is one of the few states where presidential national delegates are chosen at local caucuses. The Maine Democratic Presidential Caucuses will be held on March 6, 2016—8 months from now. And the General Election is still 16 months away.
But, last Monday evening, Democratic presidential candidate Bernie Sanders brought his surging campaign to the Cross Insurance Arena in downtown Portland, Maine.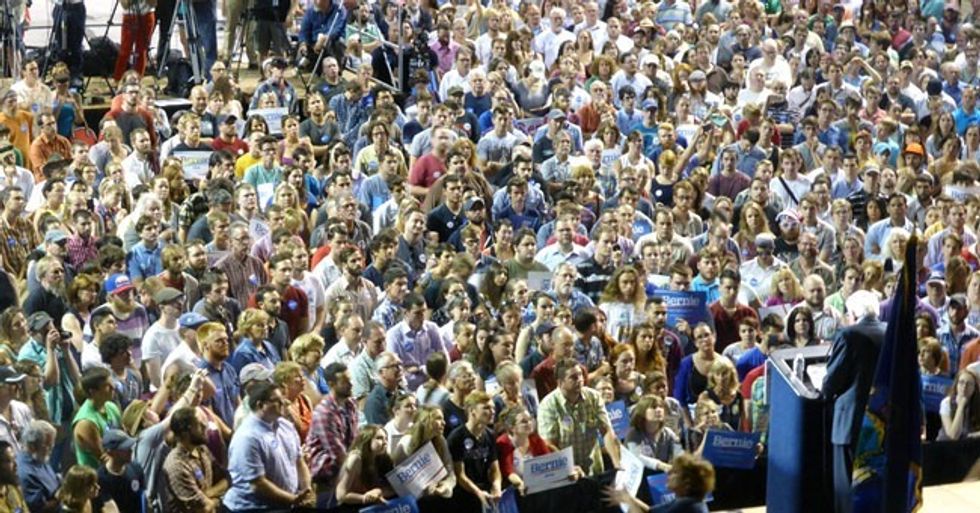 The Sanders campaign originally booked Portland's Ocean Gateway, a venue that holds about 800 people standing. Soon, thousands of RSVPs were pouring in and the event was moved to the much larger Cross Insurance Arena.
The Cross Arena (formerly Cumberland County Civic Center) is Maine's largest concert venue, seating up to 9,500. (In 1977, Elvis Presley was due to kick-off his new concert tour here but was found dead at his Graceland Mansion the day before).
An hour before the rally's scheduled 7 p.m. start time, long lines snaked through downtown Portland with thousands waiting to get in. (The Common Dreams offices are just a block away).
Bernie packed the house. The Bangor Daily News reported:
The 2016 election may be 16 months away, but you wouldn't know it from the thousands of people who turned out Monday evening to cheer on Democratic presidential candidate Bernie Sanders at the Cross Insurance Arena in Portland.
What was scheduled as a town hall forum had become a full-blown rally by Monday night. Sanders' speech was delayed by 20 minutes as organizers let in the throngs of people still awaiting entry. Estimates pegged the crowd at 8,000 to 9,000 people.
(At 7:15 p.m., several of our staff writers were turned away at the doors to the then-full arena; a couple hundred seats behind a curtain were blocked off keeping the turnout number below the 9,500 figure).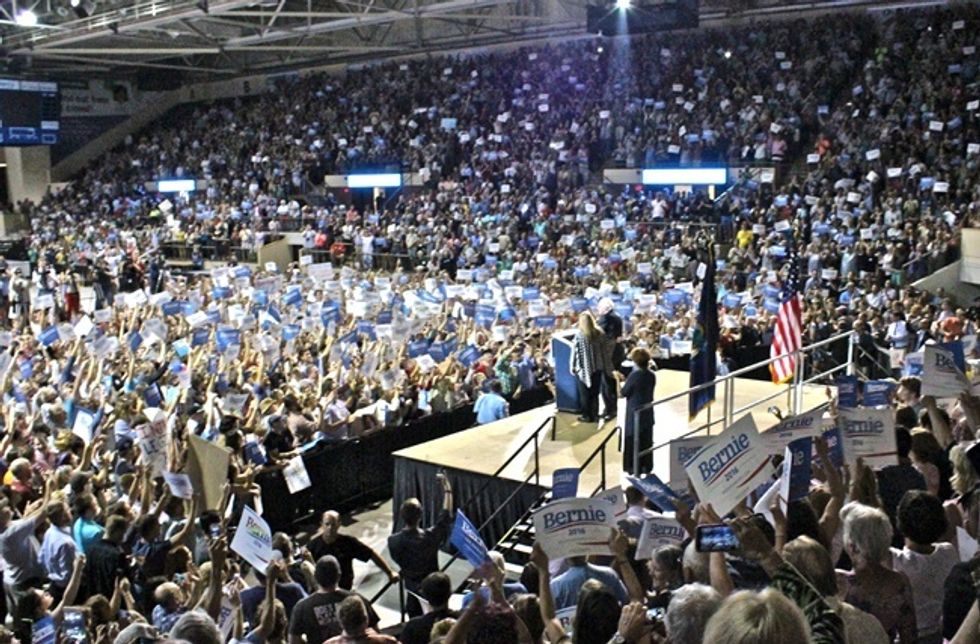 Maine political circles are still buzzing about the gathering—not just the size of the audience, but the crowd's youthful energy and intensity.
It was epic. And, as Bernie Sanders says, "This campaign is catching fire for a simple reason, and the simple reason is we are telling the truth."
No one we spoke with could remember a recent Maine Democratic rally that could compare. We decided to do some research and found that all the large rallies over the past 25 years were either for sitting U.S. Presidents or just before General Elections/Presidential Caucuses. Here's what we found:
The biggest Democratic rally in Maine's history appears to be the 1960 Election Eve visit to Lewiston by candidate John F. Kennedy on Nov. 6/7, 1960. The Lewiston Evening Journal reported that 14,000 came out for the scheduled 9 p.m. speech and that 8,000 remained when Kennedy arrived at the rally just before midnight.
The largest Democratic political rallies held in Maine over the past 25 years:
Bill Clinton: 7,000 (or 10,000) on Oct. 7, 1996 - Hadlock Field, Portland, Maine
Sitting President Bill Clinton came to campaign for re-election in Maine one month before the 1996 General Election in which he ultimately defeated challenger Sen. Bob Dole. The Bangor Daily News reported: "Fresh off a successful debate with Republican Bob Dole, President Bill Clinton swept into Maine on Monday night to lead a spirited pep rally for Maine Democrats. 'Hello, Maine!' Clinton called out in greeting an estimated 7,000 supporters at Portland's Hadlock Field, home of the Portland Sea Dogs baseball team." The Portland Press Herald reported a different turnout at the same event: "Clinton, sporting a Portland Sea Dogs jacket and baseball cap... said he was happily surprised by the crowd of more than 10,000 people who turned out. 'I never dreamed that this place would be so full'." Hadlock Field had a seating capacity of 6,500 in 1996.
Barack Obam: 6,700 (5,700 + 1,000) on Feb., 9, 2008 - Bangor Auditorium, Bangor, Maine
The day before the 2008 Maine Democratic Presidential Caucuses, both leading candidates—Barack Obama and Hillary Clinton—came to rally supporters in Maine. The Bangor Daily News reported: "The Illinois senator conducted his 4 pm 'Stand for Change' rally from a small stage at the center of a crowd of 5,700 people. Outside in the cold, more than 1,000 people were turned away, according to Mike Dyer, director of the Bangor Auditorium."
Bill Clinton: 4,000 on Nov. 4, 1996 - Bangor International Airport, Bangor, Maine
The day before the 1996 General Election, Bill Clinton campaigned for re-election in Bangor. The Bangor Daily News reported: "President Clinton brought his whirlwind campaign to Bangor International Airport at 12:15 this morning, one day before Election Day. Clinton is so far ahead in his own race nationally and in Maine that his campaign advisers decided the president could afford to go shopping for a few more U.S. senators. Looking fresh after a marathon day of campaigning on the eastern seaboard, Clinton told an enthusiastic crowd of supporters estimated at 4,000 gathered in a hangar: 'This is the first rally of the last day of the last campaign I'll ever run, and I'm glad to start it here with you'."
Bill Clinton: 4,000 on June 19, 1993 - Deering Oaks Park, Portland, Maine
Sitting President Bill Clinton came to Portland just six months into his first term. The Bangor Daily News reported: "Though the day was muggy and threatened rain, some 4,000 people packed Deering Oaks Park — a few wishing him ill, more holding signs that criticized his policies, but most apparently just wanting to catch a glimpse of the most powerful man in the free world."
Barack Obama: 3,000 Oct. 30, 2014 - Portland Expo Building, Portland, Maine
Just 5 days before Maine's 2014 Gubernatorial election, sitting President Barack Obama came back to the Portland Expo Building stumping for gubernatorial candidate Congressman Mike Michaud. The Portland Press Herald reported: "President Obama stirred a crowd of about 3,000 people into a frenzy on Thursday evening during a campaign rally for Democratic gubernatorial candidate Mike Michaud in Portland... The Michaud campaign said more than 7,000 people had requested tickets to the event."
Al Gore: 3,000 on Oct. 30, 1992 - Downtown Rally, Bangor, Maine
Four days before the 1992 General Election, Vice-Presidential candidate Al Gore campaigned in Bangor for the Clinton/Gore ticket. The Bangor Daily News reported: "At a downtown rally attended by an estimated 3,000 Democratic supporters, flanked by pockets of Perot and Bush backers, Gore taunted the president for calling him 'Mr. Ozone,' and denigrating the Democratic ticket as a couple of 'bozos.' Bush made those comments while campaigning in Michigan on Thursday."
Barack Obama: 2,500 April 1, 2010 - Portland Expo Building, Portland, Maine
One week after sitting President Barack Obama signed his Affordable Care Act into law, he came to Portland for a victory rally. The Bangor Daily News reported: "'When the pundits were obsessing over who was up and who was down, you never lost sight of what was right and what was wrong,' Obama told an audience of about 2,500 jubilant supporters at the Portland Expo. 'You knew this wasn't about the fortunes of any one party — this was about the future of our country'."
John Edwards: 2,500 Sept. 25, 2004 - Lewiston Armory, Lewiston, Maine
John Kerry's running mate Democratic vice presidential candidate John Edwards campaigned in Maine six weeks before the 2004 General Election. The Portland Press Herald reported: "Edwards accused President Bush of creating a 'mess' in Iraq while failing to address a variety of international threats, during a rally Sunday in what has become a tight race for Maine's electoral votes. The North Carolina senator told 2,500 supporters at the Lewiston Memorial Armory that Democratic presidential candidate John Kerry and he are the right choice on the issue of national security."
Hillary Clinton: 2,200 (2,000 + 200) Feb. 9,  2008 - University of Maine, Orono, Maine
The day before the 2008 Maine Democratic Presidential Caucuses both leading candidates, Barack Obama and Hillary Clinton came to rally supporters in Maine. The Bangor Daily News reported that at the Clinton rally "more than 2,000 people showed up to hear the presidential hopeful speak at UM's Student Recreation and Fitness Center. About 200 had to be turned away."
Barack Obama: 2,000 Sept. 25, 2007 - Portland Expo Building, Portland, Maine
Then-Senator Barack Obama made his first visit to Maine as a candidate five months before Maine's 2008 Presidential Caucuses. The Associated Press reported: "In his first campaign visit to Maine, Obama spoke to about 2,000 people at the Portland Expo about the need for change in government health care, economics and foreign policies. But he said it's also time for a basic change in the political system so Americans can rally behind a common purpose."
Craig Brown has been the director and co-founder of Portland, Maine based Common Dreams since 1997. Previously, he was chief of staff to the progressive former Maine Congressman Tom Andrews.
YOU MIGHT ALSO LIKE
10 Reasons Bernie Sanders Is 'Rockin' in the Free World'
3 Presidential Candidates Say 'No' to Fossil Fuel Funding, Will Hillary Join Them?
'Koch Brothers' Puppet' Scott Walker Announces Presidential Run​
EcoWatch Daily Newsletter
Recent Stories from EcoWatch