This website uses cookies to ensure you get the best experience while browsing it. By clicking 'Got It' you're accepting these terms.
Bernie Sanders Demands DOJ Go After Exxon for 'Covering Up' Climate Change
Oct. 22, 2015 08:16AM EST
Energy
Arguing the oil giant's behavior may "ultimately qualify as a violation of federal law," Sen. Bernie Sanders (I-VT) on Tuesday joined a chorus of voices calling on the U.S. Department of Justice to launch an official fraud investigation into Exxon Mobil's decades-long efforts to suppress the scientific connection between carbon emissions and climate change.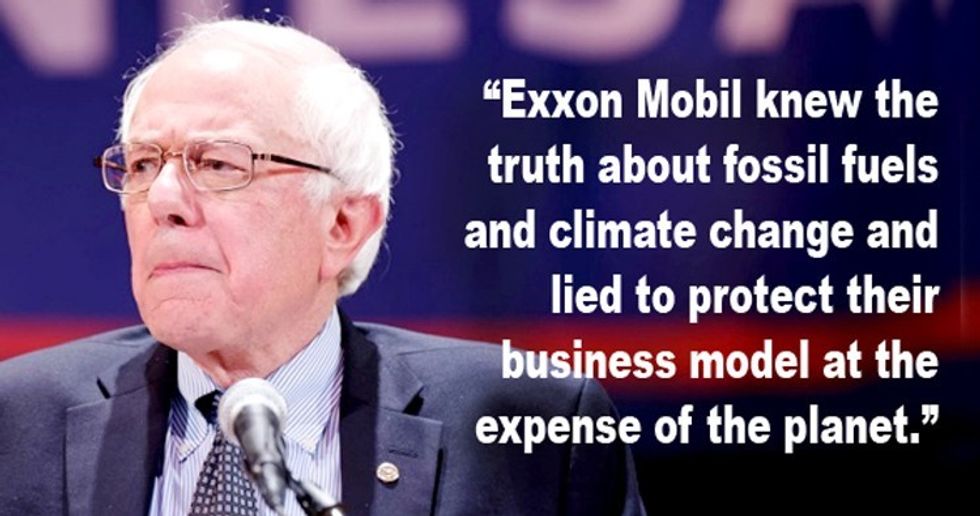 "Based on available public information, it appears that Exxon knew its product was causing harm to the public, and spent millions of dollars to obfuscate the facts in the public discourse. The information that has come to light about Exxon's past activities raises potentially serious concerns that should be investigated," Sanders wrote in a letter to Attorney General Loretta Lynch.
"Exxon Mobil knew the truth about fossil fuels and climate change and lied to protect their business model at the expense of the planet," Sanders added in a statement.
Sanders, who is running for president in 2016 as a Democrat, cited a recent investigation by Inside Climate News that revealed Exxon may have known about climate change and the role of fossil fuels in exacerbating global warming as far back as 1977 and spent millions of dollars funding a misinformation campaign to cast doubt on scientific information as it emerged to the public.
The resulting harm to the environment and public health are akin to the effects of the tobacco industry, which similarly denied the dangers of cigarettes for years, Sanders said. That industry was ultimately tamed by convictions through the Racketeer Influenced and Corrupt Organizations (RICO) Act.
One of the prosecutors who helped win the case against Big Tobacco echoed that call on Tuesday, telling ThinkProgress, "I think a RICO action is plausible and should be considered" against Exxon.
"It appears to me, based on what we know so far, that there was a concerted effort by Exxon and others to confuse the public on climate change," Sharon Eubanks said. "They were actively denying the impact of human-caused carbon emissions, even when their own research showed otherwise."
Citing Lynch's recent pledge to take a stronger stance again corporate crime, Sanders called for the creation of a investigative task force in relation to the allegations against Exxon.
With his letter, Sanders joined a growing number of lawmakers and activists demanding federal investigation into Exxon's climate denial efforts. U.S. Reps. from California Ted Lieu (D-Los Angeles) and Mark DeSaulnier (D-Walnut Creek) penned a similar missive to Lynch last week, writing, "If these allegations against Exxon are true, then Exxon's actions were immoral ... We request the DOJ investigate whether ExxonMobil's actions were also illegal."
Lieu also compared Exxon's actions to those of the tobacco industry. ""Exxon's situation is even worse," Lieu told the Los Angeles Times last Wednesday. "It was taking advantage of the science ... while denying the facts to the public."
The congressmen's letter came on the same day climate activist and 350.org co-founder Bill McKibben staged a one-man protest at an Exxon gas station in Burlington, Vermont, where he blocked a gas pump until being arrested, and told media that "We need to let people know what we now know about Exxon Mobil. In a noisy world, this may be what we have to do."
McKibben called Exxon's mission to suppress climate information for the corporation's own gain "unparalleled evil." He and Lieu appeared on Democracy Now! today calling for a DOJ investigation.
"It's difficult to think of a company that could have set back humanity for decades, and perhaps permanently," Lieu said. "But that's what happened here."
YOU MIGHT ALSO LIKE
Bill McKibben Gets Arrested Exposing Exxon's 'Unparalleled Evil'
Don't Let Wall Street Leave You Behind: It's Time to Divest From Fossil Fuels
Columbia Students Pledge to Engage in Civil Disobedience Unless University Divests From Fossil Fuels
Oslo Becomes First Capital City in the World to Divest From Fossil Fuels
EcoWatch Daily Newsletter
A new study shows that half of all Arctic warming and corresponding sea-loss during the late 20th century was caused by ozone-depleting substances. Here, icebergs discharged from Greenland's Jakobshavn Glacier. Kevin Krajick / Earth Institute /
EurekAlert!
The world awakened to the hole in the ozone layer in 1985, which scientists attributed it to ozone depleting substances. Two years later, in Montreal, the world agreed to ban the halogen compounds causing the massive hole over Antarctica. Research now shows that those chemicals didn't just cut a hole in the ozone layer, they also warmed up the Arctic.
Diane Wilson holds up a bag full of nurdles she collected from one of Formosa's outfall areas on Jan. 15. Julie Dermansky / DeSmogBlog
On the afternoon of Jan. 15, activist Diane Wilson kicked off a San Antonio Estuary Waterkeeper meeting on the side of the road across from a Formosa plastics manufacturing plant in Point Comfort, Texas.
After Wilson and the waterkeeper successfully sued Formosa, the company agreed to no longer release even one of the tiny plastic pellets known as nurdles into the region's waterways. The group of volunteers had assembled that day to check whether the plant was still discharging these raw materials of plastics manufacturing.
Malaysian Environment Minister Yeo Bee Yin (front 2nd L) and officials inspect a container containing plastic waste shipment on Jan. 20, 2020 before sending back to the countries of origin. AFP via Getty Images
The Southeast Asian country Malaysia has sent 150 shipping containers packed with plastic waste back to 13 wealthy countries, putting the world on notice that it will not be the world's garbage dump, as CNN reported. The countries receiving their trash back include the United States, the United Kingdom, France and Canada.
Trump leaves after delivering a speech at the Congress Centre during the World Economic Forum annual meeting in Davos on Jan. 21, 2020. JIM WATSON / AFP via Getty Images