This website uses cookies to ensure you get the best experience while browsing it. By clicking 'Got It' you're accepting these terms.
Bernie Sanders and Hillary Clinton Make History in Virtual Tie in Iowa
Feb. 02, 2016 09:04AM EST
Politics
Hillary Clinton and Bernie Sanders made history in Iowa Monday night, ending 2016's opening presidential nominating contest in an unprecedented virtual tie that shows Democrats may be experiencing an identity crisis as deep as Republicans.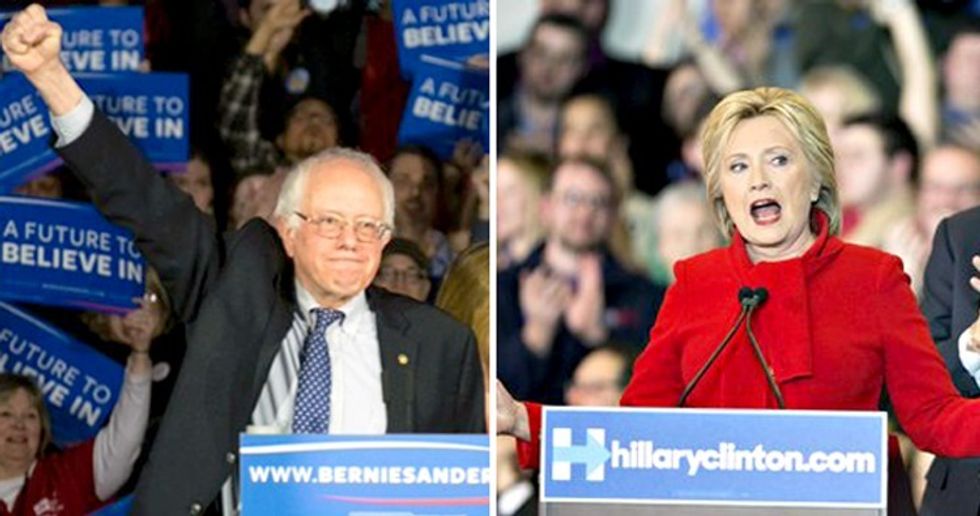 After midnight local time, Clinton appeared to be maintaining the barest of edges to win more delegates than Sanders to the next stage in Iowa's 2016 Democratic presidential nominating process—county conventions. It was the slimmest of margins—four more delegates out of nearly 1,400 awarded—an all-but tie that defied expectations as Sanders ran a people-powered race calling for a political and economic revolution, while Clinton called for more a gradual political evolution building on the Obama years.
As the evening's vote counting crawled to its nail-biting peak, Clinton's campaign had at one point 628 delegates to the next stage in the party's process while Sanders had 625 delegates, a difference of 49.8 percent to 49.6 percent. Martin O'Malley, who suspended his campaign on Monday after the caucuses, had 7 delegates or .6 percent of those awarded. More than two hours later, with 99 percent of precincts reporting, Clinton had 696 delegates to Sanders' 692 delegates, 49.9 percent to 49.6 percent.
Mainstream pundits—like those on CNN—called it "a bad night" for the establishment—given Ted Cruz's victory on the Republican side and said Clinton won a political victory while Sanders won a moral victory. That gave Clinton the headlines she wanted, but it's not accurate; it's incomplete. Even CNN said several dozen of the 1,800 precincts had yet to report, including some university locations strongly favoring Sanders. The Associated Press tweeted that it would not declare a winner in the race:
When the final count is known and delegates awarded, it may be a night that will be compared to Sanders' first victory in 1981, when he was elected mayor of Burlington, Vermont, by 10 votes. Iowa's Democratic Party doesn't release the raw vote numbers, just the delegates awarded. The rural areas are given more delegates than cities, meaning Sanders may have won more raw votes even if he lost this stage's delegate count by a hair.
Both candidates declared victory in their own ways, with the more seasoned Clinton giving an earlier and shorter speech where she signaled that the campaign was about to enter a more fervent period over the soul of the Democratic Party.
"It is rare that we have the opportunity we do now, to have now a real contest of ideas; to really think hard about what the Democratic Party stands for and what we want the future of our country to look like," she said. "I am a progressive that gets things done for people. I am honored to stand in the long line of American reformers who make up our minds that the status quo is not good enough, that standing still is not an option and it brings people together to find ways forward that will improve the lives of Americans."
Clinton supporters were Democrats who said they first and foremost were drawn to her experience, according to national media entrance polls. Her supporters cited "the right experience," confidence about winning in November and said they were centrists—caring more about healthcare and jobs than inequality, the polls said. More women than men supported her, the pollsters found, as did people older than 45 supported her.
Sanders' supporters, the same polls found, had opposing views and were often younger.
"When it is all said and done, we have to be united against a Republican vision," Clinton said, addressing partisan opponents—not Sanders. "I followed their campaign very closely. I understand what they are appealing to and I intend to stand against it. I will not let their divisiveness, their efforts to rip away the progress that we've made be successful because we can't afford that."
Sanders called his stunning come-from-behind showing a major victory and said that it was the start of a political revolution. His closing speeches in Iowa emphasized that his campaign was part of a historic progressive legacy fighting for economic and social justice reforms and cannot be dismissed—as many in the Washington media have tried to do in recent days. His campaign planned to ask its more than 3.5 million donors for more small contributions to keep going. He undoubtedly will raise the funds it needs.
"Nine months months, ago we came to this beautiful state. We had no political organization. We had no money. We had no name recognition. And we were taking on the most powerful political organization in the United States of America," he began his speech. "And tonight, while the results are still not known, it looks like we are in a virtual tie … We will have about half of the Iowa delegates."
Sanders praised Clinton and O'Malley and then recited some of the strongest lines from his stump speeches, saying his movement for fundamental change would propel him to victory against Clinton and against Republicans in November.
"The reason we have done so well in Iowa. The reason why I think we are going to do so well in New Hampshire and in the other states that follow—the reason is the American people are saying 'no' to a rigged economy," he said. "They no longer want to see an economy in which the average American works longer hours for lower wages while almost all new income and wealth is going to the top 1 percent … What the American people understand is this country was based on fairness."
But Sanders also had harsh words for the media, saying it was time for them to start taking his call for an economy and policies that worked for average Americans seriously. "For all of the my critics out there, The Wall Street Journal, the Washington Post, corporate America and whereever you may be, let me tell you straight up, Let me tell you that health care is a right not a privilege," he said, then explaining the appeal of his Medicare for all national health care plan.
"Let me conclude by saying what no other candidate will tell you," he said. "No president can do what needs to be done alone. And that is why what Iowa has begun tonight is a political revolution … when young people and working people and seniors begin to stand up and say loudly and clearly, 'Enough is enough,' that our government belongs to all of us, when that happens we will transform this country."
The race now moves to New Hampshire, next to Sanders' home state and where he has been leading in polls by double-digits for weeks. It is very unlikely that Clinton will win there next week—like she did against Obama in 2008—signaling that the Democratic race is heading into a weeks-long fight for not just for the presidential nomination, but for its identity and future.
YOU MIGHT ALSO LIKE 
Gov. Kasich Admits Renewables Are the Future, So Why Did He Freeze Ohio's Clean Energy Mandate
How Iowa Caucus Could Place Urgency of Climate Action to Forefront of National Debate
Exclusive Video: How Obama Won the Iowa Caucus and What Hillary and Bernie Can Learn From Him
Sanders vs. Clinton: Hard Hitting Final Pitches to Iowa Voters
EcoWatch Daily Newsletter
The Ernest N. Morial Convention Center in New Orleans, Louisiana has been converted to a 1,000-bed field hospital for coronavirus patients to alleviate stress on local hospitals. Chris Graythen / Getty Images
An area in Louisiana whose predominantly black and brown residents are hard-hit by health problems from industry overdevelopment is experiencing one of the highest death rates from coronavirus of any county in the United States.
A woman lies in bed with the flu. marka/Universal Images Group via Getty Images
A central player in the fight against the novel coronavirus is our immune system. It protects us against the invader and can even be helpful for its therapy. But sometimes it can turn against us.
Several flower species, including the orchid, can recover quickly from severe injury, scientists have found. cunfek / iStock / Getty Images Plus
Calling someone a delicate flower may not sting like it used to, according to new research. Scientists have found that many delicate flowers are actually remarkably hearty and able to bounce back from severe injury.
A Boeing 727 flies over approach lights with a trail of black-smoke from the engines on April 9, 2018. aviation-images.com / Universal Images Group via Getty Images
With global air travel at a near standstill, the airline industry is looking to rewrite the rules it agreed to tackle global emissions. The Guardian reports that the airline is billing it as a matter of survival, while environmental activists are accusing the industry of trying to dodge their obligations.
A National Guard member works on election day at a polling location on April 7, 2020 in Madison, Wisconsin. Andy Manis / Getty Images.
ByJulia Baumel
The outbreak of COVID-19 across the U.S. has touched every facet of our society, and our democracy has been no exception.