This website uses cookies to ensure you get the best experience while browsing it. By clicking 'Got It' you're accepting these terms.


The best of EcoWatch, right in your inbox. Sign up for our email newsletter!
'Bernie Blackout': 81 Media Minutes on Trump = 1 Minute on Sanders
Dec. 14, 2015 11:08AM EST
Politics
New Wall Street Journal/NBC News polling numbers out Sunday showed that Donald Trump continues to lead the wide and varied Republican presidential field and—despite increasingly inflammatory rhetoric—reached a new high with 27 percent support.
The latest survey comes on the heels of an analysis by the Tyndall Report which showed that media coverage of Donald Trump eclipses that of all his rivals from both parties.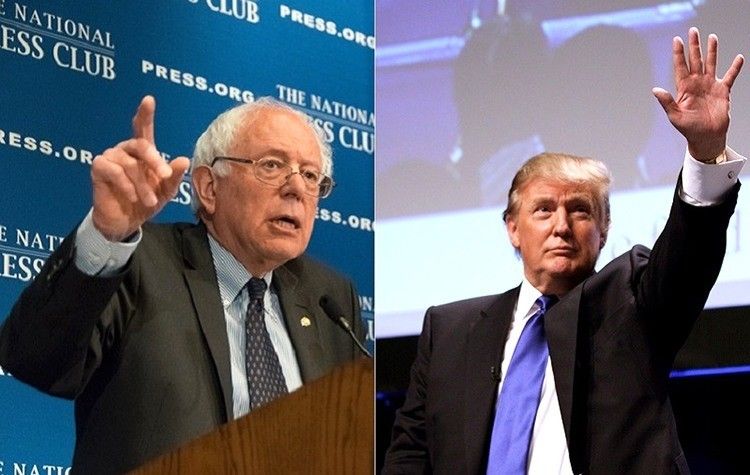 According to the study of nightly news programs on NBC, CBS and ABC, Trump has received more network coverage than all the Democratic candidates combined and accounts for 27 percent of all campaign coverage thus far.
What's more, there appears to be a concerted "blackout" of news about Bernie Sanders, despite similar voter support.
As Eric Boehlert at Media Matters for America pointed out this week, "The network newscasts are wildly overplaying Trump, who regularly attracts between 20-30 percent of primary voter support, while at the same time wildly underplaying Sanders, who regularly attracts between 20-30 percent of primary voter support."
In fact, ABC World News Tonight devoted a total 81 minutes this year to Donald Trump's campaign and just about 20 seconds to Sanders' candidacy—a ratio of 81:1 which Boehlert calls a "stunning revelation." This comes despite the fact that a recent poll found that Sanders would beat Trump by eight points in the general election.
In a campaign statement, Sanders' campaign manager Jeff Weavers said that media channels were ignoring the progressive candidate because his campaign is an affront to the corporate-dominated system.
"The corporately-owned media may not like Bernie's anti-establishment views but for the sake of American democracy they must allow for a fair debate in this presidential campaign," Weavers said. "Bernie must receive the same level of coverage on the nightly news as other leading candidates."
The campaign has even begun a petition calling on corporate-owned channels to "start covering Bernie."
Commenting on the stark divide on Sunday, columnist Juan Cole suggests that with Trump's anti-Muslim and anti-immigrant messaging propelling some followers to take drastic action, the corporate media may be posing a "danger to society."
Cole writes:
"What better for corporate news. You pretend there isn't a candidate in the race addressing growing economic inequality or the woes of the working class. You put all the spotlight on someone who insults and even incites against Mexican-Americans, African-Americans and Muslim-Americans. It is a tried and true tactic of the American business class to keep the workers and middle class divided by playing up minor ethnic issues. The end result, however, is fire-bombing of mosques and attacks on minorities and other white hood phenomena familiar from past epochs of American history."
For his part, the U.S. Senator from Vermont continues to lead Democratic frontrunner Hillary Clinton in New Hampshire with 50 percent of likely Democratic voters in the state, compared with her 40 percent, according to the latest CNN/WMUR tally. Meanwhile, a Fox News survey released on Sunday found Clinton leading Sanders in Iowa 50 to 36 percent.
YOU MIGHT ALSO LIKE
Donald Trump Attacked by Eagle Named Uncle Sam, GIF Goes Viral
Ted Cruz Offers Al Gore Some 'Inconvenient Truths' in Most Outrageous Climate Denier Stunt Yet
Bernie Slams Trump on The Tonight Show With Jimmy Fallon
Bernie Wins Readers' Poll for TIME Person of the Year But Gets Snubbed as Trump Makes Shortlist
EcoWatch Daily Newsletter
arinahabich / Stock / Getty Images
By Sydney Swanson
With April hopping along and Easter just around the corner, it's time for dyeing eggs (and inadvertently, dyeing hands.) It's easy to grab an egg-dyeing kit at the local supermarket or drug store, but those dye ingredients are not pretty.
Aerial of farmland and mountains near Seaward Kaikoura Range in New Zealand. David Wall Photo / Lonely Planet Images / Getty Images Plus
By Jordan Davidson
New Zealand's pristine image as a haven of untouched forests and landscapes was tarnished this week by a brand new government report. The Environment Aotearoa 2019 painted a bleak image of the island nation's environment and its future prospects.
heshphoto / Image Source / Getty Images
Mike Taube / Getty Images
A new EPA rule on asbestos does not say anything about the asbestos currently in the environment. Bob Allen / Getty Images
A mountain woodland caribou bull in the Muskwa-Kechika Wilderness area in northern British Columbia, Canada. John E Marriott / All Canada Photos / Getty Images
It's heartening, in the midst of the human-caused sixth mass extinction, to find good wildlife recovery news. As plant and animal species disappear faster than they have for millions of years, Russia's Siberian, or Amur, tigers are making a comeback. After falling to a low of just a few dozen in the mid-20th century, the tigers now number around 500, with close to 100 cubs — thanks to conservation measures that include habitat restoration and an illegal hunting crackdown.