This website uses cookies to ensure you get the best experience while browsing it. By clicking 'Got It' you're accepting these terms.
Bayer 'Confident' It Can Still Strike Deal with Monsanto, Merger Could Spell Disaster for Farmers and Global Food Supply
May. 26, 2016 08:51AM EST
Food
Two days after Monsanto rejected Bayer AG's takeover attempt because $62 billion wasn't enough money, the German drug and crop chemical giant says it's confident it can still strike a deal.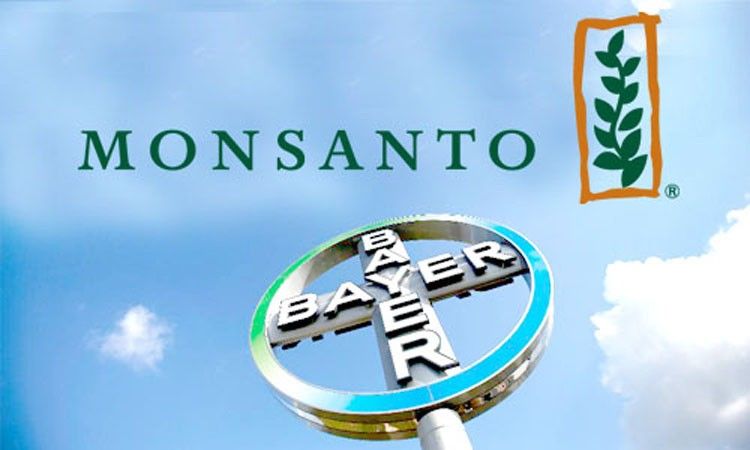 The historic, all-cash deal would have formed the largest seed and pesticide company in the world, but Monsanto's board unanimously spurned Bayer's unsolicited bid for being incomplete and financially inadequate.
"We believe in the substantial benefits an integrated strategy could provide to growers and broader society, and we have long respected Bayer's business," Hugh Grant, Monsanto chairman and CEO, said in a statement. "However, the current proposal significantly undervalues our company and also does not adequately address or provide reassurance for some of the potential financing and regulatory execution risks related to the acquisition."
Despite the snub, Bayer is looking forward to further talks with Monsanto, Bloomberg reported.
"We are pleased that Monsanto's board shares our belief in the substantial benefits an integrated strategy could provide to growers and broader society," Bayer CEO Werner Baumann said in a statement. "We are confident that we can address any potential financing or regulatory matters related to the transaction. Bayer remains committed to working together to complete this mutually compelling transaction."
The St. Louis-based company also added that it is "open to continued and constructive conversations" with the aspirin maker on whether a transaction in the best interest of Monsanto shareowners can be achieved.
This means that the already eye-popping $62 billion sum could blossom even higher since both parties are open to further negotiations. As Bloomberg noted, "the conciliatory tone from both sides sets the stage for an improved offer from Bayer," and further pointed out:
While Monsanto has consistently traded at less than the $122-a-share offer price since the companies started discussing a deal, the stock rallied Tuesday, gaining 2.7 percent to $122.21 at 9:38 a.m. in New York.
Bayer's comments were "very positive," Brett Wong, an analyst at Piper Jaffray Cos. in Minneapolis, said in an interview. Bayer can afford to pay as much as $140 a share and still add to double-digit growth in earnings in the mid-term, Jeffrey Holford, an analyst at Jefferies LLC, said in a note.
But Bayer reiterated in its press release that its $122 per share all-cash proposal "provides full and certain value for Monsanto shareholders."
Monsanto, the world's largest producer of genetically modified (GMO) crops and maker of the herbicide Roundup, has faced mounting controversy in recent years, from global disputes to numerous lawsuits over its cancer-linked flagship product. Sales have been slumping and thousands of jobs have been cut.
MarketWatch reported that the Monsanto's poor image did factor into consideration of the deal, Baumann acknowledged in a media call on Monday.
A Sum Of Us petition signed by more than 21,000 people has already been launched to stop the potential "merger from hell" since the news surfaced last week. The NGO's petition states:
 Almost everything you eat could be controlled by a single mega-corporation, if Bayer gets its way and buys Monsanto.
Once the deal goes ahead it could spell disaster for our food supply and farmers, ushering in a new era of sterile crops soaked in dangerous pesticides. If the deal is successful, it'll make the new corporation the biggest seed maker and pesticide company in the world—and it will have almost total control of the most important aspects of our food supply.
The pharmaceutical giant itself has been subject to criticism over its widely used insecticide, imidacloprid, which belongs to a controversial class of chemicals called neonicotinoids, and is linked to deaths of bees.
"At the center of Bayer and Monsanto's corporate agribusiness model is the indiscriminate, widespread use of pesticides linked to the massive global bee die-off," the petition reads. "Monsanto rejected the first offer from Bayer, but the negotiations are far from over. Once a merger like this goes through, Bayer and Monsanto will be even harder to stop—we need to act now to block the creation of this massive corporate bee-killer."
Experts also warned that the possible merger of Bayer and Monsanto—which would claim 30 percent of the global crop-inputs business if successfully executed—could significantly and negatively impact farmers and food production. Monsanto controls 80 percent of the U.S. corn market and 93 percent of the U.S. soy market.
"The consolidation and driving out of smaller competitors, and controlling the marketplace and raising prices of seeds and pesticides for farmers worldwide is going to be a real shock to the food system," Robert Lawrence, a Johns Hopkins School of Medicine professor and the founding director of the Center for a Livable Future, told MarketWatch.
"I don't know if that will in the end give farmers more choice in the seeds and traits in those seeds or less choice," Greg Jaffe, biotechnology project director at the Center for Science in the Public Interest, told the publication. "It might allow Bayer to put more of Monsanto's seeds in their variety … or they might choose to produce less varieties."
Bayer, which is also involved in the GMO-seed market, responded in a statement that it has a role in feeding the growing global population.
"GMO is all about science—and it is a relevant tool in the toolbox to fight hunger in the world," the company said.
CBS's MoneyWatch noted that antitrust issues could kill a potential merger. "Given the market power of the businesses, the transaction will face significant regulatory scrutiny. How that will play out is hard to predict, but one fact that could help the deal is that Bayer and Monsanto don't overlap much either geographically or in its agrochemical businesses," the report stated.
Patty Lovera, the assistant director of the nonprofit Food & Water Watch, told MarketWatch that the Justice Department should examine the deal.
"Anytime companies, already giant companies, merge, they get more market share. There's political power that comes with that economic power," she added. "The players already in that room are going to get bigger."
Organic Consumers Association's Ronnie Cummins and Martha Rosenberg shared this perspective in a blog post: "While a Bayer-Monsanto deal (like a DuPont-Dow deal or ChemChina-Syngenta deal) certainly threatens the world food supply with domination by GMOs and destructive agrochemicals, there may be an underreported bright side: Industries that are doing well generally spin off; industries that are performing poorly generally merge and consolidate."
YOU MIGHT ALSO LIKE
More Big Retailers Say 'No' to GMO Salmon
Vandana Shiva: Small Farmers Are Foundation to Food Security, Not Corporations Like Monsanto
EcoWatch Daily Newsletter
The Democratic primary candidates take the stage during Tuesday's debate. SAUL LOEB / AFP via Getty Images
On Tuesday night, the Democratic presidential candidates gathered for what The Guardian said was the largest primary debate in U.S. history, and they weren't asked a single question about the climate crisis.
A. Battenburg / Technical University of Munich
By Sarah Kennedy
Algae in a pond may look flimsy. But scientists are using algae to develop industrial-strength material that's as hard as steel but only a fraction of the weight.
Variety of fermented food korean traditional kimchi cabbage and radish salad. white and red sauerkraut in ceramic plates over grey spotted background. Natasha Breen / REDA&CO / Universal Images Group / Getty Image
Even if you've never taken probiotics, you've probably heard of them.
These supplements provide numerous benefits because they contain live microorganisms, such as bacteria or yeast, which support the healthy bacteria in your gut (1, 2, 3, 4).
Pexels
Singapore will become the first country in the world to place a ban on advertisements for carbonated drinks and juices with high sugar contents, its health ministry announced last week. The law is intended to curb sugar consumption since the country has some of the world's highest diabetes rates per capita, as Reuters reported.
A typical adult takes around 20,000 breaths per day. If you live in a megacity like Beijing, with many of those lungfuls you're likely to inhale a noxious mixture of chemicals and pollutants.
Fred Stone holds his brown swiss cow Lida Rose at his Arundel dairy farm on March 18 after a press conference where he spoke about PFAS chemical contamination in his fields. Gregory Rec / Portland Portland Press Herald via Getty Images
By Susan Cosier
First there was Fred Stone, the third-generation dairy farmer in Maine who discovered that the milk from his cows contained harmful chemicals. Then came Art Schaap, a second-generation dairy farmer in New Mexico, who had to dump 15,000 gallons of contaminated milk a day.
Protesters attend the 32nd annual Fur-Free Friday demonstration on Nov. 23, 2018 in Beverly Hills, California. Ella DeGea / Getty Images
California Governor Gavin Newsom signed into law a bill that that bans the sale and manufacture of fur products in the state. The fur ban, which he signed into law on Saturday, prohibits Californians from selling or making clothing, shoes or handbags with fur starting in 2023, according to the AP.
By Simon Evans
During the three months of July, August and September, renewables generated an estimated total of 29.5 terawatt hours (TWh), compared with just 29.1TWh from fossil fuels, the analysis shows.