Bayer 'Confident' It Can Still Strike Deal with Monsanto, Merger Could Spell Disaster for Farmers and Global Food Supply
May. 26, 2016 09:51AM EST
Food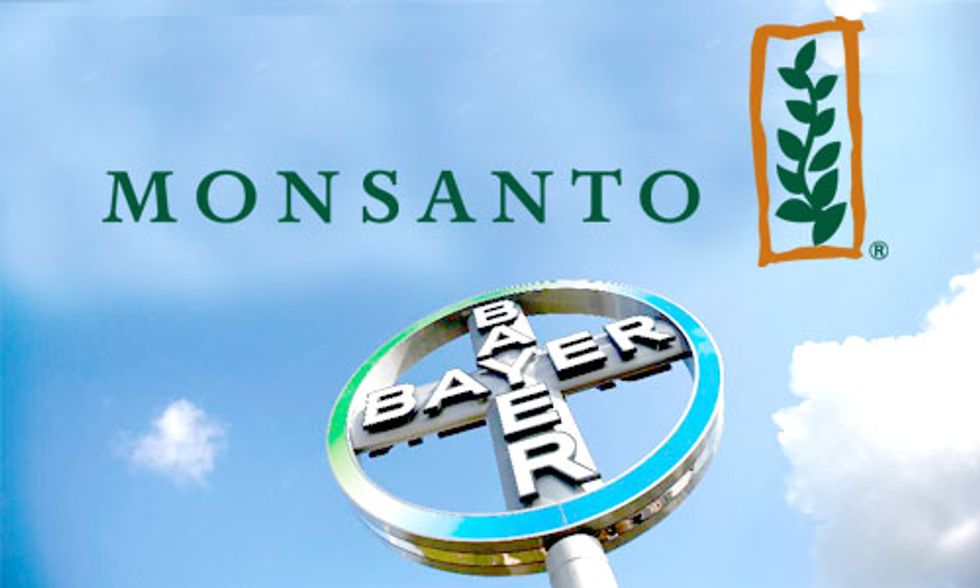 Two days after Monsanto rejected Bayer AG's takeover attempt because $62 billion wasn't enough money, the German drug and crop chemical giant says it's confident it can still strike a deal.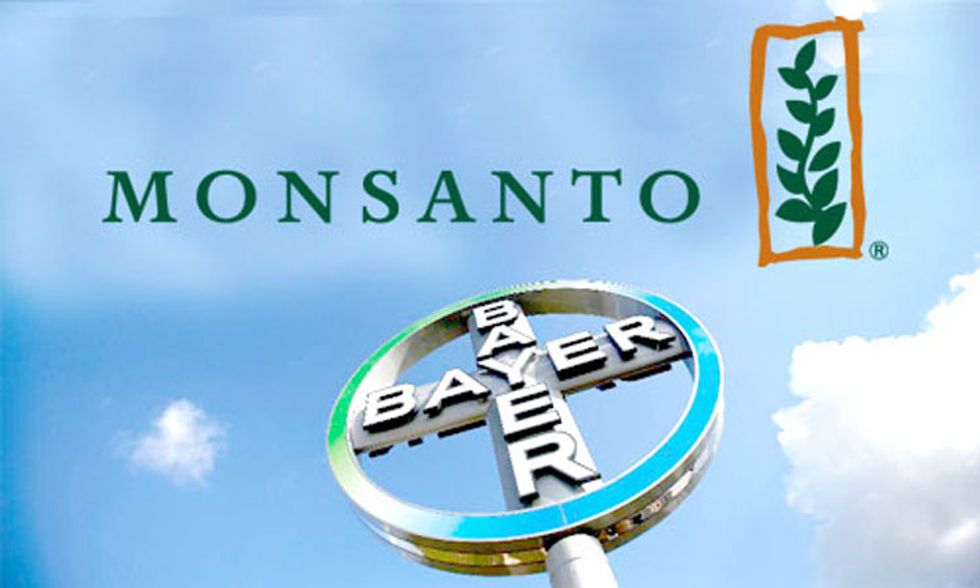 The historic, all-cash deal would have formed the largest seed and pesticide company in the world, but Monsanto's board unanimously spurned Bayer's unsolicited bid for being incomplete and financially inadequate.
"We believe in the substantial benefits an integrated strategy could provide to growers and broader society, and we have long respected Bayer's business," Hugh Grant, Monsanto chairman and CEO, said in a statement. "However, the current proposal significantly undervalues our company and also does not adequately address or provide reassurance for some of the potential financing and regulatory execution risks related to the acquisition."
Despite the snub, Bayer is looking forward to further talks with Monsanto, Bloomberg reported.
Bayer says it's confident it can meet Monsanto's demands after $62 billion bid is rejected https://t.co/LqcDr60xgz https://t.co/HjaF8zFtju

— Bloomberg (@Bloomberg)1464178213.0
"We are pleased that Monsanto's board shares our belief in the substantial benefits an integrated strategy could provide to growers and broader society," Bayer CEO Werner Baumann said in a statement. "We are confident that we can address any potential financing or regulatory matters related to the transaction. Bayer remains committed to working together to complete this mutually compelling transaction."
The St. Louis-based company also added that it is "open to continued and constructive conversations" with the aspirin maker on whether a transaction in the best interest of Monsanto shareowners can be achieved.
This means that the already eye-popping $62 billion sum could blossom even higher since both parties are open to further negotiations. As Bloomberg noted, "the conciliatory tone from both sides sets the stage for an improved offer from Bayer," and further pointed out:
While Monsanto has consistently traded at less than the $122-a-share offer price since the companies started discussing a deal, the stock rallied Tuesday, gaining 2.7 percent to $122.21 at 9:38 a.m. in New York.
Bayer's comments were "very positive," Brett Wong, an analyst at Piper Jaffray Cos. in Minneapolis, said in an interview. Bayer can afford to pay as much as $140 a share and still add to double-digit growth in earnings in the mid-term, Jeffrey Holford, an analyst at Jefferies LLC, said in a note.
But Bayer reiterated in its press release that its $122 per share all-cash proposal "provides full and certain value for Monsanto shareholders."
Monsanto, the world's largest producer of genetically modified (GMO) crops and maker of the herbicide Roundup, has faced mounting controversy in recent years, from global disputes to numerous lawsuits over its cancer-linked flagship product. Sales have been slumping and thousands of jobs have been cut.
MarketWatch reported that the Monsanto's poor image did factor into consideration of the deal, Baumann acknowledged in a media call on Monday.
Monsanto rejects Bayer's $62 billion takeover bid as "too low." Recently, the seed giant faced global protests: https://t.co/ZmORQ9qP0e

— AJ+ (@AJ+)1464159573.0
A Sum Of Us petition signed by more than 21,000 people has already been launched to stop the potential "merger from hell" since the news surfaced last week. The NGO's petition states:
 Almost everything you eat could be controlled by a single mega-corporation, if Bayer gets its way and buys Monsanto.
Once the deal goes ahead it could spell disaster for our food supply and farmers, ushering in a new era of sterile crops soaked in dangerous pesticides. If the deal is successful, it'll make the new corporation the biggest seed maker and pesticide company in the world—and it will have almost total control of the most important aspects of our food supply.
The pharmaceutical giant itself has been subject to criticism over its widely used insecticide, imidacloprid, which belongs to a controversial class of chemicals called neonicotinoids, and is linked to deaths of bees.
"At the center of Bayer and Monsanto's corporate agribusiness model is the indiscriminate, widespread use of pesticides linked to the massive global bee die-off," the petition reads. "Monsanto rejected the first offer from Bayer, but the negotiations are far from over. Once a merger like this goes through, Bayer and Monsanto will be even harder to stop—we need to act now to block the creation of this massive corporate bee-killer."
Experts also warned that the possible merger of Bayer and Monsanto—which would claim 30 percent of the global crop-inputs business if successfully executed—could significantly and negatively impact farmers and food production. Monsanto controls 80 percent of the U.S. corn market and 93 percent of the U.S. soy market.
"The consolidation and driving out of smaller competitors, and controlling the marketplace and raising prices of seeds and pesticides for farmers worldwide is going to be a real shock to the food system," Robert Lawrence, a Johns Hopkins School of Medicine professor and the founding director of the Center for a Livable Future, told MarketWatch.
"I don't know if that will in the end give farmers more choice in the seeds and traits in those seeds or less choice," Greg Jaffe, biotechnology project director at the Center for Science in the Public Interest, told the publication. "It might allow Bayer to put more of Monsanto's seeds in their variety … or they might choose to produce less varieties."
Bayer, which is also involved in the GMO-seed market, responded in a statement that it has a role in feeding the growing global population.
"GMO is all about science—and it is a relevant tool in the toolbox to fight hunger in the world," the company said.
CBS's MoneyWatch noted that antitrust issues could kill a potential merger. "Given the market power of the businesses, the transaction will face significant regulatory scrutiny. How that will play out is hard to predict, but one fact that could help the deal is that Bayer and Monsanto don't overlap much either geographically or in its agrochemical businesses," the report stated.
Patty Lovera, the assistant director of the nonprofit Food & Water Watch, told MarketWatch that the Justice Department should examine the deal.
"Anytime companies, already giant companies, merge, they get more market share. There's political power that comes with that economic power," she added. "The players already in that room are going to get bigger."
Organic Consumers Association's Ronnie Cummins and Martha Rosenberg shared this perspective in a blog post: "While a Bayer-Monsanto deal (like a DuPont-Dow deal or ChemChina-Syngenta deal) certainly threatens the world food supply with domination by GMOs and destructive agrochemicals, there may be an underreported bright side: Industries that are doing well generally spin off; industries that are performing poorly generally merge and consolidate."
YOU MIGHT ALSO LIKE
More Big Retailers Say 'No' to GMO Salmon
Vandana Shiva: Small Farmers Are Foundation to Food Security, Not Corporations Like Monsanto
In "Weather," Jenny Offill tells the story of a librarian named Lizzie who prepares for a climate apocalypse. Andrew Merry / Getty Images
By Suzanne Cords
One day Lizzie, the first-person narrator of the novel, receives an old book as a gift, with a dedication wishing the reader to be among the survivors. Like the preppers who build bunkers and stockpile supplies in remote areas to be ready for the end of the world, Lizzie is convinced that the end of the world is definitely near in times of a threatening climate disaster.
Lizzie, who lives in New York with her husband and son, is a university campus librarian. She worries about almost everything: her brother, an ex-junkie, or her dental insurance and the future in the face of the apocalypse. She is obsessed with reading reference books and articles about climate change.
She also devours words of wisdom, including about Buddhist spirituality: "A visitor once asked the old monks on Mount Athos what they did all day, and was told: We have died and we are in love with everything." But nothing can lift her spirits.
'Lizzie Is Just Like Us'
Lizzie observes rich New Yorkers plan their move to regions that are less threatened by climate change, something she simply cannot afford. Sometimes she watches disaster movies, which lead her to worry even more.
Above all, she is a gifted observer of her fellow human beings. "Young person worry: What if nothing I do matters? Old person worry: What if everything I do, does?"
Lizzie, the U.S. author told DW, is a bit like the rest of us — well aware of the climate crisis, but because she cares and worries about so many other things, that awareness falls by the wayside. That's how she felt herself, Jenny Offill said, but the more she looked into the issue, the more she saw a need for action on her part, too.

"I also was trying to see if there was a way to make it funny, because, you know, so much of the world of prepping and imagining disaster is actually sort of strangely funny."
The novel was shortlisted for the 2020 UK's Women's Prize for Fiction and has now been released in German translation.
Climate Activist With a Vision
But then, there is also this serious, scientifically based concern about what climate change means. In the past, says Offill, artists were the ones who would predict disasters; today it's the experts, as well as the students she teaches. In the end, their fears and their justified anger motivated her to take a closer look at the issue. Today, she is a climate activist herself, and is involved in initiatives along with many other artists.
Lizzie, the heroine of Weather, hasn't gotten that far. But she voices her fears, and that's a start. "Of course, the world continues to end," says Sylvia, a mentor of Lizzie's, at one point — and commences to water her garden. There is hope after all.
Reposted with permission from Deutsche Welle.
EcoWatch Daily Newsletter
A Shell oil drilling rig off the coast of Alaska in the Chukchi Sea on May 21, 2015. Orjan F. Ellingvag / Corbis via Getty Images
By Jake Johnson
A federal appeals court on Tuesday dealt the final blow to former President Donald Trump's attempt to open nearly 130 million acres of territory in the Arctic and Atlantic Oceans to oil and gas drilling.
Electric vehicles are the cars of the future. sl-f / Getty Images
By 2035, every new car and truck sold in the U.S. could be an EV, a new report says.
Accelerations in technology and especially battery affordability, paired with new policy, mean the dramatic transition would save American drivers $2.7 trillion by 2050, an average savings of $1,000 per household per year.
The ramp up in EV production would also create 2 million new jobs by 2035. Battery prices have fallen 74% since 2014, and their unexpectedly rapid fall is a key driver of the cost savings.
EVs are far simpler mechanically, and more efficient, than internal combustion engine (ICE) vehicles, which translates to reduced climate pollution and lower costs for consumers.
Strengthened vehicle efficiency standards and investment in fast charging infrastructure are needed to accelerate the transition, which would prevent 150,000 premature deaths and save $1.3 trillion in health environmental costs by 2050.
For a deeper dive:

The Guardian, Fast Company, E&E, Morning Consult, Canary Media

For more climate change and clean energy news, you can follow Climate Nexus on Twitter and Facebook, sign up for daily Hot News, and visit their news site, Nexus Media News.
The Gowanus Canal in Brooklyn, New York, a polluted nearly 2 mile-long waterway that is an EPA Superfund site. Jonathan Macagba / Moment / Getty Images
Thousands of Superfund sites exist around the U.S., with toxic substances left open, mismanaged and dumped. Despite the high levels of toxicity at these sites, nearly 21 million people live within a mile of one of them, according to the U.S. Environmental Protection Agency (EPA).
The National Weather Service station in Chatham, Massachusetts, near the edge of a cliff at the Monomoy National Wildlife Refuge. Bryce Williams / National Weather Service in Boston / Norton
A weather research station on a bluff overlooking the sea is closing down because of the climate crisis.
The National Weather Service (NWS) station in Chatham, Massachusetts was evacuated March 31 over concerns the entire operation would topple into the ocean.
"We had to say goodbye to the site because of where we are located at the Monomoy Wildlife Refuge, we're adjacent to a bluff that overlooks the ocean," Boston NWS meteorologist Andy Nash told WHDH at the time. "We had to close and cease operations there because that bluff has significantly eroded."
Chatham is located on the elbow of Cape Cod, a land mass extending out into the Atlantic Ocean that has been reshaped and eroded by waves and tides over tens of thousands of years, The Guardian explained. However, sea level rise and extreme weather caused by the climate crisis have sped that change along.
"It's an extremely dynamic environment, which is obviously a problem if you are building permanent infrastructure here," Andrew Ashton, an associate scientist at Cape-Cod based Woods Hole Oceanographic Institution, told The Guardian. "We are putting our foot on the accelerator to make the environment even more dynamic."
This was the case with the Chatham weather station. It used to be protected from the drop into the ocean by about 100 feet of land. However, storm action in 2020 alone washed away as much as six feet of land a day.
"We'd know[n] for a long time there was erosion but the pace of it caught everyone by surprise," Nash told The Guardian. "We felt we had maybe another 10 years but then we started losing a foot of a bluff a week and realized we didn't have years, we had just a few months. We were a couple of storms from a very big problem."
The Chatham station was part of a network of 92 NWS stations that monitor temperature, pressure, humidity, wind speed and direction and other data in the upper atmosphere, The Cape Cod Chronicle explained. The stations send up radiosondes attached to weather balloons twice a day to help with weather research and prediction. The Chatham station, which had been observing this ritual for the past half a century, sent up its last balloon the morning of March 31.
"We're going to miss the observations," Nash told The Cape Cod Chronicle. "It gives us a snapshot, a profile of the atmosphere when the balloons go up."
The station was officially decommissioned April 1, and the two buildings on the site will be demolished sometime this month. The NWS is looking for a new location in southeastern New England. In the meantime, forecasters will rely on data from stations in New York and Maine.
Nash said the leavetaking was bittersweet, but inevitable.
"[M]other nature is evicting us," he told The Cape Cod Chronicle.