This website uses cookies to ensure you get the best experience while browsing it. By clicking 'Got It' you're accepting these terms.
Battle for Democracy in Fracking Fight Continues in Colorado
Sep. 10, 2014 12:38PM EST
Energy
The battle between citizens concerned about health, safety and the environment and corporate fossil fuel interests continues to escalate in Colorado. Increasingly the battle is also about how much control citizens can exercise through the democratic process over what goes on in their own communities.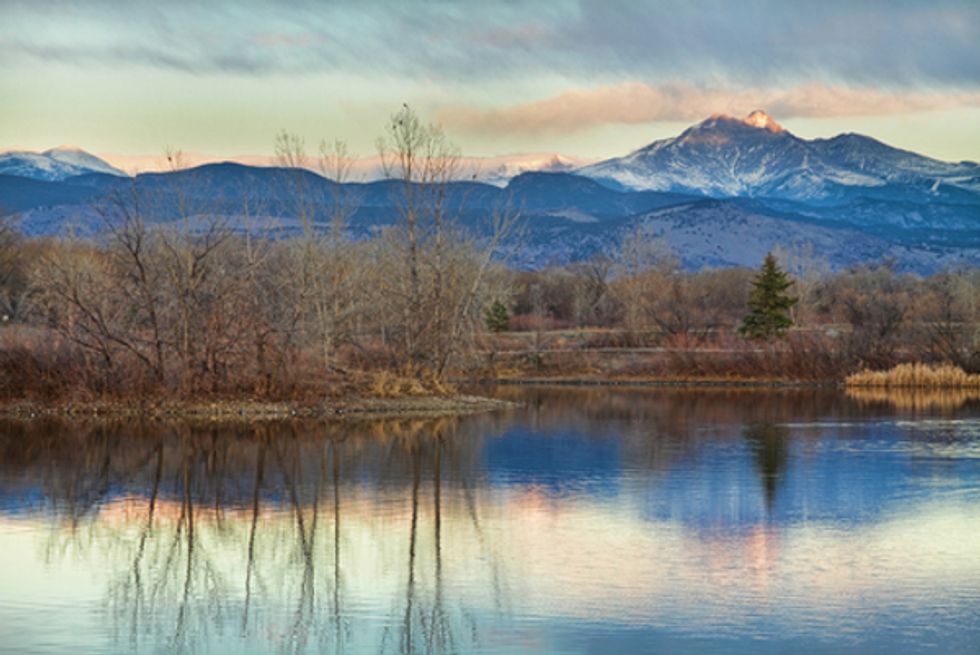 Photo credit: Shutterstock
In the latest skirmish in what's looking like a long war, a group of organizations filed an appeal today to uphold a fracking ban passed by voters in Longmont, Colorado in 2012. It's one of several such ballots measures passed in the state, including in Boulder, Lafayette and Fort Collins, despite millions spent by the fossil fuel industry to defeat them.
District court judge D.D. Mallard struck down Longmont's ballot measure in July in a challenge brought by the Colorado Oil and Gas Association, finding that the state's ability to develop its oil and gas resources trumped citizen concerns. She wrote, "While the court appreciates the Longmont citizens' sincerely held beliefs about risks to their health and safety, the court does not find this is sufficient to completely devalue the state's interest."
"The people voted to keep fracking away from their homes, schools and parks, and their will should be honored," said Eric Huber, Sierra Club senior managing attorney. "We believe the judge made a mistake in elevating the oil and gas industry over local interests, and trust the court of appeals will see things differently."
In addition to the Sierra Club, Earthworks, University of Denver Law Clinic, Our Longmont and Food & Water Watch are part of the coalition fighting to uphold the voters' decision.
"When a community chooses not to host fracking, they shouldn't be sued," said Earthworks' energy program director Bruce Baizel. "That's what this appeal is about, it's what the ballot initiatives were about, and it's what the governor's blue-ribbon commission must remember. It's common sense." 
The fracking ban remains in place during the appeals process, but the governor's blue ribbon commission has opened up another front in the war.
The commission was the result of an agreement between Governor John Hickenlooper and Congressman Jared Polis (CO-2), both Democrats. Polis was spearheading a drive to place two anti-fracking measures on the state ballot, but withdrew them when the governor agreed to establish the commission.
This week Hickenlooper announced the 19 panel members, chosen from more than 300 applicants. Although there are voices on the panel for stronger fracking regulations, many anti-fracking advocates remained unimpressed.
"None of the people appointed to this commission were involved in the local elections in 2013 in which four cities voted to ban or postpone fracking," said Fort Collins environmental activist Gary Wockner. "This committee simply does not represent the diversity of Colorado or the people who pushed the issue forward in the first place."
Nonprofit citizen journalism outlet Watchdog Wire Colorado suggested the commission might give the impression of being biased.
"The membership of the commission is split among industry representatives, environmentalists and politicians," it found. "However, the industry representatives are heavily weighted to large companies, industries that have already shown willingness to support new regulations and Hickenlooper campaign contributors."
Earthworks' Baizel questioned the entire underlying mandate of the commission—"to ensure that Colorado's economy and environment remain healthy and robust," saying that it was missing two critical pieces that should be considered: the local democratic process and the climate.
"Given the limited mandate and commission make-up, it is difficult to see how this last, best attempt at reform of the 'oil and gas trumps everything' regulatory framework will change the larger political push that brought it into being," he said. "Ultimately the true measure of this commission will be simple. If it offers ways that local communities can decide for themselves if they want to live with oil and gas development, it will be a success. Anything short of that will just be howling at the moon."
YOU MIGHT ALSO LIKE
Colorado Judge Strikes Down Longmont's Fracking Ban in Favor of 'State's Interest' in Oil and Gas
Oil and Gas Industry Buys Colorado Fracking Election
Huge Election Victories for Colorado's Anti-Fracking Movement
EcoWatch Daily Newsletter
The Visible Infrared Imaging Radiometer Suite on the Suomi NPP satellite acquired this image of forest fire smoke hovering over North America on Aug. 15, 2018. NASA Earth Observatory
New York City isn't known for having the cleanest air, but researchers traced recent air pollution spikes there to two surprising sources — fires hundreds of miles away in Canada and the southeastern U.S.
If temperatures continue to rise, the world is at risk from global
sea-level rise
, which will flood many coastal cities as seen above in Bangladesh. NurPhoto / Contributor / Getty Images
The mounting climate emergency may spur the next global financial crisis and the world's central banks are woefully ill equipped to handle the consequences, according to a new book-length report by the Bank for International Settlements (BIS), as S&P Global reported. Located in Basel, Switzerland, the BIS is an umbrella organization for the world's central banks.
Two ice fishers with a truck cut a hole in the ice near an ice fishing hut on frozen Lake Winnebago.
Richard Hamilton Smith / Corbis NX / Getty Images
By Susan Cosier
Come February in Wisconsin, almost everything will be covered in ice and snow. In little shanties on frozen Lake Winnebago, a 30-by-13-mile lake in the eastern part of the state, fishers will keep watch over rectangular holes cut into the ice with a chainsaw. When they spot a fin passing below, they'll jab their spears down deep. The lucky ones will earn themselves a lake sturgeon, a species that has prowled the earth's waters for more than 150 million years.
Fresno, California, seen above, is receiving $66 million for walking trails, sidewalks, bike lanes, and more. DenisTangneyJr / iStock / Getty Images
Grecia Elenes grew up in Fresno, California. She says some parts of the city have been neglected for decades. When she moved back after college she realized nothing has changed.
People are seen embracing at Numeralla Rural Fire Brigade near the scene of a water tanker plane crash on Jan. 23 in Cooma, Australia. Three American firefighters have have died after their C-130 water tanker plane crashed while battling a bushfire near Cooma in southern NSW this afternoon. Jenny Evans / Getty Images
Three U.S. firefighters gave their lives battling Australia's historic wildfires Thursday when their airborne water tanker crashed.