This website uses cookies to ensure you get the best experience while browsing it. By clicking 'Got It' you're accepting these terms.
Battle Continues in Fight to Save States' Renewable Energy Policies
Mar. 11, 2015 09:22AM EST
Business
There was a series of attempts in 2013 and 2014 to repeal or weaken state laws that set targets for increasing the use of renewable energy. States across the country—including Wisconsin, Kansas, Texas and North Carolina, among others—faced campaigns against their renewable energy standards. All of those attempts were unsuccessful except in the case of Ohio.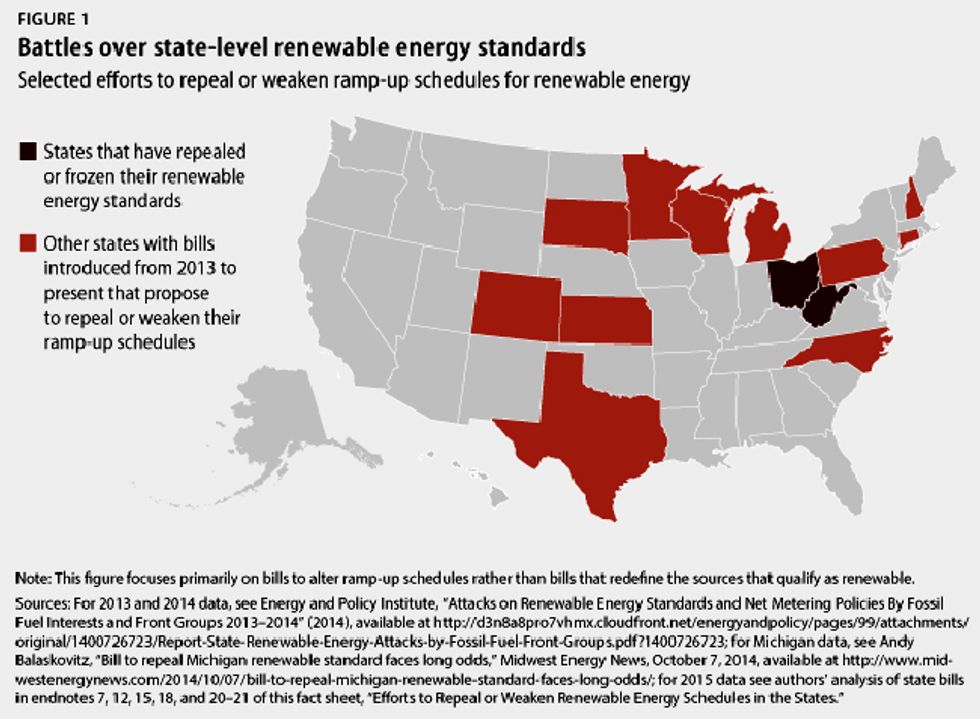 Passed in 2008 with nearly unanimous support from both Republican and Democratic legislators, Ohio's energy standards required utilities to meet 12.5 percent of electricity demand with renewable energy and to decrease energy use by more than 22 percent by 2025, with interim targets each year beforehand. The standards also required half of the renewable energy to come from in-state facilities.
Despite clear evidence that the standards had economic benefits, including increased in-state investment, employment and savings for ratepayers, S.B. 310 proposed to freeze the standards for two years and eliminate the in-state requirement for renewable energy. After the bill passed the state legislature in May 2014 and Gov. John Kasich (R) signed the bill into law the following month, Ohio became the first state to take regressive measures against its renewable energy standards. The future of the standards after the two-year period is uncertain.
Reports are now coming in from leaders in Ohio's solar, wind and energy efficiency industries that employment and investment are draining from the state, as described in the Center for American Progress issue brief, The Economic Fallout of the Freeze on Ohio's Clean Energy Sector.
There have already been several new attempts in 2015 to repeal or weaken state-level energy standards, and further attempts—backed by aggressive lobbying campaigns—are certainly forthcoming. For those states, Ohio serves as a cautionary tale of the in-state economic damage that could follow a rollback.
Selection of initial attempts to roll back state renewable energy schedules in 2015
A number of bills that target renewable energy standards have already been introduced to state legislatures in January and February of this year. Some have been successful, for example, in West Virginia; some have been unsuccessful, for example, in Colorado; and some are still under consideration.
Colorado
Colorado law currently requires investor-owned utilities to generate 20 percent of their retail electric sales from renewable sources by 2015 and 30 percent by 2020. It also has a renewable energy standard of 20 percent by 2020 for cooperative electric associations.
S.B. 44 proposed to roll back the requirements for investor-owned utilities to 15 percent by 2015 and for cooperative electric associations to 15 percent by 2020. The bill passed the Republican-controlled state senate by a margin of 18 to17, split along party lines. On March 3, the House committee on State, Veterans, and Military Affairs decided on a 6–5 vote along party lines to postpone the bill indefinitely.
While the bill was being debated, State Sen. Matt Jones (D) argued that the standards have reduced electricity rates for consumers and bolstered the state's clean energy economy, which accounts for more than 22,000 jobs. Public opinion has supported the standards as well: Coloradans are 76 percent more likely to support a candidate who promotes renewable energy, according to the 2014 Colorado College State of the Rockies poll.
Connecticut
Connecticut's standards currently require electricity providers to meet 27 percent of retail electricity through renewable sources by 2020, with interim targets each year beforehand.
H.B. 6026 was introduced in January, which  proposes to suspend the state's renewable energy standards for five years. It has been referred to the Committee on Energy and Technology.
Kansas
Kansas currently requires that utilities meet 10 percent of their gross generation capacity through renewable sources through the end of 2015, after which they would be required to meet 15 percent through 2019 and 20 percent by 2020.
The state has already faced multiple efforts to weaken or eliminate its energy standards over the past three years, which have been supported by Koch Industries and affiliated groups, as well as utility interests.
This February, H.B. 2373 was introduced, which would eliminate the state's renewable energy standards at the end of 2015. It has been referred to the Committee on Energy and Environment.
New Hampshire
State law currently requires that electricity providers obtain renewable energy credits to cover nearly 25 percent of retail electricity by 2025, with interim targets each year beforehand.
H.B. 543 proposed to repeal the state's renewable energy standards.[xvii] The bill was defeated in the New Hampshire House on March 4.
South Dakota
South Dakota currently has a voluntary goal that 10 percent of retail electricity should come from renewable, recycled, or conserved energy by 2015.
H.B. 1202 was introduced in February, which would roll back the goal to 10 percent by 2020. It has been referred to the Committee on Commerce and Energy.
West Virginia
West Virginia became the first state to repeal its alternative energy standards when Gov. Earl Ray Tomblin (R) signed H.B. 2001 on Feb. 3, 2015.
State law previously required that large-scale utilities meet a standard of 25 percent renewable or alternative energy by 2025, with interim targets of 10 percent by 2015 and 15 percent by 2020. The standards were not ambitious, however, as they allowed fossil sources such as natural gas, coal with the use of advanced coal technologies, and coal bed methane to qualify as alternative sources.
Gwynne Taraska is a senior policy advisor for the Center for American Progress. Alison Cassady is the director of domestic energy policy at the Center for American Progress.
YOU MIGHT ALSO LIKE
U.S. Solar Energy Industry Achieves Record-Shattering Year
Clever Interactive Video Encourages Americans to Join Renewable Energy Revolution
Oil Can't Compete With Renewables, Says National Bank of Abu Dhabi
EcoWatch Daily Newsletter
Protesters holding signs in solidarity with the Wet'suwet'en Nation outside the Canadian Consulate in NYC. The Indigenous Peoples Day NYC Committee (IPDNYC), a coalition of 13 Indigenous Peoples and indigenous-led organizations gathered outside the Canadian Consulate and Permanent Mission to the UN to support the Wet'suwet'en Nation in their opposition to a Coastal GasLink pipeline scheduled to enter their traditional territory in British Columbia, Canada. Erik McGregor / LightRocket / Getty Images
Tensions are continuing to rise in Canada over a controversial pipeline project as protesters enter their 12th day blockading railways, demonstrating on streets and highways, and paralyzing the nation's rail system
Horseshoe Bend (seen above) is a horseshoe-shaped meander of the Colorado River in Page, Arizona.
didier.camus
/ Flickr /
public domain
Millions of people rely on the Colorado River, but the climate crisis is causing the river to dry up, putting many at risk of "severe water shortages," according to new research, as The Guardian reported.
An alarming sign of an impending drought is the decreased snowpack in the Sierra Nevada Mountain range, as seen here in Christmas Valley, South Lake Tahoe, California on Feb. 15, 2020.
jcookfisher
/
CC BY 2.0
California is headed toward drought conditions as February, typically the state's wettest month, passes without a drop of rain. The lack of rainfall could lead to early fire conditions. With no rain predicted for the next week, it looks as if this month will be only the second time in 170 years that San Francisco has not had a drop of rain in February, according to The Weather Channel.
New and recent books explore how we can effectively respond to climate change while enhancing our health and happiness. Kei Uesugi / DigitalVision / Getty Images
A warm day in winter used to be a rare and uplifting relief.

Now such days are routine reminders of climate change – all the more foreboding when they coincide with news stories about unprecedented wildfires, record-breaking "rain bombs," or the accelerated melting of polar ice sheets.
Where, then, can one turn for hope in these dark months of the year?