Battery Storage Breakthrough at Harvard Could Play Huge Role in Future of Renewables
By Tim Radford
Scientists in the U.S. think they may be on the track of a new kind of battery technology that could store huge reserves of energy.
One of the great problems of renewable energy generators such as photovoltaic cells and wind turbines is that they can't respond to demand.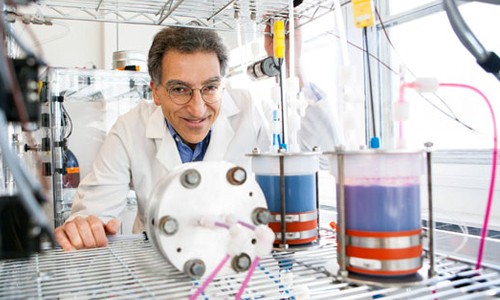 When the sun is out, nobody needs so much heating and lighting, so the electricity goes to waste. In theory, surplus energy could be saved for hours of darkness or when the winds drop, but at a prohibitive cost. But Michael Aziz of Harvard University in Boston and colleagues report in nature that they have tested what is, quite literally, a solution to the problem.
A common low-cost organic chemical found in crude oil and in living things could, once dissolved in water, be used to fuel a flow battery, into which surplus energy could flow when the winds are high and the sun is shining and everybody has gone surfing, and then deliver stored power when everybody goes home at night time and switches on the light and the cooking stove.
In a flow battery, two solutions of electro-active compounds are made to flow through electrodes in an electro-chemical cell: they react at the electrodes and generate electricity. A membrane separates the two solutions, but lets through charge-carrying ions.
Promising start
The strength of a flow battery is that the electro-chemical conversion hardware and the tanks in which the solutions are stored are kept separately, so that the amount of energy that can be stored is limited only by the size of the tanks.
The downside is that, until now, such systems have depended on expensive electrolytes such as vanadium dissolved in sulphuric acid or even more expensive catalysts such as palladium. Professor Aziz and his colleagues did it with a quinone dissolved in water and very dilute acids, and without a catalyst.
A quinone is a simple benzene-based compound that comes in many forms and from many sources. The quinone in the Harvard trial was almost identical to one found in the garden crop rhubarb.
The flow battery under test delivered promising power density and good current efficiency. The test kit, however was only two square centimeters. The whole process is about 1,000 times faster than the rival vanadium system, so batteries could be charged and discharged so much more swiftly. The next stage is to scale the system up, and keep it running for many thousands of cycles to demonstrate its capabilities.
Not there yet
There is a long way to go. Safety considerations remain. The chemistry, too, could be improved. The dream is of a flexible system that could be used in large projects and small.
It could sit in the basement of a home and store the energy collected by solar panels on the roof. Or buried tanks could store the surplus energy from a whole wind farm. The authors say that the use of organic molecules rather than metals holds the promise of massive electrical storage at greatly reduced cost.
"You could theoretically put this on any node on the grid. If the market price fluctuates enough, you could put a storage device there and buy electricity to store it when the price is low and sell it back when the price is high", said Aziz.
"The intermittent renewable storage problem is the biggest barrier to getting most of our power from the sun and the wind. A safe and economical flow battery could play a huge role in our transition from fossil fuels to renewable electricity.
"I'm excited that we have a good shot at it."
Visit EcoWatch's RENEWABLES page for more related news on this topic.

A coalition of conservation groups and others announced Thursday that a historic number of comments and petitions of support have been submitted to the U.S. Department of the Interior in support of Bears Ears National Monument. Despite the entirely inadequate 15-day comment period ending on May 26, more than 685,000 comments in support of Bears Ears National Monument have been collected.
Keep reading...
Show less
Rink Glacier in western Greenland, with a meltwater lake visible center. NASA/OIB
Scientists have had their eyes on Greenland as its iconic glaciers have begun disappearing due to a warming climate. But, what they didn't expect to see was a whole new type of melting.
Keep reading...
Show less
Mountain View Fire
By Lena Moffitt
An oil tanker in Mead, Colorado exploded, killing one and injuring three on Thursday. Authorities are continuing to investigate the cause of the explosion.
Keep reading...
Show less
Banner created by Alliance for Climate Education
Keep reading...
Show less
Twenty-two GOP senators sent a letter Thursday urging Donald Trump to pull out of the Paris agreement. They argued remaining in the deal could "upend" the administration's ability "to fulfill its goal of rescinding the Clean Power Plan."
Keep reading...
Show less
By Cheryl Johncox
The Federal Energy Regulatory Commission (FERC) rejected on Thursday Energy Transfer Partners' request to resume horizontal directional drilling at two sites for its Rover fracked gas pipeline. This rejection comes after numerous leaks into Ohio's wetlands, and Clean Air and Clean Water act violations. FERC has halted the process at only eight locations of the 32 where drilling is taking place under Ohio's wetlands and streams.
Keep reading...
Show less
By Nadia Prupis
A majority of people in eight countries say they are ready to change their lifestyles if it would prevent climate catastrophe, a survey on global threats released Wednesday found.
Keep reading...
Show less
May. 25, 2017 01:55PM EST
Bill Maher is sick of billionaires' obsession with Mars, more like "Mars-a-Lago," he said.
In a new animation produced by ATTN:, the popular talk show host of Real Time, discusses the perils of our planet, including how "climate change is killing us."
Keep reading...
Show less