This website uses cookies to ensure you get the best experience while browsing it. By clicking 'Got It' you're accepting these terms.
Barriers to Fossil Fuel Divestment at Tufts University
Jul. 10, 2014 10:55AM EST
Cooper McKim is a rising junior at Tufts University fascinated by the dynamics of environmental work with policy, entrepreneurship and activism. McKim studies environmental policy and helps write a monthly newsletter for the environmental studies program. He has interned with Massachusetts Rivers Alliance, a New Jersey Congressman and the NPR affiliate station WSHU.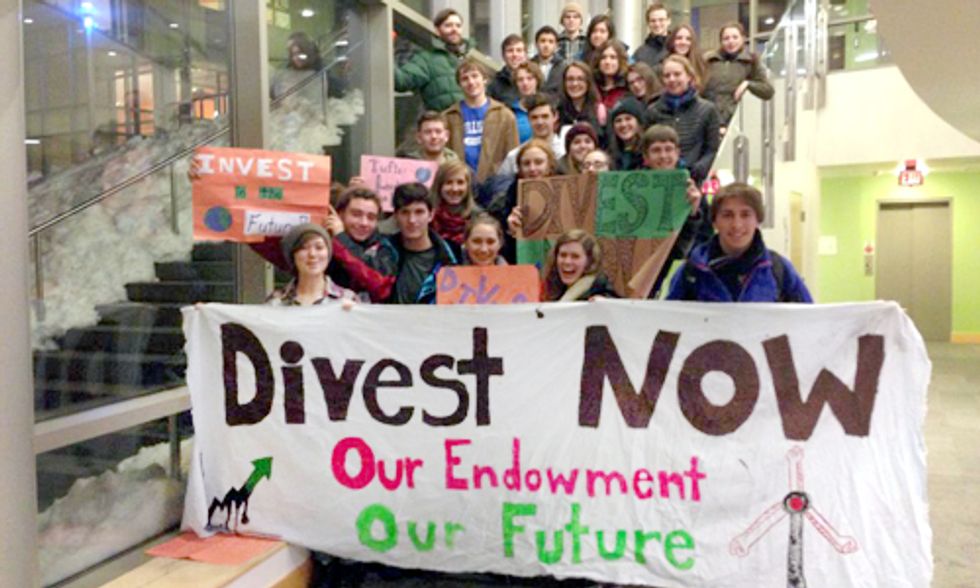 In a liveleak video, an iPhone screen rises above the back of a chair showing a grainy image of a room full of prospective Tufts student, and an admissions person. She explains the differences between engineering psychology and management, when a female Tufts student next to the camera, raises her hand, "I was wondering if you could talk a little bit about Tufts investment in the fossil fuel industry."
The flustered admissions person tried to shrug it off, but the student, Eliza Slocum, persisted, "Could you just make a general statement..." The two students next to Slocum then intervene, hoping to get a statement. One of them, Pearl, tries one last time saying, "We don't want to take up any more of your time..."
Then a father marches down to the aisle and leans over Pearl: "Enough, enough, no. That's too much time. She's done with you, okay? She's done with you. Stop wasting our time. I'm gonna get security if you don't shut the hell up, okay?" The packed room of prospective families clap. 
This small catastrophe was Tufts Divest first direct action aimed at admissions. At a school where admissions is sacred, the public reaction was not good. Membership for Tufts Divest dropped by 30 percent, including leaders like Kit Collins, who couldn't align with those tactics.
Collins, a percussionist and rising Senior said, "This environmental justice community is being co-opted by a desire to be seen as activists and to do righteous activist-y things for people's egos as opposed to doing activist-y things because they're good for our goal."
Evan Bell, a soft-spoken remaining leader of Tufts Divest, admits that there was a certain sense of urgency regarding this action: "I think it was dealt with in somewhat of a state of panic, a measured panic. It wasn't highly strategic and as it went poorly, it just went more poorly." The tactics were not well-defined and most of the organizing happened amongst a small group on Facebook, the day or two before. The leaked video fueled the controversy, reinforcing the stigma already glowing around the Tufts' Divest movement.
Despite all of these negative reactions, Bell insists the action was still important: "We needed a Board of Trustees meeting, that's part of the story we were trying to tell. We worked within the bureaucracy and it didn't work, we had to push it." In the end, this action did get the attention of the administration, and opened the door to a Board of Trustees meeting.
Like this action, divestment is more complicated than its pithy title suggests. Bell says, "I don't do divestment because I care about Tufts endowment that much. It's about setting cultural precedents, stigmatizing the fossil fuel industry... and offering an on ramp, where college students can plug-in and join an international movement." With more than 150 other campus divestment movements, it really does offer an international network at a local scale. Events like Powershift and Climate Summer, organized by 350.org and Better Future Project, allows divesters around the world to coordinate, build an informed local movement and present a united front. Bell, having participated in many of events like this says, "I've been able to see so many people go from knowing and caring, to acting and making real change."
The larger divest movement provides direction to the local movements, and individual secondary targets provide momentum. For example, Tufts Divest banded with other northeastern schools to perform a direct action in the TransCanada offices in Massachusetts in 2013, making young people's opposition to the Keystone XL pipeline very clear. In 2014, Tufts was one of schools across the country to create a blockade in front of the White House also opposing Keystone XL. The efficiency, power and unity represented by young people at the blockade was all thanks to divestment. Each secondary target at a local level contributes to movement building and overall momentum.
Tufts Divest does still has a problem, though. The Board of Trustees responded with a stern no regarding divestment. After that meeting and the admissions faux pas, the group must rebrand and commit to a firm direction for next year. Bell says, "It's not just about bringing on more people and asking the same questions. Tufts Divest has yet to find an intermediate ask, and intermediate way of building that power." Bell has confidence that Tufts will eventually make the right choice, "Tufts will divest, whether that's 50 years from now when the environment is so chaotic that fossil fuels are simply not a good investment, or in one, two or five years. It truly is a moral imperative. Every day that we invest in fossil fuels, we continue to say that they are a good investment."
EcoWatch Daily Newsletter
Pexels
By Charli Shield
At unsettling times like the coronavirus outbreak, it might feel like things are very much out of your control. Most routines have been thrown into disarray and the future, as far as the experts tell us, is far from certain.
Pie Ranch in San Mateo, California, is a highly diverse farm that has both organic and food justice certification. Katie Greaney
By Elizabeth Henderson
Farmworkers, farmers and their organizations around the country have been singing the same tune for years on the urgent need for immigration reform. That harmony turns to discord as soon as you get down to details on how to get it done, what to include and what compromises you are willing to make. Case in point: the Farm Workforce Modernization Act (H.R. 5038), which passed in the House of Representatives on Dec. 11, 2019, by a vote of 260-165. The Senate received the bill the next day and referred it to the Committee on the Judiciary, where it remains. Two hundred and fifty agriculture and labor groups signed on to the United Farm Workers' (UFW) call for support for H.R. 5038. UFW President Arturo Rodriguez rejoiced:
A woman walks to her train in Grand Central Terminal as New York City attempts to slow down the spread of coronavirus through social distancing on March 27. John Lamparski / Getty Images
By Julia Conley
A council representing more than 800,000 doctors across the U.S. signed a letter Friday imploring President Donald Trump to reverse his call for businesses to reopen by April 12, warning that the president's flouting of the guidance of public health experts could jeopardize the health of millions of Americans and throw hospitals into even more chaos as they fight the coronavirus pandemic.
polaristest / Flickr / CC BY-NC-ND 2.0
By Melissa Kravitz Hoeffner
Over six gallons of water are required to produce one gallon of wine. "Irrigation, sprays, and frost protection all [used in winemaking] require a lot of water," explained winemaker and sommelier Keith Wallace, who's also a professor and the founder of the Wine School of Philadelphia, the largest independent wine school in the U.S. And water waste is just the start of the climate-ruining inefficiencies commonplace in the wine industry. Sustainably speaking, climate change could be problematic for your favorite glass of wine.
Pixabay
Spinach is a true nutritional powerhouse, as it's rich in vitamins, minerals, and antioxidants.