This website uses cookies to ensure you get the best experience while browsing it. By clicking 'Got It' you're accepting these terms.
Barriers to Fossil Fuel Divestment at Tufts University
Jul. 10, 2014 09:55AM EST
Cooper McKim is a rising junior at Tufts University fascinated by the dynamics of environmental work with policy, entrepreneurship and activism. McKim studies environmental policy and helps write a monthly newsletter for the environmental studies program. He has interned with Massachusetts Rivers Alliance, a New Jersey Congressman and the NPR affiliate station WSHU.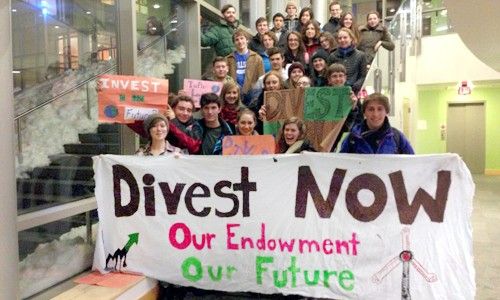 In a liveleak video, an iPhone screen rises above the back of a chair showing a grainy image of a room full of prospective Tufts student, and an admissions person. She explains the differences between engineering psychology and management, when a female Tufts student next to the camera, raises her hand, "I was wondering if you could talk a little bit about Tufts investment in the fossil fuel industry."
The flustered admissions person tried to shrug it off, but the student, Eliza Slocum, persisted, "Could you just make a general statement..." The two students next to Slocum then intervene, hoping to get a statement. One of them, Pearl, tries one last time saying, "We don't want to take up any more of your time..."
Then a father marches down to the aisle and leans over Pearl: "Enough, enough, no. That's too much time. She's done with you, okay? She's done with you. Stop wasting our time. I'm gonna get security if you don't shut the hell up, okay?" The packed room of prospective families clap. 
This small catastrophe was Tufts Divest first direct action aimed at admissions. At a school where admissions is sacred, the public reaction was not good. Membership for Tufts Divest dropped by 30 percent, including leaders like Kit Collins, who couldn't align with those tactics.
Collins, a percussionist and rising Senior said, "This environmental justice community is being co-opted by a desire to be seen as activists and to do righteous activist-y things for people's egos as opposed to doing activist-y things because they're good for our goal."
Evan Bell, a soft-spoken remaining leader of Tufts Divest, admits that there was a certain sense of urgency regarding this action: "I think it was dealt with in somewhat of a state of panic, a measured panic. It wasn't highly strategic and as it went poorly, it just went more poorly." The tactics were not well-defined and most of the organizing happened amongst a small group on Facebook, the day or two before. The leaked video fueled the controversy, reinforcing the stigma already glowing around the Tufts' Divest movement.
Despite all of these negative reactions, Bell insists the action was still important: "We needed a Board of Trustees meeting, that's part of the story we were trying to tell. We worked within the bureaucracy and it didn't work, we had to push it." In the end, this action did get the attention of the administration, and opened the door to a Board of Trustees meeting.
Like this action, divestment is more complicated than its pithy title suggests. Bell says, "I don't do divestment because I care about Tufts endowment that much. It's about setting cultural precedents, stigmatizing the fossil fuel industry... and offering an on ramp, where college students can plug-in and join an international movement." With more than 150 other campus divestment movements, it really does offer an international network at a local scale. Events like Powershift and Climate Summer, organized by 350.org and Better Future Project, allows divesters around the world to coordinate, build an informed local movement and present a united front. Bell, having participated in many of events like this says, "I've been able to see so many people go from knowing and caring, to acting and making real change."
The larger divest movement provides direction to the local movements, and individual secondary targets provide momentum. For example, Tufts Divest banded with other northeastern schools to perform a direct action in the TransCanada offices in Massachusetts in 2013, making young people's opposition to the Keystone XL pipeline very clear. In 2014, Tufts was one of schools across the country to create a blockade in front of the White House also opposing Keystone XL. The efficiency, power and unity represented by young people at the blockade was all thanks to divestment. Each secondary target at a local level contributes to movement building and overall momentum.
Tufts Divest does still has a problem, though. The Board of Trustees responded with a stern no regarding divestment. After that meeting and the admissions faux pas, the group must rebrand and commit to a firm direction for next year. Bell says, "It's not just about bringing on more people and asking the same questions. Tufts Divest has yet to find an intermediate ask, and intermediate way of building that power." Bell has confidence that Tufts will eventually make the right choice, "Tufts will divest, whether that's 50 years from now when the environment is so chaotic that fossil fuels are simply not a good investment, or in one, two or five years. It truly is a moral imperative. Every day that we invest in fossil fuels, we continue to say that they are a good investment."
EcoWatch Daily Newsletter
A vegan diet can improve your health, but experts say it's important to keep track of nutrients and protein. Getty Images
By Dan Gray
Research shows that 16 weeks of a vegan diet can boost the gut microbiome, helping with weight loss and overall health.
A healthy microbiome is a diverse microbiome. A plant-based diet is the best way to achieve this.
It isn't necessary to opt for a strictly vegan diet, but it's beneficial to limit meat intake.
New research shows that following a vegan diet for about 4 months can boost your gut microbiome. In turn, that can lead to improvements in body weight and blood sugar management.
Students gathered at the National Mall in Washington DC, Sept. 20. NRDC
By Jeff Turrentine
Nearly 20 years have passed since the journalist Malcolm Gladwell popularized the term tipping point, in his best-selling book of the same name. The phrase denotes the moment that a certain idea, behavior, or practice catches on exponentially and gains widespread currency throughout a culture. Having transcended its roots in sociological theory, the tipping point is now part of our everyday vernacular. We use it in scientific contexts to describe, for instance, the climatological point of no return that we'll hit if we allow average global temperatures to rise more than 2 degrees Celsius above preindustrial levels. But we also use it to describe everything from resistance movements to the disenchantment of hockey fans when their team is on a losing streak.
samael334 / iStock / Getty Images
Berries are small, soft, round fruit of various colors — mainly blue, red, or purple.
A glacier is seen in the Kenai Mountains on Sept. 6, near Primrose, Alaska. Scientists from the U.S. Geological Survey have been studying the glaciers in the area since 1966 and their studies show that the warming climate has resulted in sustained glacial mass loss as melting outpaced the accumulation of new snow and ice. Joe Raedle / Getty Images
By Mark Mancini
On Aug. 18, Iceland held a funeral for the first glacier lost to climate change. The deceased party was Okjökull, a historic body of ice that covered 14.6 square miles (38 square kilometers) in the Icelandic Highlands at the turn of the 20th century. But its glory days are long gone. In 2014, having dwindled to less than 1/15 its former size, Okjökull lost its status as an official glacier.
Members of Chicago Democratic Socialists of America table at the Logan Square Farmers Market on Aug. 18. Alex Schwartz
By Alex Schwartz
Among the many vendors at the Logan Square Farmers Market on Aug. 18 sat three young people peddling neither organic vegetables, gourmet cheese nor handmade crafts. Instead, they offered liberation from capitalism.
Hackney primary school students went to the Town Hall on May 24 in London after school to protest about the climate emergency. Jenny Matthews / In Pictures / Getty Images
Bird watching in the U.S. may be a lot harder than it once was, since bird populations are dropping off in droves, according to a new study.