Barbra Streisand: 'God Help Us!' Sen. Inhofe to Head Committee on Environment
Dec. 03, 2014 11:26AM EST
Climate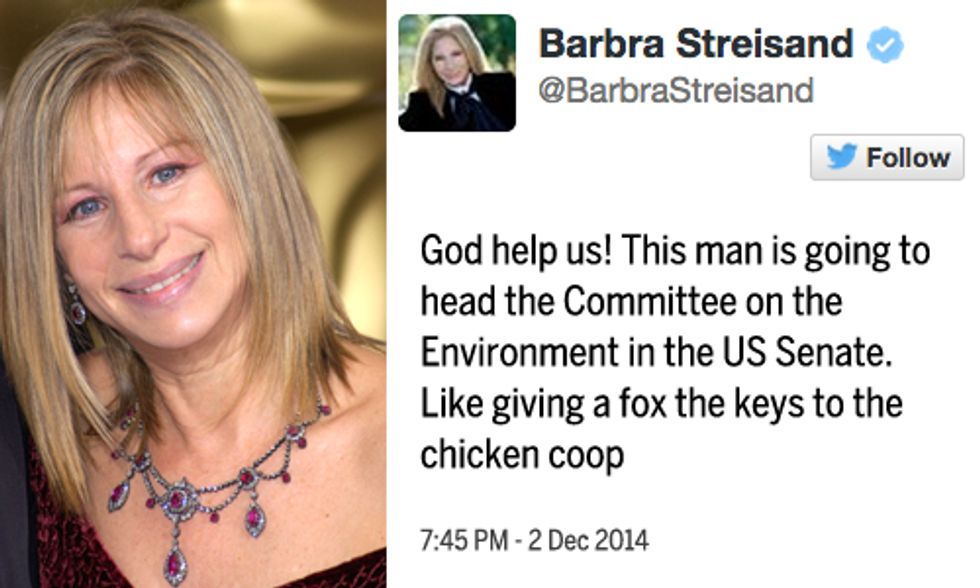 In a piece published yesterday at Mother Jones, writer David Corn exposes what he calls "Inhofe's Grand Climate Conspiracy Theory."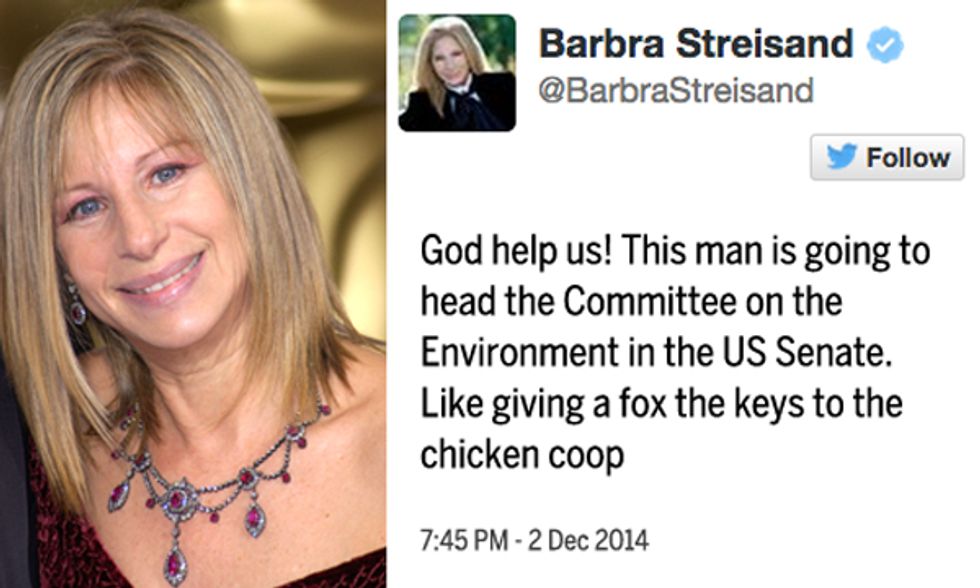 Inhofe, of course, is Oklahoma Senator James Inhofe, author of The Greatest Hoax: How The Global Warming Conspiracy Threatens Our Future and soon to be chairman of the Senate Committee on Environment and Public Works.
Corn tells of an encounter with Inhofe at the 2009 U.N. climate meeting in Copenhagen where Inhofe was a conspicuous presence, acting as a self-proclaimed "truth squad" to debunk climate change.
"He slithered in and out of the cavernous media filing center, ever at the ready to speak to reporters looking for the other side quotes denigrating the proceedings, claiming that climate change was no more than a hoax, and celebrating the summit's failure to produce a binding and comprehensive treaty," said Corn, who confronted him about who, exactly, was driving this "conspiracy."
"Hollywood liberals," he responded and when pressed for who those might be, he came up with a single name: "Barbra Streisand."
Inhofe had mentioned Streisand in his book, along with other "Hollywood liberals" Leonardo DiCaprio and John Travolta.
Streisand linked to the article on her Twitter feed and proudly took credit for being more reality-oriented than Inhofe, not a high bar to clear.
This wld be hilarious if it weren't so frightening. I thank Sen Inhofe for singling me out as a voice against the perils of climate change

— Barbra Streisand (@BarbraStreisand) December 3, 2014
God help us! This man is going to head the Committee on the Environment in the US Senate. Like giving a fox the keys to the chicken coop

— Barbra Streisand (@BarbraStreisand) December 3, 2014
YOU MIGHT ALSO LIKE
Climate Denier-in-Chief Inhofe to Head Senate Environment Committee
Watch Colbert Shame GOP Climate Deniers: 'I am Not a Scientist'
John Oliver and Bill Nye Put the Climate Change Debate to Rest
EcoWatch Daily Newsletter
Related Articles from EcoWatch