This website uses cookies to ensure you get the best experience while browsing it. By clicking 'Got It' you're accepting these terms.
Banning Microbeads Offers Simple Solution to Protect Our Oceans
Sep. 17, 2015 09:35AM EST
An outright ban on the common use of plastic "microbeads" from products that enter wastewater is the best way to protect water quality, wildlife and resources used by people, a group of conservation scientists suggest in a new analysis.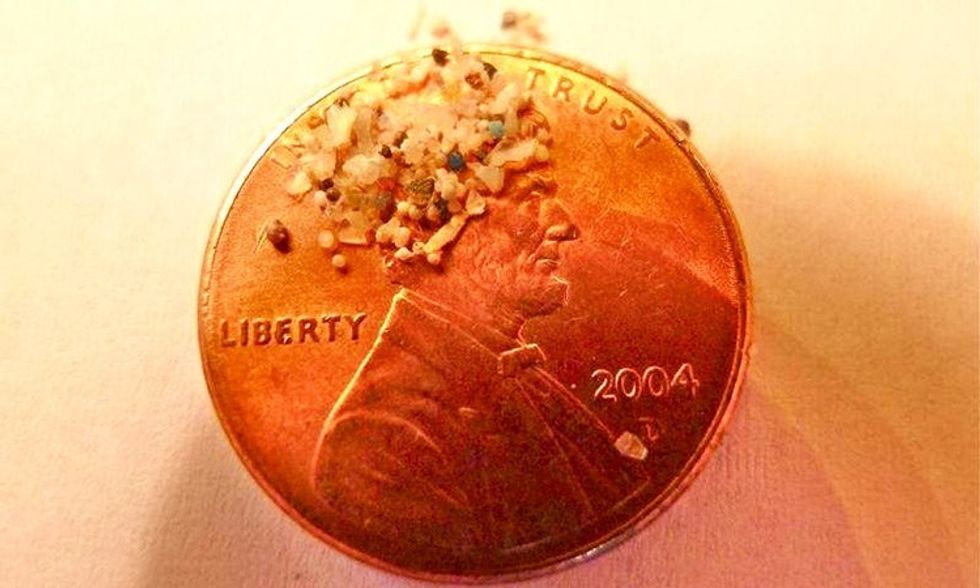 Microbeads are bits of plastic so small that hundreds of them would be needed to cover a single penny. Photo credit: 5Gyres
These microbeads are one part of the microplastic problem in oceans, freshwater lakes and rivers, but are a special concern because in many products they are literally designed to be flushed down the drain. And even at conservative estimates, the collective total of microbeads being produced today is enormous.
In an article just published in the journal Environmental Science and Technology, scientists from seven institutions say that nontoxic and biodegradable alternatives exist for microbeads, which are used in hundreds of products as abrasive scrubbers, ranging from face washes to toothpaste. Around the size of a grain of sand, they can provide a gritty texture to products where that is needed.
"We're facing a plastic crisis and don't even know it," said Stephanie Green, the David H. Smith Conservation Research fellow in the College of Science at Oregon State University and co-author of this report.
"Part of this problem can now start with brushing your teeth in the morning," she said. "Contaminants like these microbeads are not something our wastewater treatment plants were built to handle and the overall amount of contamination is huge. The microbeads are very durable."
In this analysis and using extremely conservative methodology, the researchers estimated that 8 trillion microbeads per day are being emitted into aquatic habitats in the U.S.—enough to cover more than 300 tennis courts a day. But the other 99 percent of the microbeads—another 800 trillion—end up in sludge from sewage plants, which is often spread over areas of land. Many of those microbeads can then make their way into streams and oceans through runoff.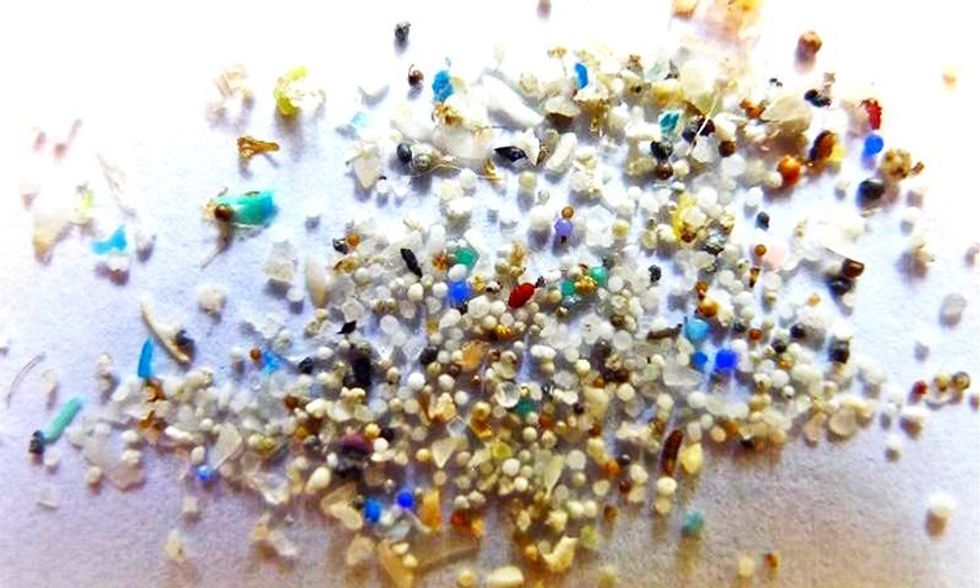 Microplastic poses a growing concern in oceans and other aquatic habitat. Photo credit: 5Gyres
"Microbeads are just one of many types of microplastic found in aquatic habitats and in the gut content of wildlife," said Chelsea Rochman, the David H. Smith Conservation Research postdoctoral fellow at the University of California/Davis and lead author on the analysis.
"We've demonstrated in previous studies that microplastic of the same type, size and shape as many microbeads can transfer contaminants to animals and cause toxic effects," Rochman said. "We argue that the scientific evidence regarding microplastic supports legislation calling for a removal of plastic microbeads from personal care products."
Even though microbeads are just one part of the larger concern about plastic debris that end up in oceans and other aquatic habitat, they are also one of the most controllable. With growing awareness of this problem, a number of companies have committed to stop using microbeads in their "rinse off" personal care products and several states have already regulated or banned the products.
The researchers point out in their analysis, however, that some bans have included loopholes using strategic wording. Many microbeads are used in personal care products that are not "rinse off," such as deodorants and cleaners. And some regulations use the term "biodegradable" to specify what products are allowed—but some microbeads can biodegrade just slightly, which may allow their continued use.
If legislation is sought, "new wording should ensure that a material that is persistent, bioaccumulative or toxic is not added to products designed to go down the drain," the researchers wrote in their report.
"The probability of risk from microbead pollution is high, while the solution to this problem is simple," they concluded.
YOU MIGHT ALSO LIKE
Marine Species on 'Brink of Collapse,' Says WWF Report
California Senate Passes Nation's Strictest Ban on Microbeads
Hawaii on Verge of Worst Coral Bleaching in History as Water Temperatures Soar
EcoWatch Daily Newsletter
The Rio San Antonio, in the headwaters basin of the Rio Grande in New Mexico, will lose federal protections under a new rule. Bob Wick / BLM California
By Tara Lohan
The Santa Fe River starts high in the forests of New Mexico's Sangre de Cristo mountains and flows 46 miles to the Rio Grande. Along the way it plays important roles for wildlife, irrigation, recreation and other cultural uses, and provides 40 percent of the water supply for the city of Santa Fe's 85,000 residents.
Climate activists protest Chase Bank's continued funding of the fossil fuel industry on May 16, 2019 by setting up a tripod-blockade in midtown Manhattan, clogging traffic for over an hour. Michael Nigro / Pacific Press / LightRocket / Getty Images
By Julia Conley
Climate campaigners on Friday expressed hope that policymakers who are stalling on taking decisive climate action would reconsider their stance in light of new warnings from an unlikely source: two economists at J.P. Morgan Chase.
Protesters holding signs in solidarity with the Wet'suwet'en Nation outside the Canadian Consulate in NYC. The Indigenous Peoples Day NYC Committee (IPDNYC), a coalition of 13 Indigenous Peoples and indigenous-led organizations gathered outside the Canadian Consulate and Permanent Mission to the UN to support the Wet'suwet'en Nation in their opposition to a Coastal GasLink pipeline scheduled to enter their traditional territory in British Columbia, Canada. Erik McGregor / LightRocket / Getty Images
Tensions are continuing to rise in Canada over a controversial pipeline project as protesters enter their 12th day blockading railways, demonstrating on streets and highways, and paralyzing the nation's rail system