This website uses cookies to ensure you get the best experience while browsing it. By clicking 'Got It' you're accepting these terms.
Banning Fracking Isn't Enough: How We Fight to Stop Pipelines, Compressor Stations and Gas Plants
Jan. 15, 2016 08:24AM EST
Energy
[Editor's note: Hundreds of climate activists and renewable energy advocates gathered for a State of the Climate rally and march outside of Gov. Cuomo's State of the State address in Albany Wednesday. Here below are the prepared remarks from Sandra Steingraber's speech. Shortly after, from the top of a stairway in the Capitol building, fracking infrastructure opponents unscrolled a 40-foot petition, bearing 1,000 signatures, that urgently calls on the governor to oppose the storage of dangerous, explosive LPG (propane and butane) in abandoned salt caverns under the shores of Seneca Lake. Like methane, propane and butane are the products of fracking. Along with the petition scroll, the group also delivered more than 500 letters to Gov. Cuomo's office.]
Hi, everyone. My name is Sandra Steingraber, and I bring warm greetings from the banks of Seneca Lake in New York's wine country. That's my home.
One year ago, we all came together at Governor Cuomo's 2015 State of the State address as New Yorkers Against Fracking to celebrate our singular, hard-won victory—the bold decision of our governor to leave in the ground, uncombusted, an immense amount of fossil fuel in the form of vaporous methane trapped in our state's bedrock.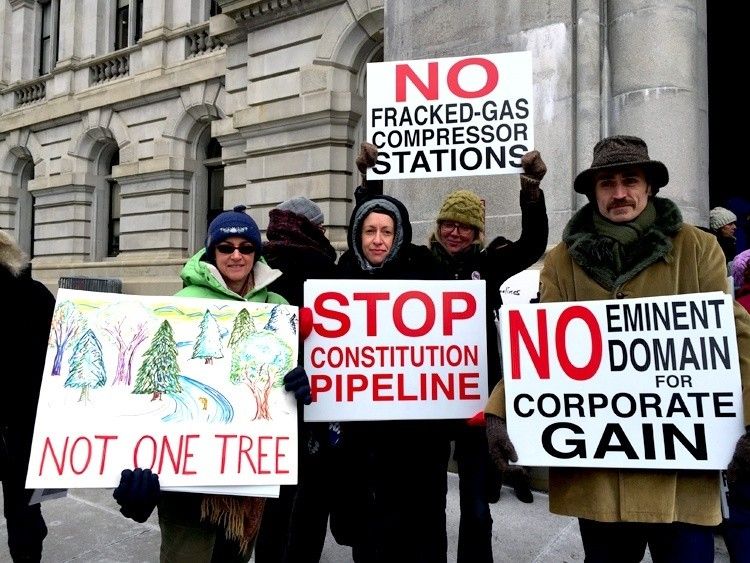 We worked, united, for years, night and day, to win a state-wide ban on fracking, and together, we made history. That methane is staying in the ground.
This year, we return to Albany wearing many different hats that represent many different campaigns. Some of us are fighting to push open the door to renewable energy. Others are fighting to slam shut the door on various fracking infrastructure projects that are menacing our health and safety as well as our climate: the Constitution Pipeline; the Northeast Direct Pipeline; the Algonquin Incremental Market Pipeline; the Cayuga Power Plant; the Greenidge Power Plant; the CPV-Valley Power Plant; the Dominion New Market Project; the Chemung County landfill expansion; and compressor stations by the dozens.
It all matters. It's all important. It's all necessary.
As we disperse from a single statewide fight against fracking to a multitude of local infrastructure fights, our activism diversifies and becomes more community focused. This trend represents a return to our activist roots. During the fracking wars, before the tribes united into a statewide coalition, we were also fighting on many local fronts and in many town halls. It's how we began.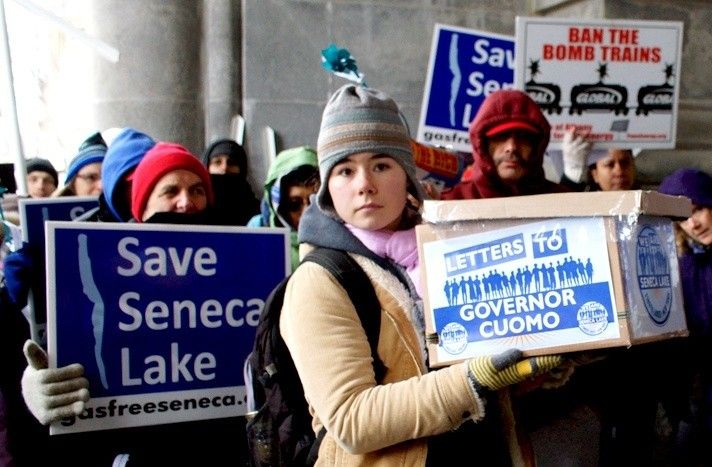 In this return to the local, we bring with us three precious things from our statewide fight. First, we bring scientific knowledge. We can now all cite chapter and verse on the global warming potential of natural gas vis-à-vis carbon dioxide over various time frames, for example. And that knowledge emboldens us.
Second, we have newfound political skills that empower us. And third, we have trusted friends from all over the state who encourage us. We know now how to stick together, reinforce each other's work, and generate synergy. Together, we are greater than the sum of our parts.
But most critically, no matter how widely distributed our individual battles are, we still share a common goal. We want an end to New York's ruinous dependency on fracked gas, along with all of the hateful, harmful infrastructure that comes with it.
We seek to replace every burner tip—from power plants to basement furnaces—with energy systems that look up—to the sun and the wind—instead of down at the graveyards of Devonian fossils.
Governor Cuomo, we want you to tell the world that New York is so done with keeping the lights on by building more crematoria for the burning of more prehistoric plants and animals, whose extraction from the ground and transportation to the flame destroys our climate, our water and our health.
An end to fossil fuels is our united goal.
And it's a goal shared by people all over the world. I met many of them in Paris last month at the U.N. climate talks where climate activists were collectively referred to as "civil society." Its members include indigenous people from South America and the Pacific Islands, grandmothers from Ireland, the knitting nanas of Australia. All together, they pressured negotiators into adopting a strong treaty based on good science.
Nevertheless, the ability to enact it, to "make it so," depends on all of us.
Our vision for New York is that our state should serve as a shining, transformational example to the rest of the world for how to create a vigorous economy with 100 percent renewable energy.
To help make it so, here's what we are doing back home at Seneca Lake. We are engaged in a David and Goliath struggle. The Goliath is a Houston-based gas company called Crestwood that wants to store fracked gases in the abandoned salt caverns along the lakeshore. Seneca Lake serves as a source of drinking water for 100,000 people. This lake is so deep that it also operates as a thermostat for the whole region, creating a microclimate ideally suited to the growing of wine grapes.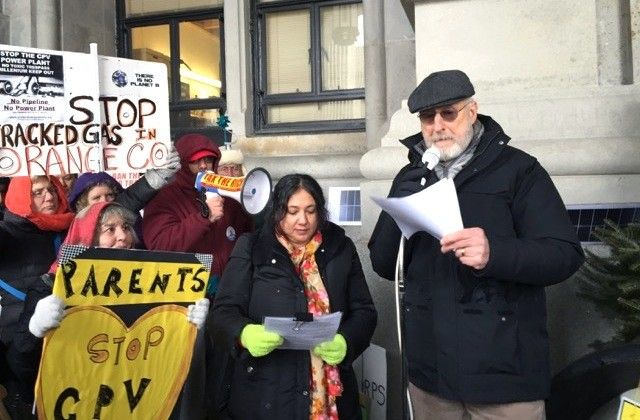 The David is We Are Seneca Lake, which is made up of local members of civil society—teachers, nurses, winemakers, mothers, grandfathers, farmers, business owners, veterans—who blockade in Goliath's driveway.
If there is no other way, we will stand in the way. Our ongoing blockade has continued for 16 months and resulted in 460 arrests. Six of these arrests happened just this Monday, involving New Yorkers from five different counties.
Always peaceful and respectful, We are Seneca Lake protesters are the girl scouts of civil disobedience, but our resolve is unrelenting. We know that the Federal Energy Regulatory Commission, which approves all these natural gas infrastructure projects, is largely unresponsive to all other forms of citizen opposition.
When there are other ways, We Are Seneca Lake also engages in lawful activism to redress grievance. Crestwood proposes to store in the Seneca salt caverns not just methane but also LPG. That decision rests with Governor Cuomo's Department of Environmental Conservation and has not yet been made.
So, today, together with our partner, Gas Free Seneca, we will be delivering to the Governor's office over 500 letters and a petition with over 1,000 signatures. These represent only the most recent batch of petition and letter deliveries we've made this year.
We'd like to partner with all of you. We know that Seneca Lake sits upstream from the multitude of pipelines and gas plants and compressor stations that you are fighting. If our salt caverns are filled with gas, Seneca Lake will be filling those pipelines.
Hence, we invite you to join us. Join us for a petition and letter delivery to the governor's office. Join us on the shoreline of our beautiful home. We are all Seneca Lake.
YOU MIGHT ALSO LIKE
Was Canada's Latest Earthquake the Largest Fracking Quake in the World?
Fossil Fuel Industry Granted Defendant Status in Youths' Landmark Climate Lawsuit
Solar Energy Fight Heats Up in Nevada
Outraged Republican Senator Vows to Block Appointment of FDA Commissioner Over GMO Salmon
EcoWatch Daily Newsletter
A glacier is seen in the Kenai Mountains on Sept. 6, near Primrose, Alaska. Scientists from the U.S. Geological Survey have been studying the glaciers in the area since 1966 and their studies show that the warming climate has resulted in sustained glacial mass loss as melting outpaced the accumulation of new snow and ice. Joe Raedle / Getty Images
By Mark Mancini
On Aug. 18, Iceland held a funeral for the first glacier lost to climate change. The deceased party was Okjökull, a historic body of ice that covered 14.6 square miles (38 square kilometers) in the Icelandic Highlands at the turn of the 20th century. But its glory days are long gone. In 2014, having dwindled to less than 1/15 its former size, Okjökull lost its status as an official glacier.
Members of Chicago Democratic Socialists of America table at the Logan Square Farmers Market on Aug. 18. Alex Schwartz
By Alex Schwartz
Among the many vendors at the Logan Square Farmers Market on Aug. 18 sat three young people peddling neither organic vegetables, gourmet cheese nor handmade crafts. Instead, they offered liberation from capitalism.
Hackney primary school students went to the Town Hall on May 24 in London after school to protest about the climate emergency. Jenny Matthews / In Pictures / Getty Images
Bird watching in the U.S. may be a lot harder than it once was, since bird populations are dropping off in droves, according to a new study.
Amazon CEO Jeff Bezos announces the co-founding of The Climate Pledge at the National Press Club on Sept. 19 in Washington, DC. Paul Morigi / Getty Images for Amazon
The day before over 1,500 Amazon.com employees planned a walkout to participate in today's global climate strike, CEO Jeff Bezos unveiled a sweeping plan for the retail and media giant to be carbon neutral by 2040, 10 years ahead of the Paris agreement schedule.
For the past seven years, the Anishinaabe people have been facing the largest tar sands pipeline project in North America. We still are. In these dying moments of the fossil fuel industry, Water Protectors stand, prepared for yet another battle for the water, wild rice and future of all. We face Enbridge, the largest pipeline company in North America, and the third largest corporation in Canada. We face it unafraid and eyes wide open, for indeed we see the future.
The climate crisis often intensifies systems of oppression. Rieko Honma / Stone / Getty Images Plus
By Mara Dolan
We see the effects of the climate crisis all around us in hurricanes, droughts, wildfires, and rising sea levels, but our proximity to these things, and how deeply our lives are changed by them, are not the same for everyone. Frontline groups have been leading the fight for environmental and climate justice for centuries and understand the critical connections between the climate crisis and racial justice, economic justice, migrant justice, and gender justice. Our personal experiences with climate change are shaped by our experiences with race, gender, and class, as the climate crisis often intensifies these systems of oppression.