This website uses cookies to ensure you get the best experience while browsing it. By clicking 'Got It' you're accepting these terms.
Bank vs. America Showdown: Protests Planned at Bank of America Shareholders' Meeting
May. 08, 2012 10:02PM EST
Energy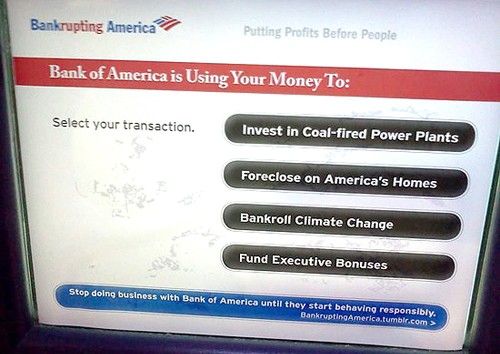 On Wednesday May 9, more than 1,500 people from a broad coalition of workers, seniors, families fighting foreclosure, students, the unemployed, environmentalists and more—will converge in Charlotte, the Wall Street of the South—to protest Bank of America's annual shareholder meeting.
The 99% Power Coalition is coming to BofA to demand:
Pay its fair share. Stop draining government of revenue. Pay the statutorily required 35 percent corporate income tax instead of gaming the system through off-shore tax shelters, loopholes and scams.
Stabilize the housing market and revitalize the economy. Reduce principal for all underwater homeowners to current market value. This would end the foreclosure crisis, reset the housing market, pump billions of dollars back into the economy and create 1 million jobs a year.
Fund the future—not dirty coal. Stop financing for the coal industry and shift the balance of energy financing to support renewable power generation that is less threatening to our environment and health.
Invest in American jobs. Invest in small businesses, the main source of jobs in the U.S.
This mass mobilization comes on the heels of a string of Bank of America scandals, including the consumer uprising against debit card fees, and settlements for robo-signing and predatory lending practices. BofA is continuing this abominable record by considering new checking account fees to make even more money off the 99%. Meanwhile the foreclosure crisis they helped cause is deepening as is the environmental crisis they contribute to by being the #1 investor in the coal industry. Also on May 8, 99% Power will have actions at BofA offices across the country, including Boston, New York, Detroit, Chicago and Providence.
99% Power protests are targeting corporations including Bank of America, Wells Fargo, GE, Verizon, Sallie Mae, Wal-Mart, and Verizon—directly challenging the 1% board members and executives whose actions have expanded inequality, threatened democracy, destroyed the environment, and driven countless Americans from their homes. This spring represents the largest mobilization on shareholder meetings in U.S. history.
For more information, click here.
EcoWatch Daily Newsletter
Assorted plastic bottles. mali maeder / Pexels
People carry children on a flooded street in Almoradi, Spain on Sept. 13. JOSE JORDAN / AFP / Getty Images
Large food companies are following in the footsteps of fast-food restaurants such as Burger King and KFC by offering meat alternatives. Getty Images
By Elizabeth Pratt
Hormel, Kellogg's, and Kroger are among the large companies now planning to offer "fake meat" products at grocery stores.
Experts say the trend toward plant-based meats coincides with consumers' desires to eat less meat.
However, experts urge consumers to closely check package labels as a product isn't necessarily healthy just because it's described as plant-based.
In grocery stores and fast-food outlets around the U.S., a revolution is taking place.
Colombia rainforest. Marcel Oosterwijk / CC BY-SA 2.0
Many of us think of the Amazon as an untouched wilderness, but people have been thriving in these diverse environments for millennia. Due to this long history, the knowledge that Indigenous and forest communities pass between generations about plants, animals and forest ecology is incredibly rich and detailed and easily dwarfs that of any expert.
picture-alliance / Newscom / R. Ben Ari
By Wesley Rahn
Plastic byproducts were found in 97 percent of blood and urine samples from 2,500 children tested between 2014 and 2017, according to a study by the German Environment Ministry and the Robert Koch Institute.

Pexels
Medically reviewed by Daniel Bubnis, MS, NASM-CPT, NASE Level II-CSS
Hot yoga has become a popular exercise in recent years. It offers many of the same benefits as traditional yoga, such as stress reduction, improved strength, and flexibility.
Lara Hata / iStock / Getty Images
By SaVanna Shoemaker, MS, RDN, LD
Rice is a staple in many people's diets. It's filling, inexpensive, and a great mild-tasting addition to flavorful dishes.