This website uses cookies to ensure you get the best experience while browsing it. By clicking 'Got It' you're accepting these terms.
Bananas: Are They Fattening or Will They Help You Lose Weight?
May. 13, 2016 01:06PM EST
Food
People who want to improve their health are often advised to eat more fruits and vegetables. However, some people worry that high-sugar fruits like bananas can be fattening.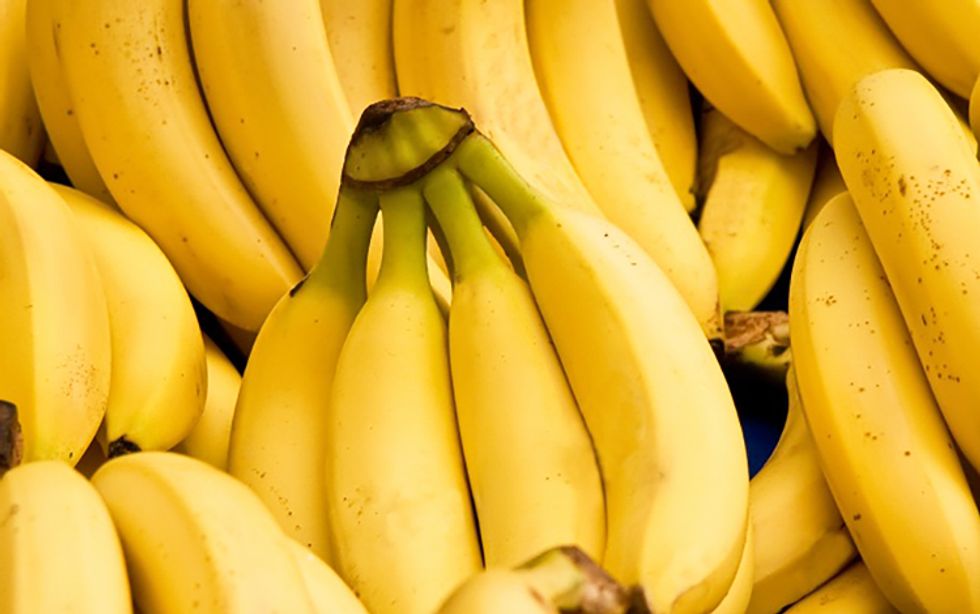 This article explores whether bananas will make you gain or lose weight.
Nutrition Facts of Bananas
Bananas are high in many nutrients and provide many health benefits.
They contain lots of fiber, carbs and some essential vitamins and minerals.
A medium-sized banana contains (1):
Potassium: 12 percent of the RDI.
Vitamin B6: 20 percent of the RDI.
Vitamin C: 17 percent of the RDI.
Magnesium: 8 percent of the RDI.
Copper: 5 percent of the RDI.
Manganese: 15 percent of the RDI.
This is coming with around 105 calories, 90 percent of which come from carbs. Most of the carbs in ripe bananas are sugars—sucrose, glucose and fructose.
On the other hand, bananas are low in both fat and protein.
Bananas also contain a number of beneficial plant compounds and antioxidants, including dopamine and catechin (2, 3, 4).
More details here: Bananas 101 — Nutrition Facts and Health Benefits.
Bottom Line: Bananas contain carbs, fiber, some essential nutrients and antioxidants. A medium-sized banana provides 105 calories.
Bananas are High in Fiber, But Low in Calories
Calorie for calorie, bananas contain a lot of fiber.
One medium banana provides around 12 percent of your recommended daily intake, with just 105 calories.
Fiber is important for maintaining regular bowel habits and plays a vital role in digestive health (5).
Eating high amounts of fiber has even been linked to a reduced risk of heart disease, diverticular disease and some cancers (6, 7, 8, 9, 10, 11, 12).
An adequate fiber intake is also linked to reduced body weight (13, 14).
One study measured the food intake of 252 women for 20 months. It found that for every extra gram of fiber the women ate per day, their body weight was around 0.55 lbs (0.25 kg) lower (15).
This effect is thought to occur because fiber makes you feel full for longer, which may help you eat fewer calories over the long term.
However, other studies have found that extra fiber in the diet does not affect people's fullness or calorie intake (16).
Bottom Line: Bananas are a good source of fiber. A high fiber intake has been linked to reduced body weight and a number of health benefits.
The Greener the Banana, the Higher the Resistant Starch
The type of carbs in a banana depends on how ripe it is.
Unripe, green bananas are high in starch and resistant starch, while ripe, yellow bananas contain mostly sugars.
Resistant starches are long chains of glucose (starch) that are resistant to digestion.
They act like soluble fiber in the body and have lots of potential health benefits. This includes weight loss and reduced blood sugar levels (17, 18, 19, 20, 21, 22).
Resistant starch can also slow down the absorption of sugar from foods. This keeps your blood sugar levels stable and helps you feel full (23, 24, 25, 26).
Furthermore, resistant starch may also increase fat burning (27, 28, 29).
Here is a detailed article about resistant starch and its health effects.
Bottom Line: Green (unripe) bananas contain resistant starch, which has been linked to weight loss and reduced blood sugar levels.
Bananas Have a Low Glycemic Index, But it Depends on Ripeness
The glycemic index (GI) measures how much foods raise blood sugar levels. If a food scores lower than 55, it's considered to have a low GI. 56–69 is medium, while a score above 70 is high.
Foods that contain a lot of simple sugars are quickly absorbed and have a high GI value since they cause a greater rise in blood sugar levels.
Eating a lot of high-GI foods has been linked to weight gain and an increased risk of obesity, type 2 diabetes, heart disease and stroke (30, 31, 32, 33, 34, 35, 36, 37, 38,39, 40, 41).
Foods with more slowly absorbed carbs have a lower GI and keep your blood sugar levels stable. Since bananas are 90 percent carbs, they're sometimes considered to be a high-sugar fruit that could spike your blood sugar.
However, the GI score of bananas is 42–62, depending on ripeness. This makes them low to medium on the glycemic index (42).
Ripe bananas have a higher GI than greener bananas. The sugar content increases as the banana matures, which in turn affects your blood sugar levels.
That said, overall bananas seem to release their sugars slowly.
One recent study followed type 2 diabetics with high cholesterol. They added 9 oz (250 grams) of banana to their breakfast for 4 weeks, which significantly reduced fasting blood sugar and cholesterol levels (43).
Low-GI foods like bananas may also help you feel full and keep blood sugar levels stable. This may lead to weight loss over time (27).
Bananas Are Filling, But Not as Much as Some Other Fruits
Filling up on high-fiber, low-calorie snacks can help with weight loss and weight maintenance.
These foods help prevent feelings of hunger and subsequent overeating, without adding lots of unnecessary calories to your diet.
In fact, bananas could help fill you up a lot better than other higher-calorie snacks.
However, they aren't quite as filling as some other fruits. For example, apples and oranges are more filling than bananas, calorie per calorie (47).
Bottom Line: Bananas are filling foods. However, they aren't quite as filling as apples and oranges.
Fattening or Weight Loss Friendly?
Bananas are healthy and nutritious, there is no doubt about that. They are also high in fiber, but low in calories.
Most bananas have a low to medium glycemic index and should not cause big spikes in blood sugar levels compared to other high-carb foods.
Although there are no studies that directly examine the effects of bananas on weight, they do have several properties that should make them a weight loss friendly food.
If you are trying to lose weight, then there is absolutely nothing wrong with eating bananas as a part of a balanced, real food based diet.
This article was reposted from our media associate Authority Nutrition.
YOU MIGHT ALSO LIKE
How Kind Bars Are Helping Push the FDA to Reconsider What 'Healthy' Means
13 Ways to Stop Mindless Eating
Hey Vegetarians and Vegans: It's Time to Debunk the Protein Combining Myth
EcoWatch Daily Newsletter
Pexels
By Dan Nosowitz
It's no secret that the past few years have been disastrous for the American farming industry.
Pexels
Medium-chain triglyceride (MCT) oil and coconut oil are fats that have risen in popularity alongside the ketogenic, or keto, diet.
Pexels
By Bijal Trivedi
The Centers for Disease Control and Prevention (CDC) released a report on Nov. 13 that describes a list of microorganisms that have become resistant to antibiotics and pose a serious threat to public health. Each year these so-called superbugs cause more than 2.8 million infections in the U.S. and kill more than 35,000 people.
Rool Paap / Flickr / CC BY 2.0
By Joe Vukovich
Under the guise of responding to consumer complaints that today's energy- and water-efficient dishwashers take too long, the Department of Energy has proposed creating a new class of dishwashers that wouldn't be subject to any water or energy efficiency standards at all. The move would not only undermine three decades of progress for consumers and the environment, it is based on serious distortions of fact regarding today's dishwashers.
By Emily Moran
If you have oak trees in your neighborhood, perhaps you've noticed that some years the ground is carpeted with their acorns, and some years there are hardly any. Biologists call this pattern, in which all the oak trees for miles around make either lots of acorns or almost none, "masting."
By Catherine Davidson
Tashi Yudon peeks out from behind a net curtain at the rooftops below and lets out a sigh, her breath frosting on the windowpane in front of her.

Some 700 kilometers away in the capital city Delhi, temperatures have yet to dip below 25 degrees Celsius, but in Spiti there is already an atmosphere of impatient expectation as winter settles over the valley.
The Dog Aging Project at the University of Washington is looking to recruit 10,000 dogs to study for the next 10 years to see if they can improve the life expectancy of man's best friend and their quality of life, as CNN reported.