This website uses cookies to ensure you get the best experience while browsing it. By clicking 'Got It' you're accepting these terms.
Banana Milk: The Newest Alternative to Milk
Feb. 04, 2016 11:41AM EST
No longer do vegans or the dairy intolerant have to suffer! Alternative milks are becoming ever more popular. Sure, you've got your classic soy that exists ubiquitously in every cafe in the world, but now many establishments are also serving (sometimes homemade) varieties of almond, hemp, cashew, oat, rice and coconut milks.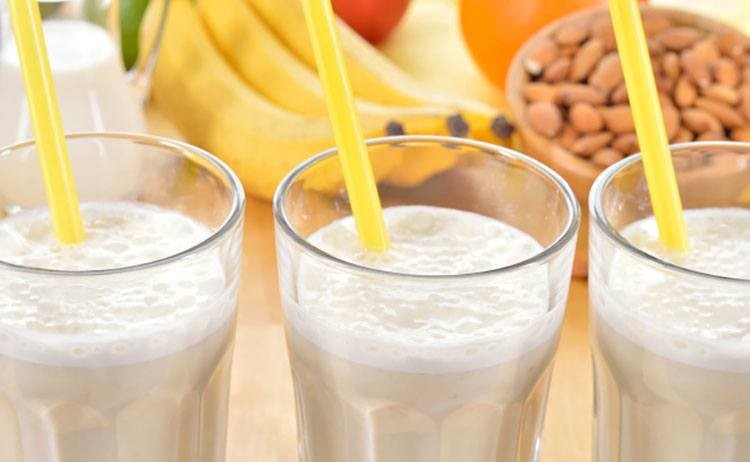 But, are you still unsatisfied with these options? Perhaps you're allergic to nuts, you avoid soy or simply are bored or the same old alternative milks. Well, did you know there is an incredibly cheap and easy-to-make vegan milk alternative that you can concoct with the ingredients in your kitchen? Meet banana milk.
High in potassium, vitamin B6 and pectin, banana milk is nutritious and full of filling fiber. It has a light, sweet flavor and costs pennies to make. If one banana costs $0.25, then your glass of banana milk shouldn't cost much more than a quarter.
They are an energizing fruit that is especially great as a pre or post-workout snack. They can reduce muscle fatigue and fight off cramps and are very gentle on an unsettled stomach, which means they may be great for those who have trouble consuming a traditional breakfast.
Recently picking up in popularity, banana milk may be the cheap, accessible and nutritious milk you've been searching for. While making homemade milk substitutes is relatively simpler, cheaper and tastier than buying in the store, alternative milks are by no means cheap. A carton of organic almond milk costs $1.99 at Whole Foods, but has a lot of extraneous additives.
Homemade from organic almonds at Whole Foods, one site estimated that making an equivalent amount of organic almond milk at home would cost around $1.75, but takes at least one day of advanced planning. To make your own nut milks, the nuts must be soaked overnight, whereas you can just pop a few frozen bananas into your blender and have banana milk within 2 minutes. Intriguingly, banana milk is the only fruit-based milk, meaning some people might find it more easily digestible than nut or grain milks.
Gluten-free, raw, vegan and paleo, try making banana milk at home tomorrow morning!
Banana Milk (serves 1)
1 frozen banana
1 cup water
1/4 tsp. cinnamon
pinch sea salt
Combine all ingredients in blender. Blend until smooth. Pour into a glass and enjoy.
You can also add a spoonful of unsweetened cocoa powder and a dash of vanilla extract for delicious chocolate banana milk or soak some oats and add them to the blender and strain for homemade banana-oat milk. It's like banana bread in a mug.
YOU MIGHT ALSO LIKE 
Ben & Jerry's Launches Vegan Ice Cream Line With 4 Non-Dairy Flavors
Dr. Mark Hyman: Why Vegetable Oils Should Not Be Part of Your Diet
11 Reasons Why You Should Eat More Bananas
Plus, learn if there's one that's best for your health.
Catherine Falls Commercial / Moment / Getty Images
An invasive Amynthas worm, also known as a crazy snake worm, Asian jumping worm and Alabama jumper Tom Potterfield / Flickr
By Jason Bittel
My wife and I built a house two years ago on a few acres of woodland outside of Pittsburgh. The backyard is full of maples, poplars, briars and common spicebush. Two-lined salamanders and grumpy-looking crayfish wade among the rocks in the small stream that runs down the edge of the property. Deer, raccoon and opossum tracks appear regularly in the snow and mud. Sometimes, my trail-cam even catches a pair of gray foxes as they slink through the night.
AleksandarNakic / Getty Images
By Kate Murphy
No matter the time of year, there's always a point in each season when my skin decides to cause me issues. While these skin issues can vary, I find the most common issues to be dryness, acne and redness.

David Woodfall / The Image Bank / Getty Images
By Sam Nickerson
The U.S. Environmental Protection Agency (EPA) in April 2018 proposed relaxing standards related to how it assesses the effects of exposure to low levels of toxic chemicals on public health.
Now, correspondence obtained by the LA Times revealed just how deeply involved industry lobbyists and a controversial, industry-funded toxicologist were in drafting the federal agency's proposal to scrap its current, protective approach to regulating toxin exposure.
Steve Irwin poses with a three foot long alligator at the San Francisco Zoo on June 26, 2002. Justin Sullivan / Getty Images
February 22 is the birthday of conservationist and beloved TV personality "Crocodile Hunter" Steve Irwin, who would have been 57 years old today.
Irwin's life was tragically cut short when the barb from a stingray went through his chest while he was filming in 2006, but his legacy of loving and protecting wildlife lives on, most recently in a Google Doodle today honoring his birthday.