This website uses cookies to ensure you get the best experience while browsing it. By clicking 'Got It' you're accepting these terms.


The best of EcoWatch, right in your inbox. Sign up for our email newsletter!
No longer do vegans or the dairy intolerant have to suffer! Alternative milks are becoming ever more popular. Sure, you've got your classic soy that exists ubiquitously in every cafe in the world, but now many establishments are also serving (sometimes homemade) varieties of almond, hemp, cashew, oat, rice and coconut milks.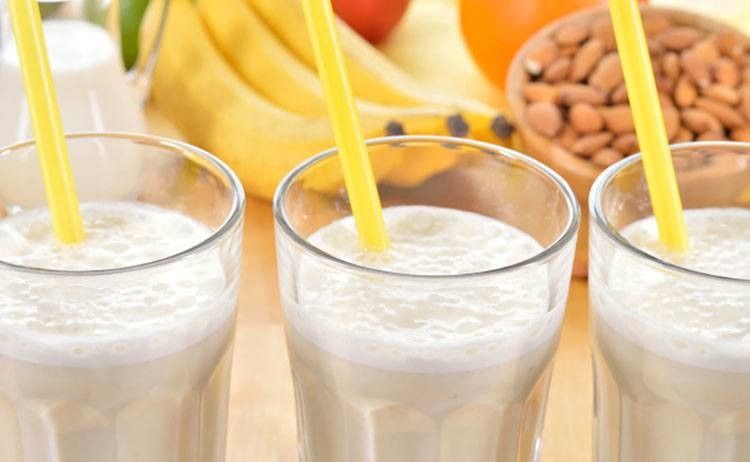 But, are you still unsatisfied with these options? Perhaps you're allergic to nuts, you avoid soy or simply are bored or the same old alternative milks. Well, did you know there is an incredibly cheap and easy-to-make vegan milk alternative that you can concoct with the ingredients in your kitchen? Meet banana milk.
High in potassium, vitamin B6 and pectin, banana milk is nutritious and full of filling fiber. It has a light, sweet flavor and costs pennies to make. If one banana costs $0.25, then your glass of banana milk shouldn't cost much more than a quarter.
They are an energizing fruit that is especially great as a pre or post-workout snack. They can reduce muscle fatigue and fight off cramps and are very gentle on an unsettled stomach, which means they may be great for those who have trouble consuming a traditional breakfast.
Recently picking up in popularity, banana milk may be the cheap, accessible and nutritious milk you've been searching for. While making homemade milk substitutes is relatively simpler, cheaper and tastier than buying in the store, alternative milks are by no means cheap. A carton of organic almond milk costs $1.99 at Whole Foods, but has a lot of extraneous additives.
Homemade from organic almonds at Whole Foods, one site estimated that making an equivalent amount of organic almond milk at home would cost around $1.75, but takes at least one day of advanced planning. To make your own nut milks, the nuts must be soaked overnight, whereas you can just pop a few frozen bananas into your blender and have banana milk within 2 minutes. Intriguingly, banana milk is the only fruit-based milk, meaning some people might find it more easily digestible than nut or grain milks.
Gluten-free, raw, vegan and paleo, try making banana milk at home tomorrow morning!
Banana Milk (serves 1)
1 frozen banana
1 cup water
1/4 tsp. cinnamon
pinch sea salt
Combine all ingredients in blender. Blend until smooth. Pour into a glass and enjoy.
You can also add a spoonful of unsweetened cocoa powder and a dash of vanilla extract for delicious chocolate banana milk or soak some oats and add them to the blender and strain for homemade banana-oat milk. It's like banana bread in a mug.
YOU MIGHT ALSO LIKE 
Ben & Jerry's Launches Vegan Ice Cream Line With 4 Non-Dairy Flavors
Dr. Mark Hyman: Why Vegetable Oils Should Not Be Part of Your Diet
11 Reasons Why You Should Eat More Bananas
EcoWatch Daily Newsletter
A child playing with a ball from planet earth during Extinction Rebellion rally on April 18 in London, England. Brais G. Rouco / Barcroft Media / Getty Images
Earth Day 2019 just passed, but planning has already begun for Earth Day 2020, and it's going to be a big deal.
Geneva Vanderzeil, A Pair & A Spare / Flickr / CC BY 2.0
Is your closet filled with clothes you don't wear (and probably don't like anymore)? Are you buying cheap and trendy clothing you only wear once or twice? What's up with all the excess? Shifting to a more Earth-conscious wardrobe can help simplify your life, as well as curb fast fashion's toll on people and the planet.
Christine Zenino / Wikimedia Commons / CC BY 2.0

The 18th century St. Catherine of Alexandria church is seen after its bell tower was destroyed following a 6.3 magnitude earthquake that struck the town of Porac, pampanga province on April 23. TED ALJIBE / AFP / Getty Images
At least 16 people have died, 81 are injured and 14 are still missing after an earthquake struck Luzon island in the Philippines Monday, according to the latest figures from the National Disaster Risk Reduction and Management Council, as the Philippine Star tweeted Tuesday.
Climate change activists gather in front of the stage at the Extinction Rebellion group's environmental protest camp at Marble Arch in London on April 22, on the eighth day of the group's protest calling for political change to combat climate change. TOLGA AKMEN / AFP / Getty Images
Pexels
By Alina Petre, MS, RD (CA)
Veganism refers to a way of living that attempts to minimize animal exploitation and cruelty. For this reason, vegans aim to exclude all foods containing meat, poultry, fish, eggs, dairy and honey from their diet (1).
American farmers use chlorpyrifos, a pesticide tied to brain and nervous system issues, on crops such as apples, broccoli, corn and strawberries. Stephanie Chapman / Flickr / CC BY 2.0
By Jessica Corbett
In a ruling welcomed by public health advocates, a federal court on Friday ordered the Trump administration to stop stalling a potential ban on a pesticide linked to brain damage in children, giving regulators until mid-July to make a final decision.
fstop123 / iStock / Getty Images Plus
At EcoWatch, our team knows that changing personal habits and taking actions that contribute to a better planet is an ongoing journey. Earth Day, happening on April 22, is a great reminder for all of us to learn more about the environmental costs of our behaviors like food waste or fast fashion.
To offer readers some inspiration this Earth Day, our team rounded up their top picks for films to watch. So, sit back and take in one of these documentary films this Earth Day. Maybe it will spark a small change you can make in your own life.