Banana Milk: The Newest Alternative to Milk
No longer do vegans or the dairy intolerant have to suffer! Alternative milks are becoming ever more popular. Sure, you've got your classic soy that exists ubiquitously in every cafe in the world, but now many establishments are also serving (sometimes homemade) varieties of almond, hemp, cashew, oat, rice and coconut milks.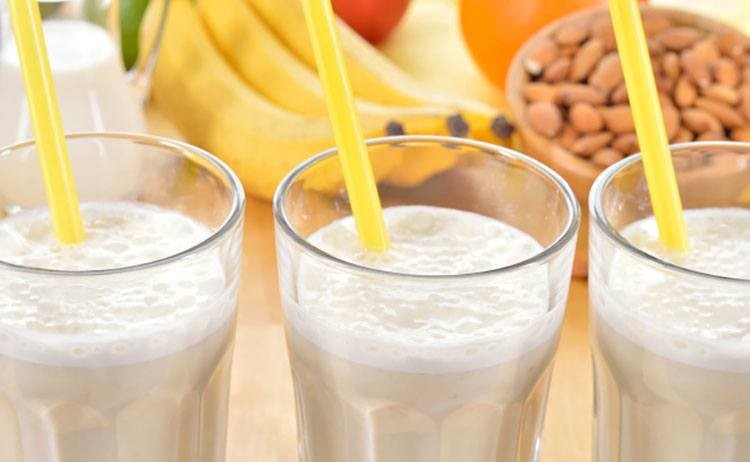 But, are you still unsatisfied with these options? Perhaps you're allergic to nuts, you avoid soy or simply are bored or the same old alternative milks. Well, did you know there is an incredibly cheap and easy-to-make vegan milk alternative that you can concoct with the ingredients in your kitchen? Meet banana milk.
High in potassium, vitamin B6 and pectin, banana milk is nutritious and full of filling fiber. It has a light, sweet flavor and costs pennies to make. If one banana costs $0.25, then your glass of banana milk shouldn't cost much more than a quarter.
They are an energizing fruit that is especially great as a pre or post-workout snack. They can reduce muscle fatigue and fight off cramps and are very gentle on an unsettled stomach, which means they may be great for those who have trouble consuming a traditional breakfast.
Recently picking up in popularity, banana milk may be the cheap, accessible and nutritious milk you've been searching for. While making homemade milk substitutes is relatively simpler, cheaper and tastier than buying in the store, alternative milks are by no means cheap. A carton of organic almond milk costs $1.99 at Whole Foods, but has a lot of extraneous additives.
Homemade from organic almonds at Whole Foods, one site estimated that making an equivalent amount of organic almond milk at home would cost around $1.75, but takes at least one day of advanced planning. To make your own nut milks, the nuts must be soaked overnight, whereas you can just pop a few frozen bananas into your blender and have banana milk within 2 minutes. Intriguingly, banana milk is the only fruit-based milk, meaning some people might find it more easily digestible than nut or grain milks.
Gluten-free, raw, vegan and paleo, try making banana milk at home tomorrow morning!
Banana Milk (serves 1)
1 frozen banana
1 cup water
1/4 tsp. cinnamon
pinch sea salt
Combine all ingredients in blender. Blend until smooth. Pour into a glass and enjoy.
You can also add a spoonful of unsweetened cocoa powder and a dash of vanilla extract for delicious chocolate banana milk or soak some oats and add them to the blender and strain for homemade banana-oat milk. It's like banana bread in a mug.
YOU MIGHT ALSO LIKE 
Ben & Jerry's Launches Vegan Ice Cream Line With 4 Non-Dairy Flavors
Dr. Mark Hyman: Why Vegetable Oils Should Not Be Part of Your Diet
11 Reasons Why You Should Eat More Bananas
A coalition of conservation groups and others announced Thursday that a historic number of comments and petitions of support have been submitted to the U.S. Department of the Interior in support of Bears Ears National Monument. Despite the entirely inadequate 15-day comment period ending on May 26, more than 685,000 comments in support of Bears Ears National Monument have been collected.
Keep reading...
Show less
Rink Glacier in western Greenland, with a meltwater lake visible center. NASA/OIB
Scientists have had their eyes on Greenland as its iconic glaciers have begun disappearing due to a warming climate. But, what they didn't expect to see was a whole new type of melting.
Keep reading...
Show less
Mountain View Fire
By Lena Moffitt
An oil tanker in Mead, Colorado exploded, killing one and injuring three on Thursday. Authorities are continuing to investigate the cause of the explosion.
Keep reading...
Show less
Banner created by Alliance for Climate Education
Keep reading...
Show less
Twenty-two GOP senators sent a letter Thursday urging Donald Trump to pull out of the Paris agreement. They argued remaining in the deal could "upend" the administration's ability "to fulfill its goal of rescinding the Clean Power Plan."
Keep reading...
Show less
By Cheryl Johncox
The Federal Energy Regulatory Commission (FERC) rejected on Thursday Energy Transfer Partners' request to resume horizontal directional drilling at two sites for its Rover fracked gas pipeline. This rejection comes after numerous leaks into Ohio's wetlands, and Clean Air and Clean Water act violations. FERC has halted the process at only eight locations of the 32 where drilling is taking place under Ohio's wetlands and streams.
Keep reading...
Show less
By Nadia Prupis
A majority of people in eight countries say they are ready to change their lifestyles if it would prevent climate catastrophe, a survey on global threats released Wednesday found.
Keep reading...
Show less
May. 25, 2017 01:55PM EST
Bill Maher is sick of billionaires' obsession with Mars, more like "Mars-a-Lago," he said.
In a new animation produced by ATTN:, the popular talk show host of Real Time, discusses the perils of our planet, including how "climate change is killing us."
Keep reading...
Show less