This website uses cookies to ensure you get the best experience while browsing it. By clicking 'Got It' you're accepting these terms.
Banana Milk: The Newest Alternative to Milk
Feb. 04, 2016 11:41AM EST
No longer do vegans or the dairy intolerant have to suffer! Alternative milks are becoming ever more popular. Sure, you've got your classic soy that exists ubiquitously in every cafe in the world, but now many establishments are also serving (sometimes homemade) varieties of almond, hemp, cashew, oat, rice and coconut milks.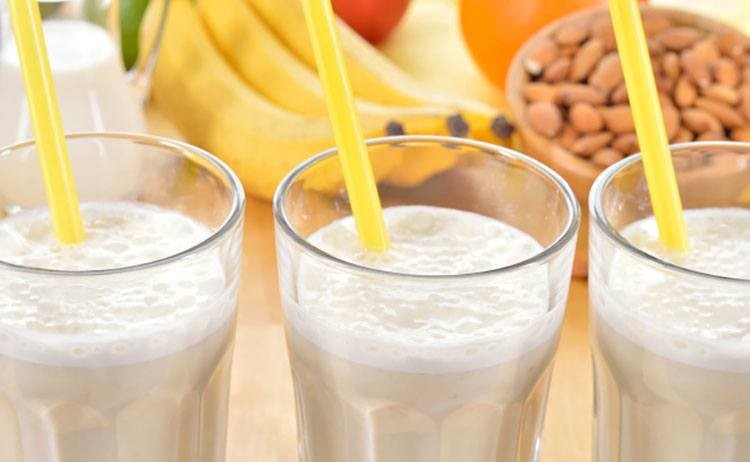 But, are you still unsatisfied with these options? Perhaps you're allergic to nuts, you avoid soy or simply are bored or the same old alternative milks. Well, did you know there is an incredibly cheap and easy-to-make vegan milk alternative that you can concoct with the ingredients in your kitchen? Meet banana milk.
High in potassium, vitamin B6 and pectin, banana milk is nutritious and full of filling fiber. It has a light, sweet flavor and costs pennies to make. If one banana costs $0.25, then your glass of banana milk shouldn't cost much more than a quarter.
They are an energizing fruit that is especially great as a pre or post-workout snack. They can reduce muscle fatigue and fight off cramps and are very gentle on an unsettled stomach, which means they may be great for those who have trouble consuming a traditional breakfast.
Recently picking up in popularity, banana milk may be the cheap, accessible and nutritious milk you've been searching for. While making homemade milk substitutes is relatively simpler, cheaper and tastier than buying in the store, alternative milks are by no means cheap. A carton of organic almond milk costs $1.99 at Whole Foods, but has a lot of extraneous additives.
Homemade from organic almonds at Whole Foods, one site estimated that making an equivalent amount of organic almond milk at home would cost around $1.75, but takes at least one day of advanced planning. To make your own nut milks, the nuts must be soaked overnight, whereas you can just pop a few frozen bananas into your blender and have banana milk within 2 minutes. Intriguingly, banana milk is the only fruit-based milk, meaning some people might find it more easily digestible than nut or grain milks.
Gluten-free, raw, vegan and paleo, try making banana milk at home tomorrow morning!
Banana Milk (serves 1)
1 frozen banana
1 cup water
1/4 tsp. cinnamon
pinch sea salt
Combine all ingredients in blender. Blend until smooth. Pour into a glass and enjoy.
You can also add a spoonful of unsweetened cocoa powder and a dash of vanilla extract for delicious chocolate banana milk or soak some oats and add them to the blender and strain for homemade banana-oat milk. It's like banana bread in a mug.
YOU MIGHT ALSO LIKE 
Ben & Jerry's Launches Vegan Ice Cream Line With 4 Non-Dairy Flavors
Dr. Mark Hyman: Why Vegetable Oils Should Not Be Part of Your Diet
11 Reasons Why You Should Eat More Bananas
KarinaKnyspel / iStock / Getty Images
2018 saw a number of studies pointing to the outsized climate impact of meat consumption. Beef has long been singled out as particularly unsustainable: Cows both release the greenhouse gas methane into the atmosphere because of their digestive processes and require a lot of land area to raise. But for those unwilling to give up the taste and texture of a steak or burger, could lab-grown meat be a climate-friendly alternative? In a first-of-its-kind study, researchers from the Oxford Martin School set out to answer that question.
Three scissor-tailed flycatcher fledglings in a mesquite tree in Texas. Texas Eagle / CC BY-NC 2.0
By Gary Paul Nabhan
President Trump has declared a national emergency to fund a wall along our nation's southern border. The border wall issue has bitterly divided people across the U.S., becoming a vivid symbol of political deadlock.
PeopleImages / E+ / Getty Images
By Daniel Ross
Hurricane Florence, which battered the U.S. East Coast last September, left a trail of ruin and destruction estimated to cost between $17 billion and $22 billion. Some of the damage was all too visible—smashed homes and livelihoods. But other damage was less so, like the long-term environmental impacts in North Carolina from hog waste that spilled out over large open-air lagoons saturated in the rains.
Hog waste can contain potentially dangerous pathogens, pharmaceuticals and chemicals. According to the state's Department of Environmental Quality, as of early October nearly 100 such lagoons were damaged, breached or were very close to being so, the effluent from which can seep into waterways and drinking water supplies.
This picture taken on May 21, 2018 shows discarded climbing equipment and rubbish scattered around Camp 4 of Mount Everest. Decades of commercial mountaineering have turned Mount Everest into the world's highest rubbish dump as an increasing number of big-spending climbers pay little attention to the ugly footprint they leave behind. DOMA SHERPA / AFP / Getty Images
China has closed its Everest base camp to tourists because of a buildup of trash on the world's tallest mountain.