This website uses cookies to ensure you get the best experience while browsing it. By clicking 'Got It' you're accepting these terms.
Bamboo: The Secret Weapon for Forest Restoration?
Mar. 01, 2014 10:45AM EST
In the world of forestry, bamboo doesn't always get the credit it deserves. Dismissed as a weed or marginalized in traditional forest management, bamboo could actually play an important role in forest and landscape restoration. With adequate attention, investment and the right standards in place, it could become a major renewable and sustainable crop—if we can update our outmoded view of it.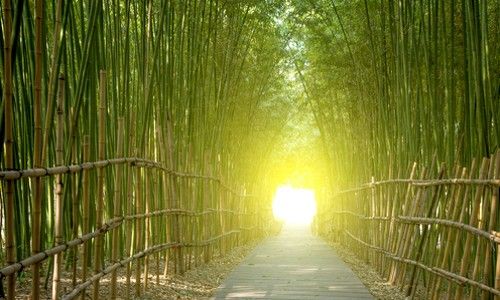 Photo courtesy of Shutterstock
Perceptions of a natural resource often shape how it is used. In this case, bamboo's problem can be traced back to the eighteenth and nineteenth centuries. The advent of modern agriculture and modern forest management changed the European approach to plant management. Forests became a commodity valued as "timber," while other plants were divided between "crops" (valuable plants) and "weeds" (unwanted plants).
This framing has persisted into modern times, and leaves little space for bamboo. Stuck somewhere between forestry, horticulture and agriculture, bamboo doesn't fit neatly into any category. Many years later, international forestry institutions still tend to overlook bamboo as an important natural resource.
Bamboo: Versatile, Renewable and Overlooked
This is unfortunate, considering the role bamboo could play in alleviating some of the demand on forests. In the midst of climate change and rapid global development, we face an urgent need to provide innovative responses to natural resource use.
Bamboo is one of the fastest-growing plants on the planet. With approximately 1,400 species, it is highly versatile and rapidly renewable. Long used as a timber alternative for furniture, charcoal, crafts and food (in the form of bamboo shoots), new technologies are extending bamboo's value in flooring and construction, for pulp and paper, viscose and rayon fabrics, and even in the construction of wind turbines.
Yet bamboo's potential continues to be overshadowed by outmoded policies. In order for bamboo to compete with established commodities in the global marketplace, it needs to adhere to recognized standards of sustainability. Yet those standards, such as Forest Stewardship Council (FSC) certification, have fallen short amongst bamboo practitioners who wish to see bamboo recognized as having specific management requirements as a grass and not a tree. Moreover, because bamboo plantations are often in areas of low economic development, it can be difficult for farmers to shoulder the associated costs of a certification like FSC.
In response, the Rainforest Alliance is developing an alternative natural fibers standard, open to public review until March 17. Creating a recognizable, accessible sustainability standard for bamboo farmers in the marketplace could spark new development of bamboo industries. Should this standard become a certification scheme, however, there is no guarantee that it will alleviate the significant challenges inherent in third-party certification standards for smallholders. Much work still needs to be done to create equitable, global standards for bamboo small-holders.
The Potential for Bamboo Forest and Landscape Restoration
Bamboo could also play an important role in the growing field of forest and landscape restoration (see map). To date, around 47 percent of the world's potential forest area has been cleared or degraded to make way for crops, cattle, cities and roads. The 2011 Bonn Challenge calls on governments to restore 150 million hectares of degraded and deforested land by 2020. As a native species across tropical, sub-tropical and some temperate areas bamboo could contribute significantly to restoring degraded landscapes.
In order to achieve large-scale restoration, artificial boundaries of forestry and agriculture need to be assessed and landscapes viewed as "mosaics" —areas that can provide different functions. Globally, 1.5 billion hectares would be best-suited for mosaic restoration, in which forests, trees and bamboo could be combined with other land uses, including agroforestry, smallholder agriculture and settlements. By planting bamboo in parts of landscapes, degraded lands could be restored to productive use, thereby alleviating some of the development pressures on forests.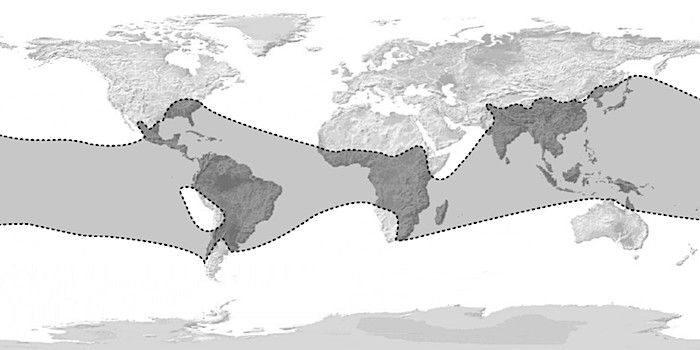 Already, China's growing influence in Africa, high demand for bamboo products, and management expertise could lead to more development of bamboo resources across the continent, with Ethiopia poised to "lead the bamboo revolution." Bamboo stakeholders have been convening in Africa to assess the potential of landscape restoration with bamboo. The State Minister for Agriculture in Ethiopiab highlighted that "bamboo is considered the most important, fast-growing, strategic intervention for afforestation and reforestation in the mountainous and degraded areas in the country."
Case studies of bamboo restoration remain relatively small-scale, but some have shown promise. In Africa, the organization African Bamboo is preparing nurseries for large-scale restoration of degraded lands with bamboo. In Latin America, EcoPlanet Bamboo has been active in Nicaragua, restoring 5,000 hectares of degraded pasture land. Likewise, in India, INBAR completed a prize-winning bamboo restoration project, which turned a degraded mining area into green, productive land.
Of course, bamboo cannot be a panacea—there are still management and propagation challenges to overcome, as well as concerns that it is grown and harvested sustainably. For example, plant monocultures—like some bamboo plantations in China—can lead to increased susceptibility to pests and diseases, as well as soil degradation and a loss of biodiversity. However, if done correctly, bamboo can contribute to restoring degraded land globally whilst providing sustainable industries and livelihood development.
In order for bamboo to reach its potential for forest and landscape restoration, a number of key actions need to be conducted, such as:
Mapping areas suitable for bamboo forest and landscape restoration
Investing in developing sustainable supply chains of bamboo products
Developing bamboo management standards to guarantee sustainable supply and production
History has shown us that the value of natural resources changes throughout time. It is time to reassess bamboo's famous "weedy" reputation and evaluate how it can be used for climate change resilience and restoration. Today's weeds can become tomorrow's valuable resources.
Visit EcoWatch's BIODIVERSITY page for more related news on this topic.

EcoWatch Daily Newsletter
Artist's conception of solar islands in the open ocean. PNAS
Millions of solar panels clustered together to form an island could convert carbon dioxide in seawater into methanol, which can fuel airplanes and trucks, according to new research from Norway and Switzerland and published in the Proceedings of the National Academy of Sciences journal, PNAS, as NBC News reported. The floating islands could drastically reduce greenhouse gas emissions and dependence on fossil fuels.
Marcos Alves / Moment Open / Getty Images
More than 40 percent of insects could go extinct globally in the next few decades. So why did the U.S. Environmental Protection Agency (EPA) last week ok the 'emergency' use of the bee-killing pesticide sulfoxaflor on 13.9 million acres?
EcoWatch teamed up with Center for Biological Diversity via EcoWatch Live on Facebook to find out why. Environmental Health Director and Senior Attorney Lori Ann Burd explained how there is a loophole in the The Federal Insecticide, Fungicide, and Rodenticide Act under section 18, "that allows for entities and states to request emergency exemptions to spraying pesticides where they otherwise wouldn't be allowed to spray."
Simple swaps that cut down on kitchen trash.
Sponsored
By Kayla Robbins
Along with the bathroom, the kitchen is one of the most daunting areas to try and make zero waste.
View of downtown Miami, Florida from Hobie Island on Feb. 2, 2019.
Michael Muraz / Flickr
The Democratic candidates for president descended upon Miami for a two-night debate on Wednesday and Thursday. Any candidate hoping to carry the state will have to make the climate crisis central to their campaign, as The New York Times reported.
By Sharon Kelly
On Monday, the Wall Street Journal featured a profile of Scott Sheffield, CEO of Pioneer Natural Resources, whose company is known among investors for its emphasis on drawing oil and gas from the Permian basin in Texas using horizontal drilling and hydraulic fracturing, or fracking.
Pexels
By Craig K. Chandler
The federal government has available to it, should it choose to use them, a wide range of potential climate change management tools, going well beyond the traditional pollution control regulatory options. And, in some cases (not all), without new legislative authorization.
Denis Poroy / Getty Images
By Dan Gray
Processed foods, in their many delicious forms, are an American favorite.
But new research shows that despite increasing evidence on just how unhealthy processed foods are, Americans have continued to eat the products at the same rate.
By Sarah Steffen
With a profound understanding of their environmental surroundings, indigenous communities around the world are often cited as being pivotal to tackling climate change.