Back-to-School Warning: Head Lice Now Resistant to Treatment in 25 States
Aug. 19, 2015 02:07PM EST
Health + Wellness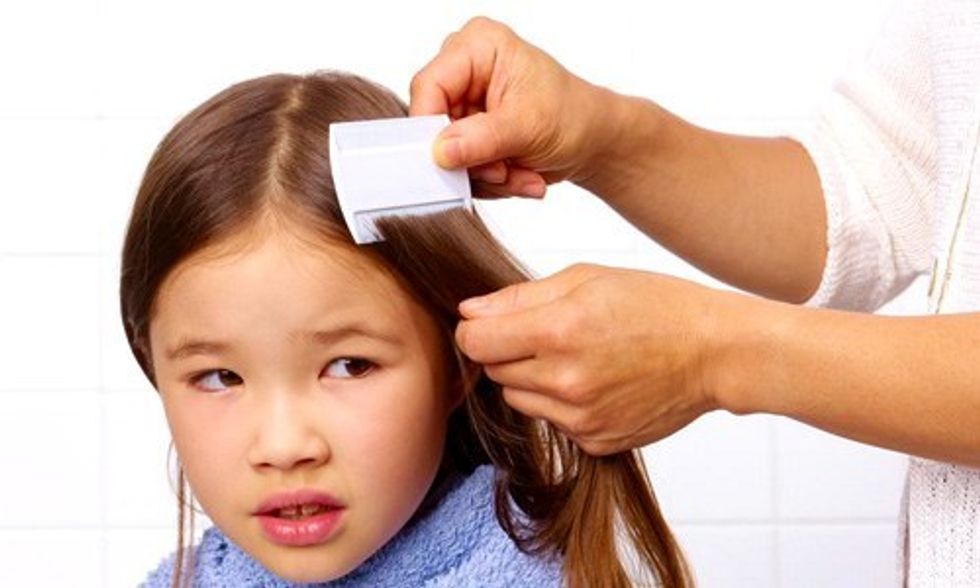 As a new school year starts, the American Chemical Society had some lousy news. Researchers found that lice populations in at least 25 states have developed resistance to over-the-counter treatments still widely recommended by doctors and schools. The researchers presented their findings yesterday at the 250th National Meeting & Exposition of the American Chemical Society (ACS), the world's largest scientific society.
Mutant head lice are becoming immune to common treatments http://t.co/llkPrdRSTB pic.twitter.com/Lgi5gMrNhm

— Daily Mirror (@DailyMirror) August 19, 2015
"We are the first group to collect lice samples from a large number of populations across the U.S.," says Kyong Yoon, Ph.D at Southern Illinois University, Edwardsville. "What we found was that 104 out of the 109 lice populations we tested had high levels of gene mutations, which have been linked to resistance to pyrethroids."
Pyrethroids are a family of insecticides that are commonly used to treat head lice. One of those, permethrin, is the active ingredient in many anti-lice treatments. Yoon became one of the first to highlight the problem in the U.S. back in 2000, but the first report on this development came from Israel in the late 1990s. Yoon has been testing lice for a trio of genetic mutations known collectively as kdr, which stands for "knock-down resistance."
In Yoon's most recent report, he collected population samples of lice from 30 states. Twenty-five of those states had all three genetic mutations—meaning they are the most resistant to pyrethroids. In some samples, including ones from California, Florida, Maine and Minnesota, every insect in the sample had resistance genes. "It's almost saturated with [these genes], which means that people using permethrin and pyrethrin based products will probably have a very hard time controlling the lice," says Yoon.
Samples taken from four states—New York, New Jersey, New Mexico and Oregon—had one, two or three mutations. The only state with a population of lice still largely susceptible to the insecticide was Michigan. Yoon says, why lice haven't developed a resistance in Michigan is still under investigation. His research is ongoing and he plans to collect samples from every state.
Here are the 25 states where mutant head lice was found #YoureWelcome http://t.co/pyR2YMOBaw pic.twitter.com/8NeMCxKiKn

— WPXI (@WPXI) August 19, 2015
Head lice is far more common than many may think. Six million to 12 million U.S. children are infested with head lice every year, "with parents spending about $350 million dollars annually on permethrin-laced over-the-counter and prescription treatments," Yoon said. And contrary to the stereotype, lice infestations occur in rich neighborhoods as well as poor ones. "It's a really, really serious problem right now in the U.S.," Yoon told TIME. Though head lice aren't known to carry any diseases, they can be very irritating and very difficult to get rid of.
It's not just head lice, though. Pesticide-resistance is a major problem in agriculture as well. So what is to be done? How can we combat these pesticide-resistant bugs?
"If you use a chemical over and over, these little creatures will eventually develop resistance," Yoon says. "So we have to think before we use a treatment."
If pyrethroid-based treatments don't work, he suggests using a prescription drug, such as ivermectin or spinosad. Still, we have to be careful not to swap one chemical out with another, warns Richard Pollack, a public health entomologist at Harvard University, because lice will just develop a resistance to these other chemicals over time.
"The good news is head lice don't carry disease," says Yoon. "They're more a nuisance than anything else."
YOU MIGHT ALSO LIKE
Nation's First School District to Serve 100% Organic, Non-GMO Meals
Are Microplastics in Your Salmon Filet?
EcoWatch Daily Newsletter