This website uses cookies to ensure you get the best experience while browsing it. By clicking 'Got It' you're accepting these terms.
Award-Winning Documentary Offers a 'Surprising Solution to America's Oil Addiction'
Jun. 02, 2015 10:58AM EST
Josh Tickell, who grew up among the oil refineries in Louisiana, experienced the impacts of dirty fossil fuel production from a young age. He watched family members suffer from pollution-related cancers, which sparked a lifelong quest to find sustainable, clean energy sources.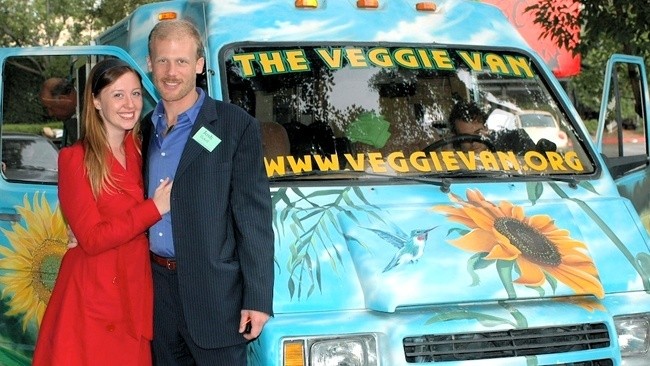 Back in 1997, Tickell hit the road with a biodiesel-powered "Veggie Van." His 11-year journey ultimately resulted in the film, Fuel, which won the Audience Award at Sundance in 2008. The film investigated how to wean the world off dirty fossil fuels and transition to renewable energy.
Tickell then directed The Big Fix about the 2010 BP oil spill, which debuted at the Cannes Film Festival. Now in his third film, Tickell with his wife Rebecca created Freedom, which picked up the Golden Ace Award at the Las Vegas Film Festival. The documentary is about "a road trip, a cover up and a surprising solution to America's oil addiction," according to the filmmakers and will premier tonight on Free Speech TV. Find your Free Speech TV channel here and the schedule for future airings here.
The film dives into an array of solutions for a clean energy future including advanced biofuels like cellulosic ethanol and plug-in hybrids. The film contains interviews with a wide range of notable figures including former Speaker of the House Newt Gingrich, former NATO Commander Wesley Clark, Washington Gov. Jay Inslee, singer/songwriter Jason Mraz, internationally-acclaimed author Deepak Chopra and actors Michelle Rodriguez, Amy Smart and Ed Begley, Jr.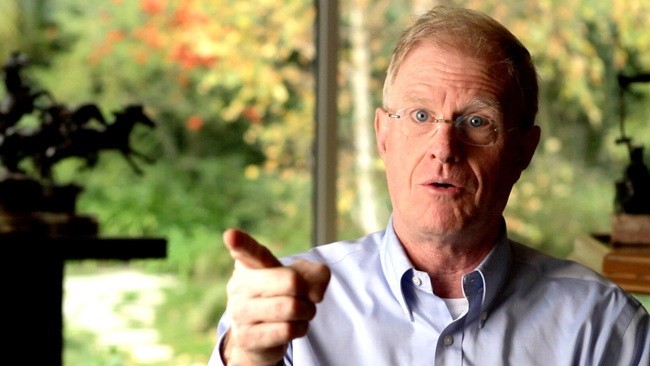 I had the chance to ask Josh and Rebecca Tickell some questions about the film and here are their responses:
Q. What are the top five green solutions that will transition America to a clean energy future?
A. 1) solar
2) driving without oil (this could mean a renewable fuel made from waste or an electric vehicle or a bike or walking)
3) allowing grid-intertie systems at all scales + incentives for commercial scale renewable systems
4) increased efficiency and reduced energy use—especially in the commercial and industrial sectors
5) good old education
Q. Why do you believe advanced biofuels like cellulosic ethanol should be a major part of a clean energy future?
A. It's not that they should be a major part—its that they should not be excluded as we have done up until now. Fuels that can be made cheaply from waste (like ethanol) and that are cleaner burning and better for engines are just a no brainer. They don't take the place of reducing our usage or other alternatives, but they could definitely help move us toward energy independence.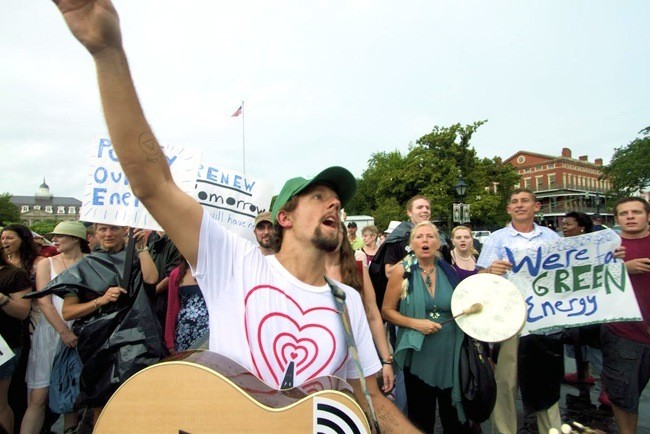 Q. Why do you think biofuels get such a bad rap?
A. They threaten the status quo and they're an easy target. Because there are so many ways to make biofuels and the biofuels industry is guilty of not adhering to strict sustainability standards in the beginning—it was easy to build negative campaigns around the "bad" biofuels. It's a wag the dog type thing—focus on the exception, make people believe its the rule, add fear and plausible doubt—repeat.
Q. You say you want your film to not just make people mad, but get people motivated. What are three things people can do to make a difference?
A. There are all of the things we've heard before—write your congressman, drive on electricity, fill up on e85 etc. But the movement away from fossils and toward future energy is taking some really interesting turns. Look at the divestment movement that is getting people's stocks our of fossil energy companies. Most of the big "socially responsible" investment portfolios perform better. We can see that now, the data is in. So why lose money and support the wrong energy for the future when you could be more profitable and support energy that will help people and the planet? Its ultimately about the bottom line and we are at a turning point where renewable energy is cheaper and more profitable globally.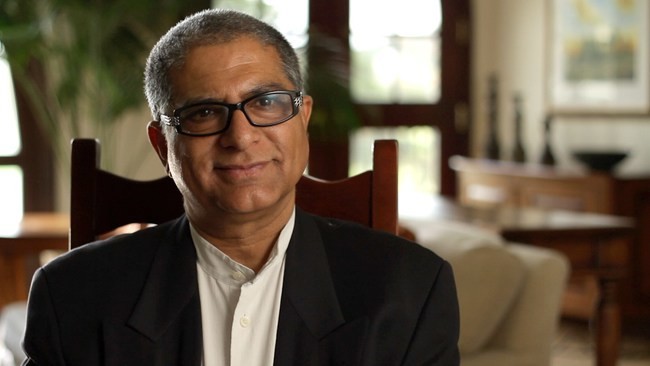 Q. What are the three most important takeaways from your film?
A. 1. You absolutely can make a difference—even if its just with the information you know and how you speak about these issues.
2. Don't give up—change takes a minute. The technology also takes a bit of time to get up to the level of expectations. It's happening though and every little bit makes a difference.
3. Get active. An activist is just the opposite of a couch potato. And honestly, if you don't want to leave your couch there are ways to activate around these issues online now. Just don't stand by—use your actions, voice and power.
Q. Anything else you'd like to share with EcoWatch readers?
A. Yes. Like Amory Lovins who is a great energy pioneer, we believe America could be off of fossil fuels in around a decade. The great thinkers on these issues all agree—its not a technology shift we need, its a perspective shift. If the belief is we cannot do anything—then social actions will follow that belief. If we change our beliefs to match the facts—that there is a lot that can be done to combat climate change and CO2, that renewables are finally cheaper, and that now is the right time to push at every level to shift the world toward sustainable solutions—then our actions will follow. Keep the facts alive because beliefs are easily swayed when the facts are in your favor. And the good news is the facts say we're close to a global shift toward clean energy.
Watch the trailer here:
YOU MIGHT ALSO LIKE
Game-Changing Lamp Powered by Gravity Could Provide Light to Billions
4 Reasons the Keystone XL Pipeline May Never Be Built
Negotiations in Bonn Will Likely Decide if Paris Climate Talks 'Can Save Human Civilization From Ultimate Collapse'
Three scissor-tailed flycatcher fledglings in a mesquite tree in Texas. Texas Eagle / CC BY-NC 2.0
By Gary Paul Nabhan
President Trump has declared a national emergency to fund a wall along our nation's southern border. The border wall issue has bitterly divided people across the U.S., becoming a vivid symbol of political deadlock.
PeopleImages / E+ / Getty Images
By Daniel Ross
Hurricane Florence, which battered the U.S. East Coast last September, left a trail of ruin and destruction estimated to cost between $17 billion and $22 billion. Some of the damage was all too visible—smashed homes and livelihoods. But other damage was less so, like the long-term environmental impacts in North Carolina from hog waste that spilled out over large open-air lagoons saturated in the rains.
Hog waste can contain potentially dangerous pathogens, pharmaceuticals and chemicals. According to the state's Department of Environmental Quality, as of early October nearly 100 such lagoons were damaged, breached or were very close to being so, the effluent from which can seep into waterways and drinking water supplies.
This picture taken on May 21, 2018 shows discarded climbing equipment and rubbish scattered around Camp 4 of Mount Everest. Decades of commercial mountaineering have turned Mount Everest into the world's highest rubbish dump as an increasing number of big-spending climbers pay little attention to the ugly footprint they leave behind. DOMA SHERPA / AFP / Getty Images
China has closed its Everest base camp to tourists because of a buildup of trash on the world's tallest mountain.
Researchers tested the eggs of Arctic northern fulmers like these in Nunavut, Canada.
Fiona Paton / Flickr
By Madison Dapcevich
Plastics have been recorded in every corner of the world, from the remote icy waters of Antarctica to the bellies of deep-sea fishes. Now, preliminary findings presented at this year's American Association for the Advancement of Science (AAAS) annual meeting in Washington, DC suggest that bird eggs from the high Arctic—one of the most remote wildernesses on the planet—show evidence of contamination from chemicals used in plastics.