This website uses cookies to ensure you get the best experience while browsing it. By clicking 'Got It' you're accepting these terms.
Author Q&A: John H. Cushman Jr. Discusses His Comprehensive New Book on Keystone XL
May. 10, 2014 08:00AM EST
Many people view the Keystone XL decision as one that will forever define President Barack Obama's legacy, but how much do you know about the Bush Administration's impact on the proposal?
One of the first things you'll learn in John H. Cushman Jr.'s new book, Keystone & Beyond: Tar Sands and the National Interest in the Era of Climate Change, is that the pipeline has its origins in energy policy decisions President George W. Bush and Vice President Dick Cheney began making almost from the moment they took office. Keystone was on Bush's mind when he withdrew the country from the Kyoto agreement just two months after his 2001 inauguration, saying that he wouldn't settle for a pact with binding limits on how much carbon dioxide the U.S. could emit.
Inside Climate News and Cushman, who spent nearly three decades as a reporter for the New York Times' Washington bureau, released the book this week amid a group of senators' attempt to sneak pipeline approval into a new energy bill.
Keystone & Beyond is available for free download via the Inside Climate News books app or in-browser reading through May 15 by clicking here.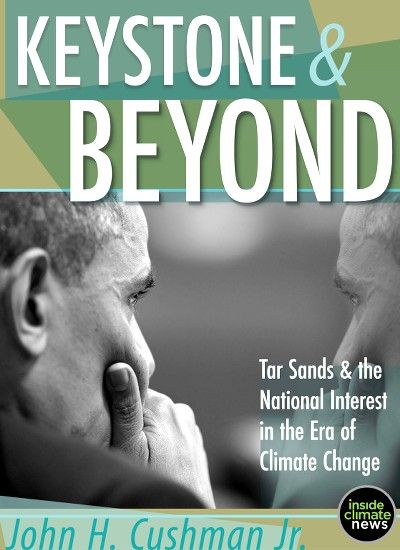 The book chronicles Keystone from all angles, providing a comprehensive look into the proposal that has captivated oil magnates and environmentalists, alike, for years. The author answered a few questions about how his book came together and what he thinks of the ever-changing news surrounding the Keystone proposal.
EcoWatch: You couldn't have picked a better week to release this book. What was your reaction when you heard about a group of senators' legislative plan for the pipeline?
Cushman: I definitely recognized that the book would seem all the more timely if it came out during a Senate floor debate on the pipeline. At the same time, knowing the ways of the Senate, I knew the timing of this debate, like its outcome, was anything but certain.
EW: The book is a great way to chronicle the history of KXL. Is that mainly what you set out to do or is there a larger message or theme you hoped to get across to readers?
C: My model for how to approach this subject drew from a classic book of political science, Thinking in Time, which I read in college about 40 years ago. It was about how presidents ought to study the history of a problem when making important decisions. [Editor's note: Cushman writes about this approach in a recent Inside Climate News article] So that's what I decided to do. My theme emerges from this examination: Times have changed fast between the year 2000 and today, and the decision ought to be made with those changes in mind. 
EW: The Bush aspect of the early portion of the book was very interesting. Just how much did the Bush Administration's negligence exacerbate the climate issue? And to what extent do you believe this is lost on the general public, even the folks who are fighting against Keystone XL? 
C: I would say that if we, as a nation, had taken firm action earlier against carbon dioxide emissions, it would have turned out to be cheaper and easier for the whole world to take on the problem of climate change. Further delay will only make things even more expensive and more difficult. All responsible leaders recognize that this is so.
EW: What are your thoughts on how Obama has handled this pipeline overall? Does your opinion now differ from what you thought prior to working on this book?
C: My main observation is that Obama has carefully protected his room for maneuver. Before working on this book I did not follow the Keystone question carefully; however I have long noticed that Obama is careful to keep his options open, in general, as he makes policy decisions. 
EW: While the environmental groups we write about/talk to are glad that Obama has delayed a decision, some think the indecision shows a lack of dedication to really fighting climate change. What do you make of the delays?
C: It's a complicated question, but I would have to say that on balance the delays have given the opposition time to build their movement, and have made it somewhat less likely that the pipeline will be built. Two or three years ago, it seemed to be on its way to approval. Even today, the pipeline advocates are strong and they may yet prevail.
EW: What was the most interesting thing you learned during the creation process for this book?
C: I learned not to assign a false precision to the numbers in one study or another. Economic and oil-market modeling is not a precise science. So much depends on one's assumptions! So what is important is to understand the direction of a signal, not its amplitude. If you compare it to models of climate change you will see that the [Intergovernmental Panel on Climate Change] and others always assign a confidence level to their conclusions. That's good science. You rarely hear people say how confident they are in their declarations about what the effects on jobs, gas prices, national security, pollution, warming, etc. of building this pipeline will or won't be. And this book shows how the past assumptions, such as those about oil supply and demand at the start of the story, turned out to be very wrong.
EW: You've done more research on this than just about anybody—what do you think will ultimately happen with KXL when all is said and done?
C: I don't know. I try not to make predictions. As a nation, we don't have a great track record on climate change, and I do worry that we might follow a business-as-usual path, in general, long past the time that we can avoid the more dangerous and costly risks of climate disruption. Every wrong decision leads us down that road; they all matter.
I sometimes hear people say that rather than fighting one pipeline or one project, or writing one regulation or subsidizing one technology, we should put a tax on carbon and let the marketplace decide. Most reputable economists say that this is the most efficient policy for confronting climate change. That may be. But I also believe that if anyone wants to do what's best for the climate, they should ask, what decision would markets and policy-makers and individuals choose here or there, on this or that, if there were in fact a reasonable tax on carbon emissions, a tax big enough to internalize the damages that will come from carbon dioxide emissions? And then, even if there is no carbon tax, we should act as if there were one.
Because ultimately that tax is going to be paid—if not by us, then by someone in the future.
——–
YOU ALSO MIGHT LIKE
How the Senate's Keystone XL Vote Came Crumbling Down
Cowboys and Indians Launch 5-Day Keystone XL Protest on National Mall
State Department Indefinitely Delays Keystone XL Pipeline Decision
——–
EcoWatch Daily Newsletter
Volunteers participate in 2018's International Coastal Cleanup in (clockwise from top left) the Dominican Republic, Ghana, Norway and Washington, DC. Ocean Conservancy / Gabriel Ortiz, David Kwaku Sakyi, Kristin Folsland Olsen, Emily Brauner
This coming Saturday, Sept. 21 is the International Coastal Cleanup (ICC), the annual Ocean Conservancy event that mobilizes volunteers in more than 100 countries to collect litter from beaches and waterways and record what they find.
Students hold a Youth Strike for Climate Change Protest in London, UK on May 24. Dinendra Haria / SOPA Images / LightRocket via Getty Images
The 16-year-old Swede Greta Thunberg speaks during her protest action for more climate protection with a reporter. Steffen Trumpf / picture alliance / Getty Images
By Mark Hertsgaard and Kyle Pope
It's been 30 years since Bill McKibben rang the warning bells about the threat of man-made climate change — first in a piece in The New Yorker, and then in his book, The End of Nature.
Thousands of protestors marched in front of Frankfurt's International Motor Show (IAA) on Saturday to show their disgust with the auto industry's role in the climate crisis. The protestors demanded an end to combustion engines and a shift to more environmentally friendly emissions-free vehicles, as Reuters reported.
Setting and testing the line protections for Siemens SF6 gas insulated switchgear in 2007.
Xaf / Flickr /
CC BY-NC 2.0
Ella Olsson / Pexels
By Elizabeth Streit, MS, RDN, LD
Sweet and regular potatoes are both tuberous root vegetables, but they differ in appearance and taste.
They come from separate plant families, offer different nutrients, and affect your blood sugar differently.
Scientists in Saskatchewan found that consuming small amounts of neonicotinoids led white-crowned sparrows to lose significant amounts of weight and delay migration, threatening their ability to reproduce. Jen Goellnitz / Flickr
By Julia Conley
In addition to devastating effects on bee populations and the pollination needed to feed humans and other species, widely-used pesticides chemically related to nicotine may be deadly to birds and linked to some species' declines, according to a new study.

German Chancellor Angela Merkel's government is set to unveil a package of measures on Friday, Sept. 20, to ensure that the country cuts its greenhouse gas emissions 55% by 2030, compared with the 1990 levels.