This website uses cookies to ensure you get the best experience while browsing it. By clicking 'Got It' you're accepting these terms.
Australia Looks to Dump Renewable Energy Target
Aug. 19, 2014 02:14PM EST
Renewable Energy
In a move similar to the one that plunged Ohio to the end of the line among U.S. states when it comes to moving toward renewable energy, Australia Prime Minister Tony Abbott is signaling his plans to scale back or eliminate that country's Renewable Energy Target (RET).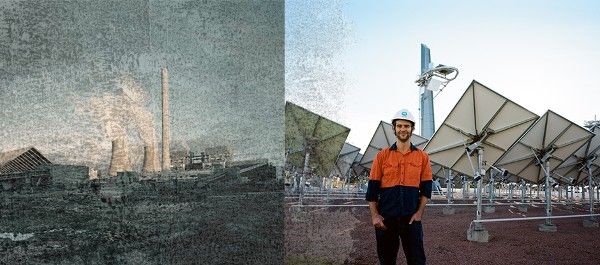 The Australian Financial Review reported on Monday in a story "Abbott's Plan to Axe RET" that Abbott has asked businessman Dick Warburton, whom Abbott charged following his election last fall with reviewing RET, to take a closer look at ending the target entirely rather than scaling it down as Warburton had proposed.
It wrote:
The federal government is moving towards abolishing the Renewable Energy Target rather than scaling it back in a move that will cost almost $11 billion in proposed investment and which is at odds with the views of its own environment minister.
Sources said environment minister Greg Hunt, who advocated scaling back the RET as a compromise, has been sidelined from the process and is understood to be unhappy. They said Mr. Abbott, treasurer Joe Hockey and finance minister Mathias Cormann are pushing the issue now. A government source said when the government announced its decision, possibly before the end of this month, it was now "more likely'' the RET will be abolished under a so-called "closed to new entrants scenario'' in which existing contracts only would be honoured.
Australia's renewable energy standards were first enacted in 2001, then expanded in 2010 to mandate a target of 20 percent of electricity coming from renewal sources. Although in 2012 74 percent of Australia's electricity came from coal, the growth of its renewables sector, especially wind generation, had it on track to far exceed RET.
Apparently, that's got some companies in the fossil fuel business worried. The Australian Financial Review said, "The Abbott government has been lobbied heavily by the business and energy sectors to abolish or water it down as renewable energy gained a larger than expected share of the ­electricity market."
And it's clear that some in the government are already not friends of renewables. The paper quotes treasurer Joe Hockey saying back in May, "I find those wind turbines around Lake George to be utterly offensive. I think they're a blight on the landscape."
A study, also released on Monday, commissioned by three Australian environmental groups The Climate Institute, Australian Conservation Foundation and WWF-Australia, suggested what's really behind the Abbott government's push to move out of renewables.
The study, "Big power company profits—the real outcome of an changes to the Renewable Energy Target," found that if the RET is eliminated, coal-fired power generation companies could increase their profits by as much as $25 billion between 2015 and 2030. It said that axing or watering down RET "would benefit owners of polluting coal plants at the expense of households and small business" and that energy prices for consumers would not only go down but could actually increase somewhat. Meanwhile, it said, jettisoning RET would add as much carbon pollution as four million new cars on the road and have additional pollution costs of over $14 billion.
Climate Institute CEO John Connor said:
This modelling highlights the cynical self-interest behind power companies' calls to weaken the Renewable Energy Target. Companies like Origin and EnergyAustralia are pushing to weaken the target not, as they like to claim, because that would be good for customers, but because a weaker target is better for their bottom line. The RET is a bipartisan policy that is effectively reducing carbon pollution from the electricity sector and building our nation's renewable energy industry. Both these objectives are vital—they help avoid dangerous climate change and sensibly position Australia's economy to remain competitive in a world moving to clean energy sources.
YOU ALSO MIGHT LIKE
Australia's New Prime Minister Vows to Bolster Coal Industry As Environmental Groups Denounce Coal Exports
Ohio State Researchers Show How Renewable Energy Standards Reduce Carbon Emissions
EcoWatch Daily Newsletter
Fabian Krause / EyeEm / Getty Images
Water protectors of all persuasions gathered in talking circles at Borderland Ranch in Pe'Sla, the heart of the sacred Black Hills, during the first Sovereign Sisters Gathering. At the center are Cheryl Angel in red and white and on her left, Lyla June. Tracy Barnett
By Tracy L. Barnett
Sources reviewed this article for accuracy.
For Sicangu Lakota water protector Cheryl Angel, Standing Rock helped her define what she stands against: an economy rooted in extraction of resources and exploitation of people and planet. It wasn't until she'd had some distance that the vision of what she stands for came into focus.
Hedges, 2019 © Hugh Hayden. All photos courtesy of Lisson Gallery
By Patrick Rogers
"I'm really into trees," said the sculptor Hugh Hayden. "I'm drawn to plants."
BruceBlock / iStock / Getty Images
Thanks to their high concentration of powerful plant compounds, foods with a natural purple hue offer a wide array of health benefits.
Environmental Investigation Agency
Last week, the Peruvian Palm Oil Producers' Association (JUNPALMA) promised to enter into an agreement for sustainable and deforestation-free palm oil production. The promise was secured by the U.S. based National Wildlife Federation (NWF) in collaboration with the local government, growers and the independent conservation organization Sociedad Peruana de Ecodesarrollo.
Pixabay
Leaked documents show that Jair Bolsonaro's government intends to use the Brazilian president's hate speech to isolate minorities living in the Amazon region. The PowerPoint slides, which democraciaAbierta has seen, also reveal plans to implement predatory projects that could have a devastating environmental impact.
XL CATLIN SEAVIEW SURVEY / THE OCEAN AGENCY
Hope may be on the horizon for the world's depleted coral reefs thanks to scientists who successfully reproduced endangered corals in a laboratory setting for the first time, according to Reuters.