Renewable Energy
19 August 2014
Australia Looks to Dump Renewable Energy Target
In a move similar to the one that plunged Ohio to the end of the line among U.S. states when it comes to moving toward renewable energy, Australia Prime Minister Tony Abbott is signaling his plans to scale back or eliminate that country's Renewable Energy Target (RET).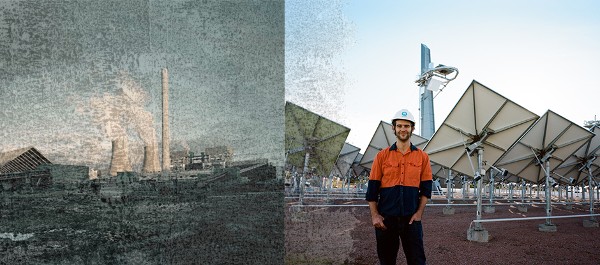 The Australian Financial Review reported on Monday in a story "Abbott's Plan to Axe RET" that Abbott has asked businessman Dick Warburton, whom Abbott charged following his election last fall with reviewing RET, to take a closer look at ending the target entirely rather than scaling it down as Warburton had proposed.
It wrote:
The federal government is moving towards abolishing the Renewable Energy Target rather than scaling it back in a move that will cost almost $11 billion in proposed investment and which is at odds with the views of its own environment minister.
Sources said environment minister Greg Hunt, who advocated scaling back the RET as a compromise, has been sidelined from the process and is understood to be unhappy. They said Mr. Abbott, treasurer Joe Hockey and finance minister Mathias Cormann are pushing the issue now. A government source said when the government announced its decision, possibly before the end of this month, it was now "more likely'' the RET will be abolished under a so-called "closed to new entrants scenario'' in which existing contracts only would be honoured.
Australia's renewable energy standards were first enacted in 2001, then expanded in 2010 to mandate a target of 20 percent of electricity coming from renewal sources. Although in 2012 74 percent of Australia's electricity came from coal, the growth of its renewables sector, especially wind generation, had it on track to far exceed RET.
Apparently, that's got some companies in the fossil fuel business worried. The Australian Financial Review said, "The Abbott government has been lobbied heavily by the business and energy sectors to abolish or water it down as renewable energy gained a larger than expected share of the ­electricity market."
And it's clear that some in the government are already not friends of renewables. The paper quotes treasurer Joe Hockey saying back in May, "I find those wind turbines around Lake George to be utterly offensive. I think they're a blight on the landscape."
A study, also released on Monday, commissioned by three Australian environmental groups The Climate Institute, Australian Conservation Foundation and WWF-Australia, suggested what's really behind the Abbott government's push to move out of renewables.
The study, "Big power company profits—the real outcome of an changes to the Renewable Energy Target," found that if the RET is eliminated, coal-fired power generation companies could increase their profits by as much as $25 billion between 2015 and 2030. It said that axing or watering down RET "would benefit owners of polluting coal plants at the expense of households and small business" and that energy prices for consumers would not only go down but could actually increase somewhat. Meanwhile, it said, jettisoning RET would add as much carbon pollution as four million new cars on the road and have additional pollution costs of over $14 billion.
Climate Institute CEO John Connor said:
This modelling highlights the cynical self-interest behind power companies' calls to weaken the Renewable Energy Target. Companies like Origin and EnergyAustralia are pushing to weaken the target not, as they like to claim, because that would be good for customers, but because a weaker target is better for their bottom line. The RET is a bipartisan policy that is effectively reducing carbon pollution from the electricity sector and building our nation's renewable energy industry. Both these objectives are vital—they help avoid dangerous climate change and sensibly position Australia's economy to remain competitive in a world moving to clean energy sources.
YOU ALSO MIGHT LIKE
Australia's New Prime Minister Vows to Bolster Coal Industry As Environmental Groups Denounce Coal Exports
Ohio State Researchers Show How Renewable Energy Standards Reduce Carbon Emissions
Bill Maher is sick of billionaires' obsession with Mars, more like "Mars-a-Lago," he said.
In a new animation produced by ATTN:, the popular talk show host of Real Time, discusses the perils of our planet, including how "climate change is killing us."
Keep reading...
Show less
Dr. Benjamin D. Santer, research scientist
A group of prominent climate scientists have written a study explicitly refuting statements made by the U.S. Environmental Protection Agency Administrator Scott Pruitt on climate data. During his Senate confirmation hearing, Pruitt claimed in a written response that satellite data shows a "leveling off" of warming over the past two decades.
Keep reading...
Show less
By David Pomerantz
The Nevada Assembly passed a bill Wednesday that would dramatically increase the growth of renewable energy in the state, but Sheldon Adelson, the casino magnate and major donor to Donald Trump, is attempting to prevent the bill from becoming law.
Keep reading...
Show less
Matt Crossick
By Yosola Olorunshola
Whether it's through fashion or protest, Vivienne Westwood is not a woman afraid of making a statement.
On May 23, she rocked up to the residence of the Archbishop of Canterbury in London with a special guest—the Grim Reaper—to issue a strong statement on the Church of England's position on fracking.
Keep reading...
Show less
By Paul Brown
The food industry and big agricultural concerns are driving climate change and at the same time threatening to undermine efforts to feed the world's growing population, according to GRAIN, an organization that supports small farmers.
Particularly singled out for criticism are the large chemical fertilizer producers that have gained access to the United Nations talks on climate change. GRAIN accuses them of behaving like the fossil fuel companies did in the 1990s, pushing false information in the hope of delaying real action on climate change.
Keep reading...
Show less
May. 24, 2017 06:55PM EST
By Sydney Robinson
President Trump has no doubt been given a long list of extravagant, elaborate gifts in his lifetime, but the gift given to him today by Pope Francis may not make it on his most favorite list.
Keep reading...
Show less
May. 24, 2017 07:17PM EST
By John Rogers
Maybe it's because I first started working on clean energy while serving in the Peace Corps he founded, or maybe it's my years of working on these issues from his home state. But I can't help thinking about the 100th anniversary of John F. Kennedy's birth, and connecting his stirring rhetoric to the energy challenges of our times.
Here's what our 35th president might have said about the challenges of energy transition and the opportunities in clean energy:
"Change is the law of life. And those who look only to the past or present are certain to miss the future."
Keep reading...
Show less
May. 24, 2017 01:47PM EST
Keep reading...
Show less


Get EcoWatch in your inbox