This website uses cookies to ensure you get the best experience while browsing it. By clicking 'Got It' you're accepting these terms.
Aubrey McClendon's Legacy Serves as Another Warning That the Age of Oil Barons Must End
Mar. 04, 2016 09:05AM EST
Just moments after posting a scathing comment to Facebook regarding former Chesapeake Energy CEO Aubrey McClendon's indictment Tuesday by the Department of Justice on conspiracy charges, I read news of his shocking death in a car accident. I didn't know McClendon personally, but he is indeed a legend in the story of the fracking boom. So much so I dedicated an entire chapter of my forthcoming book Frackopoly to him. And in the light of news of his death my scathing assessment of him may seem uncharitable to those unfamiliar with his record.
The fact is, McClendon was a contemporary oil baron who at times excelled at high stakes financial gambling. When he was on a roll making billions, it came at the expense of the planet and people—whether it was the leaseholders he allegedly conspired against, the communities that fracking harmed or the impacts on our global climate. His story, from start to finish, is a tragedy all around.
But he's just one figure in the system that has helped bring about a boom in fracking, the continued reliance on fossil fuels and a system of market-based schemes masquerading as environmental "solutions" and being pushed by vested interests. The story I tell in Frackopoly doesn't end or begin at McClendon, but he's a major piece of the contemporary story of fracking and only the latest in a long line of oil and gas industry profiteers that have existed since the heyday of John D. Rockefeller.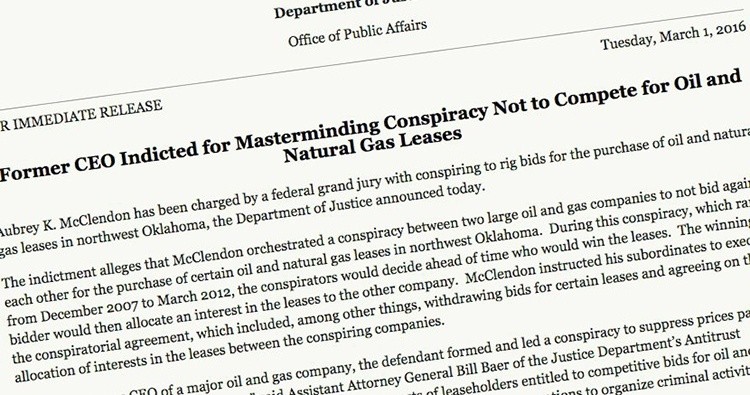 McClendon said in a statement Tuesday, in regard to his indictment, that he was being singled out. One thing is for sure: he was right that this type of collusion in the oil industry goes on all the time. As I wrote in my original Facebook post, the real scandal about his conspiracy charge is how much this kind of behavior is tolerated without any investigation or concern—and has been for decades. As a result of McClendon's aggressive and irresponsible business practices, he had many enemies and so I do believe that his death should be thoroughly investigated.
No matter what, it is time to take back our democracy from billionaires that control major industries like oil and gas and whose influence spreads far and wide to create policies that keep us hooked on what they're selling. That's the story in Frackopoly that I do believe I was able to tell adequately, even if McClendon's story ended abruptly after the book went to print. His legacy should serve as another warning that the age of oil barons must end and that we must take energy policy back from billionaires as if our life depended on it—because it does.
YOU MIGHT ALSO LIKE
Bankruptcy Filing Shows Arch Coal Funded Climate Denial Group
Oregon Passes Historic Bill to Phase Out Coal and Double Down on Renewables
China's Coal Use and Carbon Emissions Fall as Renewables Have Record-Breaking Year
Plus, learn if there's one that's best for your health.
Catherine Falls Commercial / Moment / Getty Images
An invasive Amynthas worm, also known as a crazy snake worm, Asian jumping worm and Alabama jumper Tom Potterfield / Flickr
By Jason Bittel
My wife and I built a house two years ago on a few acres of woodland outside of Pittsburgh. The backyard is full of maples, poplars, briars and common spicebush. Two-lined salamanders and grumpy-looking crayfish wade among the rocks in the small stream that runs down the edge of the property. Deer, raccoon and opossum tracks appear regularly in the snow and mud. Sometimes, my trail-cam even catches a pair of gray foxes as they slink through the night.
AleksandarNakic / Getty Images
By Kate Murphy
No matter the time of year, there's always a point in each season when my skin decides to cause me issues. While these skin issues can vary, I find the most common issues to be dryness, acne and redness.

David Woodfall / The Image Bank / Getty Images
By Sam Nickerson
The U.S. Environmental Protection Agency (EPA) in April 2018 proposed relaxing standards related to how it assesses the effects of exposure to low levels of toxic chemicals on public health.
Now, correspondence obtained by the LA Times revealed just how deeply involved industry lobbyists and a controversial, industry-funded toxicologist were in drafting the federal agency's proposal to scrap its current, protective approach to regulating toxin exposure.
Steve Irwin poses with a three foot long alligator at the San Francisco Zoo on June 26, 2002. Justin Sullivan / Getty Images
February 22 is the birthday of conservationist and beloved TV personality "Crocodile Hunter" Steve Irwin, who would have been 57 years old today.
Irwin's life was tragically cut short when the barb from a stingray went through his chest while he was filming in 2006, but his legacy of loving and protecting wildlife lives on, most recently in a Google Doodle today honoring his birthday.