This website uses cookies to ensure you get the best experience while browsing it. By clicking 'Got It' you're accepting these terms.
Atrazine Found in Water of Dozens of Midwest Communities
May. 04, 2012 09:40AM EST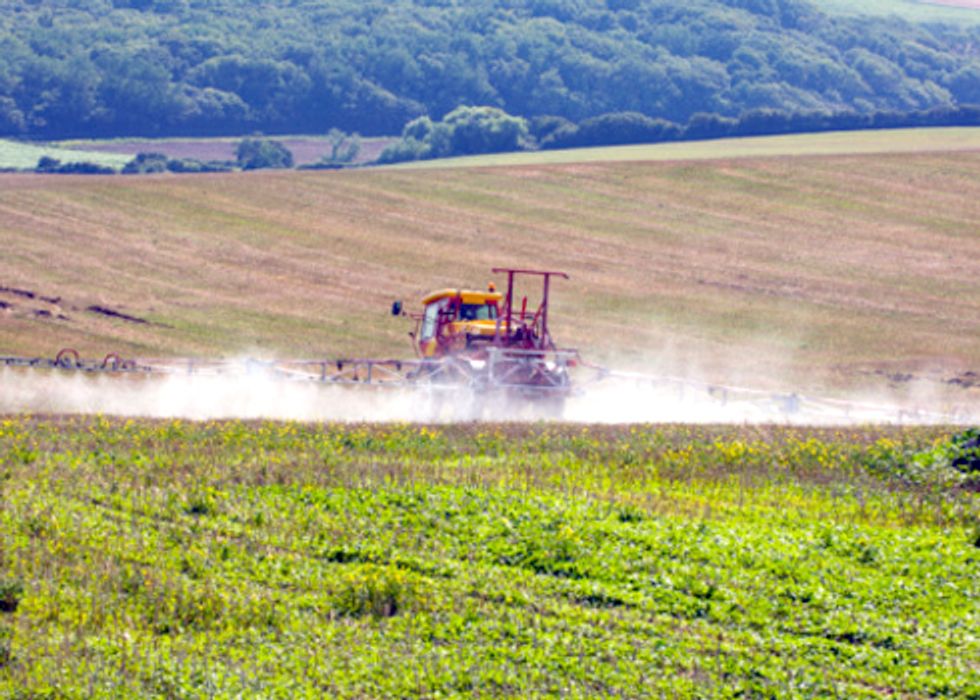 Results released on May 3 from water sampling across four Midwestern states—Illinois, Nebraska, Iowa and Minnesota—indicate that the endocrine disrupting pesticide atrazine is still being found in drinking water at levels linked to birth defects and low birth weight. Syngenta, one of the world's largest pesticide corporations, has continued to promote the use of the chemical, despite growing concerns from independent scientists. The U.S. Environmental Protection Agency (EPA) will weigh these findings as it continues its re-evaluation of the chemical in the coming months.
"These water monitoring results should raise concerns for policymakers, they confirm that atrazine continues to contaminate Midwest drinking water at meaningful levels," said Emily Marquez, PhD, endocrinologist and staff scientist for Pesticide Action Network. "Endocrine disrupting chemicals like atrazine are hormonally active at vanishingly small amounts. That is why scientists are looking again at atrazine, and that is why the EU set water contamination tolerance levels at 0.1 ppb. EPA's current legal limit of 3 ppb is 30 times that and much too permissive. The best way to ensure rural communities and farmers are protected is to keep atrazine out of their water entirely."
In the results, atrazine was found in a majority of water samples from Midwestern homes and farms. Atrazine is found more often than any other pesticide in groundwater—94 percent of drinking water tested by U.S. Department of Agriculture (USDA) contains the chemical. The weed killer is the second most widely used pesticides in the U.S., with more than 76 million pounds used last year, mostly on Midwestern corn fields. Atrazine is applied most heavily in Illinois, where applications exceed 85 pounds per square mile.
The results, on average, demonstrate that levels frequently found in drinking water are five times the former legal limit in Europe, and five times the levels associated with adverse health effects, including low birth-weight in babies. Europe's legal limit was 0.1 ppb before the chemical was banned in 2003. One Illinois sample is above the EPA limit for atrazine in drinking water, and is well above the level associated with significantly increased risk of birth defects.
"Syngenta's atrazine is linked to irreversible harms like cancer and birth defects. Rural families are on the frontlines of pesticide exposure and we risk contaminating the water of millions of people with the chemical's continued use," said Julia Govis, a mother, author of Who's Poisoning Our Children, and Statewide Program Coordinator of Illinois Farm to School.
As EPA continues its reevaluation of the chemical and plans to release additional findings on atrazine in June, new studies highlight the link between low-level exposure atrazine and adverse human health effects, including cancer and altered development. At the same time, the chemical's manufacturer, Syngenta, continues to influence scientific analysis of the chemical, downplaying evidence showing that atrazine is harmful.  
Last summer, EPA's independent scientific advisory panel concluded an 18-month review of atrazine's health and environmental effects. They pointed to "suggestive evidence of carcinogenic potential" for ovarian cancer, non-Hodgkin's lymphoma, hairy-cell leukemia, and thyroid cancer.
Unfortunately, EPA has been misled or ignored key findings. Dr. Jason Rohr, a scientist from University of South Florida, took a look at industry-funded reviews of the effects of atrazine on fish and frogs, indicators of impacts on human health, and he found: "The industry-funded review misrepresented more than 50 studies and included 122 inaccurate and 22 misleading statements. Of these inaccurate and misleading statements, 96.5 percent seem to benefit the makers of atrazine in that they support the safety of the chemical."
Despite pressure from pesticide maker Syngenta, farmers across the Midwest are demonstrating ways of producing corn and growing food without relying on Syngenta's atrazine.
"Levels of atrazine in our water raise concerns about the health impacts on farmers and communities like mine. The results underscore the challenges facing many farmers; they are caught in a pesticide trap, and it's no surprise that they are forced to use more and more pesticides. These results should spur state and federal officials to take action and support farmers as they transition away from Syngenta's atrazine, towards safe and healthy farming," said Anita Poeppel, owner of Broad Branch Farm in Central Illinois.
For more information, click here.
EcoWatch Daily Newsletter
Aerial shot top view Garbage trucks unload garbage to a recycle in the vicinity of the city of Bangkok, Thailand. bugto / Moment / Getty Images
German researchers have identified a strain of bacterium that not only breaks down toxic plastic, but also uses it as food to fuel the process, according to The Guardian.
The Environmental Protection Agency (EPA) issued a policy memo yesterday that is an expansive relaxation of legally mandated regulations on polluting industries, saying that industries may have trouble adhering to the regulations while they are short-staffed during the coronavirus global pandemic, according to the AP.
Hurricane Dorian was one of the 2019 Atlantic hurricane season's most devastating storms. NASA
2019 marked the fourth year in a row that the Atlantic hurricane season saw above-average activity, and it doesn't look like 2020 will provide any relief.
The deep, open ocean may seem like an inhospitable environment, but many species like human-sized Humboldt squids are well-adapted to the harsh conditions. 1,500 feet below the ocean's surface, these voracious predators could be having complex conversations by glowing and changing patterns on their skin that researchers are just beginning to decipher.
A worker distributes disinfection wipes at a farmers market at Richard Tucker Park in New York City on March 21, 2020. Lev Radin / Pacific Press / LightRocket via Getty Images
Not many restaurants will be able to survive coronavirus, and this is a personal, social and national tragedy.
I'm worried about farmers markets too.