At Least One GOP Presidential Candidate Believes in Climate Change
Oct. 13, 2015 10:07AM EST
Climate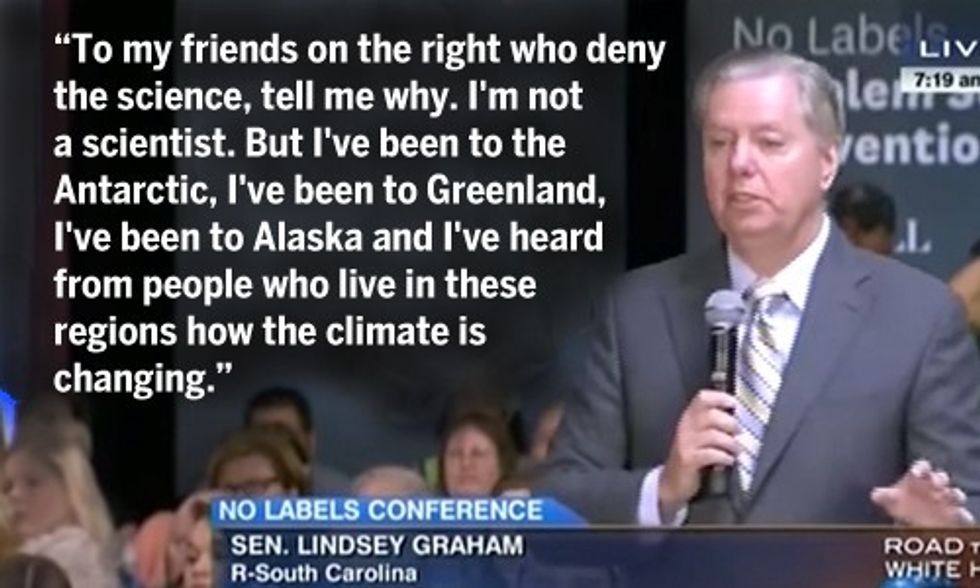 At a conference in New Hampshire yesterday hosted by the bipartisan group No Labels, Sen. Lindsey Graham (R-SC) opened by asking the audience, "How many of you believe climate change is real?" After a pretty solid round of applause from those in attendance, he said, "I do too." Graham is one of the only GOP presidential candidates who admits climate change is real and believes the U.S. needs to take strong action to address it.
Several of the top GOP presidential candidates, including Ted Cruz, Ben Carson and Donald Trump have all flat out denied man-made climate change.
Graham was the only candidate who talked about climate change at the first GOP debate, even acknowledging that the science is settled.
"To my friends on the right who deny the science, tell me why," said Graham at the conference. "I'm not a scientist. I made a D in science. You know why? Because [the teacher] had never given an F. But I've been to the Antarctic, I've been to Greenland, I've been to Alaska and I've heard from people who live in these regions how the climate is changing," said Graham. "And when 90 percent of climatologists tell you it's real, who am I to tell them they don't know what they are talking about."
Watch the full talk here:
YOU MIGHT ALSO LIKE
John Oliver Rips Fracking Industry for its Deadly Bakken Boom, Killing One Person Every Six Weeks
Charles Koch Misled CBS: The Kochs' Political Spending Is Not Publicly Disclosed
Ted Cruz Lies Again About the Science of Climate Change
Stephen Colbert Rips CNN for 'Extra Podium' for Biden at Democratic Debate
EcoWatch Daily Newsletter
Related Articles from EcoWatch
Recent Stories from EcoWatch