This website uses cookies to ensure you get the best experience while browsing it. By clicking 'Got It' you're accepting these terms.
At Least 18 Dead After Severe Flooding in Central Europe
Jun. 05, 2016 11:55AM EST
Climate
By Alex Kirby
At least 18 people have lost their lives in central Europe as severe floods engulf the continent from France to Ukraine. In Paris the River Seine reached 6.1 metres (20 feet) above normal, and tens of thousands of people have fled their homes.
If the downpours and swollen rivers came as a surprise, they shouldn't have done. Not only are there historical precedents for disastrous floods. There have been graphic recent warnings too, spelling out the growing likelihood that the warming climate will make bouts of flooding and other extreme weather more frequent.
Last March a study reported in the journal Nature said climate change was already driving an increase in extremes of rainfall and snowfall across most of the globe, even in arid regions. The study said the trend would continue as the world warmed.
The role of global warming in unusually large rainfall events in countries from the United Kingdom to China has been hotly debated. But this latest study showed that climate change is driving an overall increase in rainfall extremes.
Its lead author, Markus Donat, a climate scientist at the University of New South Wales in Australia, said: "In both wet and dry regions, we see these significant and robust increases in heavy precipitation."
Warm air holds more moisture, and global warming is already increasing the odds of extreme rainfall. "The paper is convincing and provides some useful insights," Sonia Seneviratne, a climate scientist at the Swiss Federal Institute of Technology, said. "What is particularly new in this article is the demonstration of such a signal for observed changes in dry regions."
The results obtained by Donat and his team suggest that both annual precipitation and extreme precipitation increased by 1-2 percent per decade in dry regions, with wet areas showing similar increases in the extent of extreme precipitation and smaller increases for annual totals.
Their results are in line with a 2015 study by researchers at the Potsdam Institute for Climate Impact Research (PIK) in Germany, which found that global warming has increased the number of record-breaking rainfall events.
Both studies strengthen predictions by models that more extreme weather is in prospect. Donat said their findings were an alert to governments. In a comment which could have been directed at several European countries, he said: "It is probably a good idea to invest in infrastructure that helps in dealing with heavier precipitation, in particular if you are not yet used to those events."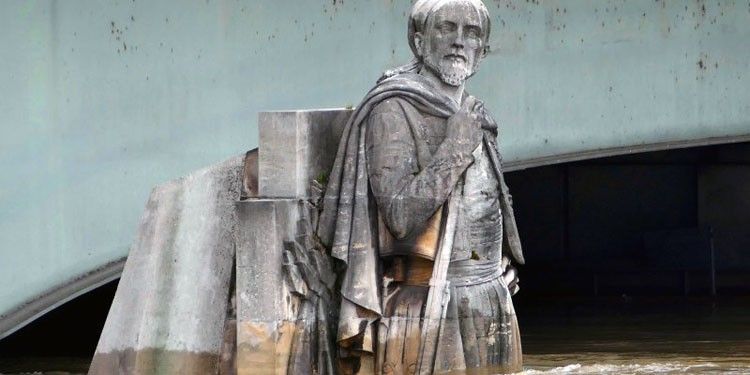 Breaking Records
The PIK researchers found that heavy rainfall events setting ever new records had been "increasing strikingly" in the past thirty years. Before 1980 natural variability was enough to explain rainfall fluctuations, they said, but they had detected a clear upward trend in the past few decades towards more unprecedented daily rainfall events.
The researchers said this worldwide increase was consistent with rising global temperatures caused by greenhouse gas emissions from burning fossil fuels. The year 2010 had seen extreme rainfall cause devastating flooding in Pakistan, killing hundreds of people and prompting an outbreak of cholera. There had also been rainstorms in Texas, causing dozens of flash floods.
No fewer than than three supposedly "once-in-a-century" floods occurred in Germany in the space of a couple of years, starting in 1997. "In all of these places, the amount of rain pouring down in one day broke local records – and while each of these individual events has been caused by a number of different factors, we find a clear overall upward trend for these unprecedented hazards", said the PIK study's lead author, Jascha Lehmann.
The team found that from 1980 to 2010 there were 12 percent more of these extreme events than would be expected in what they called "a stationary climate", one without global warming. In the last year they studied, that increase rose to 26 percent.
YOU MIGHT ALSO LIKE
Oil Train Derails in Columbia River Gorge, Rally Calls for Ban on 'Bomb Trains'
87,000 NASA Images Show a Greening Arctic
Microplastics Are Killing Baby Fish, New Study Finds
EcoWatch Daily Newsletter
BruceBlock / iStock / Getty Images
Thanks to their high concentration of powerful plant compounds, foods with a natural purple hue offer a wide array of health benefits.
Environmental Investigation Agency
Last week, the Peruvian Palm Oil Producers' Association (JUNPALMA) promised to enter into an agreement for sustainable and deforestation-free palm oil production. The promise was secured by the U.S. based National Wildlife Federation (NWF) in collaboration with the local government, growers and the independent conservation organization Sociedad Peruana de Ecodesarrollo.
Pixabay
Leaked documents show that Jair Bolsonaro's government intends to use the Brazilian president's hate speech to isolate minorities living in the Amazon region. The PowerPoint slides, which democraciaAbierta has seen, also reveal plans to implement predatory projects that could have a devastating environmental impact.
XL CATLIN SEAVIEW SURVEY / THE OCEAN AGENCY
Hope may be on the horizon for the world's depleted coral reefs thanks to scientists who successfully reproduced endangered corals in a laboratory setting for the first time, according to Reuters.
Last week we received positive news on the border wall's imminent construction in an Arizona wildlife refuge. The Trump administration delayed construction of the wall through about 60 miles of federal wildlife preserves.
PhotoAlto / Frederic Cirou / Getty Images
Drinking water treated with fluoride during pregnancy may lead to lower IQs in children, a controversial new study has found.
National Institude of Allergy and Infectious Disease