At Least 18 Dead After Severe Flooding in Central Europe
By Alex Kirby
At least 18 people have lost their lives in central Europe as severe floods engulf the continent from France to Ukraine. In Paris the River Seine reached 6.1 metres (20 feet) above normal, and tens of thousands of people have fled their homes.
If the downpours and swollen rivers came as a surprise, they shouldn't have done. Not only are there historical precedents for disastrous floods. There have been graphic recent warnings too, spelling out the growing likelihood that the warming climate will make bouts of flooding and other extreme weather more frequent.
Last March a study reported in the journal Nature said climate change was already driving an increase in extremes of rainfall and snowfall across most of the globe, even in arid regions. The study said the trend would continue as the world warmed.
The role of global warming in unusually large rainfall events in countries from the United Kingdom to China has been hotly debated. But this latest study showed that climate change is driving an overall increase in rainfall extremes.
Its lead author, Markus Donat, a climate scientist at the University of New South Wales in Australia, said: "In both wet and dry regions, we see these significant and robust increases in heavy precipitation."
Warm air holds more moisture, and global warming is already increasing the odds of extreme rainfall. "The paper is convincing and provides some useful insights," Sonia Seneviratne, a climate scientist at the Swiss Federal Institute of Technology, said. "What is particularly new in this article is the demonstration of such a signal for observed changes in dry regions."
The results obtained by Donat and his team suggest that both annual precipitation and extreme precipitation increased by 1-2 percent per decade in dry regions, with wet areas showing similar increases in the extent of extreme precipitation and smaller increases for annual totals.
Their results are in line with a 2015 study by researchers at the Potsdam Institute for Climate Impact Research (PIK) in Germany, which found that global warming has increased the number of record-breaking rainfall events.
Both studies strengthen predictions by models that more extreme weather is in prospect. Donat said their findings were an alert to governments. In a comment which could have been directed at several European countries, he said: "It is probably a good idea to invest in infrastructure that helps in dealing with heavier precipitation, in particular if you are not yet used to those events."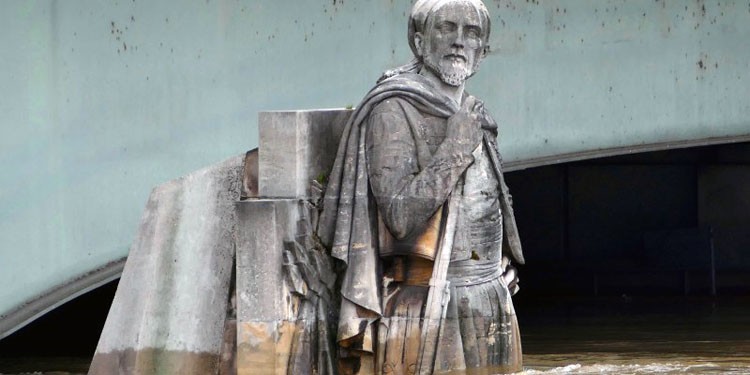 Breaking Records
The PIK researchers found that heavy rainfall events setting ever new records had been "increasing strikingly" in the past thirty years. Before 1980 natural variability was enough to explain rainfall fluctuations, they said, but they had detected a clear upward trend in the past few decades towards more unprecedented daily rainfall events.
The researchers said this worldwide increase was consistent with rising global temperatures caused by greenhouse gas emissions from burning fossil fuels. The year 2010 had seen extreme rainfall cause devastating flooding in Pakistan, killing hundreds of people and prompting an outbreak of cholera. There had also been rainstorms in Texas, causing dozens of flash floods.
No fewer than than three supposedly "once-in-a-century" floods occurred in Germany in the space of a couple of years, starting in 1997. "In all of these places, the amount of rain pouring down in one day broke local records – and while each of these individual events has been caused by a number of different factors, we find a clear overall upward trend for these unprecedented hazards", said the PIK study's lead author, Jascha Lehmann.
The team found that from 1980 to 2010 there were 12 percent more of these extreme events than would be expected in what they called "a stationary climate", one without global warming. In the last year they studied, that increase rose to 26 percent.
YOU MIGHT ALSO LIKE
Oil Train Derails in Columbia River Gorge, Rally Calls for Ban on 'Bomb Trains'
87,000 NASA Images Show a Greening Arctic
Microplastics Are Killing Baby Fish, New Study Finds
Glyphosate, the main ingredient in Monsanto's widely used herbicide Roundup, will be added July 7 to California's list of chemicals known to the state to cause cancer, according to a Reuters report Tuesday. This news comes after the company's unsuccessful attempt to block the listing in trial court and requests for stay were denied by a state appellate court and California's Supreme Court.
California's Office of Environmental Health Hazard Assessment (OEHHA) announced the designation on Monday under the Safe Drinking Water and Toxic Enforcement Act of 1986, or Proposition 65.
Keep reading...
Show less
www.facebook.com
Keep reading...
Show less
Researchers from the Marine Animal Response Society examine one of the dead right whales. Marine Animal Response Society
Canadian government officials and marine biologists are investigating the mysterious deaths of six North American right whales. The endangered animals all turned up dead between June 6 and June 23 in the Gulf of St. Lawrence, off Canada's southeastern coast.
North Atlantic right whales are the rarest of all large whale species and among the rarest of all marine mammal species, with only about 450 right whales in the North Atlantic.
Keep reading...
Show less
Scott Pruitt testifies during his Senate confirmation hearing for EPA administrator, January 2017.
The U.S. Environmental Protection Agency's (EPA) chief of staff pressured the leader of its Board of Scientific Counselors to change her congressional testimony to downplay the impact of the agency's mass dismissal of scientists from the board, the New York Times reports.
Keep reading...
Show less
By Jason Mark
Sequoiadendron giganteum. That's the scientific name for the giant sequoia: the mammoth trees found in California's Sierra Nevada that are the largest organisms on Earth, and among the longest-lived. Biologists estimate that about half of all sequoias live in Giant Sequoia National Monument, a 328,000-acre preserve in the Southern Sierra Nevada established by President Clinton in 2000.
Now that national monument is in jeopardy.
Keep reading...
Show less
By Andy Rowell
Donald Trump this week is launching an "energy week," pushing the argument that the U.S. will become a net exporter of oil and gas.
The president and his cronies are talking about a new era of "U.S. energy dominance," which could stretch for decades to come. However, no one believes the president anymore.
Keep reading...
Show less
UN
By Colleen Curry
The United Nations has designated 23 new sites around the world to its World Network of Biosphere reserves—stunning natural landscapes that balance environmental and human concerns and strive for sustainability.
The forests, beaches and waterways were added to the list this year at the International Coordinating Council of the Man and the Biosphere Programme meeting in Paris earlier this month.
Keep reading...
Show less
Jun. 26, 2017 01:48PM EST
www.elysee.fr
By Andy Rowell
There is a growing feeling within European capitals that a quiet, but deeply positive, revolution is happening under Emmanuel Macron in France.
Macron's opinion poll rating is high, especially boosted in how the young French president has reacted to Donald Trump on the international stage.
Keep reading...
Show less
Jun. 26, 2017 12:32PM EST
www.facebook.com
Keep reading...
Show less